Art
Get more with myNEWS
A personalised news feed of stories that matter to you
Learn more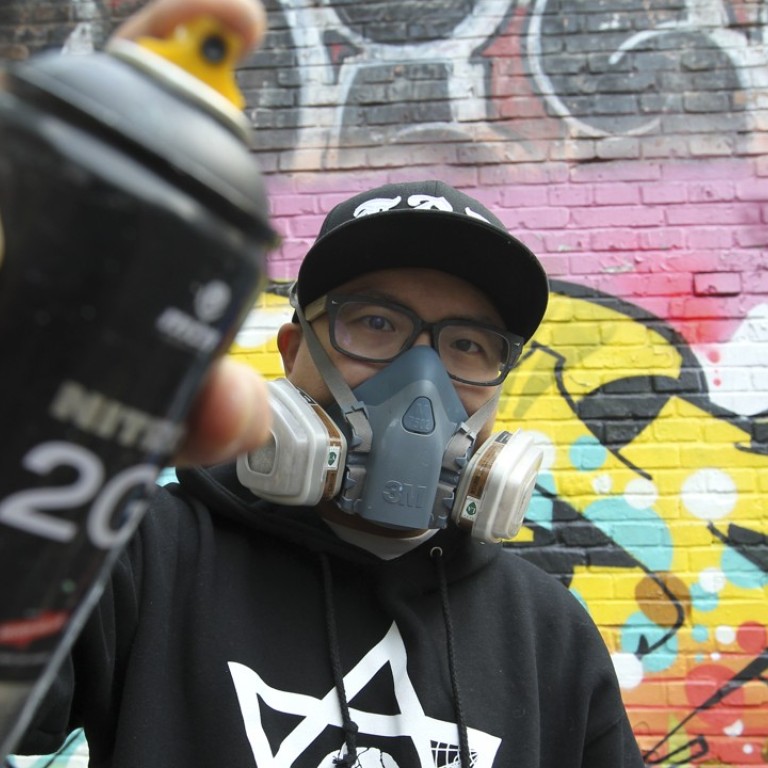 Beijing street artists taking graffiti in China to the next level, transforming the city – and even getting paid for it
Graffiti is blooming in pockets of Beijing despite official disapproval of street art, and some of the artists trying to make a living out of it have found that corporate customers are willing to pay for their striking works
Colourful, funky graffiti art has adorned the walls along Jingmi Road in Beijing's Chaoyang district for years. Andy Chen, 32, claims to be the first person to have left his mark here in 2010.
One of the five-member collective ABS, Chen and his cohorts are among the few graffiti artists active in the Chinese capital.
Despite official disapproval of street art, which is regarded as vandalism, graffiti is blooming in pockets of Beijing. The reason, graffiti artists say, is the rising popularity of Western subculture, as well as hit local television shows such as Street Dance of China and The Rap of China.
In 2010, ABS organised the first "Meeting Neighbourhood" in Beijing, an annual street culture carnival showcasing graffiti, street dance, hip hop, retrofitted cars and DJ music. Last year's event, in November, was held in Chaoyang's 22RT International Art Plaza, with Chinese rappers Bridge and OG Rolly, Chicago-based psych pop duo Gosh, and American fashion and graphic designer Jeff Staple taking part.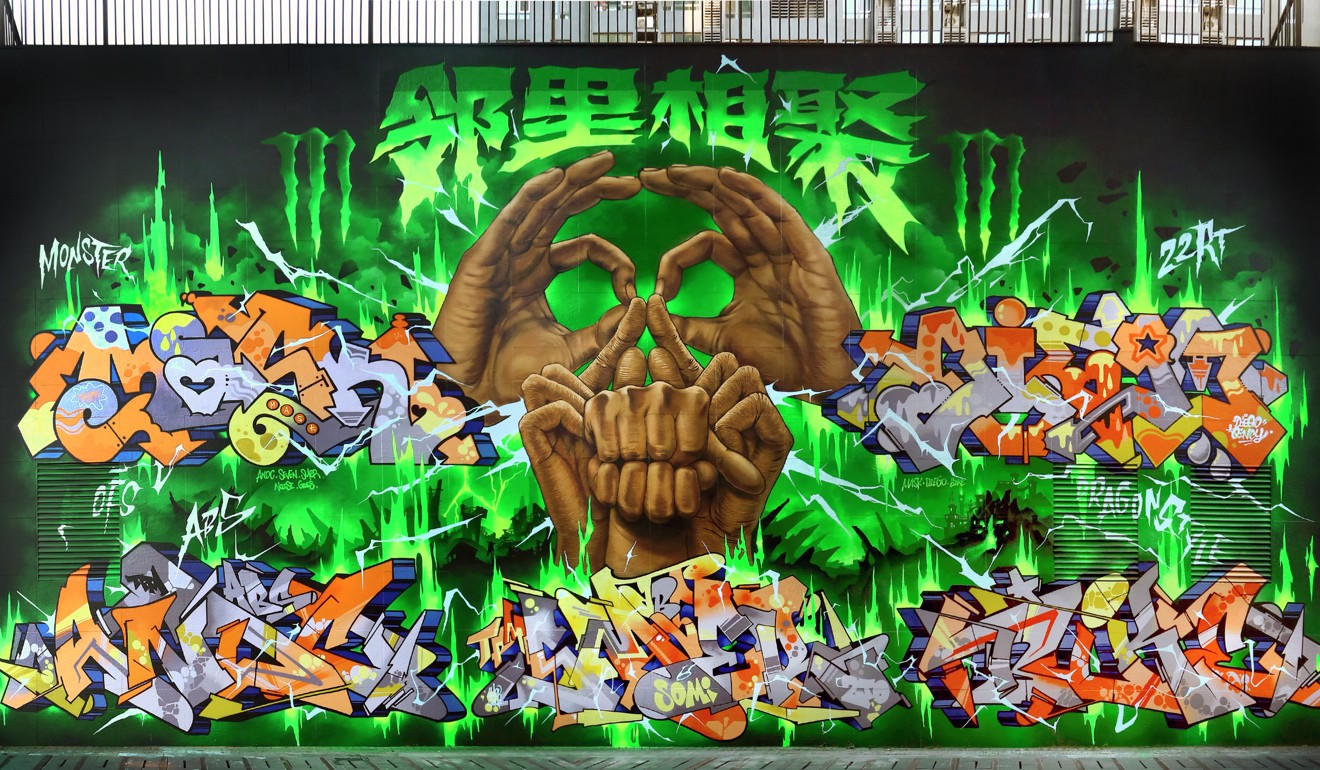 With limited-edition sneakers on sale, Nike-sponsored skateboard ramps, and accessory-making and tattoo workshops, the festival has become a popular hang-out for sneakerheads and hipsters. According to Chen, the event has grown bigger each year – something that has benefited ABS, which doubles as a graffiti design company.
"We do commercial graffiti to make a living, and we get plenty of business opportunities from the event," Chen says. "We never sought any clients; all of them approached us for cooperation."
ABS the company was established in 2012. That year, the collective also opened 400ml – the first specialist shop selling aerosol paint in China – in Beijing's 798 Art Zone. ("400ml is the volume of a can of spray paint," Chen explains.)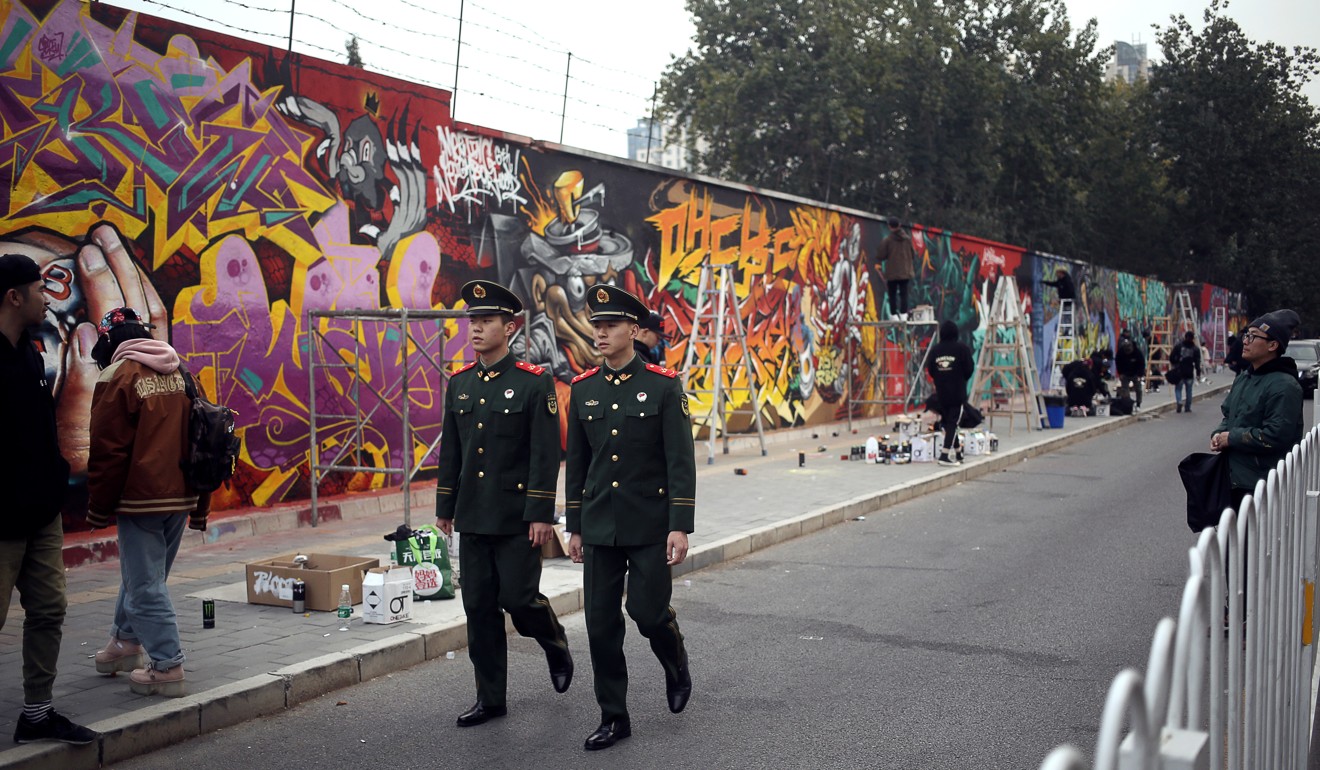 Chen, who studied design in Tianjin before founding the ABS collective in 2007, says it was tough starting out in business, particularly since the rents at 798 were high. Since then, however, ABS has collaborated with a large number of major sports brands, helping them design graphics and sneakers, and becoming involved in promotional campaigns.
"To continue doing graffiti, you must be able to make a living," Chen says. "You need to be able to afford the paint. We keep the 400ml shop running from the money we earn from our art."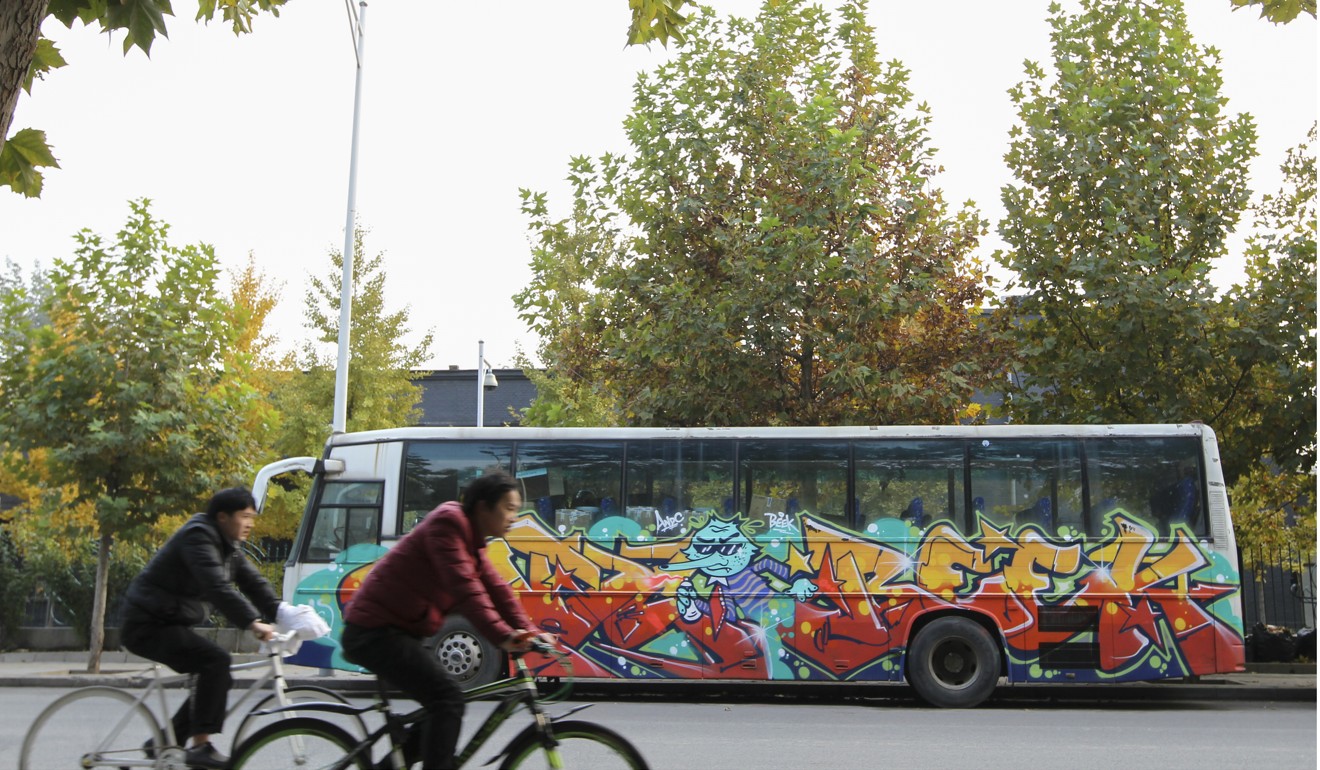 The growing popularity of graffiti for decorative purposes reflects a broader trend in the commercialisation of art in Beijing. In the 798 Art Zone, a popular hang-out for graffiti artists, rents have risen so steeply over the years that many galleries have been pushed out. The one-time utopia for budding artists now teems with restaurants, cafes and shops selling exorbitantly priced art works.
Daboo (not his real name) is another Beijing-based street artist who has turned to commercial graffiti to make a living. The 29-year-old is one of the three members of a crew called DNA.
Before he became a father a year ago, Daboo would wander around quiet parts of Daxing district at night, spray-painting walls, bridges and rubble on demolition zones. He says his work was always quickly scrubbed off by government workers.
"Before I went out at night, I'd first figure out the escape routes. If you were caught by management on private property, they would make you remove your work. Depending on your attitude [after being arrested], police would fine you 500 to 2,000 yuan [US$77 to US$309]."
Daboo set up his commercial graffiti company with the DNA crew in 2010, acquiring commissions from gyms, cafes, schools and restaurants. However, he was recently forced to leave his 20 square metre (215 square foot) studio in Qingyuan Road after his landlord doubled the rent to 8,000 yuan a month.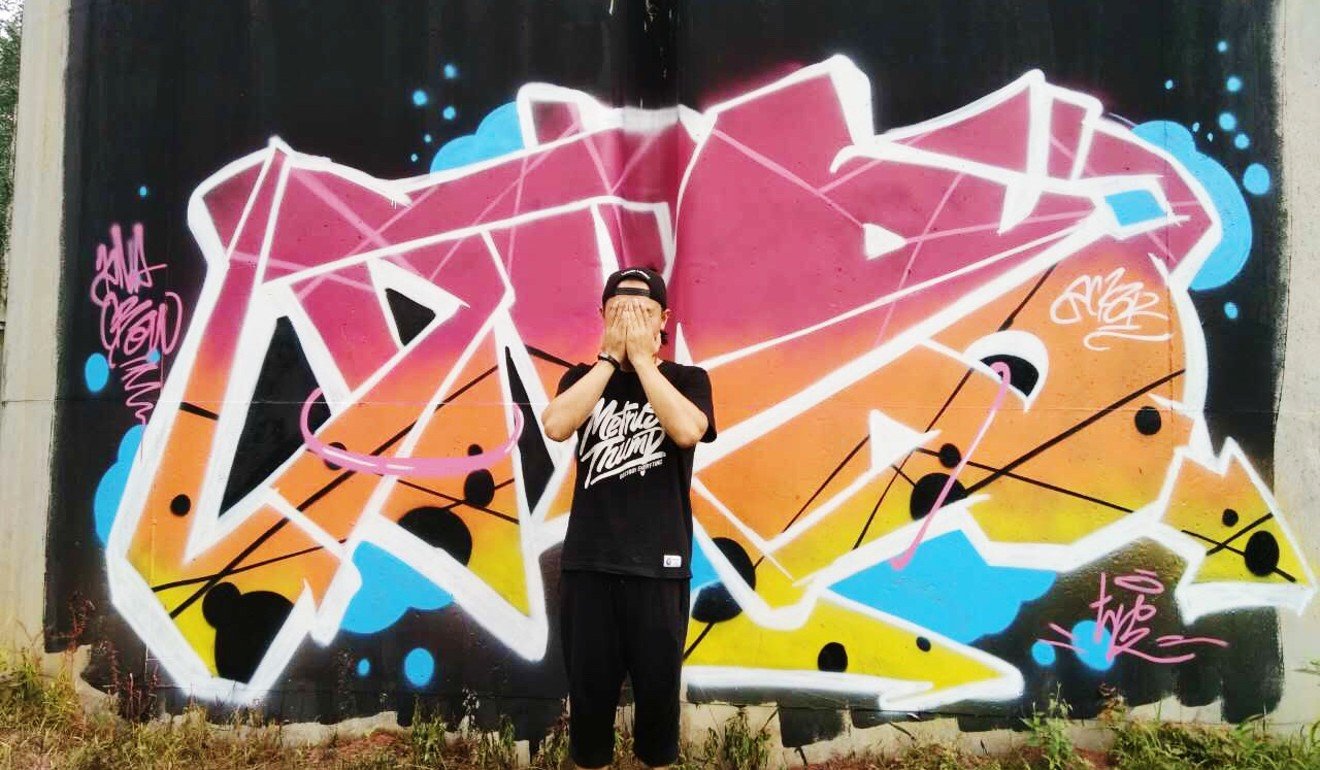 He says he is prepared to put customer requirements ahead of his personal artistic inclinations to make a living, though he prefers to come up with his own ideas.
"For us, each art work has to be original. Repetition is not allowed. [However] I worked on a private gym of mainland actor Du Chun. He liked my previous work featuring Popeye that he saw at another gym and wanted me to do the same. So I agreed."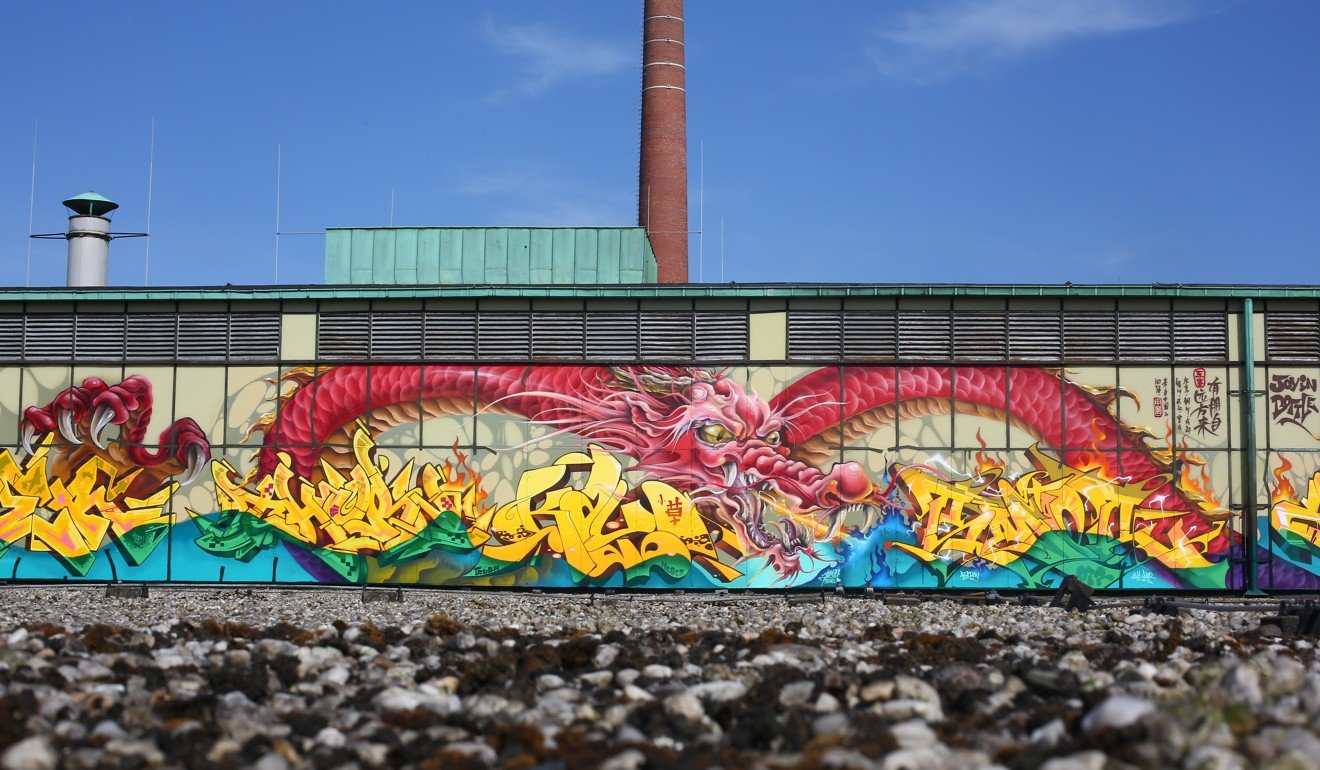 So-called graffiti crews first emerged in Beijing in the early 2000s, starting with the establishment of Kwanyin in 2006, followed by BJPZ Crew and ABS in 2007, then KDS a decade later.
In 2011, ABS represented China in Taiwan at Wall Lords Asia, Asia's largest graffiti competition, and won.
Thanks to its growing reputation, ABS was approached by angel investors a year ago who saw potential for the crew to expand their business. "But we turned them down because we want the art of graffiti to develop gradually. We don't want people who know nothing about it intruding into our space," Chen says.
"The graffiti we do belongs to hip hop culture, which has four elements: music, DJing, graffiti and break dancing. What you do is not graffiti if you don't listen to hip-hop music. Many [self-proclaimed] graffiti artists compromise when dealing with brands. What they do gradually departs from [genuine] graffiti culture. I have seen many such cases.
"[Beijing graffiti] crews don't last long. They might not have enough passion for the art. You have to be able to make a living at the end of the day. There are less than 10 active graffiti artists in Beijing now."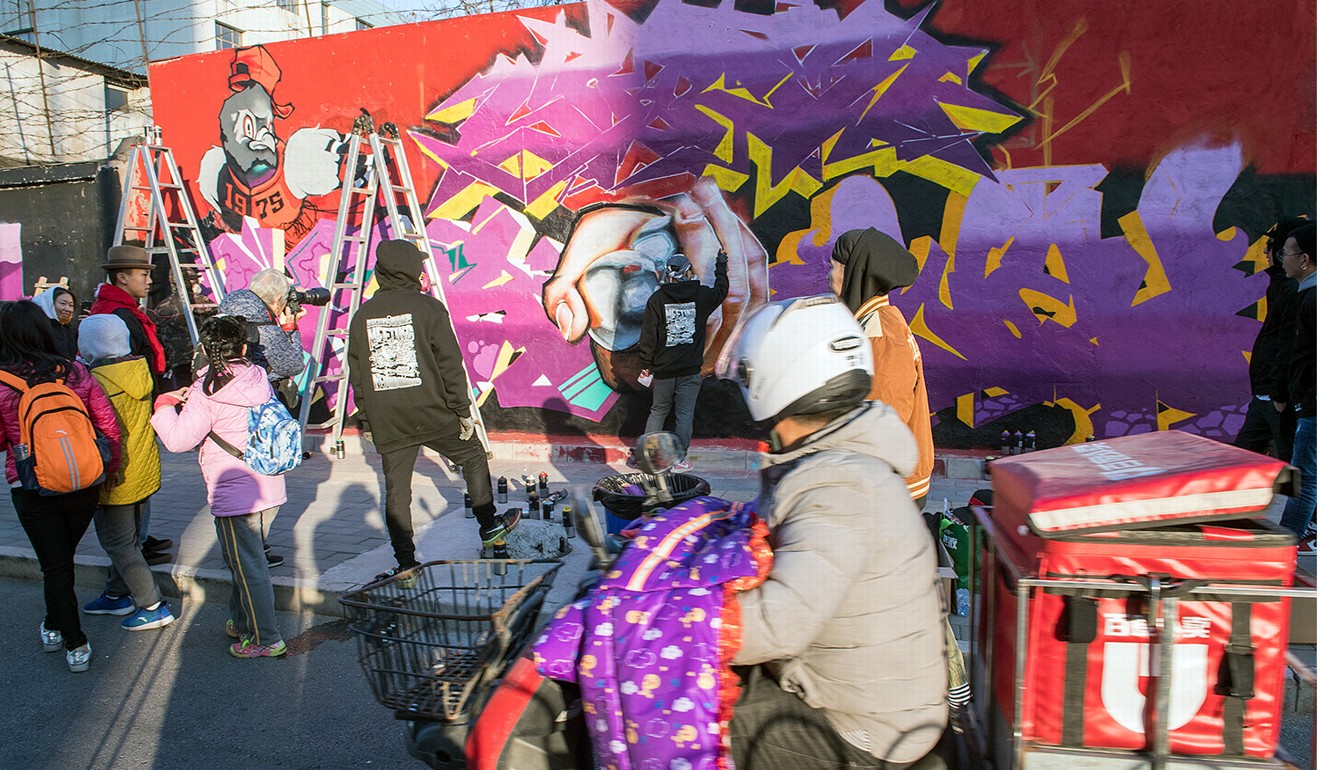 With a stable income, Chen says, the members of ABS are happy simply making ends meet while promoting graffiti in China. But he and the other members also take part in regular exchange trips with well-known graffiti artists overseas.
"I started going to Europe after winning the Wall Lords competition in 2011. I've been to Germany twice this year," Chen says.
"In the beginning, we just imitated overseas styles. But after taking part in the international exchanges, we started to develop our own styles and incorporate Chinese elements – like calligraphy and the national flag – into our graffiti."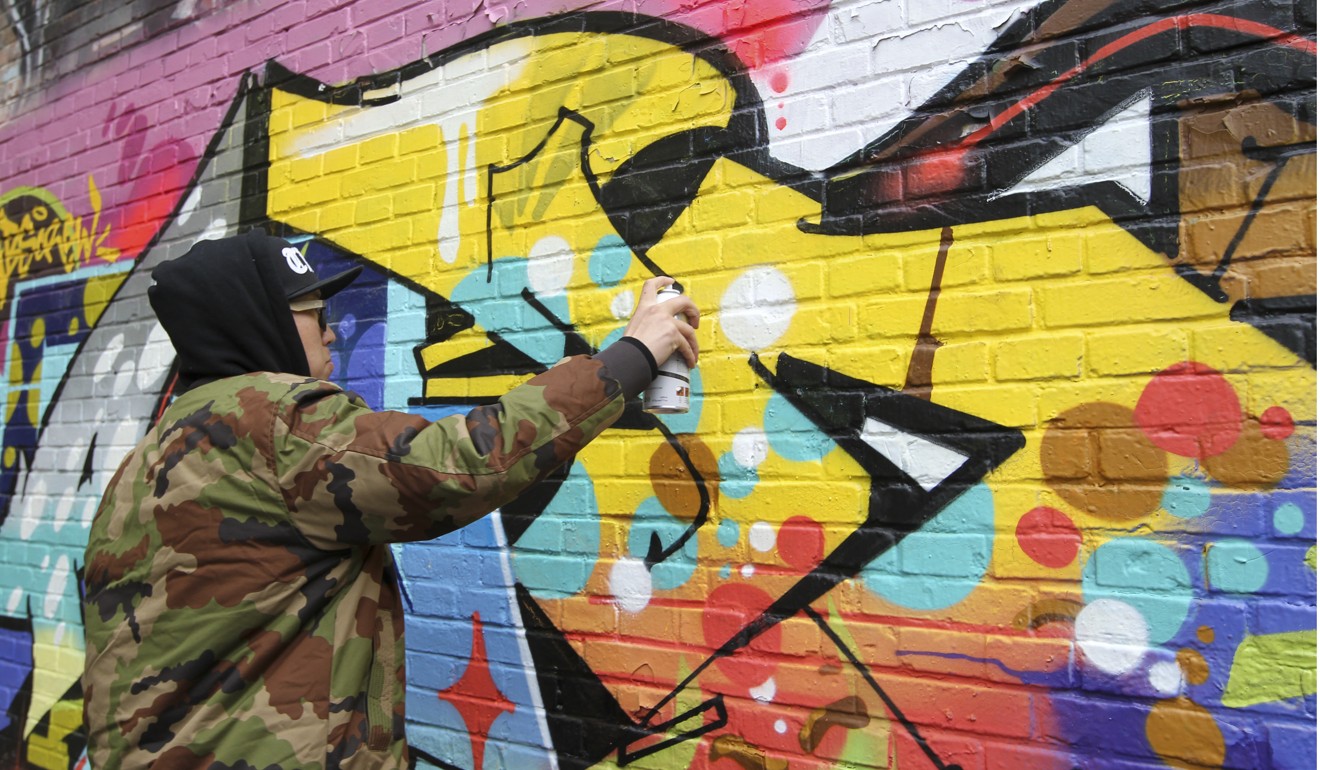 Chen hopes the art form can be embraced by the public in China like it has in the West.
"Europeans are liberal. In Europe, after finishing our graffiti, we organise parties where everybody joins in the fun, singing, dancing and drinking. However, when we do activities in China, onlookers just stay on the sidelines taking videos of us and are reluctant to join in the fun.
"Besides, there are many places where it's legal for artists to do graffiti overseas. But in China, even the exteriors of private properties are managed by city officials."
Decorating Beijing's Tiancun Road
Public walls in Beijing are commonly daubed with red slogans and used by the government to promote patriotism and Chinese values. The interminable slogans, in mangled Chinese, are an eyesore to anyone who cares about urban design.
Tiancun Road in Beijing's northwestern Haidian district is an exception. In place of bold red simplified Chinese characters are colourful graffiti works by artists of various nationalities.
In a rare exception to the central government's antipathy towards graffiti, Haidian officials commissioned the China Art Battle event to paint the poor neighbourhood with street art in October last year.
The abject poverty of the Tiancun Road neighbourhood, located next to the filthy Yongding River, is seen through its dirty streets and ramshackle low residential blocks. Nicole Lin, founder of China Art Battle, says the neighbourhood is one of the very few rural-village-like enclaves yet to be demolished in urban Beijing.
"It's chaotic here. [Many of the] buildings here were built illegally. Landlords expanded their blocks of houses vertically without [government] permission. They rent the houses to poor migrants to earn money.
"To implement the [central government's] policy to switch from coal to gas last winter, big metal posts and pipes were installed, further blighting the area."
Man Chui, director of China Art Battle, says he spent six months persuading the local government to support the street art project.
"I grew up in Sham Shui Po [a poor neighbourhood in Hong Kong]. I saw how street art has transformed Sham Shui Po, which now boasts many art spaces," he says.
Decorating a 1.5km-long wall and the exteriors of shops and homes, the graffiti works were created by 16 local and overseas artists. Their works portray whimsical cartoon characters and Chinese motifs such as the lotus and dragon.
Lin says the street art project has improved the well-being of the community.
"Surveillance cameras have been installed since the completion of our project. More security personnel have also been stationed to [help maintain law and order]."