Art
Get more with myNEWS
A personalised news feed of stories that matter to you
Learn more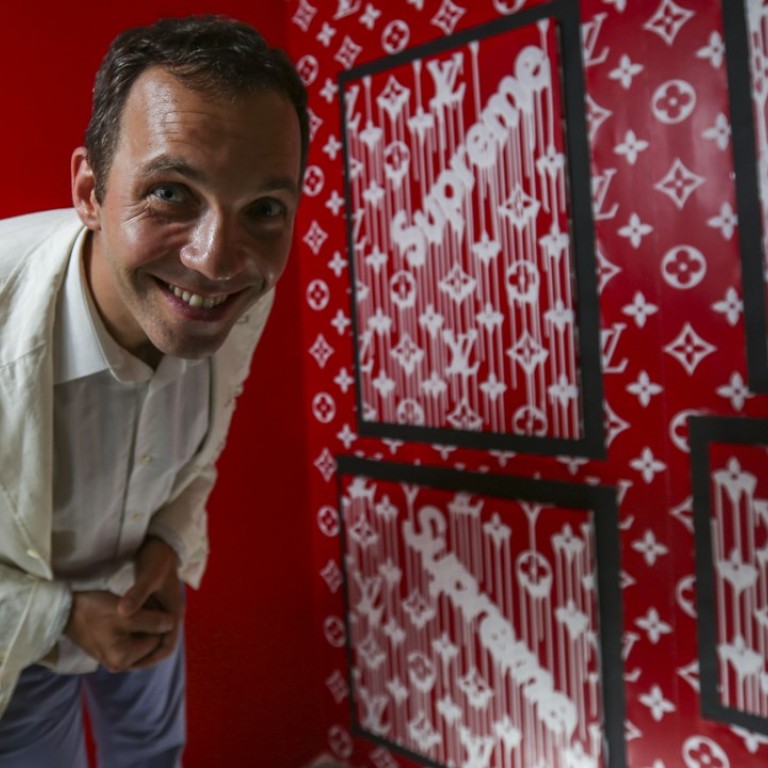 French graffiti artist, whose dripping Louis Vuitton and Chanel logos earned him global attention, on his near-death experience and arrests
Zevs, who got his name from the train that nearly hit him, mixes street art with pop art to make comments about commercialism and its impact on society. He gained fame with his distinctive dripping versions of famous brand logos
French street artist Zevs (pronounced Zeus) has a simple answer when asked whether a near-death experience in his home city of Paris had an impact on him and his art.
"Well, I did name myself after that train," he says matter-of-factly while walking around Central's Over The Influence gallery that is hosting his solo show, "Supreme meme", until August 4.
Zevs, aka Christophe Aguirre Schwarz, adopted his moniker after almost being hit by a train that locals referred to as Zeus.
It's a name that would become familiar in the arts world – the artist was one of the pioneers of French street art in the 1990s, making a name with his drawingscalled "Electric Shadows", that traced the shadows of Parisian street lights. But it's his distinctive dripping logo, a style boldly on show at the gallery, that would launch him onto the global stage.
"I don't seek permission from the brands when I do these works. That would defeat the purpose," he says in front of a huge red and white piece dripping with the LV logo, the painting and others from the show created around the fashion brands Supreme and Supreme x Louis Vuitton.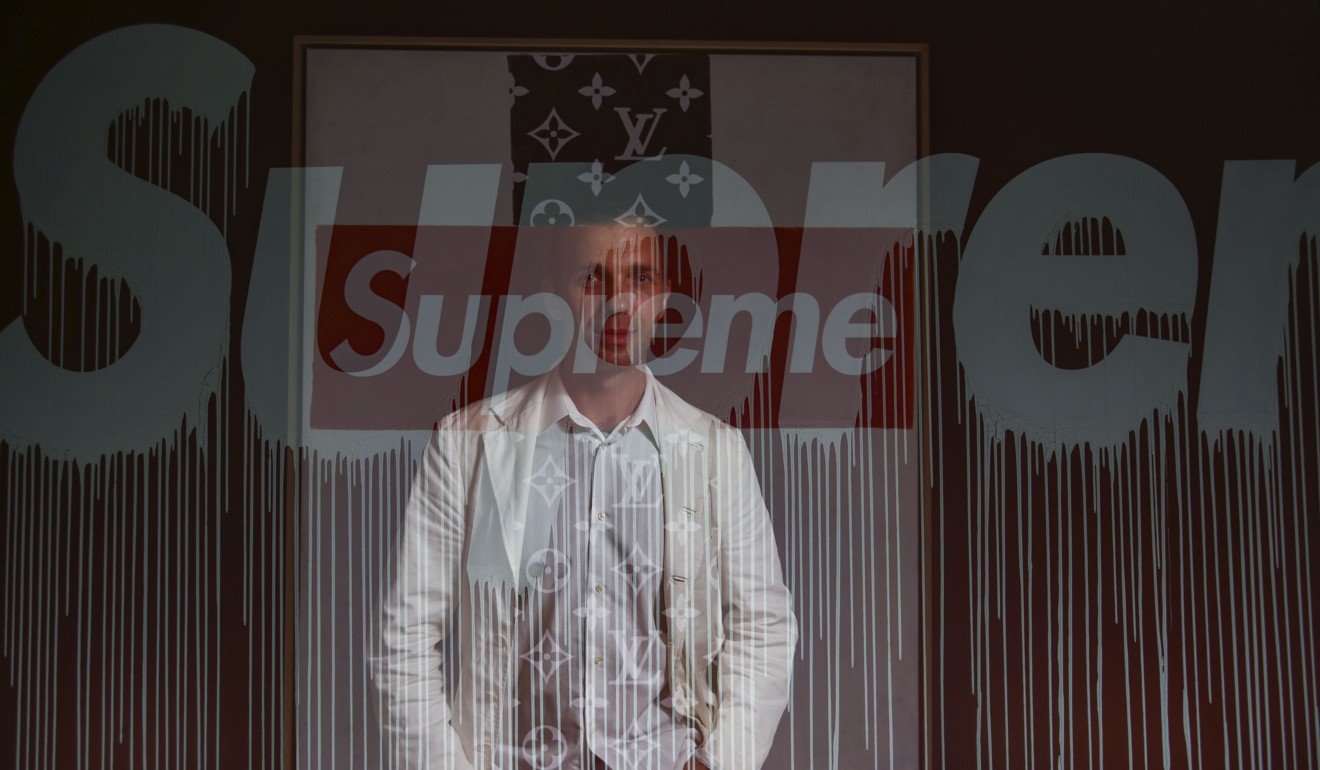 That purpose, he says, is to send a message about materialism and the impact brands have on society, an apt message for a spend-happy, logo-loving city such as Hong Kong.
LV is not the only logo to have been given the Zevs liquidation treatment. Others include Apple, Google, McDonald's and Coca-Cola. And no matter how much he distorts these corporate logos, they are still instantly recognisable.
While his pieces have global appeal – exhibitions have been held worldwide, including in Moscow, Copenhagen and Zurich – some critics say they cross the boundary between art and vandalism. His work has landed him in trouble with authorities, including those in Hong Kong.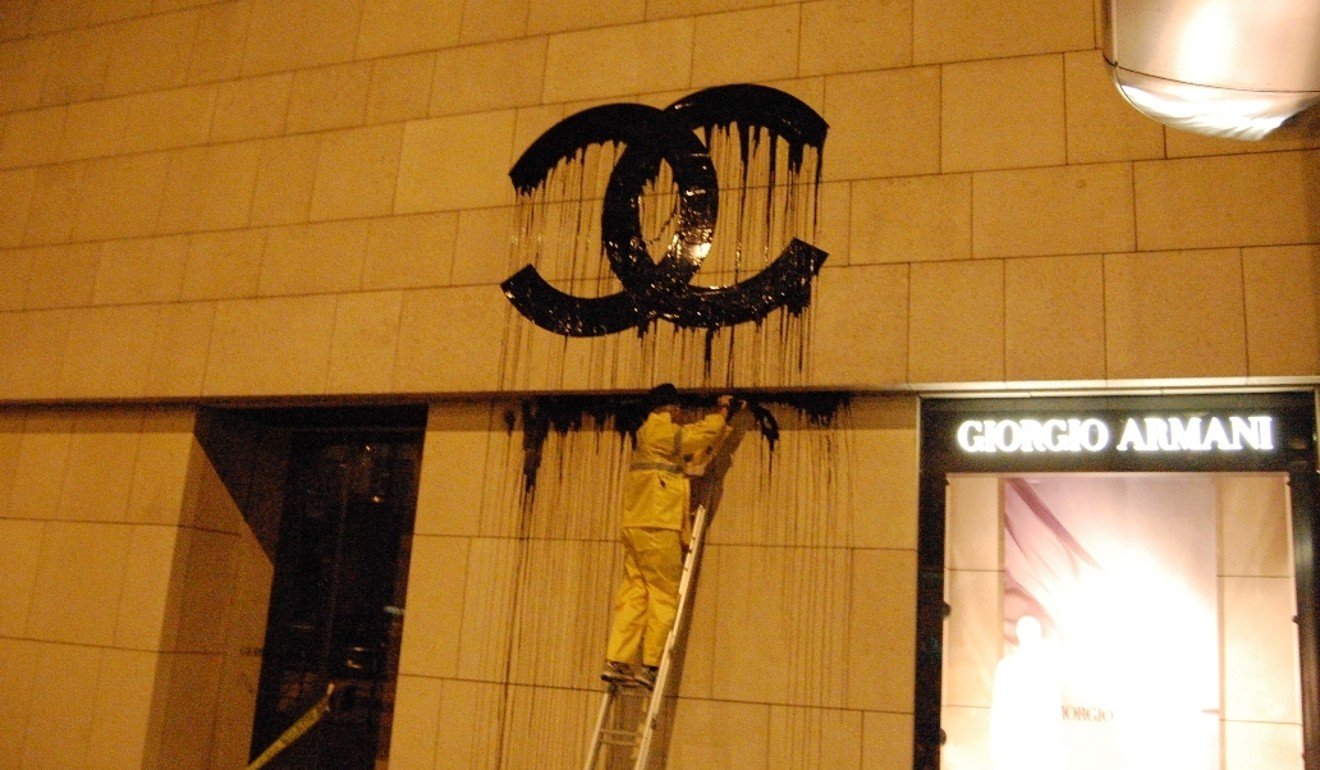 In 2009 the artist was arrested and briefly jailed when he painted a dripping Chanel logo on the flagship Giorgio Armani building in Central.
It wasn't the first time he made headlines. In 2002, he "kidnapped" a 10-metre model advertising Lavazza coffee, sending a note "Visual Kidnapping – Pay now." to the company, demanding US$638,694 in ransom. His Visual Violation series, where he blurred the faces of Marilyn Monroe and Jim Morrison, also caused a stir
But he says his work is apolitical, "just paint not politics".
"Supreme meme" runs until August 4 at Over The Influence Gallery, 1/F, 159 Hollywood Road, Central, tel: 2617 9829