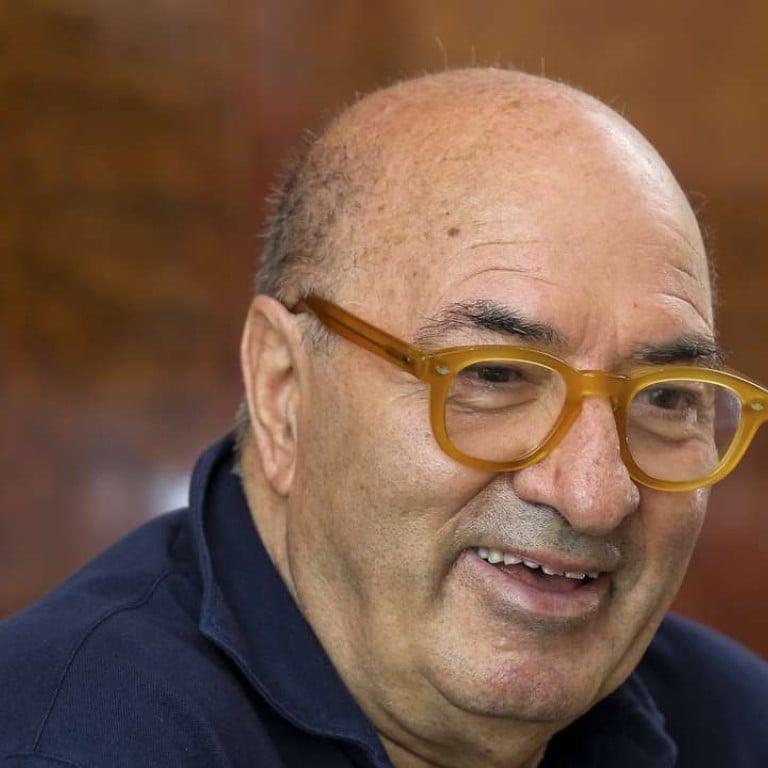 A matter of scale: Dante Ferretti award-winning set designer
It's not surprising that Dante Ferretti comments on the view – albeit a grey, foggy one – as he walks into the imposing hotel room on the 33rd floor of the grand MGM hotel in Macau.
The Italian production designer is a visual genius, having collaborated with some of the best directors in the industry (Pier Paolo Pasolini, Federico Fellini, Terry Gilliam, Martin Scorsese, Francis Ford Coppola, Anthony Minghella, Tim Burton) resulting in some of cinema's most visually stunning works that have earned him three Academy Awards for best art direction: The Aviator, Sweeney Todd: The Demon Barber of Fleet Street and Hugo, as well as nominations for many more.
He's also designed stages at some of the world's largest opera houses – La Scala in Milan, Opéra Bastille in Paris and the Teatro Colón in Buenes Aires, as well as in Rome, Turin and Florence. He created stage designs for Verdi's La Traviata, Puccini's Tosca and La Bohème, among many others.
Before he entered the world of drama he was a trained architect.
"I arrived two days ago and I like Macau very much – it is quite crazy," says the 73-year-old. "It is beyond my expectations."
It's Ferretti's first visit to Macau and he's still taking it all in, the high-rise MGM resort – with its huge interior plaza where giant sculptures of colourful butterflies hang above a massive aquarium teeming with tropical fish – the ideal aesthetic for someone who creates on a grand scale.
Ferretti's on mission inspiration, having been recruited by the International Film Festival & Award Macao committee to design an award for the inaugural festival that takes place at the Macau Cultural Centre and Macau Science Centre from December 8 to 13.
But there's another reason he was keen to visit the former Portuguese enclave. He wants to see up close the Ruins of St Paul's, the 16th-century complex that is arguably Macau's most famous landmark. Intricately carved between 1620 and 1627 by Japanese Christians in exile from their homeland, it was officially listed as a Unesco World Heritage site in 2015. Ferretti is familiar with the structure – he recreated a replica of the ruins for his latest cinematic project, the Scorsese-directed
Silence
.
Shot in Taiwan and starring Liam Neeson and Andrew Garfield, Silence is a historical drama based on a novel of the same name by Shusaku Endo. It centres on a Jesuit missionary sent to 17th-century Japan who endures persecution in the time of the Kakure Kirishitan ("Hidden Christians"). Due for release in December, it is Scorsese's first feature film since the 2013 hit The Wolf of Wall Street, and something of a passion project for the director (he's been trying to get it made since 1991).
Ferretti says the replica of St Paul's was made from drawings. But did the original live up to his expectations and, more importantly, did his recreation do the original justice?
"I think I did it justice – it looks just the same and I'm very happy about that."
Talking about Scorsese, one of cinema's best directors, comes naturally to Ferretti – and for obvious reasons.
Silence
is the ninth film Ferretti has worked on with Scorsese.
"Of course, I love working with Scorsese – he allows me so much creative freedom. I have done nine films with him and I'm sure there will be more."
But their working relationship almost didn't happen. "When Scorsese first called and asked me to work with him, I turned him down – twice, in fact," Ferretti recalls with a laugh. "He wanted me to work on The Last Temptation of Christ, but I was working on The Adventures of Baron Munchausen so was too busy to accept. Then he called me for another film – the title I can't remember – and I was busy."
Having turned down the director twice, Ferretti thought he would have been pushing his luck if he had rejected a third request.
"When he called me to work on The Age of Innocence I jumped straight on a plane and went to him to accept. If I had said no, I'm sure he would not have called me anymore."
But Scorsese was not the only great director that Ferretti turned down. In his twenties in his native Italy, Ferretti rejected initial requests to work with the great Italian director Fellini.
"Fellini called me and said: 'Dante, you have to work with me on my next movie'. I replied, 'thank you maestro, but I can't. Please call me in 10 years.'
"He said, 'are you crazy? Why in 10 years?' I said I'm sure if anything goes wrong then it will be my fault, but in 10 years I will have more experience."
Fellini called 10 years later and the rest is cinematic history (Ferretti would work with Fellini on six movies – including City of Women and The Voice of the Moon).
Ferretti's work in Hollywood, in particular his projects with Scorsese, have allowed him to create awe-inspiring grand sets with a stylised, hyperreality. Hugo was such a film. "Everything was built from scratch."
The same with Gangs of New York, where Ferretti also built everything from scratch, including huge scenes of New York that were built to scale.
Ferretti says he spent hours in museums to get ideas – some accurate, some invented.
It's these grand projects and his attention to detail that have helped earn him the title of design king of Hollywood. But behind every good king is an equally good queen. And Ferretti's queen is his wife, the acclaimed Italian set decorator Francesca Lo Schiavo.
"Yes, Francesca has worked with me on many set designs. When you see Kenneth Branagh's Cinderella – the incredible design and that beautiful carriage – all the work, that was her. She is incredibly talented and we have worked together for almost 30 years.
"It's strange to work with your wife but now we don't have to speak too much – she just knows what I want and vice versa."
Gazing out the window, Ferretti asks about Typhoon Nida, which is heading for the region.
"I have never been in a typhoon. I might get stuck in Macau, but I don't think that would be such a bad thing."