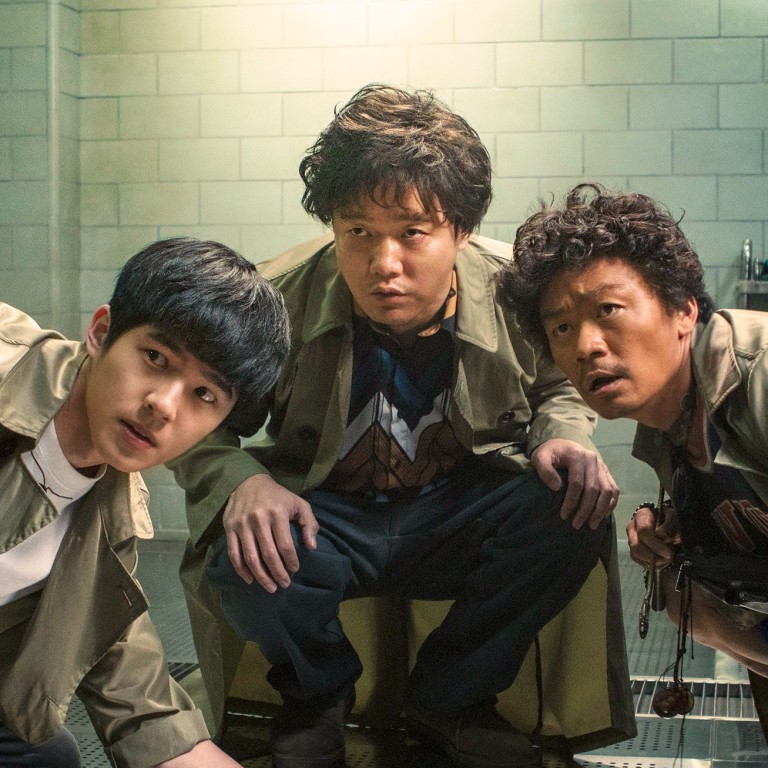 The top 10 films at the Chinese box office, and the five biggest flops, in 2018
Patriotic hit Operation Red Sea, franchise comedy Detective Chinatown 2, and a Chinese Dallas Buyers Club took top honours, eclipsing Hollywood films
Hong Kong's Carina Lau, Tony Leung, Nick Cheung and William Chan had a hand in some of the worst performers, as did Li Bingbing, whose star is falling
Film-goers spent 60.98 billion yuan (US$88.7 billion) at Chinese cinemas in 2018. If that sounds like good news, the reality is that growth in box office takings in China appears to be slowing.
From 2009 to 2015, box office receipts for films in China rose from 6 billion yuan to 44 billion yuan, with growth averaging over 30 per cent a year. Takings in 2016 rose only 3.7 per cent, to 46 billion yuan. In 2017 they grew 13.45 per cent.
The box office total for 2018 represents a 9 per cent increase from 2017, but this is just the second year in 10 that the yearly increase in takings has been in single digits.
Of the top 10 movies at the Chinese box office in 2018, four were Hollywood productions and the rest domestic productions. The top three films, each of which took more than 3 billion yuan at the box office, were made in China.
Domestic films recorded ticket sales of 37.9 billion yuan in 2018, accounting for 62 per cent of the total box office, the official Xinhua news agency said late on Monday, citing data from the State Film Administration.
Domestic films in 2017 accounted for 54 per cent of total box office.
China is the second-largest movie market globally after the United States, though it already has more movie screens than the US after years of rapid expansion in cinema networks.
The top 10 performers at the China box office in 2018:
1. Operation Red Sea , released in February, took 3.65 billion yuan
2. Detective Chinatown 2 , released in February, took 3.4 billion yuan
3. Dying to Survive , released in July, took 3.1 billion yuan
This surprise hit marks the feature-length debut of 33-year-old director Wen Muye. The film, described as a Chinese Dallas Buyers Club, was praised for giving a gritty portrayal of the greedy pharmaceuticals and medical industry in China which drive critically ill patients to desperation.
It is based on the real-life figure of Jiangsu native Lu Yong, who suffers from leukaemia. Deterred by the expensive price of leukaemia medicine which was protected by patent, the entrepreneur played by Xu Zheng went to India to buy much cheaper imitation medicine and sell it to leukaemia patients on the cheap, sparing them death and financial ruin.
After being arrested by the government for selling fake medicine, several thousand leukaemia patients who benefit from his cheap Indian medicine appealed for his release. The protagonist was eventually released without charge.
4. Hello Mr. Billionaire , released in July, took 2.55 billion yuan
5. Avengers: Infinity War , released in May, took 2.39 billion yuan
6. Monster Hunt 2 , released in February, took 2.24 billion yuan
7. Venom , released in November, took 1.87 billion yuan
8. Aquaman , released in December, has taken 1.78 billion yuan and counting
9. Jurassic World: Fallen Kingdom , released in June, took 1.7 billion yuan
10. The Ex-File: The Return of the Exes , released in January, took 1.65 billion yuan
The romantic comedy explores how contemporary Chinese view their former lovers. Directed by Tian Yusheng and a sequel to 2014's Ex-Files and 2015's Ex-Files 2, the film struck a chord in China, where people often maintain an on-and-off relationship with their exes.
The bottom 5 movies at the Chinese box office:
Along with the box office hits come the misses. These induce widespread soul-searching at film production companies whose big bets on spectacular special effects and expensive A-list stars backfire. These five made-in-China films offered their makers costly lessons in 2018.
1. Asura , released in July
The producers of Asura – including Alibaba Pictures – decided to pull it from cinemas after a disastrous opening weekend when it only made 49.05 million yuan. (Alibaba owns the South China Morning Post.)
With a budget of 750 million yuan, it is the most expensive Chinese film ever made. A production which involved 2,500 people from all over the world, the film was largely shot in three Chinese provinces – Qinghai, Ningxia and Hebei – and spent 15 months in post-production in the United States.
Its stellar cast includes Hong Kong stars Carina Lau Ka-ling and Tony Leung Ka-fai, and Chinese teenage heartthrob Wu Lei, who played the main character. The fantasy epic tells the story of a shepherd (played by Wu) on a quest to save Asura – the dimension of pure desire.
2. A Better Tomorrow 2018 , January
With a production budget of 100 million yuan, the film took in only 63 million yuan at the box office.
The story of a police officer who mounts a campaign to arrest his ex-convict brother, and their reconciliation, the movie was panned as a poor adaptation of the 1986 John Wu classic A Better Tomorrow, starring Chow Yun-fat and Leslie Cheung, that copied wholesale the original's plot and the relationship between its lead characters.
3. The Trough , April
4. Genghis Khan , April
This film cost 100 million yuan to make, but took only 38 million yuan at the Chinese box office. Hong Kong singer and actor William Chan Wai-ting plays Mongol conqueror Genghis Khan, who sets out to save his fiancée after she is kidnapped by a tribal chief on their wedding night. The film was criticised for poor editing and its stock characterisations.
5. Guardians of the Tomb , January
Chinese superstar Li Bingbing and Taiwanese-Bruneian actor and singer Wu Chun couldn't save this movie from ignominy. Made at a cost of 120 million yuan, the film took only 49 million yuan.
The Australian-Chinese co-production was directed by Australian Kimble Rendall. A science fiction horror thriller, it revolves around a team of scientists who lose a colleague in an ancient labyrinth while on a quest for the biggest discovery of the century.
It was rated only 3.9 out of ten on Chinese film rating site Douban. In spite of its plentiful special effects and the Lara Croft-like protagonist, played by Li Bingbing, the film was panned for its clichéd plot. Critics said its poor box office showing suggested Li's star was fading.
Additional reporting by Reuters