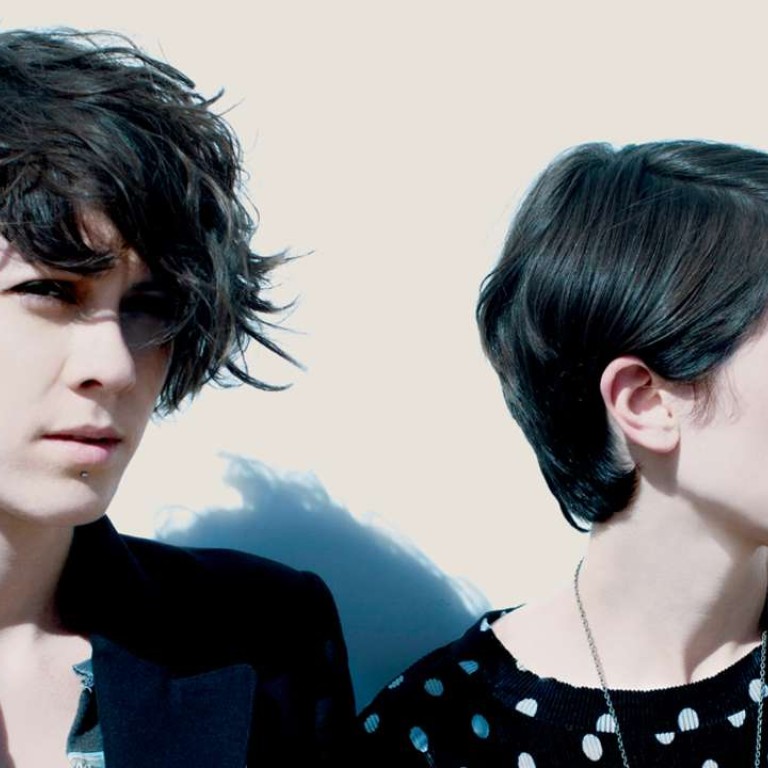 How Tegan and Sara's sound has evolved from acoustic to indie rock to synth-pop
Ahead of Hong Kong gig by the Canadian twins, Tegan talks about how they have matured as people, family and musicians, and about how to be yourself when you're in a band with your sister
Canadian indie pop duo Tegan and Sara are back in Hong Kong this month, hot on the heels of the release of their eighth album. The 35-year-old twin sisters were last in the city in 2013 to play Clockenflap and are looking forward to the July 28 concert in Kowloon Bay.
"Hong Kong is our favourite new place, we love it and are so looking forward to coming back. We're planning to get in a day before the show so we can hang around and check things out," says Tegan, the older sibling by eight minutes.
Tegan and Sara Quin have been on the music scene since the late 1990s and built up a solid fan base with their early indie folk tunes and several albums which displayed an edgier indie rock sound. But in the past few years they have pulled out all the plugs and pushed their music to the next level and with it has come huge commercial success.
Heartthrob – their seventh album, released in 2013 – marked the turning point. It saw them break into the Top 40 chart with hits such as Closer, an infectious tune that earned them mainstream appeal. That same year Katy Perry invited them to join her on part of her North American tour and they were surprise guests at a Taylor Swift gig. They were now in the big league, so what prompted this fresh, new sound?
"We were listening to a lot of pop music and a lot of electronic music, and we saw a trend was starting where pop music was starting to sound like electronic, a little hip hop, a little urban, a little R&B. It felt like in the 1980s when there was so much fusion in pop music," Tegan says over the phone from Los Angeles.
The key player in coaxing out this new sound from the identical twins was Greg Kurstin. Based in LA, the producer has had a string of successes with female artists from Pink, Lily Allen and Kelly Clarkson to indie artists The Shins and Ladyhawke.
"I liked that he'd worked with so many female musicians. It was just awesome. It felt liberating to work with him and he was very supportive of what we wanted to do," says Tegan.
That 2013 album also marked a departure in the way the twins worked together and they moved towards a greater focus on collaboration. Tegan puts this down to the fact that instead of having five or six musicians in the studio when they write, it is often just the two of them now.
"I was just writing a lot and Sara was writing less and she was just more interactive with me about my songs. She really pushed me," says Tegan.
It's just one way in which their relationship has evolved and matured over the years. Their parents divorced when they young. Their mother went back to university and trained as a therapist, so no surprise that the sisters are familiar with the language of therapy and seem self-aware. As a young teen, Tegan remembers having huge fights with Sara over music and their mother telling them to just do their own thing.
"We really enjoyed playing music together so there was always this weird tug of war – a desire to be apart, be your own person, to stand on your own two feet and not be a twin to somebody, but then there's something so special to being a twin and do what we do together. I would mourn it if I was not be able to do that," says Tegan.
For many years they lived in different cities – Sara in Montreal and Tegan in Vancouver – but this year Sara moved to Vancouver, which has made working together much easier. Unlike their teen days, when they sometimes got on top of each other, they are now better at giving each other space.
"Its important to have your own life so that when we come together we are able to create something interesting because we've had such different experiences," says Tegan.
On June 3 they released their eighth album –
Love You To Death
– also produced by Kurstin and with plenty of collaboration between the sisters. Now at a more mature place in their lives, the twins, who have been openly gay since the start of their musical career and are champions for the LGBT community, consider their relationship to each other in the new album.
"It can be incredibly inspirational to be in a band with your family member. It adds just a whole layer of comfort and familiarity and friendship, but it can be hard sometimes. There can be a desire to want to escape and be your own person and we definitely talked about that a lot on this record," she says.
Tegan admits that in the early days, as young singers and writers, they were self-absorbed and focused on their own experiences, but now she believes they are finding their voices. They explore personal, intimate truths with the intention of shedding light on themes that apply to everyone. Their lyrics are more openly gay than they were in the early albums, but Tegan believes this doesn't pigeonhole them as lesbian singers writing for a gay fan base because they are addressing universal issues. Their increasingly mainstream popularity would attest to this.
"Singing and writing about gender and sexuality allows you to use a whole different language. We write about our personal experiences and I think our point of view is a universal point of view - we are talking about love and we all love. No matter where we position ourselves in the song in terms of lyrics, when it comes to gender and sexuality we are all there, we are all struggling. The heart is not gendered," she says.
Tegan & Sara, July 28, 8pm, Rotunda 3, Kitec, 1 Trademart Drive, Kowloon Bay, HK$588, HK Ticketing. Inquiries: 2629 6218