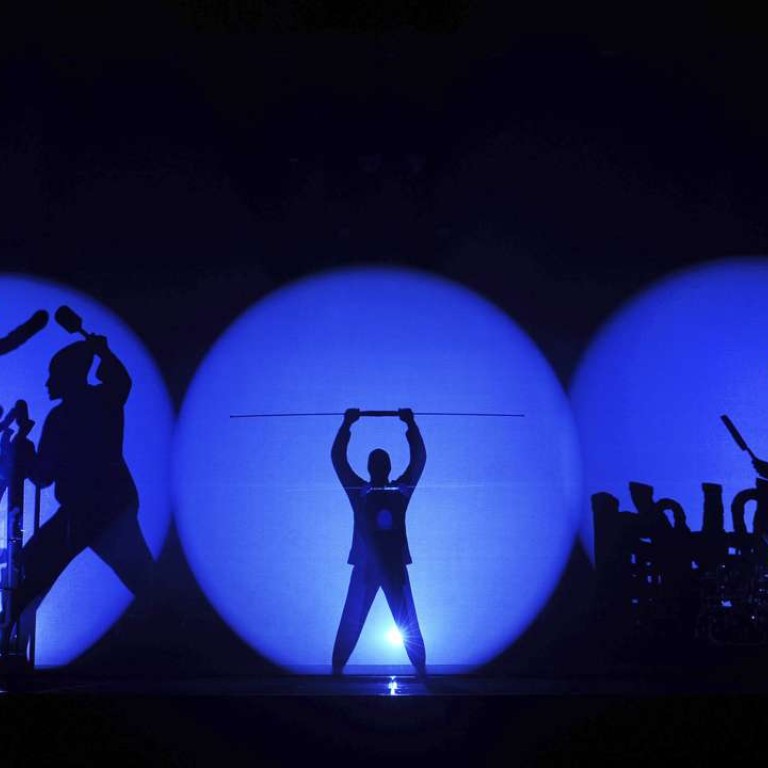 Award-winning Blue Man Group bringing physical-theatre extravaganza to Macau
Trio's co-creator Phil Stanton says they have come a long way since their start as street performers in the 1980s, with awards under their belts, productions across America and a current world tour
On stage and in publicity photos, Phil Stanton, a member of the award-winning Blue Man Group, is so slathered in blue greasepaint that no one can recognise him offstage. This anonymity serves the 57-year-old well.
"That's the great thing about this project. I can walk around and live a life like anybody. I say that, but I am anybody," he says.
The joys of being everyman is something Stanton often returns to in a conversation about the group he is best known for. The Blue Man Group have thrilled audiences across the US, as well as in London, Tokyo and, more recently, Singapore. They will take their act to The Venetian in Macau from August 11 to 28.
Trying to explain the group's popularity, the co-creator stresses the childlike singularity of his blue persona. What makes Blue Man so attractive, he suggests, is a paradoxical ability to be the same, but different.
"We have a unique way of talking about the 'Blue Man'," says Stanton, "[when] it should be grammatically correct to say the 'blue men'. We wanted to express this idea of the tribe. There are three of them, and that's the smallest number of people to be a tribe. Often they would act as one, and they had one common goal, and that's the way we did it. It's almost a poetic way of saying they're aligned and a tribe. We always think of them as only three, even though there are many different shows going around the world."
But, in the next breath, he says, "The blue man represents who we all were as children. In other words, curious and not yet socialised or conditioned into acting like every other stuffy adult; marching to the beats of our own drums.
"We're kind of strange in the US. We're kind of the outsider wherever we go."
The Blue Man Group's performances are famed for being interactive extravaganzas. Their recent gig in Singapore saw them doling out a "paint-drumming" segment that sent the front rows scrambling to put on their free ponchos; catching gum balls in their mouths and regurgitating them into art; and trotting out a giant "GiPad".
"Inspiration largely comes from looking at the world around us," says Stanton.
More than 35 million people in 15 countries have seen a Blue Man performance. With ongoing productions in New York, Boston, Chicago, Las Vegas and Berlin – to name a few – and a current world tour, five albums and adverts for brands such as Intel, the Blue Man Group have come a long way since starting as a trio of street performance artists in the late 1980s.
Stanton met Chris Wink in 1986, after the former moved from Savannah, Georgia, to New York city to study acting. Wink introduced Stanton to Matt Goldman, whom he had known since childhood. The trio would catch performance art in the city, and soon came up with an idea for a show of their own: a bald and blue character.
Painting themselves blue was an intuitive choice, says Stanton. It was their "physical embodiment" of creativity.
"It just felt right. It was after the fact that we learnt a lot about the colour blue." Stanton says they learnt there have been blue tribes and about Yves Klein, the French artist who patented a colour of his own invention, International Klein Blue, in 1960.
"And we realised it resonated for some reason. Theatrically, it was just as easy to have a comic moment, as it was to have a more sublime emotional moment, if you are in some bright clown colour," he says.
The downside, however, is that "being blue" is associated with being sad. But "even that is nothing to be afraid of", he says.
And while the trio talked in the earlier days of their act, they gradually arrived at the decision to have the blue man not speak.
"We felt it would be more interesting to take everyone out of the language part of their brain and put them in the more visceral part of their brain," says Stanton. "From that, we have developed lots of ways of thinking about the character and what it's all about. It's something more primal than language. It's certainly before what language has become. In that way, you transcend all the differences that we might have, such as in politics."
By 1989, Goldman, Stanton and Wink were working 14-hour days, performing and conceptualising the show, doing everything by themselves. In 1991, they won an Obie Award, followed by a Drama Desk Award a year later. A Grammy nomination for best pop instrumental album for their debut album Audio followed, in 1999.
"I think I'm similar to my partners in that we all have a great many varied interests," says Stanton, who is a father of two.
"Blue Man came about because all three of us wanted a way to continue to be in a field in which we all had interests. It was also a way for us to form our own social life. Our own community. It was those personal things."
These days, Stanton stays behind the scenes, preferring to write and direct the shows, while teams of other performers play the blue man roles.
But he put on the blue greasepaint and costume recently for a photo shoot for a book commemorating their 25th anniversary, slated for publication in September this year.
"It's really an outsider's look at the blue man, the blue man's origins and thought process, and blue man's anatomy. Kind of tongue in cheek," says Stanton.
For now, Stanton is looking forward to the Blue Man Group visiting Macau for the first time.
"That's one of the great pleasures of taking the show around the world," he says. "It's always a little different, in terms of how people think. But audiences respond very similarly around the world, despite preconceived notions."
The Blue Man Group, Venetian Theatre, The Venetian Macao, August 11 to 28, tickets: HK$380, HK$680 and HK$880. Inquiries: +853 2882 8818
This article appeared in the South China Morning Post print edition as: never say dye