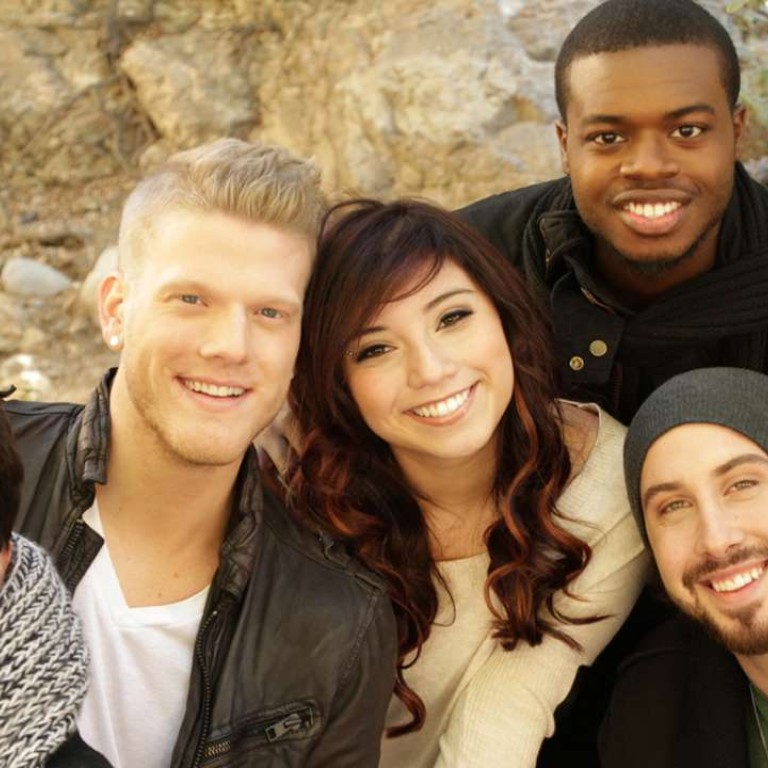 With 1.5 billion YouTube views, Hong Kong-bound Pentatonix are a cappella's biggest stars
The hard-working, high-energy a cappella group perform in the city this month. We talk to the band's bass vocalist, Avi Kaplan
American a cappella group Pentatonix make their Hong Kong debut on September 22 and are set to wow the crowd using nothing but their voices – and some magic rock-star dust. Fans can expect a high-energy show with a big pop-rock concert feel.
Pentatonix got very big, very fast and have YouTube and social media to thank for their rapid rise to fame. Formed in 2011, the five-member group got noticed almost immediately when they won the third season of The Sing-Off on NBC that same year. Their big win earned them US$200,000 and a record contract with Sony Music, but that wasn't to be their path to success.
After moving to Los Angeles with the record label, there was a shift in management and their new bosses decided there was no place for an a cappella group on the label. Avi Kaplan, who is bass vocalist for the group, describes the initial setback as a blessing in disguise.
"It was the best thing that ever happened to us because we got all the freedom we wanted. We got out of a terrible deal we were in anyway," says Kaplan.
Determined to retain the fan base from The Sing-Off, the group started releasing videos of cover songs on YouTube. The first video they put out, Moves like Jagger, a Maroon 5 cover, went viral. "It was awesome so we kept doing our videos, kept upping the production value and it kept getting bigger and bigger," says Kaplan.
To date Pentatonix have amassed more than 1.5 billion views on their YouTube channel – with more than 200 million views of their Daft Punk tribute alone – and have more than 10.5 million subscribers. "It's really the biggest way of keeping in touch with our fans, it's really the new age of promotion," says Kaplan.
As an opera major at college in the US, Kaplan says his dream job was to be in a professional a cappella group, but he didn't think it was possible, not least because there were no big a cappella groups. But Pentatonix have carved out their own niche and with a lot of hard work have put themselves in a very big spotlight.
The group sound great, but to really appreciate what they do it's best to actually see them – on video or better still live. Only when you watch a performance can you really appreciate what they do – the whole show, all the sound, is achieved using only their voices.
In addition to bass Avi Kaplan, there is the harmonic trio Scott Hoying, Mitch Grassi and Kirstin Maldonado, and beatboxer Kevin Olusola. The magic of a cappella is that it is just singing – there are tight vocal harmonies, deep vocal basslines and a wide range of vocal percussion and beatboxing.
"It's a very team-orientated thing. If there's one person missing, it's just not the same, so we all have to work together. If someone is singing just one note through the whole song, it has to be the best note they've ever sung because without that one note the song isn't the same. It's about the group, it's not about one person," says Kaplan.
Their initial fans were won over with great cover songs, so the band were wary about switching to something different, but equally eager to do something new. They made the leap and in 2012 released their debut EP PTX, Volume 1, shortly followed by their holiday release PTXmas that same year. When PTX Volume II was released in 2013 it went straight to No. 1 on Billboard's independent albums chart and came in at No. 10 on the Billboard 100.
"We didn't want to just be a cover group, we wanted to do our music, to be a band. Once we were able to do it, it was a little scary, but it was also something inspiring – something new, fresh for us to get into. It was amazing to see the reaction of our fans," says Kaplan.
Since then Pentatonix have kept getting bigger and better, but it's worth remembering that the success wasn't immediate. Consider that Kaplan, auditioning with a different a cappella group, didn't make the cut on America's Got Talent, and Hoying and Maldonado were passed over by American Idol. Their success is down to the magic of how they work together, a case of the whole being greater than the sum of its parts. "It's a very special thing, each one of us has a special thing that we add – when we come together there's really something special in that," says Kaplan.
To get a good sense of what Pentatonix is all about – and to see them in action – check out their documentary on Netflix (the Hong Kong Netflix has the 89-minute programme). On My Way Home follows the five on their sold-out 2015 American tour and there is plenty of behind-the-scenes footage that gives insights into all of the band members. The fact that the five have such different personalities goes a long way to explaining their broad appeal.
"The reason we are so widespread is that we are all very diverse, we are all very different people and I think it allows many different types of people to latch onto one of us. That really helps to our success, because we have such a wide fan base," says Kaplan.
So they are a little bit like the 1990s American sitcom Friends? "That's exactly it!" says Kaplan.
The Hong Kong show comes midway through the band's 2016 World Tour that kicked off in Sydney on September 3 and wraps up in Texas on November 22. It's a gruelling tour with 34 shows in two and a half months and, as the band learned on tour last year, they will need to make their health a top priority, with plenty of sleep and lots of water.
"Our body is our instrument so it's really important for us to treat it right. We really can't go out and party every night like a lot of bands do – we have to keep our voices right for the show. It's a bummer, but you gotta do what you gotta do to live the dream," says Kaplan.
At the group's first show in Hong Kong, Kaplan says fans can expect a high-energy show with a big pop-rock concert feel. "We've never been to Hong Kong so it'll be super exciting. It's going to be big, its going to be fun," he says.
Pentatonix, Sep 22, 8pm, AsiaWorld Expo, Hall 10, Hong Kong International Airport, Lantau, HK$388-HK$788, www.hkticketing.com