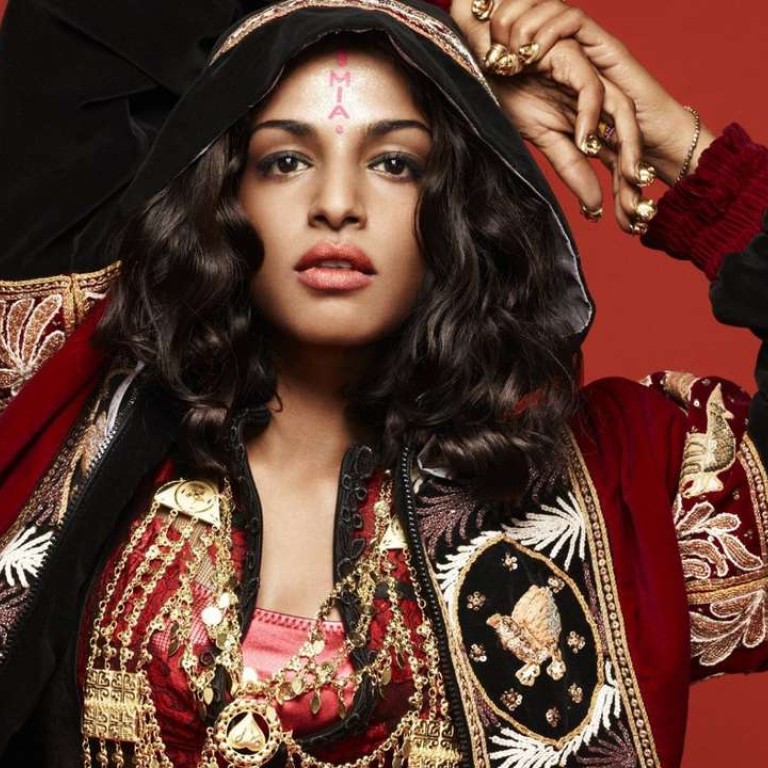 M.I.A. is bringing her high-energy show to Clockenflap
The British-Sri Lankan rapper and musician has bounced back from adversity, and Hongkongers will get to experience firsthand the fearless edge of her music
British-Sri Lankan rapper M.I.A. is sure to give Clockenflap a performance to remember. Her shows are known for being high energy – think ass-shaking jungle disco madness – and if there's something on her mind, we can be sure we're going to hear about it.
The provocative and intensely political singer was announced after South African rap group Die Antwoord pulled out of the festival citing "unforeseen circumstances". If the festival organisers were looking for an artist to really rock the new Central Harbourfront location – a house-warming of sorts after five years at the West Kowloon spot – then it looks like they've found it with M.I.A.
Earlier this year, she acknowledged to London's Evening Standard that she has a reputation for being difficult. "I still don't get invited to the Brits. I think they're scared of me. And I hardly ever get approached by corporations or brands. I have this massive 'No' sign on my face," says the 41-year-old.
The singer, whose real name is Mathangi "Maya" Arulpragasam, has now spent a decade in the limelight. Her debut album Arular – released in 2005 – was immediately well received, praised for mixing styles and blending political lyrics into dance tunes. That first album was named after her father and the second one – Kala, released in 2007 – was named after her mother. In September she released her fifth album, AIM, which she claims will be her final studio album.
If you're new to M.I.A., you're probably getting the picture already – family, personal experiences and politics have played a huge part in shaping her music.
Maya was born in Hounslow, west London, in 1975. Her father, Arul, was an engineer and activist and her mother, Kala, was a seamstress. When she was just six months old, her father moved the family back to Jaffna in Sri Lanka so he could join the Tamil separatist movement.
Life was hard in Sri Lanka. Speaking to the NME, she recalled being six years old and waiting for her front teeth to appear. Her dad yanked her baby tooth out.
"Maybe he was a bit aggressive and it wasn't ready to come out. They didn't grow for three years – that's why they're massive. They took me to a dentist, but in Sri Lanka they use a grain of rice still in the shell to cut the gum. I would just have to sit there while a woman cut my gums open," she says.
Her father wasn't around much in her early years. A founder of Eros (Eelam Revolutionary Organisation of Students), he trained with the PLO in Lebanon and was usually away fighting for independence.
When she was still very young, M.I.A. was told that he was her uncle so that she wouldn't accidentally give away his location.
For three years the family lived in a derelict house in a Tamil area of India and when they returned to their Sri Lankan village, government soldiers kept turning up to look for her father. They would sit her on their knee and ask if her toys were presents from her father. Then the same soldiers would beat up her mother and any young local males.
"Kids like my cousin, and all he did was hang about, whistle at girls and sing Michael Jackson songs," she told Rolling Stone.
After several years of harassment, the local community clubbed together and raised enough money for Kala to take her three children back to England. They arrived in 1986 and were housed as refugees on an estate in Tooting while her father stayed in Sri Lanka. She was a wild teenager and has spoken openly about shoplifting from luxury department stores.
"You couldn't nick from normal high-street stores because the security was insane. Every teenage person thinks about nicking at the high-street stores. I would go to the top, top, top store, which is Harvey Nichols, because their security was so lax. I used to just go in there and pretend I was lost, then walk out with Versace jeans. I was the best-dressed poor person in the world," she told the NME.
She hasn't lost that fearless edge – if anything, she has become even more daring. She didn't have the grades to get into the prestigious art school Central Saint Martins, but she managed to talk her way in with daily calls pestering the people in charge.
"I just totally emotionally blackmailed the head of the art department. I told him that I'd be a hooker if they said no, and they let me in," she told a blog in 2005.
But it seems the department head could see past the pushy calls to the essence of who she was: "He said I've got chutzpah, and maybe the person who could change something about their institution was someone who had chutzpah," she says.
And that she certainly has. The week after she graduated from Saint Martins, she learned that her cousin, who had joined the Tigers, had gone missing in action. She went back to Sri Lanka determined to make a film about it – MIA (missing in action). Shortly after she returned to the UK with 60 hours of footage, the September 11 attacks happened and anything that might look remotely as though it was promoting terrorists was out.
As with so much in her life, she bounced back from adversity, taking single frames of the footage, turning them into wallpaper and stencils, and winning an Alternative Turner prize as a graffiti artist. Soon after that, she wrote her first song, MIA, which made it to her debut album.
Musicians and singers who want to make political statements have traditionally relied on genres such as rap, folk and rock, but right from the get-go M.I.A. leaned heavily on electronic dance music. She taught herself how to rap, write songs and produce, making infectious tunes and melding hip-hop, rave, punk and grime with Indian rhythms, African drums and Jamaican beats.
And throughout she has not been afraid to say what she thinks and feels. One of the few South Asian musicians on the world stage, her work is almost always political. When she raps about refugee camps, she knows what she's on about, as she once was a refugee. But she's always careful to keep the tone upbeat. This isn't about misery and heartache, it's about triumphing against the odds and seeing the good in the tragic.
"Look, I'm 100 per cent Sri Lankan, I'm pissed off, I didn't have a stable life, and I'm a refugee, like a lot of people on the planet today are. 'You've never had one of them before, so deal'. I'm the antithesis to whatever someone like Norah Jones is doing. There were no rules to how I got here. Yet I'm not out there doing f***ed up things to people, and none of my songs is depressed. I'm just trying to make them dance and clap their hands," she told the blog in 2005.
And when she appears on the main stage at Clockenflap on November 26, there won't be any shortage of people doing exactly that.
For the full line-up and ticketing information (discounted ticket sales end on Thursday), visit Clockenflap 2016