Music
Get more with myNEWS
A personalised news feed of stories that matter to you
Learn more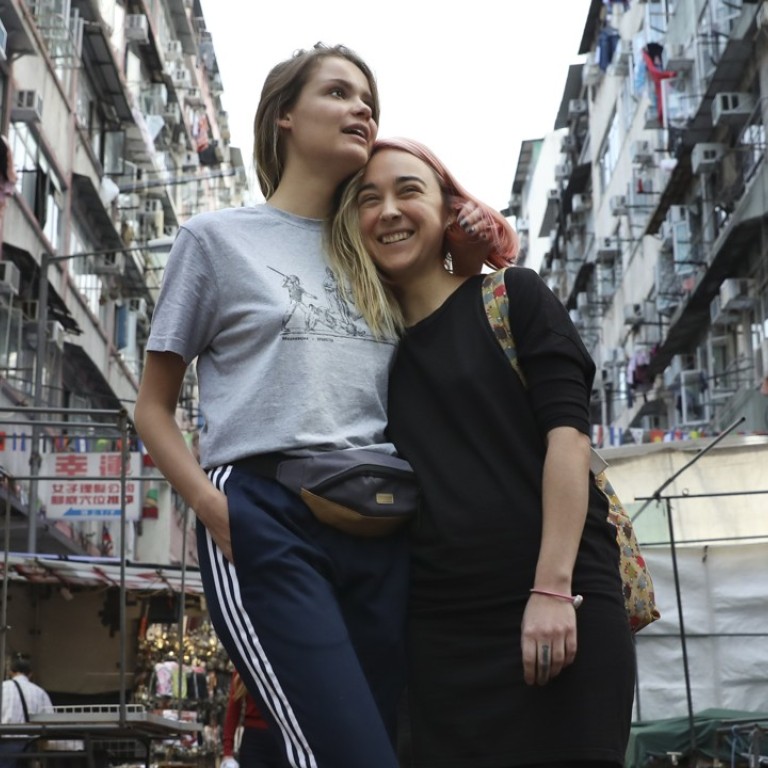 'The worst days of my life': Pussy Riot member on suspected poisoning of her boyfriend
Nika Nikulshina, still just 21, has seen a lot protesting in Putin's Russia, but nothing as bad as fellow Pussy Riot member fighting for his life
She and Olya Kurachyova, another member of the punk protest group, remain defiant despite the pressure on them
Nika Nikulshina, of Russian punk protest group Pussy Riot, shifts nervously in her chair as she explains why she suspects her boyfriend and fellow group member Pyotr Verzilov was poisoned by Russia's intelligence service in September.
"The government doesn't want some things to come out, or maybe they just want to show their power – you know, don't put your hands there, don't put your nose here, it's our deal and not your business," says Nikulshina during a visit to Hong Kong earlier this month. "A big reason is because of the work he was doing in central Africa."
As editor of Russian independent online news website Mediazona, Verzilov, 31, was researching the deaths of three Russian journalists, including his friend, filmmaker Alexander Rastorguev, in an ambush in the Central African Republic in July while making a documentary on the activities of Wagner Group – a private security company with links to the Kremlin.
According to Reuters
, Wagner Group has reportedly been used by the Russian authorities to conduct clandestine military operations on their behalf. The Russian authorities have denied these reports.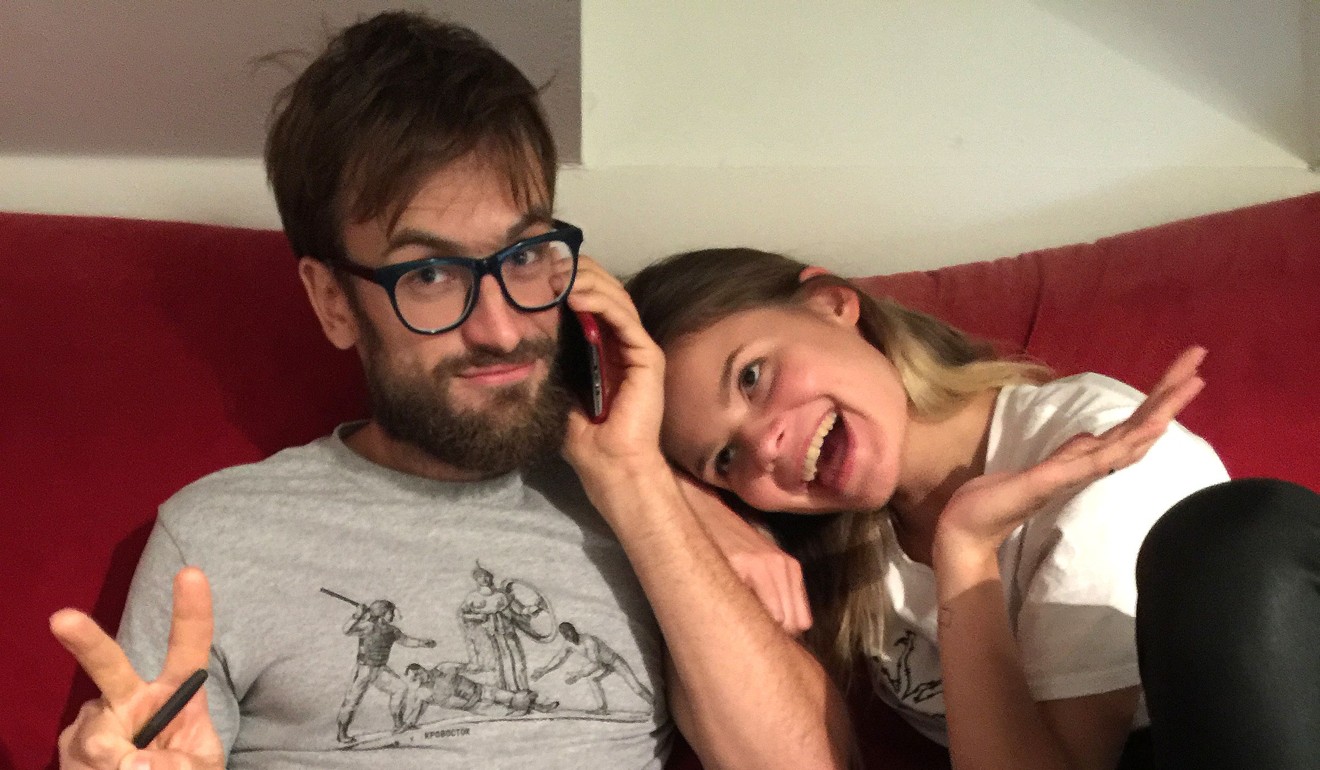 Russia opened a
criminal inquiry
into the deaths, but Verzilov wanted to do his own investigation and was planning to visit the African nation when, on September 11, the day before he was due to fly out, he fell ill and was admitted to hospital in Moscow.
"It's scary when something is happening with your close friend, with the person you love, and you can't do anything. And you don't know what the f*** is going on because it was crazy stuff … They were the worst days of my life," Nikulshina says.
"From minute to minute, he was getting worse. He was delirious and had lost his ability to see and move properly. Then he fell unconscious, so I put him in an ambulance. For the next two days Pyotr's mother and I were not allowed to see him, and when we asked about his condition the doctor told us he was deteriorating.
"When I got to see him he was breathing with a mask and was unconscious. At that point I realised it was something dangerous, something external … something was given to him. Luckily we got him to Berlin."
On September 18, German doctors treating Verzilov said at a press conference there was a "high plausibility" he was poisoned, but were unable to determine the nature of the substance,
Reuters reported at the time
.
"We will return to Moscow when it's safe. Pyotr is a brave man and he will return to the work he was doing. These things cannot stop us," Nikulshina says. "When you live in Russia and you're involved in political activities, your nervous system is like a piece of stone."
It's easy to forget Nikulshina is just 21. Political activism, a trademark of the group that formed in 2011, has made her not only fearless but mature beyond her years.
It's a hazy afternoon and Nikulshina, along with fellow Pussy Rioter Olya Kurachyova, stand out from the crowd as they wander through Jordan's Temple Street Market, the shopping strip in Kowloon known for its cheap tourist tack and fake designer goods.
"The city is so crazy and big and energetic," says Nikulshina, who along with Kurachyova, 31, are in the city for the first time. "What I love [about Hong Kong] is people don't give a s*** about who you are or things like your hair colour."
The following day they saw a side of the city they may not have expected, when an exhibition by Chinese political cartoonist Badiucao they were to due to attend with student activist Joshua Wong was cancelled, the artist claiming he received "threats" from Beijing.
Controversy is nothing new for Pussy Riot. Its members go to great lengths to draw attention to their causes, whether through their impromptu protests or politically charged lyrics (although both women say they have little connection to the music side of the group).
This summer, Nikulshina and Kurachyova took part in one of the group's most ambitious protests to date when they and two other members invaded the pitch during the soccer World Cup final at the Luzhniki Stadium in Moscow.
Verzilov was also part of the stunt, pulled off in front of a packed stadium, with Russian President Vladimir Putin looking on – another reason Nikulshina believes her partner was poisoned. All four had bought tickets to the match. The reason they managed to breach the tight security boiled down to one thing – fear of the Russian police uniform that all four were wearing.
"A lot of money was spent on security, especially for the final, but we made it [on the pitch] and it means that the big security machine does not work," Nikulshina says.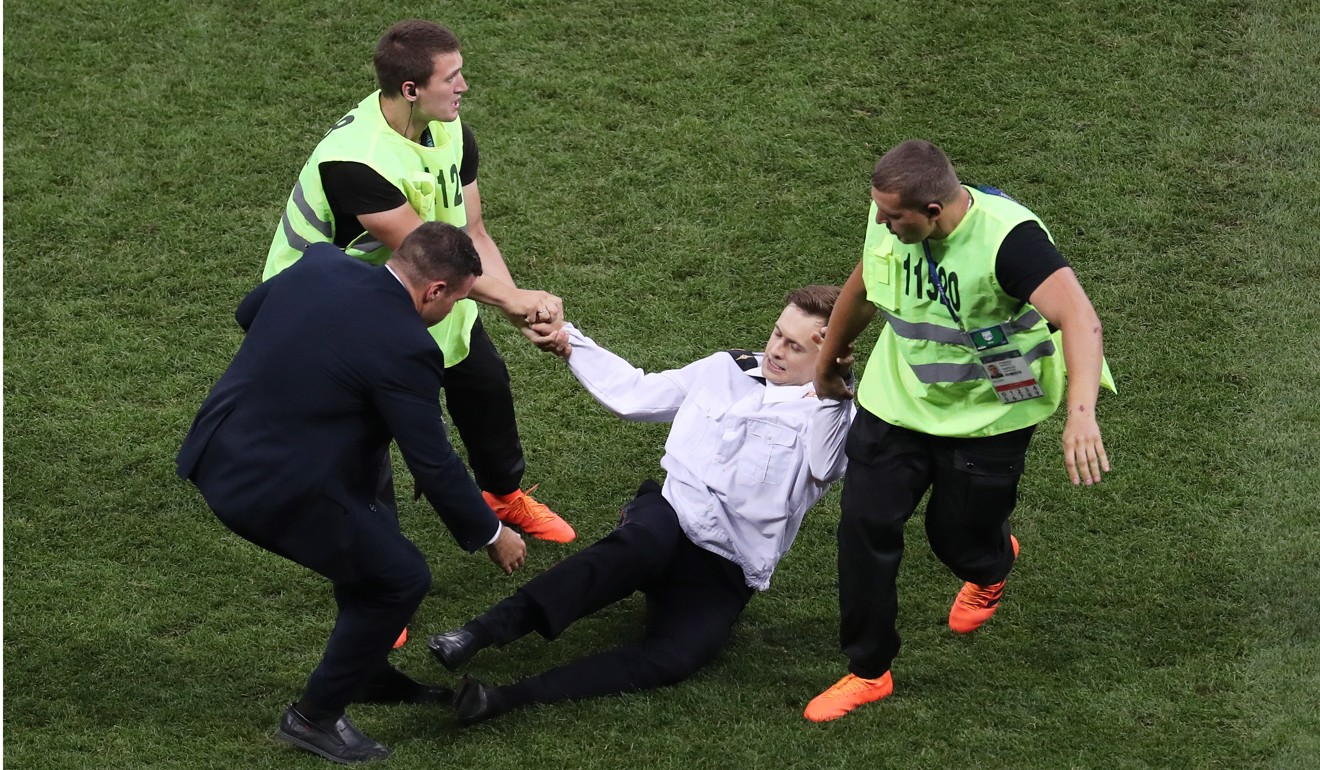 "There were 12 heads of government there and a huge amount of people and we just did it, we just ran on the field. It means that if you wear a police uniform, no matter where you go and whatever you do, you can do that because people are so scared of the uniform … scared of police officers."
"We spent the first half watching the game like a fan, but we didn't watch so much because we were so nervous," Kurachyova says with a laugh. "At half-time we changed our clothes and … they [security] just let us go. We didn't show anything [identification]. Nobody asked 'Who are you?' or 'what are you doing?' … that's the power of the uniform."
For their World Cup actions the four were detained for 16 days. "It was a nightmare. I thought it would never end," says Nikulshina. "We had to sit in a cage and ask when we wanted water or wanted to go to the toilet. There was a lot of mental pressure; the police played a lot of mind games."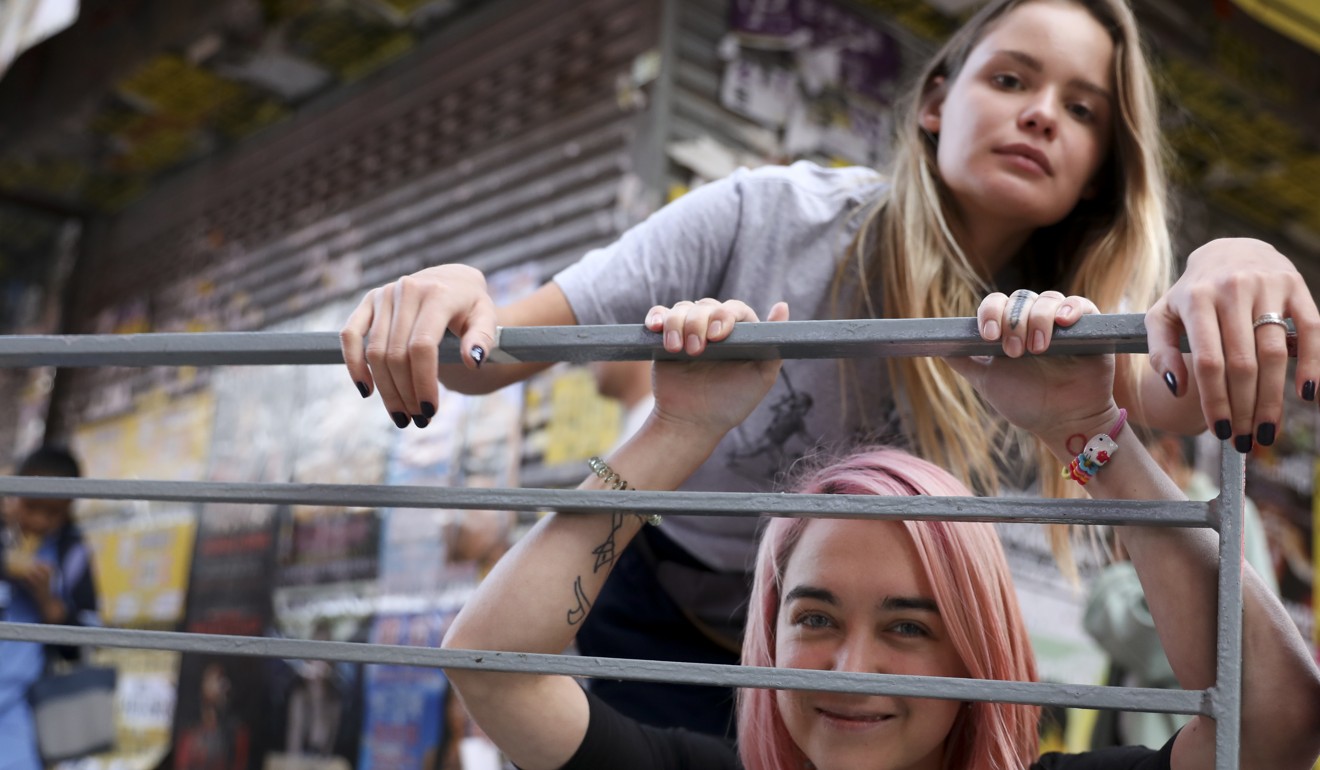 Kurachyova says the main goal of the stunt was to send a clear message to the world about the "corrupt police system in Russia" and to draw attention to the country's high number of political prisoners.
Police brutality in Russia is an issue never far from international headlines. According to a 2017 survey by Russian rights groups Public Verdict and Metodicheskaya Laboratoriya, almost one in four Russians say they have seen police attacks first-hand,
The Moscow Times
reports.
It found that nearly one in eight had reported being victims of police brutality, more than one in five had personally seen beatings by law enforcement personnel and 28.6 per cent of Russians had heard of police brutality cases from family and friends.
The number of political prisoners in Russia has almost doubled over the past year, according to an
annual report
published this month by the Memorial Human Rights Centre. It said 195 individuals were being held as political prisoners, up from 117 a year ago.
Pussy Riot is also outspoken on gay rights. The pair were in Hong Kong to speak about LGBT issues at a Miles of Love festival hosted by the Eaton HK hotel in Jordan.
"It's really important to speak freely about this stuff and to meet people from all over the world," says Kurachyova. "Some of the countries represented here have the same problems we have in Russia, so we can support each other and share our experiences.
"As far as the LGBT situation in Russia [is concerned], sometimes it's bad and sometimes it's horrible. We are here to try and understand what we can do, what will we do and what are the common issues to work on together. There is an anti-gay law in Russia which means so-called homosexual propaganda is banned among minors. So it's illegal to tell teenagers and kids that's it's OK to be an LGBT person."
Although Pussy Riot's official membership is not clear – "It's impossible to count how many members. There are different wonderful people doing different actions. It's very unstructured", Kurachyova says – they share the same beliefs. "We believe in freedom, in love, in equality and human rights and LGBT rights, and in feminism. It's important for us to fight for freedom," she says.
That message is more valid than ever for young activists in Hong Kong, she adds. "Never stop! Keep fighting for freedom and human rights and LGBT rights."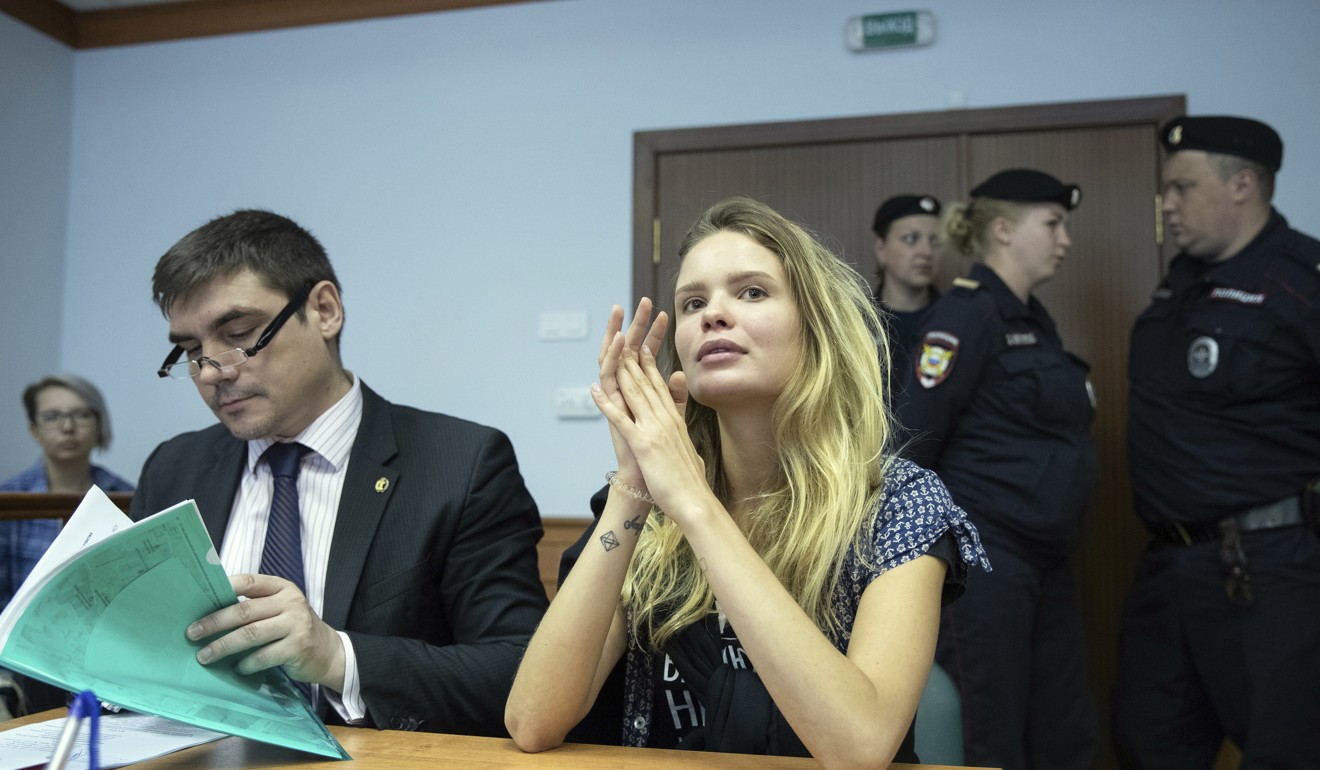 Nikulshina says young people hold the key to change. "Hong Kong's 'umbrella [movement]' protest with Wong was amazing. Young people are a power, a great power with all the energy and beliefs inside them. I'm always thankful when I get messages on Instagram from people in China, messages saying thanks for what you're doing … I'm glad their ideas are like my ideas."
As the interview winds up, Nikulshina shares some parting advice.
"Don't take life too seriously, that's bulls***. My motto is love freedom … Young people have the most amount of power to influence, so bring something from the inside to the outside. Bring the craziness, bring the punk."
This article appeared in the South China Morning Post print edition as: R e vel ling in t he c auses