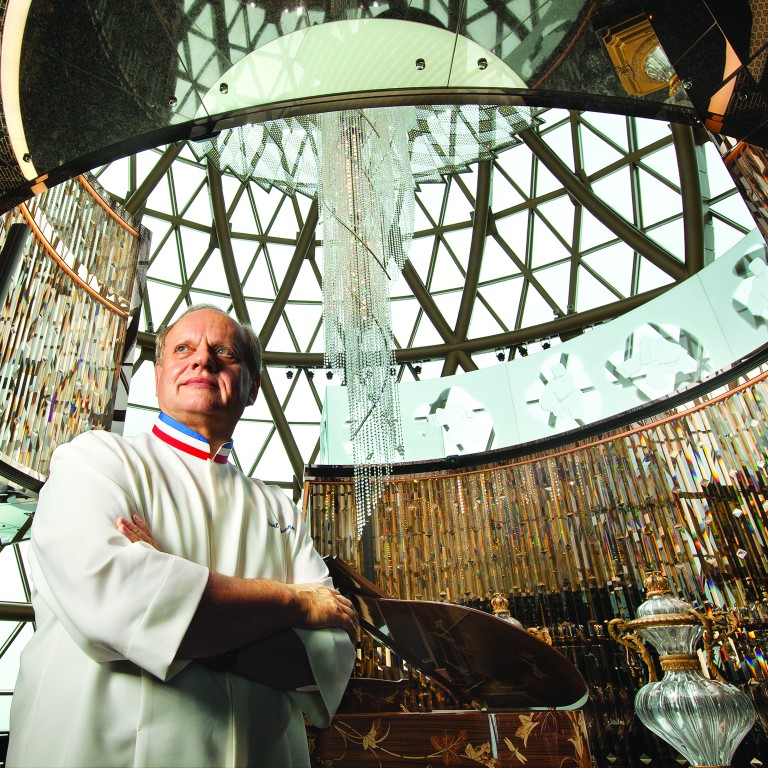 How chef Joël Robuchon transformed Macau's dining scene with his culinary mastery
It's been 15 years since Robuchon brought his award-winning French cuisine to Macau and revolutionised the local dining landscape
We take the private lift from the 39th floor of the Grand Lisboa to the dome atop the hotel's iconic lotus-inspired structure, where on a late morning, we await the arrival of the world's most decorated chef.
Joël Robuchon is in town for a special gala dinner at his Michelin three-starred restaurant, Robuchon au Dôme, and the kitchens are buzzing as chefs prepare for the day's lunch service.
We do not wait long for the famed international chef. Robuchon arrives on time, greeting us with an easy-going manner. He seems relaxed and cheerful, which is impressive considering his busy schedule takes him across several continents to oversee more than 20 restaurants, bars and cafes spread from Paris and Monaco to Tokyo and Taipei.
"I visit each place four times a year, but not necessarily to the same restaurant," Robuchon says. "I will be in one area around one week to 10 days. For example, this trip I stayed most of the time in Hong Kong and made some time to visit Macau, so next time I will stay in Macau longer and spend a few days in Hong Kong.
"Last week I was in London, where some of my team are still in, and before that Monaco," he adds. "The most difficult thing is to make sure the standards remain high in each restaurant."
It has been almost 15 years since Robuchon brought his award-winning French cuisine to Macau and revolutionised the local dining landscape. "At the time, I could not find Macau on the map," recalls the 71-year-old bricklayer's son. "I only knew of its nickname, 'Sin City', but I knew it was part of China, so I came to have a look.
"Macau then was not like Macau is now. There was nothing here, just the Lisboa and later the Westin, and where the Grand Lisboa stands now was a school. But I loved it."
Robuchon was enticed to come to Macau by Alan Ho – executive director of Lisboa Hotels and nephew of casino magnate Stanley Ho Hung-Sun – who wanted him to open the city's first fine-dining restaurant.
"Alan Ho is passionate about gastronomy and loves French food very much, so he asked me to come to Macau," Robuchon says. "He knows a lot about gastronomy and has a big wine cellar with exceptional wines."
Food and travel writer, and radio host, Chan Chun-wai recalls when Robuchon a Galera opened in Macau in 2001. "It caught everyone by surprise," Chan says of the restaurant's original name and location on the third floor of the Hotel Lisboa. "Joël Robuchon is a big name. It was something very exciting to gourmet lovers, and many people were not sure if Macau was sophisticated enough to have a restaurant like this."
Chan, who has been a judge for the Hong Kong Tourism Board's Best of the Best culinary awards for four years, adds: "Robuchon's restaurant offered an amazing French culinary experience – and still does – that we could not get anywhere else. In some ways, Joël Robuchon opened the doors for us to experience what a world-class French culinary experience should be."
When the Michelin guide launched in Hong Kong and Macau in 2008, the restaurant earned three stars. It moved to its present location in the dome of the Grand Lisboa two years ago, calling for a change in name from Robuchon a Galera to Robuchon au Dôme.
Robuchon's presence in Macau paved the way for many more chefs and restaurants. "He was the first to bring a fresh, very high-quality concept to Macau," says Dominique Bugnand, director of culinary operations at Mandarin Oriental, Macau. "If he wasn't here, the Macau dining scene wouldn't be as open and big as it is now."
Robuchon is known for his relentless pursuit of perfection, having said "there is no such thing as the perfect meal; one can always do better". He is also widely considered the most influential French chef of 
the post-nouvelle-cuisine era, instrumental in leading French fare away from trendy excess and harking back to authentic "cuisine actuelle", focusing on making each ingredient taste of itself.
Born in Poitiers, France, as the second world war was ending, Robuchon was one of four children. "Times were hard for everyone," he recalls. "During the war, there was a saying: 'Be a cook, because at least 
you will get fed'."
He got his start in cooking at age 12 while attending a Catholic seminary. "The best moments were when I helped in the kitchen with the nuns. Mealtimes were strict, as we ate in silence, but while cooking it was a bit more relaxing and fun."
At age 15, Robuchon got a job as an apprentice pastry chef at the Relais de Poitiers hotel and six years later became the official chef of the Tour de France cycling race. "I travelled a lot through different regions of France and learned the different techniques from each region," he says.
Later, after presiding over kitchens for the Concorde Lafayette hotel and Hotel Nikko, Robuchon opened his own restaurant, Jamin, in 1981. Within three years, he was awarded three Michelin stars. Ten years later, the relocated and renamed restaurant, Joël Robuchon, was named Best Restaurant in the World by the International Herald Tribune.
Robuchon announced his retirement at age 50, but it didn't last long. He began to host culinary shows on French television, launched his Japanese-inspired L'Atelier de Joël Robuchon concept, and expanded his collection of restaurants across the globe – earning 28 Michelin stars along the way.
This year and next, he has plans for new restaurants in Bordeaux, Bangkok, New York and Mumbai. The chef clearly enjoys what he does. "I don't see it as working, as I am doing what I like," he says. "Otherwise, I would just stay home in Spain, sitting in my armchair on my boat getting a tan."
Robuchon au Dôme
Location: 43/F, Grand Lisboa
(Go to the 39/F, then change elevator for the 43/F)
Lunch: 12:00 – 14:30 hrs
Dinner: 18:30 – 22:30 hrs
For Reservations
(853) 8803 7878