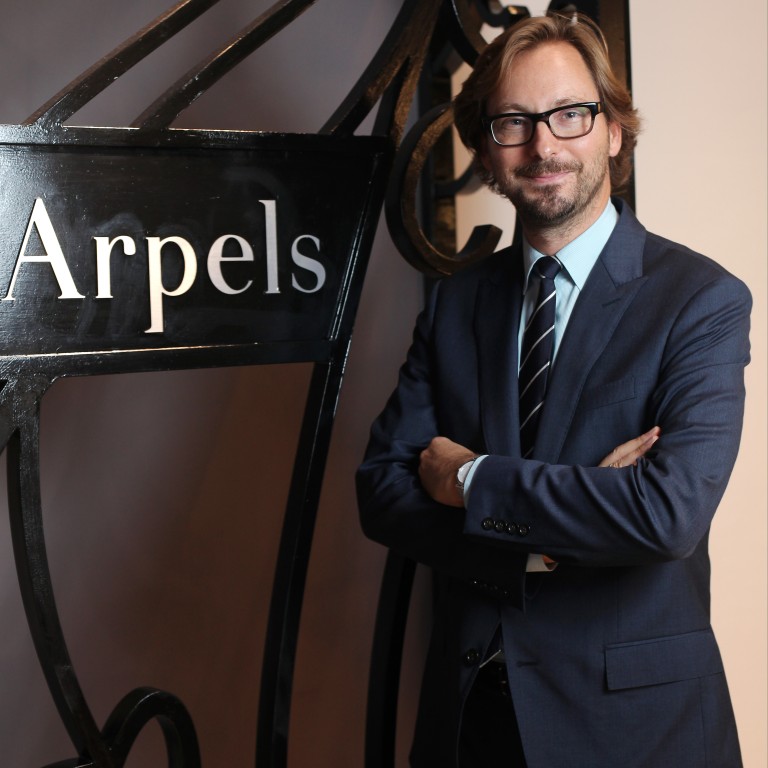 Interview: Nicolas Bos, CEO of luxury jeweller Van Cleef & Arpels
Luxury jeweller Van Cleef & Arpels has opened a new boutique in Macau, but, despite a slowdown in the luxury retail market, the president and CEO of the venerable maison remains optimistic
It's the season for grand openings in Macau. Last month, the US$4.2 billion Wynn Palace – Macau's most expensive resort – opened and with it came the opening of a new Van Cleef & Arpels boutique, the luxury jeweller's fourth in Macau, and second in Cotai after Studio City.
Amid a slowdown in the luxury retail market, the opening comes as a surprise, but Nicolas Bos, president and CEO of the venerable maison, remains optimistic.
What has 2016 been like for Van Cleef & Arpels?
We are not immune from what's happening with the slowdown in Asia –  the tough times in Hong Kong and Macau –  but we are pretty resilient. We are not in a situation where we feel we have to downsize – the luxury market is still doing quite well. If people still spend on luxury, I think a majority of them at the high level still want to go for brands that respect them, that are reassuring and which hold a long-term value –  brands where they don't feel they are being too betrayed by marketing.
Do you find that clients appreciate the intricacies of the craft of watchmaking as much as the watches themselves?
Over the past 10-15 years, I think a much better understanding and appreciation from clients has developed and they really understand the differences in the quality. I think we are probably less, right now, in the excitement of say, metiers d'art techniques, than we were three or four years ago when everyone was looking for new techniques. Now, people are looking more for the piece itself, so whatever craft it is – enamelling, stone setting or carving, is it the right technique for that product? And then is it done at a high level of excellence? There is more of this type of discussion than to say look, we invented or revived another new technique – now it's more about the quality of the piece itself and the quality of the execution.
What are some of the challenges that you face? We keep hearing that there aren't too many great artisans left and some of the younger ones aren't as keen to learn.
It's not so true actually; we believe that absolutely amazing and excellent artisans are scarce in jewellery and watchmaking. That's true in any trade, there are just a handful of the really gifted ones. But education has revived watchmaking over the past 20 to 25 years, and jewellery for the past 10 to 15 years. There are schools that are up and running – especially in the jewellery world in France – [and] we have at least three very good schools in Paris now with training for future craftsman. I think the industry, which we have contributed to on a few different levels, has learnt better how to speak to the younger generation in order to raise interest for this type of activity.
Do you find it hard to retain this talent?
It's probably easier to retain them when you're Van Cleef and Arpels – when they do get into one of our training workshops, it's more of an acknowledgement for craftsmen to come and be hired. That said, they are supertalented people and you need to pay them the right price, you need to give them exciting projects as well because it's not only about the money. They don't want to just be reproducing things from the past. They want to be creative in their own way.
Tell us more about your direction for the brand?
We have two directions. One direction is watches that are very precious, refined and mostly about the jewellery components - so the watch is like an added function to the jewellery piece itself – but its jewellery first and foremost. Also, what we have developed in the past decade is the idea of narrative watches. The idea is that we start with a story and of course we use jewellery techniques and everything that's available, but it's always associated with a mechanical movement and all the possibilities that a mechanical movement can create in terms of giving life to a story. Ten years ago, when we started, most of our colleagues were saying this is stupid – you will never sell a complicated mechanical watch to a woman – now those same colleagues are all selling them.