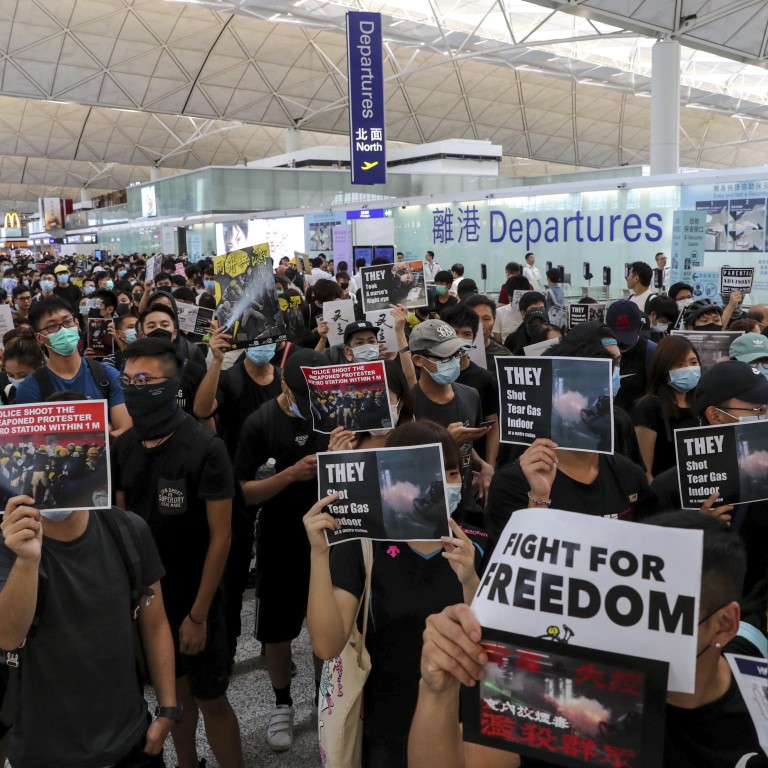 Hong Kong airport shutdown could give Shenzhen the edge as top air hub in Greater Bay Area
Chaos at Hong Kong International Airport comes as neighbouring centres press ahead with big plans
Shenzhen Baoan International Airport gained approval in April to build a third runway, which would allow it to handle 80 million passengers a year
The shutdown of operations at Hong Kong International Airport for a second consecutive day on Tuesday has tarnished the city's reputation and could prompt airlines to reassess the facility's role as the main air transport hub for the Greater Bay Area, analysts said.
That reassessment could be supported by Chinese government efforts to expand the capacity of other airports in the area to handle the expected increase in passenger traffic in coming years, they added.
Hong Kong International Airport (HKIA) cancelled all remaining departures late on Tuesday afternoon for a second straight day, as hundreds of black-shirted protesters staged a sit-in in the departure terminal, stopping passengers from checking in and checked-in passengers from reaching their planes.
The chaos comes as the cities Shenzhen and Guangzhou in nearby Guangdong province are pressing ahead with upgrades to raise their standing in international air travel.
Shenzhen Baoan International Airport, for instance, gained Beijing's approval in April this year to build a third runway, which would allow it to handle 80 million passengers a year, up from 49 million last year.
Hong Kong's airport handled 74.7 million passengers last year.
According to a Guangdong government plan published in July, Shenzhen, which borders Hong Kong, will be the gateway for the region and the "core" international aviation hub for the Pearl River Delta.
The airport, which is about a two-hour drive from Hong Kong airport, will have direct flights to more than 100 cities outside China, up from 50 now.
In 2018 alone, airlines launched 15 new international flights from Shenzhen, including to Brussels, Madrid, St Petersburg, Darwin, Zurich, Vienna, Dubai, London and Paris. In the first half of this year, flights to Johannesburg, Tel Aviv, Dublin and Rome were added.
While Hong Kong is still the first choice for many passengers in and out of the region, the blanket cancellation of flights on Monday and Tuesday has turned attention to neighbouring airports for both travellers and investors.
The share price of Shenzhen Airport rose 10 per cent, the daily limit, in trading in Shanghai on Tuesday while Guangzhou Baiyun International Airport gained 5 per cent.
Analysts at Citic Securities said carriers might reassess Hong Kong's role as the regional air traffic hub and allocate flights to neighbouring airports.
"That will help Shenzhen establish itself as an air traffic hub in the longer run," analysts Liu Zheng and Hu Shimin wrote in a note published on Tuesday.
For at least one mainland traveller the shift is already under way. A schoolteacher, who would only identify himself as David, said he originally planned to fly from Hong Kong to Singapore for a summer camp but changed his flight to leave from Shenzhen on Monday after he read about the protests in Hong Kong.
"Even if the flight service goes back to normal [in Hong Kong], I will not choose to fly from Hong Kong," he said. "There is also a direct flight from Shenzhen to Singapore."
Zheng Tianxiang, a transport professor at Sun Yat-sen University in Guangzhou and an adviser to the Guangdong provincial government, said Beijing was happy to see both Hong Kong and Shenzhen airports grow but if the situation in Hong Kong deteriorated "there is room and capacity to reduce the dependence on Hong Kong, and there is room to develop the airports in Guangzhou and Shenzhen".
Shenzhen Airlines added several flights from Shenzhen to Beijing on Tuesday, most serving customers who originally planned to fly from Hong Kong, airline staff said.
But two American businessmen who originally planned to fly to Beijing from Hong Kong but were diverted to Shenzhen on Tuesday said the disruption was "not a big problem because it is convenient to commute between Hong Kong and Shenzhen".