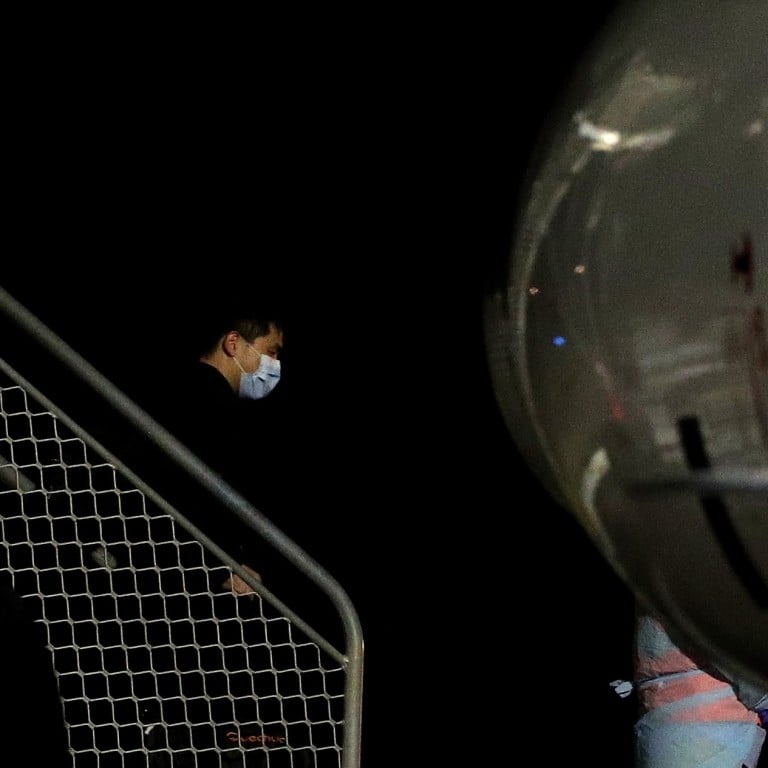 Coronavirus: Australian evacuation flight from Wuhan delayed, no 'official clearance' for Darwin-bound plane
Australian nationals were expected to leave the Chinese city on Saturday morning before being taken to a mining camp for quarantine for 14 days
But after arriving at the airport, passengers were told 'official clearance for the charter flight to land' had not been received
A second direct Australian government flight to evacuate its citizens from Wuhan – the epicentre of the coronavirus outbreak – has been delayed.
Eligible passengers had received confirmation of an "assisted departure" on an plane operated by Australian flag carrier Qantas, with a check-in time of 6pm on Friday. The flight was expected to leave for Australia at 12.15am on Saturday morning.
But after arriving at the airport in Wuhan, passengers were told "official clearance for the charter flight to land" had not been received. The Department of Foreign Affairs and Trade, though, said they expected the flight to leave on Saturday.
The Northern Territory Government had earlier confirmed that the Manigurr-ma accommodation village at Howard Springs would host approximately 280 Australians for 14 days as a "precautionary measure".
"The selected site will be a declared isolation zone under the Notifiable Diseases Act – that means any movement in or out is strictly controlled and enforceable by law. The facility encompasses accommodations, designated internal isolation zones if required, commercial kitchen and recreation facilities are all available," said the statement.
"The evacuees will be confined within the accommodation complex; they will not be mixing in the community and there is no risk to the public. The virus is spread only through close contact. That means any neighbouring facilities will not be affected. This is due to the nature of the virus being droplet based and not an airborne virus."
On Tuesday, 243 Australian residents and citizens were evacuated from Wuhan. A pregnant woman and her partner were put in isolation in Perth, with the other 241 sent to Christmas Island off Australia's northwest coast, where they will be put into mandatory quarantine for 14 days. On Wednesday, another 35 Australians flew out of Wuhan on a flight to New Zealand before being transferred to Christmas Island.
The vast majority of confirmed coronavirus cases, and all but a few deaths, have been in Hubei province, of which Wuhan is the capital. As of Friday morning, 618 people had died in Hubei, where more than a dozen cities home to tens of millions of people are on lockdown.
Despite confirming a second direct evacuation flight, Australia's Department of Foreign Affairs (DFAT) and Trade initially offered a vague response to the South China Morning Post on Thursday evening following an inquiry about the date and time of the flight.
"Please refer to the comments made this afternoon by the Prime Minister," a spokeswoman said.
Prime Minister Scott Morrison, in an interview with radio host Alan Jones on Thursday, confirmed only that a second direct flight would take place, but offered no details.
"The Prime Minister's comments we've referred you to are the most current available information," the DFAT spokeswoman said.
Many Australian citizens and residents have complained about poor communication from the Australian government concerning evacuation plans and quarantine requirements once back on home soil.
Nine-year-old Australian citizen Theresa, who was visiting her Chinese grandparents in Wuhan, will not be allowed on the flight, according to her Australian mother. Another child, toddler Chloe Zhao, who is also in the care of her Chinese grandparents, does not have a place on the flight either, her mother said.
Earlier this week, Theresa's mother Selina – who had returned to Sydney before the outbreak and asked that her family name not be used – made an impassioned plea to the Australian government to allow her daughter to board, only to be told her child could not get a seat due to a legal technicality.
The Australian government said the child was not allowed on the aeroplane because she did not have "legal guardianship" – meaning she was not accompanied by a relative who is an Australian citizen – for her flight home, a move which risked violating international human rights laws.
Her Chinese grandparents, who were expected to take her home on January 27, were not entitled to board the government rescue flight.
Australia is a signatory to the Convention on the Rights of the Child (CRC), and the International Covenant on Civil and Political Rights, which requires Australia to put "the best interests" of a child first.
Other countries, including Canada, have allowed non-citizen parents or guardians of children to board
evacuation flights from Wuhan
. Ottawa, however, does not allow unaccompanied minors to travel.
Purchase the China AI Report 2020
brought to you by SCMP Research and enjoy a 20% discount (original price US$400). This 60-page all new intelligence report gives you first-hand insights and analysis into the latest industry developments and intelligence about China AI. Get exclusive access to our webinars for continuous learning, and interact with China AI executives in live Q&A. Offer valid until 31 March 2020.