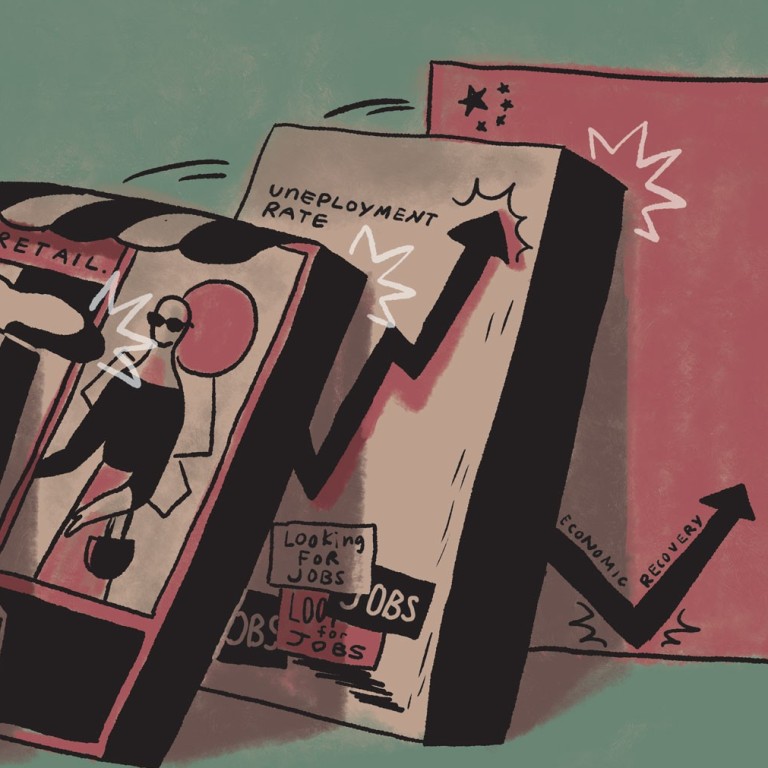 Coronavirus: China braced for second economic shock wave as Covid-19 controls kill demand
After riding out a supply shock that closed down most of its factories, China is bracing for a second wave demand shock to its economy
Closure of overseas markets to hit exports, while psychological scars, bankruptcy and job losses will hit domestic demand
At the end of February, bosses of a Chinese industrial piping company were worried about the collapse of local orders, after a draconian lockdown of manufacturing and retail activity that hollowed out the world's second largest economy.
Fast-forward less than a month, domestic orders are picking up and factories across China are humming at close to capacity. But Rifeng Enterprise Group now has new concerns.
A form of the lockdown
that paralysed China is now being replicated in many parts of the world, as countries try to get a handle on the rampant spread of a coronavirus pandemic that is hacking at the lifeblood of the global economy.
"We've returned to 100 per cent capacity for overseas demand, but sadly the market is either shutting, or about to shut," said Jason Cheng, general manager of Rifeng's overseas business, adding clients in France, Italy and the United States have made requests to delay payments or cancel orders.
"We had a similar situation in 2008 and 2009, where overseas revenue was half of what it was in the previous year," Cheng said. "A similar story is going to happen now, I am very sure."
With the quickly developing containment effort set to hit overseas demand, Chinese exports – accounting for 20 per cent of the economy – will suffer. Customs data showed that China's exports already shrank by 17.2 per cent in January and February, with analysts warning worse may lie ahead.
"As more countries face outbreaks and global financial markets gyrate, consumers and firms may remain wary, depressing global demand for Chinese goods just as the economy is getting back to work," wrote International Monetary Fund economists in a paper released on Friday.
The situation in the US, for instance, is deteriorating so quickly that Morgan Stanley economists changed their forecast of a minus 4 per cent contraction in the economy in the second quarter to a record low minus 30.1 per cent, within the space of a week. Unemployment, the analysts said, will average 12.8 per cent over the quarter, with consumption falling 31 per cent.
Stanley Szeto is usually on the road, but the executive chairman of high-end textiles company Lever Style has found himself grounded in recent months, as the coronavirus restricted his ability to visit clients and production sites. From his base in Hong Kong, he has witnessed the rapid evolution of the economic shocks on his business.
Out of contracted factories around China, Vietnam and other parts of Asia, Lever makes garments for the likes of Hugo Boss, Ted Baker, Fila and All Saints. But as shoppers in the West stop buying, demand is evaporating into thin air.
"Now we're at 70, 80 or 90 per cent capacity depending on the facility, but that is way too much because demand has just ceased," Szeto said. "We are in the fashion business and a lot of our clients, their stores are closed."
"They were worried, saying, we need the goods and are worried about the delay coming out of China," he said. "But within the last week the tone has completely changed. It's about, we do not need these goods any more, we may cancel things. So while the supply side is back up and running, there is actually too much supply right now and not enough demand."
The second part is a domestic demand story. There is expected to be a spate of bankruptcies emerging from the spectre of the coronavirus and the weeks-long shutdown of China's economy. Already, 100 real estate firms filed for bankruptcy in January and February, Bloomberg reported.
Last Monday, meanwhile, the surveyed unemployment rate rose to 6.2 per cent from 5.2 per cent, the equivalent of 5 million job losses. This figure does not include the migrant workers who have not been able to resume work following the lockdown, and who are not under formal contract at their workplaces.
Beijing research firm Gavekal Dragonomics has estimated that the coronavirus could cost China's migrant workers a combined 800 billion yuan (US$115 billion) in lost wages, a figure that will be completely lost to the economy, since these workers cannot make up the ground lost over these months, even if they find more work.
"I suspect that while supply-side constraints will be eliminated fairly quickly, it will be much more difficult for demand to recover, and this will be exacerbated to the extent that even people who do not lose income react to the shock by deciding to save more and spend less out of their incomes," said Michael Pettis, finance professor at Peking University.
Biggi Stefansson, the owner of IS Seafood, a Chinese distributor of Icelandic seafood, said 94 per cent of his business was lost in February compared to a year earlier. He hopes March will be slightly better for the Shanghai-based company, only 80 per cent down on last year, and even by April his business will still be down by 50 per cent.
The same is seen in Beijing, where meat sourcing and distribution company USource lost over 90 per cent of its business in February. By March, it could still be running at a 50 per cent loss compared to last year.
"Demand is slowly picking back up. This week has been good. [But] no-one is expecting growth this year," said William Kerins, who runs the company with his wife Danielle Yang. "Half of Beijing took a salary hit if they did not get fired."
Kerins was confident that demand would return eventually, but said even then it would be targeted at the lower-end eateries, with luxury items such as theirs getting hit hard.
"No one is ordering a high-end plate when they are eating on their couch. The high-end sector would likely be taking a larger hit than the family run noodle shop," Kerins said.
These sentiments were borne out in a recent survey conducted by Beijing financial firm Rong360.com, which found that 64.4 per cent of respondents would be "restrained" in their spending habits after the virus, with 31.4 per cent planning no increase after things clear up.
"From what we can see, consumer confidence is on the rise just not at pre-crisis levels," said Josh Gardner, founder of online marketplace manager Kung Fu Data, who added that e-commerce was looking much stronger than brick and mortar retail, especially for food, medical supplies and home fitness equipment.
Combine this with the external challenges facing China's main export partners and hopes of a V-shaped recovery, in which the economy rockets up by virtually the same rate at which it collapsed, appear remote.
Most economists now expect the Chinese economy to shrink this quarter for the first time since 1976, at the end of the Cultural Revolution. A global recession is likely to be upon us too, and with the coronavirus making dangerous ground through the rest of the world, the threat to China's economy does not show any sign of abating.
"This is a shock in levels, this is a depression," said Alicia Garcia Herrero, chief Asia-Pacific economist at Natixis. "This is now a different China, a different world."
China will not be the only country to face such a prolonged and evolving slump, but its government arguably has more to lose than most.
"There's quite a few countries around the world having existential crises, I would no longer confine that to China," said Richard McGregor, senior fellow at the Lowy Institute in Australia and the author of a number of books on the Chinese government.
This article appeared in the South China Morning Post print edition as: Companies brace for second shock as virus kills demandCompanies prepare for second shock as virus stifles overseas demand