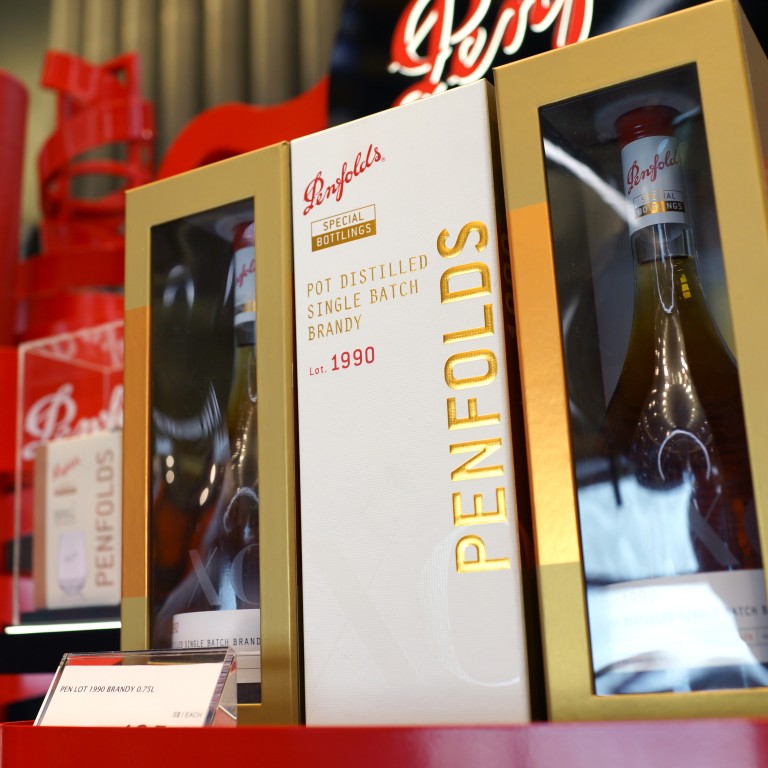 Coronavirus: China's appetite for Australian wine cools as outbreak saps demand
Wine sales between China and Australia have been hit hard by the pandemic, with well-known Australian winemaker Penfolds offering large discounts
Other retail businesses which count on Chinese tourists and retail consumers have also been forced to close retail stores
On Monday, a sales call between a Chinese property developer in Sydney and well-known Australian winemaker Penfolds did not last long.
The customer, who appeared on Penfolds' VIP database, was offered discounts on specific wine collections. This included one of the label's well-known products, the Bin 28 Kalimna Shiraz, for roughly A$28 (US$16.8) depending on the year, or around a 40 per cent discount. Bottles over different years are priced around A$50 per bottle in retail stores.
The executive, though, did not need any top-end alcohol as he had already been forced to cancel all his corporate events as a result of the
coronavirus outbreak.
The call did not appear to have been made to a large number of Penfolds' top clients and the company
declined to comment on its specific discount strategies. It is understood the company has not changed its usual marketing plans.
Wine sales
have been one of the more popular retail trades between China and Australia to be hit hardest by the pandemic. This added to existing industry pressures from falling sales, a build-up in inventory and the ongoing drought made worse by Australia's bush fires which raged for over six months until February. Australia's wine trade with China had already been destabilised due to trade tensions between the United States and China.
And with the virus spreading fast globally, the remainder of 2020 is only going to get worse for wine sellers, according to Rabobank's senior wine industry analyst Hayden Higgins.
"The coronavirus outbreak is not only affecting actual consumption and trade flows of all goods, including wine, at the moment, but its economic consequences may undermine demand for wine even after the disease subsides," Higgins said in quarterly report released on March 12.
Australian wine exports to China hit a high of A$1.25 billion (US$748 million) in the year to September 2019, accounting for 43 per cent of Australia's total wine exports in the same period, according to industry body Wine Australia.
Penfolds' owner, the Australian-listed Treasury Wine Estates (TWE), flagged in late February that it would not be able to meet its already lowered forecast for 2020 due to a drop in consumption.
Two weeks later, Covid-19 was officially named a pandemic as it spread outside China, where it was first detected, accelerated.
In the past few weeks, Penfolds has been making efforts to recover its Chinese market, as it slowly reopened, releasing a series of inspiring anti-pandemic brand messages in Shanghai and Chengdu.
"Let's work together to get through the tough times ahead" and "bless this land as we wait for the coming of spring" read the slogans alongside a picture of brand ambassador, Chinese actor Duan Yihong.
The Asian market has been crucial for TWE with China headlining a near 10 per cent a year growth target for the company, according to its 2019 financial report. Canada was expected to only grow at just 1 per cent a year, while demand in the US was expected to drop.
Other retail businesses which count on Chinese tourists and retail consumers, such as the Australian-listed AuMake and Mediland Pharm, have also suffered, with both closing their stores since the outbreak.
This included eight newly acquired Broadway stores, a chain of tourist retail shops that focus on Asian markets. The group said the closures were temporary until the slowdown in travel eased.
"Broadly speaking, we are not seeing any signs of a decoupling between China and Australia from a retail perspective. We are very confident that demand from Chinese consumers for Australian products remains strong and will only accelerate once the bans are lifted," an AuMake spokeswoman said.
Last month, fellow daigou seller Mediland Pharm also closed its four retail stores Sydney, Melbourne, the Gold Coast, and Auckland in New Zealand, citing the coronavirus outbreak. The group also sought to reinvent itself amid the outbreak through the launch of a line of hand sanitisers.
There has, though, been a silver lining with both companies experiencing a leap in online sales. Managing director Yesh Mudaliar said Mediland Pharm had seen an uptick in the sales of vitamins and supplements by Chinese customers.
Another vitamin maker, Sydney-based Homart, has also enjoyed an increase in online sales of its products.
The increase in online shopping by Chinese consumers, experienced by both AuMake and Mediland Pharm, was a positive sign, said online marketplace manager Kung Fu Data.
Since its slow recovery, online trade particularly in personal care products and cosmetics, home fitness equipment, compression stockings and even chef aprons and pH meters for farmers to manage levels in soil and plants, have risen, Kung Fu Data's Josh Gardner said, with the only exception travel equipment and accessories.
"In the first week of March things changed dramatically for the better triggered by International Women's Day events throughout the digital ecosystem," Gardner said.
"Growth is returning, albeit slowly, as life becomes more normal."
This article appeared in the South China Morning Post print edition as: Virus saps China thirst for Australian wines