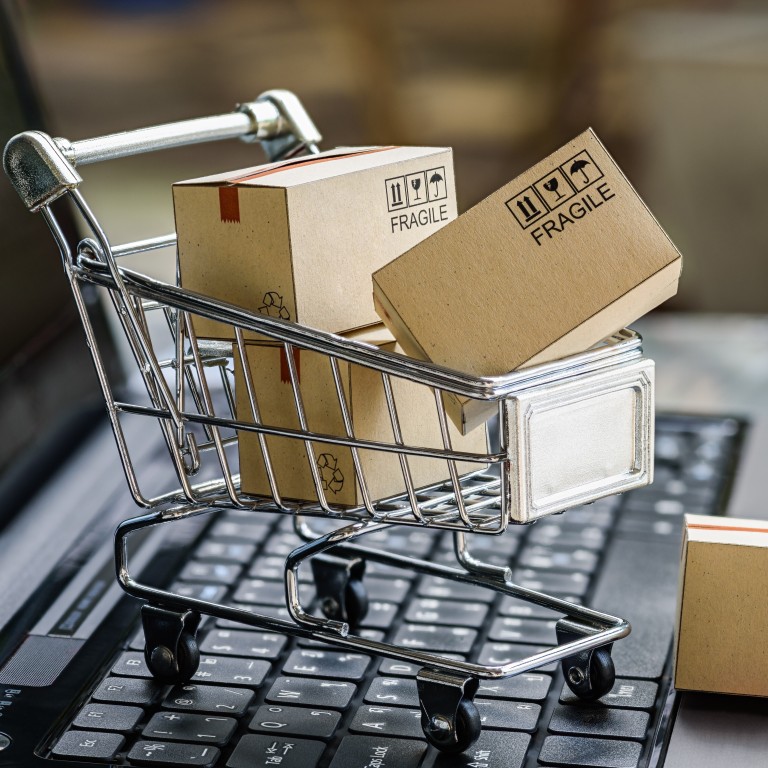 Coronavirus: e-commerce sales of China goods help pick up export slack amid pandemic
Many China firms turn to e-commerce for first time due to impact of coronavirus, with sales to overseas markets strong this past spring
Chinese government has rolled out new policies aimed as supporting e-commerce, particularly to help small, export-oriented businesses
Sales of Chinese products to Europe, the United States, Australia, and New Zealand continue to grow through e-commerce channels despite a push by these countries to decouple from China economically.
And for some retailers, these online sales are helping to offset the slowdown in traditional face-to-face transactions amid the coronavirus pandemic.
Chinese exports
rose 0.5 per cent in June from a year earlier, after dropping 3.3 per cent in May, though anecdotal evidence suggests that the coronavirus continues to wreak havoc on foreign demand in China's biggest export markets.
Still, many customers have turned to online purchases from China, bolstered by the realisation that there are often few alternatives for quality and price.
Business-to-business (B2B) e-commerce export platform DHgate said sales by Chinese suppliers to foreign businesses – particularly in North America and Europe – boomed on its platform this spring.
The gross value of its merchandise sales increased nearly 40 per cent in both April and May compared with the year-earlier periods, with most sales going to North America and Europe. Latin America purchases also rose. And the average order size on the platform in May jumped 35.8 per cent over the same time last year.
DHgate said there has been strong demand for goods on its platform since the Chinese economy started rebounding in March – particularly for household tools, laptops, and fitness and athletic equipment.
"We see that merchants from around the world are still eager to conduct business and trade, whether they are based in China or selling to China," DHgate CEO Diane Wang said. "What we're seeing is that, while some aspects of [international] trade are being more tightly controlled, other parts of the sector continue to flourish, regardless of which countries are involved."
The sharp
transition to online selling
for some suppliers, triggered by the pandemic, as well as a step up by the Chinese government to grow cross-border e-commerce (CBEC) trading has encouraged more online export sales, according to DHgate.
It cited as an example a Ningbo toy manufacturer in Eastern China that began selling on its platform for the first time during the pandemic. An offline seller to American retailers Walmart and Target for more than 11 years, it managed to sustain its business this year through online sales to Mexico and Brazil.
China cross-border e-commerce consultant Azoya Group also said purchasing had increased from the US and Europe.
"I would say that political tensions have little impact on export trade because China is still the
factory of the world
, and there is nowhere else that can replicate the manufacturing infrastructure present within China to make and transport goods at such a large scale," said Ker Zheng, Azoya's marketing and partnerships manager.
"I'm sure firms will try to diversify their supply chains, but there is no one country that can replicate the manufacturing scale that China has, and it's easier to manage supply chains within one country rather than dispersing it across multiple ones."
Complete Retail Services managing director Lawrence Brown, who sources materials and goods from China and Asia for companies in Australia, says purchases from China, as well as other low-cost production hubs such as Indonesia and Vietnam, have continued to increase mainly because Australia isn't competitive enough to manufacture its own affordable products.
"It's always going to continue because it is too expensive to do business in Australia," Brown said.
And e-commerce buying from China has definitely increased since the outbreak, he added.
A client of Brown's, a small-business owner in Sydney who did not want to be named, said it would be impossible for him to survive if he had to buy more expensive products from Australian producers. He said the quality of the goods he buys for his business – including shopping bags and packaging – on Chinese e-commerce channels Taobao and AliExpress were also good. AliExpress is owned by Alibaba Group, which owns the South China Morning Post.
Last month, however, some shoppers complained to major Australian supermarket chain Woolworths that they did not want to use recycled paper bags that had been made in China.
"Even the bigger local suppliers and distributors continue to get their packaging and bags from China," the Sydney retailer said. "These talks about banning China – we can't do it. People financially can't do it. It's impossible.
"You can't expect small businesses to stop buying cheaply, as they are already working on margins that are so thin."
He said that nearly 60 per cent of his business expenses were from wages and rent, while inventory accounted for 20 to 30 per cent, leaving a profit margin of not much more than 10 per cent.
To accelerate B2B trading between Chinese firms and global buyers such as the Sydney retailer, China's General Administration of Customs introduced a new regulation in mid-June that made export data across the whole industry more transparent – for example, B2B sales data from overseas warehouses.
Overseas warehouses serve as depots housing goods that are ready to ship to customers.
The new regulation also allows Chinese exporters to enjoy benefits such as priority inspections, simplified customs declarations, an independent choice of transit, and national integrated customs clearance, DHgate said.
"By increasing the transparency and accuracy of the data, the global supply chain can be made more efficient, and micro, small and medium-sized enterprises (MSMEs) are empowered to do more business with more global partners faster than ever before," Wang said.
The new policy is part of China's CBEC plans that were announced during the National People's Congress in late May. It joins other recent policies including CBEC pilot zones and the authorisation of new goods that can be sold on CBEC platforms, according to Chinese business consultancy China Briefing.
However, it remains to be seen whether e-commerce alone can sustain new and larger trade volumes between China and other parts of the world after the pandemic subsides, said Kevin Zhang, general manager of Australian e-commerce consultant ConnectX.
While China has been encouraging more e-commerce activity, the government is still keen on getting people outside and shopping in bricks-and-mortar shops, especially small businesses, Zhang said.
And though there has been an increase in online sales of products such as vitamins, medical items and general household goods, the barriers of entry in e-commerce trading – including customs rules on what products can be shipped and where they can be shipped to – still pose challenges to selling goods online.
And it is those types of restrictions and limitations that have kept an overnight export boom at bay.
This article appeared in the South China Morning Post print edition as: e-commerce sales of Chinese goods help pick up export slack in pandemic