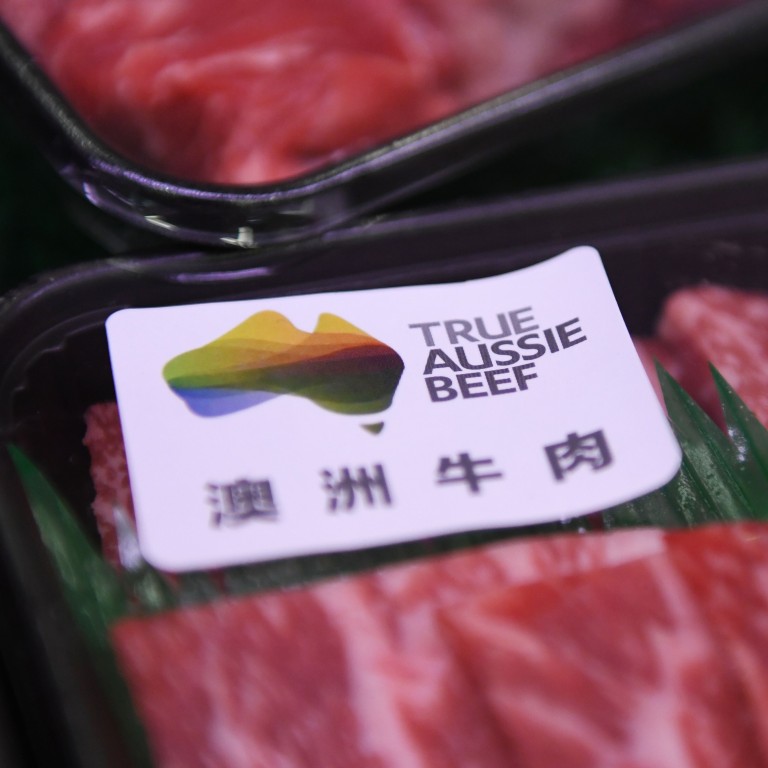 China-Australia trade ties remain strong for some businesses despite worsening political relations
Volume of Australian shipments of beef to China in the first half of the year kept pace with last year, and Australian wine exports are moving along despite investigations
While some traditional exports have been hit, other trade segments, including services and e-commerce consumer goods, are roaring
Trade between China and Australia continues to chug along with some businesses recording stronger sales in spite of the increasingly tense political conflict between the two countries, according to company officials.
Australian and Chinese trading companies and their customers have brushed aside the negative political climate between their countries to press on with business, despite several blows to specific trade segments in the five-month-long conflict. These include moves by China to impose a new anti-dumping tariff on barley, suspensions of certain beef imports and investigations into cheap Australian wine imports amid a coronavirus-led economic slowdown.
The political relationship between the two otherwise strong trading partners continues to worsen, with the most recent dispute in the past week targeting journalists and academics in both countries.
But in trade, things are different, with the volume of Australian shipments of beef to China in the first half of the year keeping pace with last year, indicating that demand has been largely unaffected by political issues, beef payments platform BeefLedger chairman Warwick Powell said.
However, the second half of the year may see shipments fall, Powell said, after an annual import threshold was reached. Additional imports are now subject to a higher import tariff.
"Chinese importers [who buy from Australia] are focused on meeting the needs of their own customers. That's priority No 1," he said. "So, maintaining continuity of supply wherever possible is a key to customer retention and possibly market share growth.
"Trade doesn't necessarily decouple with the click of the fingers."
Fellow Australian beef trader Michael Harding of MBH Consulting said he is opening a new office in Guangzhou to support his business, which has grown in the past nine months even as tensions simmered.
MBH's customers are aware of the conflict but have chosen to ignore it, Harding said, adding that he was more concerned about losing his customers to competition from other beef-exporting countries.
"The relationship issues haven't filtered down to the everyday customer, and the chances of that happening to affect their thoughts about Australian products are very slim," he said. "They understand that Australian beef is good. If there are some other challenges that stop beef from getting to customers, that would be a different story.
"We remain optimistic physical blocks won't occur, and that the conflict will iron out in the medium to long term."
Nonetheless, Harding said he and his Australian beef suppliers have strategies to maintain the flow of beef into China.
Aside from suspensions of exports, the Chinese government has also blocked shipments at ports in the past, including Australian coal at the Port of Dalian in February 2019.
Australian beef exporter Robert Mackenzie, whose family has been running Macka's Australian Angus Beef in New South Wales for five generations, said he becomes routinely frustrated by the Australian government's political nitpicking with China. But he shrugged off the tensions, instead focusing on increasing his shipments to China by utilising a food traceability app, Aglive.
Australian wine exports are also moving along, despite the anti-dumping and countervailing investigations initiated by China's Ministry of Commerce last month, according to Tony Battaglene, chief executive of industry group Australian Grape and Wine.
Michele, a South Australian wine exporter who asked that her surname not be used, said she was nervous about October 18 – the earliest date China could impose provisional anti-dumping duties. However, the investigation is set to last at least a year, with a possible extension of six months beyond that.
Barley exports have suffered significantly since May, when China imposed an 80.5 per cent anti-dumping and countervailing duty, although lower production has also contributed to the slump, industry group Grain Trade Australia's Pat O'Shannassy said.
"Farmers are very disappointed with China's decision to impose tariffs, as the evidence provided demonstrated Australia did not dump barley into China," he said. "They will look to other alternative markets and crops in the future."
Those markets include domestic and international markets for animal feed, according to David McKeon, CEO of Australia's Grain Growers association.
"Farmers are also regularly assessing their available options, such as storage on-farm and feeding livestock on-farm," he said.
The drop in Chinese demand for Australian barley has wreaked havoc after the grains fell below the world indicator price, according to a recent report by the Australian Department of Agriculture.
But while some traditional exports have been hit, other trade segments, including services and e-commerce consumer goods, are roaring.
A joint venture between Australian 3D technology start-up Bondi Labs and the Chinese Academy of Inspection and Quarantine recently built a new virtual reality training college for the Chinese General Administration of Customs.
"ZJ Bondi Labs is an example of how China and Australia can work together as genuine partners," Bondi Labs managing director Jonathan Marshall said. "We plead for the fighting and the pro-war rhetoric to stop. De-escalating the current tensions between the two countries can surely only be beneficial for the future prosperity of both, and the region."
Marshall's partner, Fire Chow, said the joint venture had retained their intellectual property and that collaborations in innovation will create more business opportunities in the Asia-Pacific region as it emerges from the pandemic.
New Australian trading company Yaru Ventures, set up by Australian executives Jonathan Belz and Will Zhao, shipped off its first batch of vitamins and supplements from the new brand JSHealth to China this month. The A$100,000 (US$72,000) batch was sold on a Chinese e-commerce site.
Yaru aims to sell about A$5 million (US$3.6 million) worth of products in China annually, and is also looking to increase shipments of organic food, beverages and skincare products.
"To date, we have not found any issues with selling Australian products, as most of our products are sold online through e-commerce," Zhao said, adding that they have seen an increase in demand for health and wellness products amid the pandemic. "While I think there is an element of concern and hesitation [in trade between Australia and China], we feel a need to just get on with business and build relationships.
"We are still very hopeful of the relationship improving. We see a lot of synergy between the two countries."
Two-way trade between China and Australia is worth around A$240 billion (US$173 billion), in the latest figures between July 2019 to June 2020, according to the Australian Bureau of Statistics. The size of this two-way trade has grown nearly 60 per cent in the past five years.
This article appeared in the South China Morning Post print edition as: Firms press on with business as tensions rise