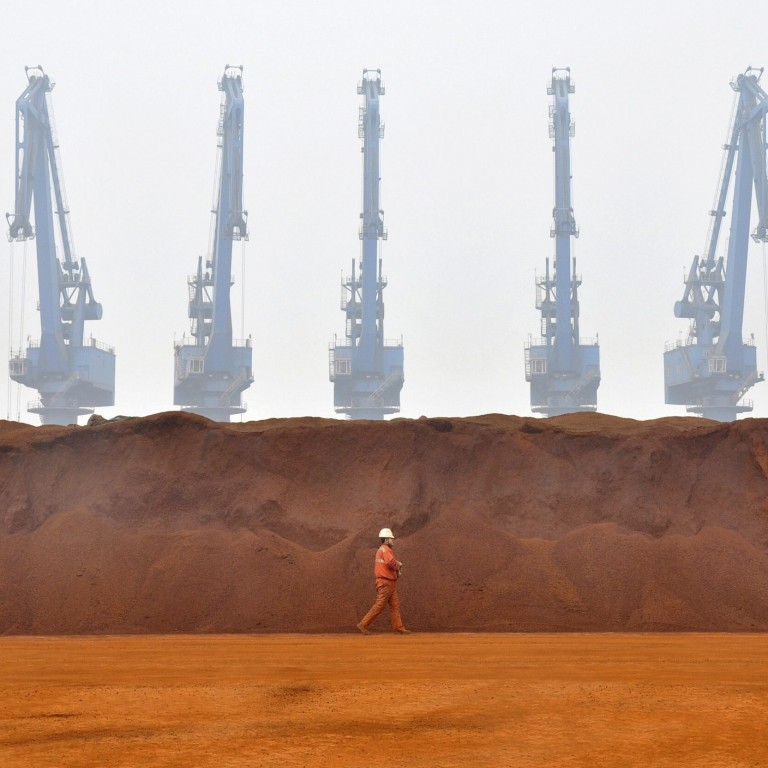 China-Australia relations: iron ore demand powers ahead as Fortescue secures US$4 billion in deals
Australian-listed miner Fortescue Metals Group signed 12 memorandums of understanding (MOUs) at the China International Import Expo (CIIE)
China buys just over 80 per cent of Australia's iron ore, while Australian iron ore makes up 60 per cent of China's supply
Australian iron ore mining giant Fortescue Metals Group secured some US$4 billion in iron ore deals at the China International Import Expo (CIIE) in Shanghai as Australia's most important export continues to withstand rising tensions with China amid proposed bans on a number of other Australian products.
The Australian-listed miner signed 12 memorandums of understanding (MOUs) for the purchase of its iron ore with major Chinese steel mills, procurement partners and financial institutions on Monday, the penultimate day of the
third CIIE,
after hosting two days of events at the expo.
It reaffirmed its deals with long-term partner and major shareholder Hunan Valin Iron & Steel Group in Changsha, Hunan province, for the supply of iron ore and its "strategic cooperation" relationship with the Bank of China, while also striking nine new agreements with future buyers including Baotou Iron & Steel, Benxi I&S Group International Economic & Trading and Lingyuan Iron and Steel.
"Fortescue's success and that of the Australian economy has been built on the great powerhouse that is China. Now, more than ever, these strong trade relationships provide economic stability as we work together to build new opportunities for the future,"
Fortescue CEO Elizabeth Gaines
said in a statement.
"China's steel industry continues to outperform expectations … the strength in demand for iron ore continues to play an important role in Australia's economy, growth and development."
China buys just over 80 per cent of Australia's iron ore, while Australian iron ore makes up 60 per cent of China's supply. The value of that supply is likely to hit A$80 billion (US$58 billion) in 2020.
The deals come as
Australia guards
against the proposed suspension of a
series of export products
– including barley, coal, lobster, wine, copper, sugar and timber – with early indications that shipments of lobsters continue to be delayed at various Chinese ports.
The relationship between the two countries has slipped to a low point after Australia pushed for an international inquiry into the origins of the coronavirus in April without consulting Beijing, widening cracks in the relationship that had been growing since Canberra banned China's Huawei Technologies Co. from helping build its 5G telecommunications network two years ago.
But iron ore has continued to avoid any hint of Chinese trade restrictions, given the difficulty China would have in replacing Australian ore to supply its steel mills and meet strong demand from the nation's infrastructure and property boom.
Fortescue CEO Gaines said strong Chinese steel production has continued to soak up its iron ore, pushing up shipments in the third quarter to a record 44.3 million tonnes.
In turn, Chinese crude steel production reached 781.6 million tonnes in the nine months to September, increasing 4.5 per cent compared to the same period last year, Gaines added. At this rate, steel production is on track to achieve an unprecedented 1 billion tonnes in 2020.
When asked during the company's release of its third quarter production results two weeks ago, Gaines indicated there were no signs of a change in Chinese demand for Australian iron ore, with Fortescue growing its distribution channels and increasing its "portside" iron ore sales – on-demand sales made when ore arrives at Chinese ports – in addition to sales through longer-term contracts.
Production data from another major miner,
Rio Tinto,
also showed there was little change in demand for Australian iron ore.
Its third quarter production report also indicated China's iron ore demand was at record levels, although it said shipments might slow as demand moderates over time and as China imports more
scrap steel.
Despite the sector's expectation of a slowdown in Chinese steel production, metal analyst Mysteel Global observed "exceptionally robust" activity in the third quarter, with September daily average output reaching a record of an average of 3.09 million tonnes per day.
"China's iron ore imports, on the back of strong steel demand and output, had been growing ever since April when the country's economy and industrial activity restarted, and its iron ore imports had grown 13 per cent on quarter," Mysteel Global analysts Victoria Zou and Hongmei Li said on Tuesday.
"Not only that, the country's iron ore imports have come from many new origins other than Australia and Brazil as the norm, as countries such as Canada, Russia, India, Ukraine and Sweden, all of which have been keen to export iron ore to China when the demand from their own steel mills and elsewhere had all been largely compromised by the ongoing battle against the pandemic."
China's own push to develop new resources such as Guinea's Simandou iron ore reserve in Africa could also change trade flows away from Australia and Brazil, but not for another five to 10 years at the very least, Navigate Commodities managing director Atilla Widnell said.
"Unlike most other commodities, Australia and China are in a codependent relationship when it comes to iron ore given that you have the world's largest exploitable resource on the doorstep of the world's largest consumer … both sides have no feasible alternatives to be able to expand their political posturings over this commodity group, yet," Widnell said.
This article appeared in the South China Morning Post print edition as: Fortescue secures US$4b in deals at Shanghai expo