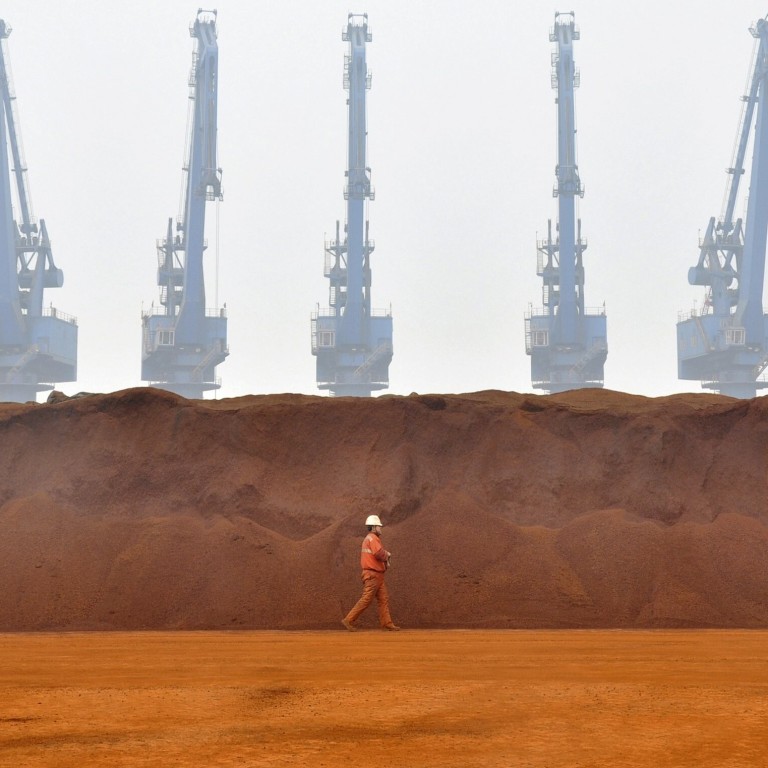 China-Australia relations: high iron ore prices may correct on slowing demand, but derivative trading could still keep prices up, analysts say
Chinese government-backed consultancy projects a slowdown in China's steel production next year, resulting in declining demand for iron ore
A factor unrelated to the fundamental supply and demand of iron ore lies in the aggressive trading of iron ore futures
High iron ore prices are due for a correction in the coming year as Chinese demand for the steelmaking ingredient is expected to ease, though aggressive speculation through iron ore derivative trading could thwart that outcome, according to analysts.
After the China Iron and Steel Association (CISA) held talks last week with Australia's
Rio Tinto
and
BHP
, two of the world's biggest iron ore miners, over how to control iron ore prices, prices have increased to near their highest levels since 2011, sailing past the US$160 a tonne price point to hit US$171 on Monday after a dip to about US$153 a tonne last week.
In the short term, despite its trade conflict with China, Australia has seen a small "mining boom" impact on the economy as a result of the high iron ore prices.
Deloitte Access Economics, in an analysis of Australia's budget outlook last week, said the conflict had delivered Australia a windfall, even though it has been losing out on trade in other goods, including
lobsters
, barley and coal – imports that China has suspended.
However, it warned that the trade conflict had also introduced fear into the market, raising worries that China could also clamp down on Australian iron ore imports, pushing up the market price.
"Markets are still worried that China may do something. So they've responded by nervously bidding up [iron ore] prices in fear of exactly that," the note said. "This 'fear tax' isn't the only thing driving up prices – markets are also worried that heavy rain may constrict supply out of Brazil, while very low interest rates and a falling US dollar are pumping up pricing, too."
"The bottom line is that China's trade war with Australia is making [Australia] money rather than losing it," Deloitte concluded.
The value of many smaller Australian iron ore miners has also soared on the Australian stock exchange over the past few months as a result of high prices.
Analysts and the CISA have predicted that, over the next year, Chinese demand for iron ore will fall as the pandemic stimulus starts to wear off, steel mills cut back production due to poor profitably, and other non-Australian iron ore miners such as Brazil – China's second-largest source of iron ore – resume full production. This should lead to lower prices, they said, though they warned that strong iron ore derivatives trading could keep prices buoyant.
A key problem that does not relate to the fundamental supply and demand of iron ore lies in the trading of iron ore derivatives, and it needs to be controlled to properly reflect a drop in prices, according to Atilla Widnell, manager director of consultancy Navigate Commodities.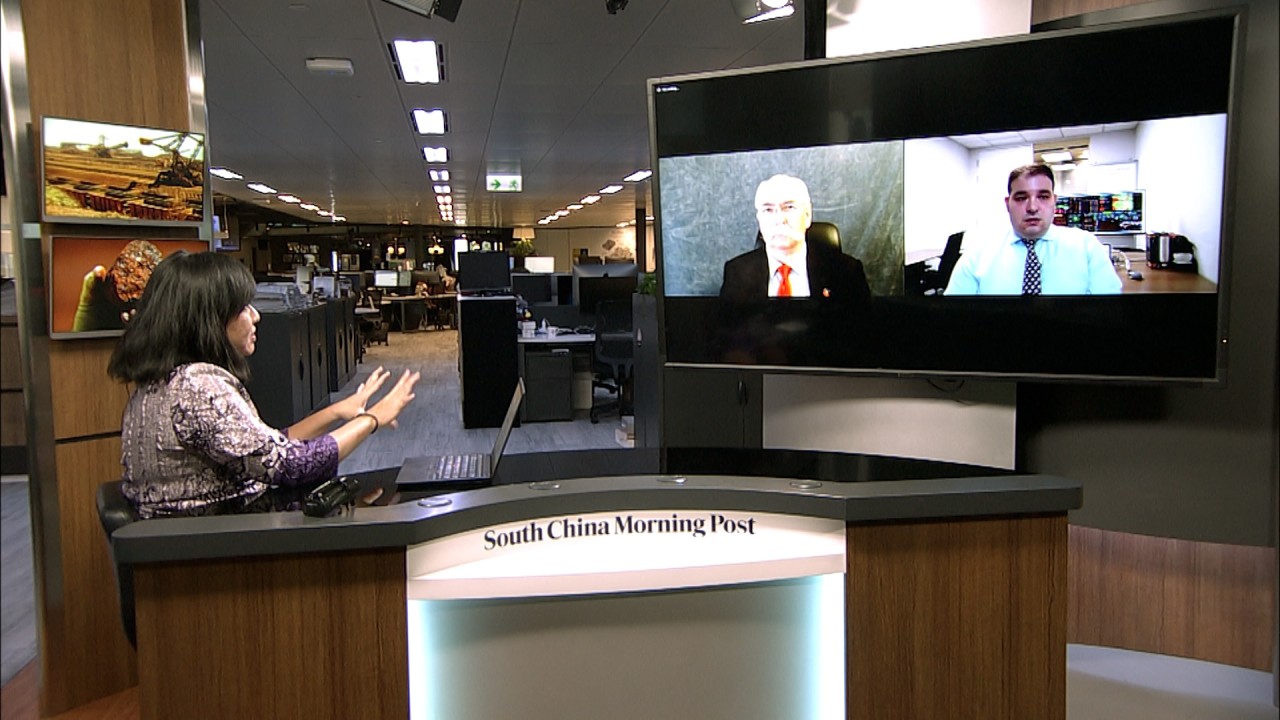 09:18
Will iron ore be dragged into the ongoing China-Australia trade conflict?
Will iron ore be dragged into the ongoing China-Australia trade conflict?
On Monday, iron ore futures on China's Dalian Commodity Exchange hit a record high of 1,135 yuan (US$173.69) a tonne, after a landslide at a mine operated by Brazilian iron ore giant Vale SA added to supply worries.
"Demand is relatively robust for steel, but you have other factors at play, and one of the facets has been asset price inflation," Widnell said. "If you have close to zero interest rates and huge stimulus events in major economies, there's a lot of hot money looking for assets to return significant growth.
"We have seen it in precious metals, and now we are starting to see it in industrial metals … punting on steel-related commodities as a speculative play on economic growth next year."
The strong demand in China against limited global supply would have taken the price of iron ore to about US$130 a tonne, but speculation "overcooked" prices, pushing them to their current level of about US$160 a tonne, he said.
At the 2021 China steel market outlook meeting in Shanghai over the weekend, Luo Tiejun, vice-chairman of the CISA, said China's "abnormal" steel production and consumption would ease after the pandemic-related boom started to taper off, thereby reducing the demand for iron ore. However, he also cautioned that there were obvious signs of market speculation skewing the relationship between supply and demand, so lower demand might not quickly reduce high iron ore prices.
"The rapid and large increase [in iron ore prices] shows they have deviated from supply and demand fundamentals, exceeding the expectations of steel mills," he said.
The CISA has also urged Chinese authorities to look closely at market speculation in iron ore and consider changing market trading rules to avoid distortions.
Despite the worries about the impact of speculation, some analysts are confident that lower fundamental demand will quickly lead to a correction in prices, especially as the construction of property and infrastructure in China slow down in the coming year, as they are expected to do.
"On the domestic front, property and infrastructure construction account for 55 per cent of China's steel usage, and both sectors are facing tighter financing restrictions that will continue to disincentivise new construction," Rosealea Yao, an analyst at Gavekal Dragonomics, wrote in a note. "Iron ore [prices] will therefore likely correct sharply downwards in the coming months, followed by less volatility once this reality is properly priced into the markets."
Other factors, in particular China's goal to reduce carbon emissions, could also help drive down steel production, the CISA said.
The Australia government's Office of the Chief Economist, in its latest energy and resources quarterly outlook for December, made a similar projection over the longer run, but expects prices to fall only gradually in coming months, especially with iron ore production outside Australia, including Brazil, still facing curbs.
It is forecasting that prices will remain above US$100 a tonne until mid-2021, before falling to around US$75 by the end of 2022 as the Brazilian supply recovers and Chinese economic stimulus eases back.
"Prices are expected to remain strong for the next six months. China's demand is expected to remain high, though China's steelmakers may seek to modestly reduce production should prices remain at a level which renders many of them unprofitable," the report said.
Some increase in the fundamental supply of iron ore, too, would cool prices, steel research analyst CRU Group's Eduardo Tinti said. Recently resolved disruptions in iron ore shipments from Australia, and miners' push to bolster shipments over the end of the year, will pull back prices, though not quickly, Tinti said.
The China Metallurgical Industry Planning and Research Institute (MPI), a Chinese government-backed consultancy, also projected on Monday a slowdown in China's steel production in 2021, resulting in Chinese iron ore demand declining by 1.2 per cent next year to 1.38 billion tonnes after a 9.2 per cent rise in 2020.
Li Xinchuang, chairman of MPI said steel demand from the construction sector – the top steel consumer – is expected to grow 1 per cent after surging 13.4 per cent in 2020 to a record high.
"Iron ore demand could ease a bit in 2021 on increasing input of steel scrap, as well as environmental pressures and low-carbon development," he said.
Last week, China formalised new standards for classifying steel scrap, allowing steel mills to import more from January 1. But scrap imports will still be too small to impact prices, Chinese consultancy Mysteel Global said in a note.
Import steel scrap prices were also too expensive to encourage a large increase in imports, Widnell said.