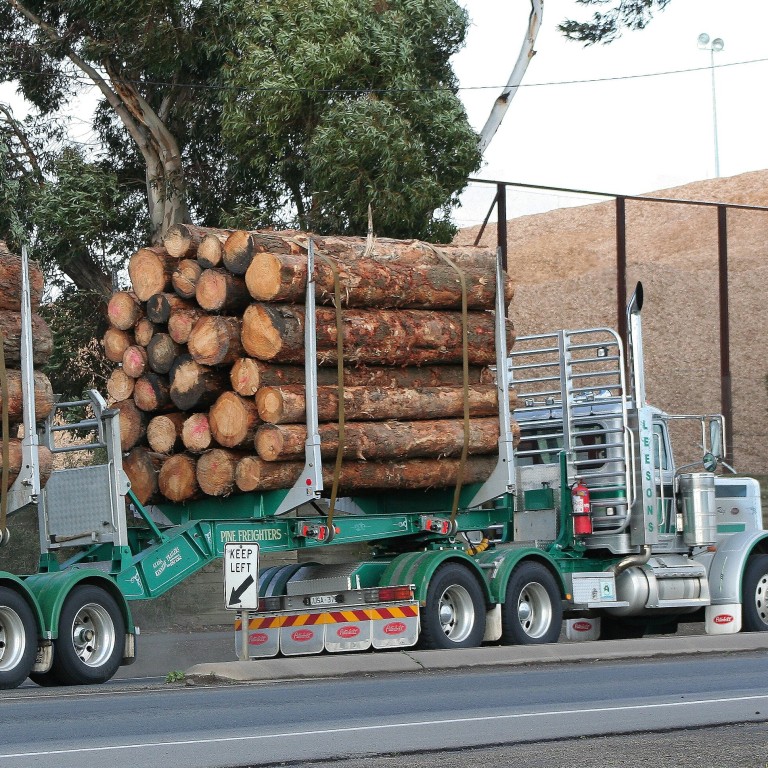 China-Australia relations: timber trade felled as imports axed from two more Australian states
China halted log timber from New South Wales and Western Australia from Wednesday after discovering 'live forest pests' in imports
China banned Queensland, Victoria, South Australia and Tasmania between October and December on the same grounds of pest infestation
China has banned timber imports from two more Australian states due to pests, meaning the trade has now been cut from six of the country's seven states as the conflict between the two trading partners continued.
The General Administration of Customs of China halted log timber imports from New South Wales and Western Australia from Wednesday in line with China's sanitary measures and quarantine laws, according to a notice published on its website.
The latest ban follows the suspensions of
log timber imports
from Queensland, Victoria, South Australia and Tasmania since late October.
With most of Australia's timber exports to China coming from the six states now banned, the latest move means the log timber trade between the two countries has almost completely ceased.
Queensland was the first to be banned on October 31 when Chinese customs said it found a pest, the bark beetle Ips grandicollis, in logs imported from the state. Subsequently, log timber from the other three states were also blocked on the same grounds of pest infestation.
"Recently, customs in Tianjin, Nanjing, Xiamen, Guangzhou, Shenzhen and Huangpu discovered live forest pests in logs imported from New South Wales and Western Australia," the notice said.
"In order to prevent the introduction of harmful organisms and protect our country's agricultural and forestry production and ecological safety, we have hereby decided to suspend log imports from Australia's New South Wales and Western Australia states."
China's customs agency confirmed it had notified authorities in Australia.
The national timber industry body, the Australian Forest Products Association (AFPA), said it was aware of the suspension of log timber from New South Wales and Western Australia and was in discussions with the Australian government about the significant impact that the suspensions across six states has on the Australian log timber industry.
"AFPA has worked extensively with industry and the government to develop a comprehensive package of reforms to phytosanitary processes that we hope will address the Chinese government's phytosanitary concerns and allow for the resumption of the log trade as soon as possible," a spokesman said. "The alleged incidents that Chinese customs have cited in relation to the Tasmania, South Australia, New South Wales and West Australia suspensions predate the introduction of these tighter measures.
"Should the situation continue into 2021, [there will be a] need for short- and long-term assistance to support workers and businesses already impacted, and to avoid further, widespread job losses and mill closures."
The AFPA said it was also focused on finding alternative markets for Australian log timber.
The China-Australia conflict
has entered its ninth month since a major escalation began in April when Canberra pushed for an international inquiry into the origins of the coronavirus without consulting Beijing.
But relations between the two countries had begun to deteriorate in 2018 when Canberra banned Huawei Technologies Co. equipment from its 5G network due to national security concerns.
Since then, exports of many products have been unofficially suspended or discouraged due to health security reasons or quota restrictions.
Timber, cotton and coal have been targeted, while there have also been two anti-dumping and anti-subsidy actions by China against
Australian barley
and
wine.
According to Chinese customs, China imported US$83.3 million worth of wood, articles of wood and wood charcoal from Australia in November, a decline of 5.5 per cent from the same period last year.