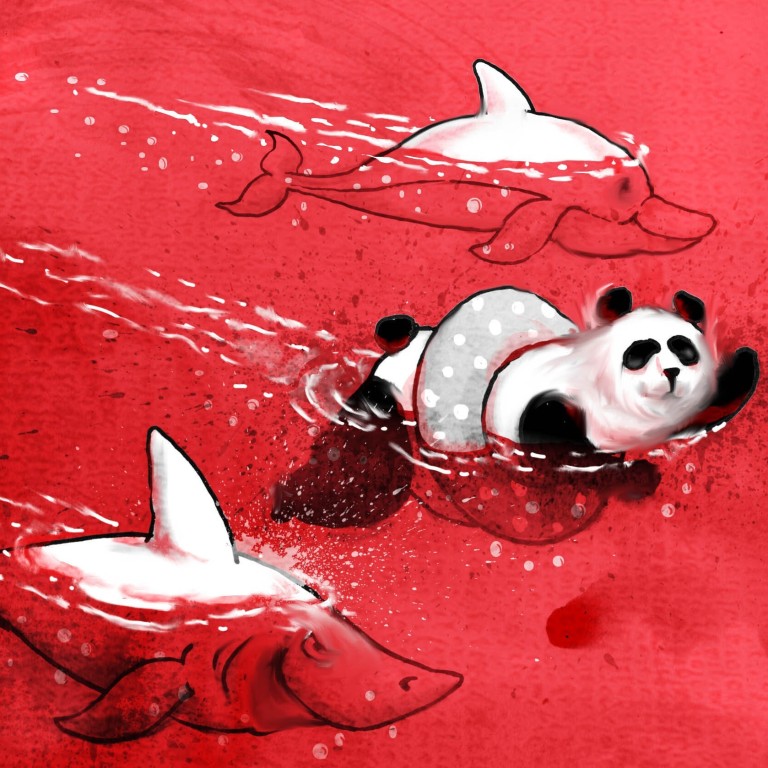 China's 'two sessions': Beijing must juggle competition and cooperation in historically unprecedented global trade environment
Establishing a high-standard rule system for a more open economy is expected to be a top priority for Chinese leaders at upcoming meetings
Some trade analysts say that while China may become more competitive on trade in the coming years, it may also be the most important global trade partner
China's political elite will face a number of challenges when they gather in Beijing next month for the year's biggest legislative set piece – the meetings of the National People's Congress and the Chinese People's Political Consultative Conference, informally known as the "two sessions". In this latest part of a series looking at the key items on the agenda, we examine the country's trade ties and challenges.
The history of global trade is littered with all kinds of conflicts, but few stand out like the one China finds itself in now.
As China's political elite ready themselves for next month's meeting of the National People's Congress, the country's legislature, they are faced with a trade environment that has no precedent, according to industry experts.
In the past three months, China has managed to sign three trade pacts while still embroiled in conflicts with some of its fellow and associated trade pact members – namely Australia, the United States and the UK.
The contradiction could signal that, despite political differences, many countries understand that having China as part of their trading equation can be advantageous, given China's manufacturing capabilities, experts say.
It also suggests that trade – as much as it can be a pawn in geopolitical conflicts – can have its own lifeline, especially when global supply chains are already intricately linked with China as the
"world's factory"
. The current paradox is also likely to continue as China seeks to secure more deals – not just for trade, but as part of its geopolitical strategy, the experts add.
In November, China and 14 Asian partners signed the world's biggest free-trade agreement, the
Regional Comprehensive Economic Partnership
(RCEP) after eight years of negotiations. Membership includes the 10-member Asean bloc, Japan, South Korea, New Zealand and Australia, which remains in a conflict with China that started in April.
At the start of this year, China freshened up its 12-year-old
free-trade agreement
with New Zealand with more reductions of tariffs, a month after China and Australia
abandoned an opportunity
to do the same amid their ongoing political dispute. The deepening of the pact was driven by a joint China-New Zealand commitment to embrace multilateralism in an effort to rebuild a global economy battered by the pandemic.
Only one or two past trade conflicts bear any similarities to the current China paradox, including the trade war between Japan and the US in the 1980s, although Japan held less bargaining power due to its heavy dependence on the US for military security.
"China's case is very unique. I can't think of any other historical story that would combine such a phenomenon of attraction and repulsion," said Julien Chaisse, a trade professor at City University of Hong Kong.
Ahead of China's five-year-plan discussions at its upcoming "two sessions" meetings, both Asia Society Australia and Beijing-based research and strategic advisory China Policy anticipate that China will plan to become less export-oriented, even as it rolls out the red carpet for foreign investment and expertise. And at the same time, they expect China will set out to sign more trade pacts, especially with developing countries.
Chinese President Xi Jinping's
dual-circulation
strategy vision of cultivating a massive domestic market will enable the country to be less subservient, and hence more strategic, in interactions with global markets, they said at their China Executive Briefing on Thursday.
But Xi's government will seek to sign more pacts for the geopolitical leverage they provide and to bolster its claims as a protector of multilateralism, China Policy said in a statement to the Post.
"Any serious economic pivot away from exports would be years down the road," China Policy said. "For the near-term, trade pacts serve as conduits to increase exports, [with] an added bonus of giving domestic firms opportunities to compete in global markets, hopefully increasing their competitiveness, and [to] strengthen political ties with other countries.
"When exports begin to wane, China will look for other tools to expand foreign ties."
Chaisse agreed that trade deals such as RCEP and the CAI tend to be key geopolitical instruments for China, rather than purely business deals. For example, he said, CAI acts as a way to create a divide between the EU and US, while the RCEP allows China to strengthen its relationship with Asean while marginalising India, which opted out of the deal.
Trade pacts are also a means for China to find its way out of non-trade conundrums, particularly over matters concerning human rights, Hong Kong and Taiwan, said economics professor Bala Ramasamy at the Shanghai-based China Europe International Business School (CEIBS).
"Trade relationships get complicated when they are muddled up with other non-economic factors … this results in unstable bilateral relationships," he said. "One way out of this is to consider more multilateral types of relationships like the RCEP. Perhaps the negotiating environment is more conducive when one deals with several partners rather than just the one."
But China will be picky with the deals it signs, and topping its list is likely to be more trade pacts with its Belt and Road Initiative partners, according to Gregory Whitten, an assistant professor of economics at Lingnan University in Hong Kong.
The CPTPP, while important, will probably not feature prominently at the "two sessions", as China has already made its goals clear, Chaisse said. And China reinforced that position on Wednesday when Ministry of Commerce vice-president Wang Shouwen confirmed that Chinese authorities had made "unofficial contacts" with some countries in the CPTPP in a bid to exchange views on China's joining the mega free-trade pact.
Geopolitics aside, the interwoven global trade system makes it difficult for governments to say no to trade pacts with China, Ramasamy said, despite wanting to appease their voter bases by pushing back against perceived Chinese aggression.
"Despite the decrease in the growth of world trade in recent years due to [former US president Donald] Trump's nationalistic policies and Covid-19, global trade will continue to be a dominant strategy for growth and development among all countries, simply because no country has all the resources it needs," he said.
"The production infrastructure that has been established since the 1980s – one that utilises global value chains – is too deeply integrated within a multinational's business strategy."
And, like Asia Society and China Policy, Ramasamy said that on the flip side China also needs global trade, regardless of its goals for a dual-circulation economy.
"It needs access to natural resources and technology to keep its production machinery going and to meet the increasingly insatiable wants of its domestic population," he said.
But China cannot expand its global trade treaties without more internal reform, Chaisse said. To enter the CPTPP, for example, China needs to increase transparency in its state-owned enterprises.
If nothing else, it will release some of the global pressure to better align with other economies such as the US, he added.
And this is likely to be the key point of discussion on global trade at the two sessions, said Zhang Monan, chief fellow with the US-Euro Institute at the China Centre for International Economic Exchanges (CCIEE) in Beijing.
"For trade pacts, China will have to formulate more reforms and create a timetable that maps out China's direction. For example, the reform of state-owned enterprises will be key to the strength of our market economy," Zhang said. "China is actually facing a big problem now to come up with new financial and trade rules that will accelerate its opening up.
"During the 'two sessions', the establishment of a high-standard rule system for an open economic system may be a top priority."
Reforms aside, and despite cries for decoupling that were triggered by Trump's protectionist approach to trade and by the pandemic, which has prompted some countries to push for self-sufficiency for certain critical goods, China remains at the core of many manufacturing supply chains, Zhang said.
Over the past few years, China's manufacturing capabilities had also sharpened, and it has become more than just a "global manufacturing factory", Zhang said. It has also proved to be a reliable supplier when other economics remained flummoxed, as seen with its industrial recovery in the past year after initial Covid-19 lockdowns.
This means that, ultimately, there will be continued global reliance on China for trade, as well as simultaneous competition against China in trade. The tug-and-war of countries wanting to decouple while becoming more tied up with the Chinese economy will deepen, so global trade involving China is unlikely to go away, Zhang added.
"I would say that competition and cooperation will actually exist at the same time," she said. "In the next five years or 10 years, the relationship between China and other countries, especially developed countries, may be more competitive.
"On the one hand, China may be a competitor, but China may also be the most important trade partner, in terms of global market demand."