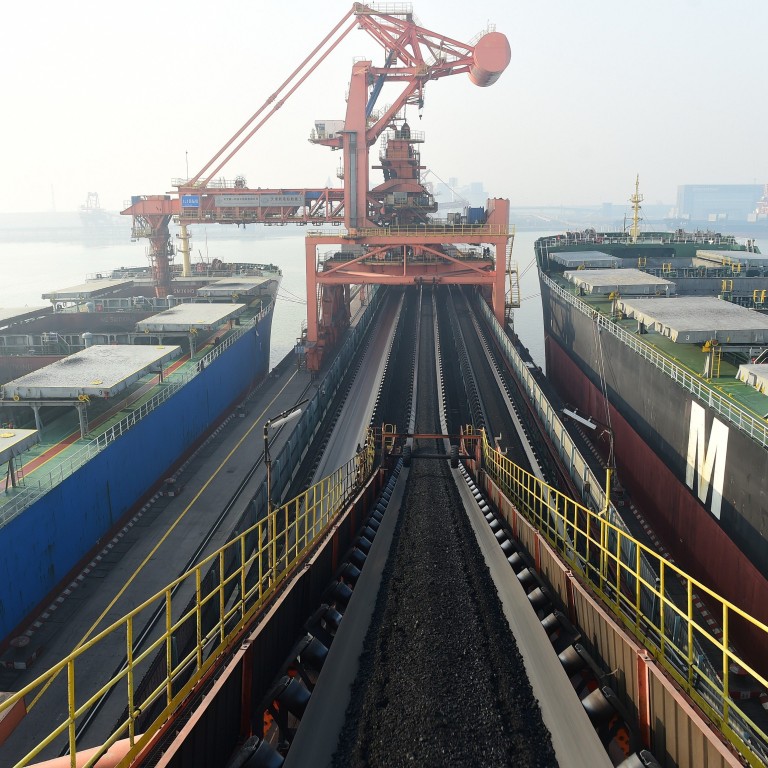 China coal: Australia ban continues to weigh on supply, imports down 40 per cent even as Russia moves to fill gap
Coal imports into China for the first two months of 2021 fell nearly 40 per cent compared to a year ago, with the ban on Australian imports now in its sixth month
New restrictions at Mongolian border have also slowed down coking coal deliveries, but Russia is looking to take advantage to ramp up exports of coal to China

China's imported coal supplies are under pressure amid a prolonged ban on Australian imports that shows "no sign of being lifted in the near term", and new restrictions at the border with Mongolia.
Coal imports into China
for the first two months of 2021 fell nearly 40 per cent compared to a year ago, according to China customs data, despite Russian exports looking to fill the gap caused by the Australian ban, S&P Global Market Intelligence said.
Mongolia enacted stricter checks at the key border crossing at Ganqimaodu a week ago after a worker at its nearby copper mine tested positive for coronavirus, slowing down coking coal deliveries into China, Mysteel Global analyst Sean Xie said.
Despite efforts to lift coal shipments into China, in part driven by the absence of competition from Australian coal,
Mongolia's coal exports to China
have fallen around 22 per cent since the start of the pandemic as a result of border restrictions, Xie said.
The
ban on Australian coal
– now in its sixth month – remains in force, with analysts not expecting any Australian shipments to be allowed into Chinese ports this month.
Shortly after the unofficial ban on Australian coal,
China also blocked imports
of Australian lobsters, wine, log timber, sugar and barley late last year, as bilateral tensions between the two countries soured.
According to commodity and energy price agency Argus Media, Chinese buyers have continued to hold off booking coal cargoes from Australia.
Port authorities at Bayuquan in the northern province of Liaoning and at Xiamen in South China's Fujian province told Argus they were not expecting coal shipments from Australia after there were no arrivals last month, either.
Chinese buyers took a punt and booked two shipments from the Australian coal port of Newcastle last month, but they were subsequently redirected to other countries, Argus said.
"I do not think anyone in China dares to book new Australian cargoes," a China-based trader told Argus. "There is no sign that the ban will be lifted in the near term."
Many coal-carrying vessels from Australia remain stranded off the coast of China, as China customs continues to withhold clearance for the cargo to enter the country, Argus added.
China-based traders also told Argus that uncleared Australian coal shipments were piling up at bonded warehouses, where goods are stored while awaiting customs clearance.
Last month, China allowed eight vessels carrying Australian coking coal to dock on
humanitarian grounds,
although the coal itself was left at the ports and not cleared through by customs.
On the Australian side, coal supplies are also set to be disrupted as massive floods in New South Wales shut off rail lines, halting deliveries to the major coal export port at Newcastle, and as big coal miners Glencore and Yancoal Australia, which are dependent on Newcastle for shipments, suspended coal mining operations.
In the meantime, Russia is taking advantage of the shifting trade politics to ramp up exports of coal to China, as it pursues an expansion of its mining operations and related logistics infrastructure.
Earlier this month, Russian President Vladimir Putin called for an increase in
coal exports
to Asia from the Kuzbass coal-mining region in southwestern Siberia. He also ordered an expansion of the nation's railways to enable such export growth.
Russia has since been modernising its key Baikal-Amur and Trans-Siberian railway networks, while its coal companies have agreed deals with Chinese companies to increase exports.
Russia's Elgaugol, the developer of the Elga coal deposit in southeast Yakutia, formed a joint venture with Fujian Guohang Ocean Shipping in December with the objective of increasing coal shipments to China.