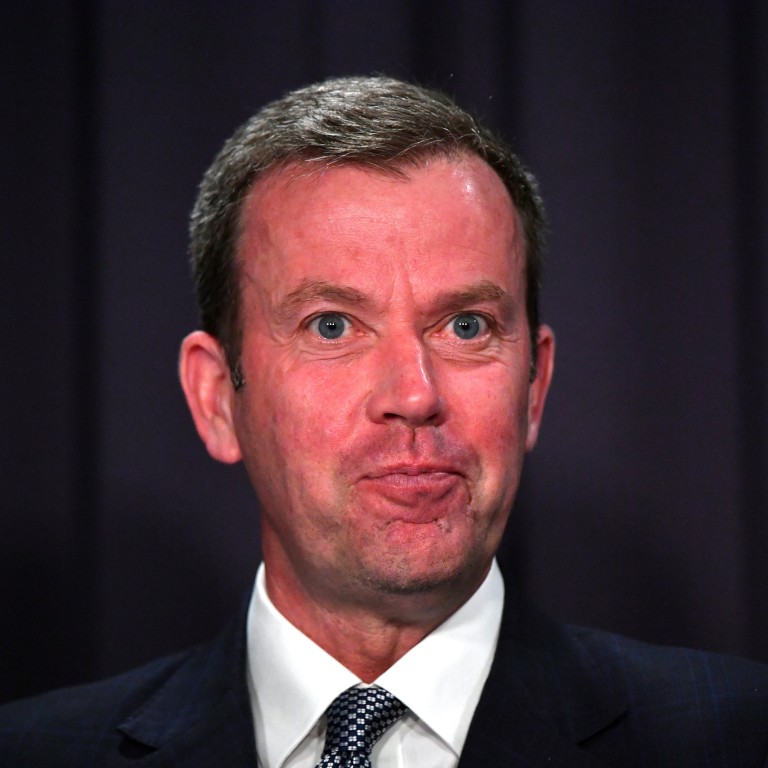 China-Australia relations: trade minister Dan Tehan says businesses must help Canberra repair ties with Beijing
Detailed report says Australian businesses, the government and academia can work together to increase trade in Asia as part of a 'Team Australia' approach
But one expert says businesses cannot be expected to take lead on diplomacy while the government keeps making 'diplomatic blunders'
Australia's trade minister has told Australian businesses to "step up to the plate" in repairing ties with China amid the worst bilateral relations between the two countries in decades, as he put forth recommendations on how Australia can better engage with Asia.
On Wednesday, Dan Tehan launched a final joint report by Asia Society Australia and the Business Council of Australia, detailing how Australian businesses, the government and academia can work together to increase trade in Asia via a "Team Australia'' approach.
The report, "A Second Chance: How Team Australia can succeed in Asia", makes 24 recommendations on how Australia can diversify its trade across Asia by employing a "China and" rather than a "China or" strategy, while also acknowledging that Asia, with China at the forefront, "is not waiting for us".
While Australian businesses – particularly those dependent on trade with China – have become increasingly silent in pushing for a "balanced" approach in the past year, amid fears of being accused of kowtowing to Beijing, they could serve to help bridge the gap with China. The government has urged businesses to help, Tehan said, adding that his
January letter
to his counterpart, Chinese commerce minister Wang Wentao, remains unanswered.
"When it comes to China, at the moment, we're going to need business really stepping up to the plate," he said during the presentation of the report. "While governments can't deliver that message directly at the moment, we need businesses to be stepping up and doing what they can."
Tehan said the time is now for Australia to engage with the Indo-Pacific region, and he maintained that Australia wants a friendly relationship with China.
The report itself supports Tehan's comments, saying Australia's push for more diversification in trade cannot replace the need to adjust to and work with the more complex relationship with China.
"The rationale for greater economic engagement with Asia has not dissipated with the pandemic and the geopolitical tensions surrounding China's rise," it said.
"In fact, both economic and geostrategic forces are pushing Australia even closer to our Asian neighbours. So, learning to navigate a more complex relationship with China is imperative, and efforts to ensure that both countries engage constructively must be a priority."
The report, which does not focus on China, covered how businesses can pursue targeted trade with other Asian countries, such as health care opportunities with Indonesia or financial services deals with Japan.
It also said Australia needs to reboot its literacy of Asia – not just in terms of languages but also cultural understanding – although this is not the first time such a report has been done. In 2012, Australia released a similar "blueprint" for Asia – the "Australia in the Asian Century" white paper.
When asked how Australian businesses will be able to manage a relationship with China after a year of "frosty exchanges" that saw Beijing block a range of Australian exports such as
coal
,
barley
and
wine
, Tehan said: "The messaging has not been frosty."
"It is very clear that we want a positive relationship, my hope is that it will break the impasse," he said in relation to his communication with his Chinese counterpart and reaffirming that trade with China remained strong.
Last year, the value of Australian exports to China alone reached A$145.2 billion (US$111 billion), or just 2.16 per cent less than A$148.4 billion in 2019, which marked the highest total since 1988, according to government data.
But others think businesses have their work cut out for them.
"What's striking is how little interest Canberra has in reviving the bilateral relationship," former Australian foreign minister Bob Carr told the Post on Wednesday.
"A year ago, the government made a decision to target China with aggressive rhetoric about sending 'weapons inspectors' into China to examine the virus. They then found every available anti-China academic, including a
Falun Gong
activist, to staff the Australia-China Foundation."
"Australia opted to downgrade the bilateral relationship to impress Washington, and the abandonment of diplomacy has had the results we live with today," Carr said.
In an ideal world, both political and business relationships between countries would be aligned, said Jane Golley, director of the Australian Centre on China in the World at the Australian National University.
"But we do not live in that ideal world. In reality, if the Australian government can't even acknowledge those tensions, let alone accept some part of the blame for how it reached this point, the political relationship will continue on its downward trend, and Australian businesses will increasingly be the ones who pay the price," she warned.
In that regard, Australia-China Relations Institute director James Laurenceson said businesses also need their own diplomatic "blueprint" in tandem with the Australian government if they are to succeed in mending ties with China.
"You can't ask or expect business to lead on diplomacy and be effective while making repeated diplomatic blunders as a government," he said.
That said, Laurenceson expressed confidence that the Australian government's intentions to rebuild trade relations with China were sincere.
"My read is that Australian business would have appreciated the minister not lending any support to an economic decoupling or slighting companies that actively engage with China," he said.
"Taking a 'Team Australia' approach would also mean the government listening to, and factoring in, business advice … This 'golden age of Australian diplomacy' Minister Tehan referred to, where different actors involved in China engagement pull in the same direction, can only work if each is confident that their interests and advice are being seriously taken on board."