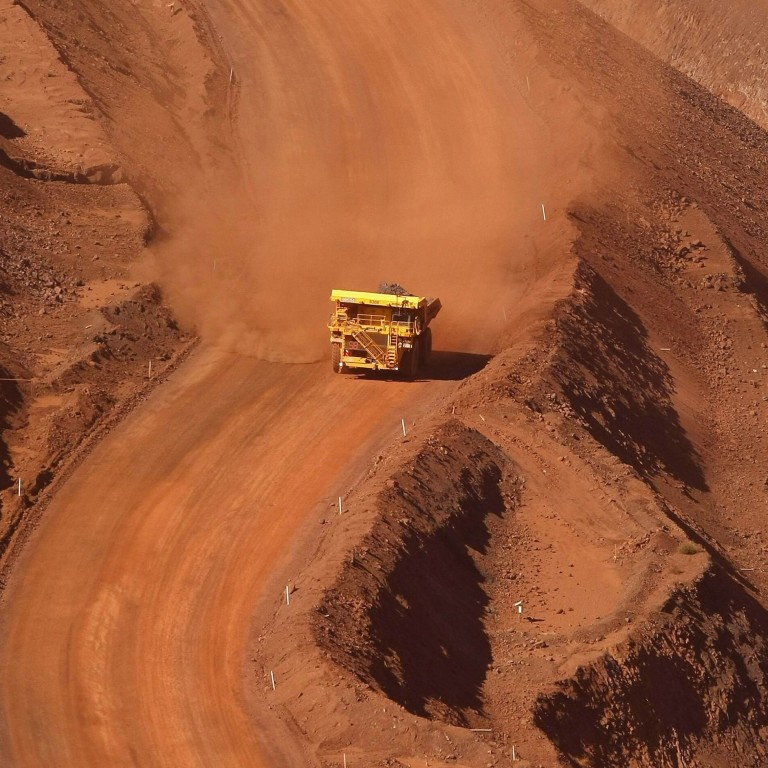 China-Australia relations: iron ore prices hit record as market mulls Beijing's next move
A fundamental demand for steel in China, coupled with worsening bilateral tensions, has pushed the price of iron ore beyond US$200 a tonne for the first time in 14 years
It remains to be seen whether there will be commercial moves to counter political risks in the near term, such as upswings in iron ore shipments from Australia
Some iron ore traders view the indefinite suspension of the
China-Australia Strategic Economic Dialogue
as a potential threat to the iron ore trade between the two countries, after bidding up iron ore prices to an eye-watering high of more than US$200 a tonne this week.
On Thursday, Beijing halted the high-level economic dialogue with Canberra – a move seen by many as political retaliation for Canberra's axing of Victoria state's non-binding
belt and road pact
with China last month. That same day, iron ore reached US$202 a tonne.
While prices of both iron ore and its end product, steel, had been rising before the past week's Chinese Labour Day holiday, iron ore prices and iron ore futures contracts at the
Dalian Commodities Exchange
are now rallying sharply on the speculative premise that the price of iron ore imported into China would soar if the Beijing were to cut back or cut off Australian supplies.
The new record surpassed the previous US$200 high from 2007, and on Friday prices closed at just over US$212 a tonne for 62 per cent grade iron ore, according to according to pricing and research group Fastmarkets.
However, some analysts considered this a knee-jerk reaction, as they do not foresee either government severing the highly codependent trade.
"As we've seen on many occasions recently, Dalian Commodity Exchange retail investors are misinterpreting, misdiagnosing and jumping to conclusions based on a political event," Navigate Commodities managing director Atilla Widnell said.
"The fact of the matter remains that Australia and China are codependent on one another when it comes to the bilateral trade of iron ore."
The market was unanimous on both the strength of China's steel market and on the fresh uncertainties surrounding its iron ore supply as a result of Beijing's latest move, but participants were divided over which was the bigger driver of the record prices, according to analyst Argus Media.
Yanting Zhou, a senior economist at energy researcher Wood Mackenzie, said that while the suspended dialogue – which mainly explored opportunities in infrastructure, industrial and finance sectors, rather than mining – could lead to a decrease in Chinese investments in Australia, or perhaps in bans of low-level commodities exports, it should bear little impact on iron ore.
"Given the strong position that the Chinese government is demonstrating, and the
Chinese economy
's manageable reliance on Australian supply, it is unlikely to back down before the Australian government does," she said. "China is unlikely to ban imports of Australian commodities that they rely heavily on, as it would impact the domestic economy.
"The government is more likely to raise the administrative cost for importing commodities from Australia if they want to take action."
While political conditions can cause sudden fluctuations in iron ore prices, the fundamental strong demand for steel in China is sustaining the demand – and thus the high price – according to the analysts.
Elevated steel prices, which rose to 12-year highs in recent weeks, reflected China's continued economic recovery and its dependence on iron ore.
Correspondingly, the price of iron ore had been rising throughout the year, despite hopes of a respite at the end of last year, when it dipped to about US$150 a tonne.
Steel mill profit margins have continued to rise, even though "high raw material prices have eaten part of the profit", S&P Global Platts lead iron ore analyst Niki Wang said.
Healthy margins due to steel demand both in and outside China have kept steel mills in the black, and steel production rose 19 per cent in March, year on year, despite output cuts in Tangshan, Hebei province, Wang said.
Erik Hedborg, a senior analyst at commodities firm CRU, observed steel mill margins rising each day following the Labour Day holiday period.
This ties in with China's high iron ore imports. The latest Chinese customs data on Friday showed imports from January-April increased 6.7 per cent, compared with the same period last year.
"Such [political] news is just an additional pusher that will impact the market sentiment for a while. The major driver is still the robust markets for steel and iron ore," Mysteel Global analyst Victoria Zou said in a note on Friday. "The statement is more like a political message … After all, both China and Australia cannot bear the loss, should the two parties limit their iron ore trading."
It remains to be seen whether there will be commercial movements to counter political risks in the near term, such as large upswings in iron ore shipments from Australia in the coming weeks, although a year-end rush might be imminent, according to Yu Zihao, an analyst with Fastmarkets.
"Buyers in China will likely maintain demand based on downstream steel consumption, especially for high-grade iron ore where Australia enjoys less market share, so a sudden surge in shipments from Australia in the following weeks is unlikely," Yu said.
However, she also noted that Australian miners Fortescue and BHP are in their final quarter of the 2021 financial year, which suggests that an overall increase in production or shipments is expected from them in the coming months to meet their yearly production guidance on iron ore.
But there could still be some adjustments on the Chinese front, Fastmarkets Asia ferrous raw materials and steel lead analyst Paul Lim said.
"There is a sense that China could possibly buy more iron ore from other origins such as Brazil, or direct-charge materials such as pellets from non-Australia origins," Lim said. "It will also likely increase its imports of metallics such as pig iron, hot briquetted iron, and semi-finished steel such as billets to diversify its raw material mix."
This week, a consortium that includes Chinese aluminium producer Shandong Weiqiao advanced the development of their extensive Simandou iron ore mine in Guinea, West Africa, that has been touted as the answer to China's iron ore diversification away from a reliance on Australia and Brazil.
Railway construction and tunnelling works have commenced, with a goal of starting production in 2025.