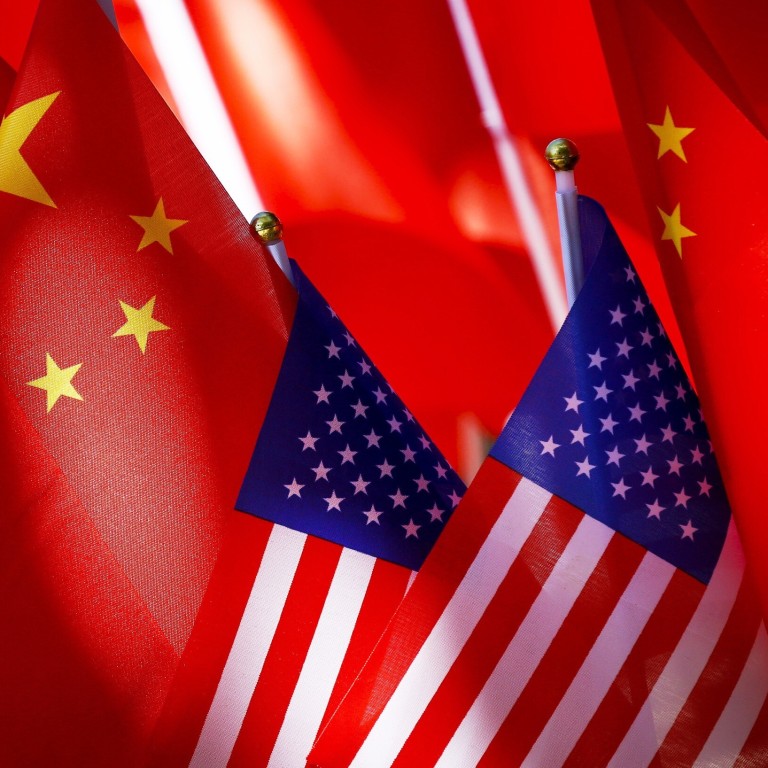 US-China relations: Is Biden's stimulus plan enough to stop China becoming the world's leading economic power?
US President Joe Biden pledged in March he would prevent China becoming the world's 'leading' and 'wealthiest' country
But economists say in the long run no amount of spending or tailored growth policies will stop China from surpassing the US
When US President
Joe Biden
proposed his US$1.9 trillion coronavirus relief package to jump-start the world's largest economy in January, he might also have had China on his mind.
Two weeks after the package was approved by Congress in March, Biden said he would do everything in his power to make sure China did not become the
world's most powerful country
.
But will Biden's stimulus be enough to stave off China's rise or will it fall short?
Since China's post-pandemic economic growth is already showing signs of peaking, and the US economy is accelerating, it is possible the American growth rate could race ahead in the next few quarters, widening the gap between the size of the two economies.
But economists say that in the long run, no amount of spending or tailored growth policies will be able to stop the
Chinese economy
from surpassing America's, although other indicators such as wealth, measured by gross domestic product (GDP) per capita, will remain above China's for the next 50 years.
"In general, there is little in Biden's stimulus to date that is going to increase the long-term US potential [GDP] growth rate – it remains stuck by most accounts at roughly 1.8 per cent a year – and as such, the stimulus has merely avoided a deep depression during the pandemic, rather than essentially putting the US on any higher long-term growth trajectory," said Jacob Kirkegaard, a senior fellow at the Peterson Institute for International Economics (PIIE).
The
stimulus
will initially boost the American economy, propelling GDP growth to 6.5 per cent in 2021, the highest rate of annual expansion in nearly 40 years, according to the US Federal Reserve.
Economic growth will remain above the estimated long-term trend of 1.8 per cent for several years afterwards, at 3.3 per cent in 2022 and 2.2 per cent in 2023, but eventually settling down to about 2 per cent.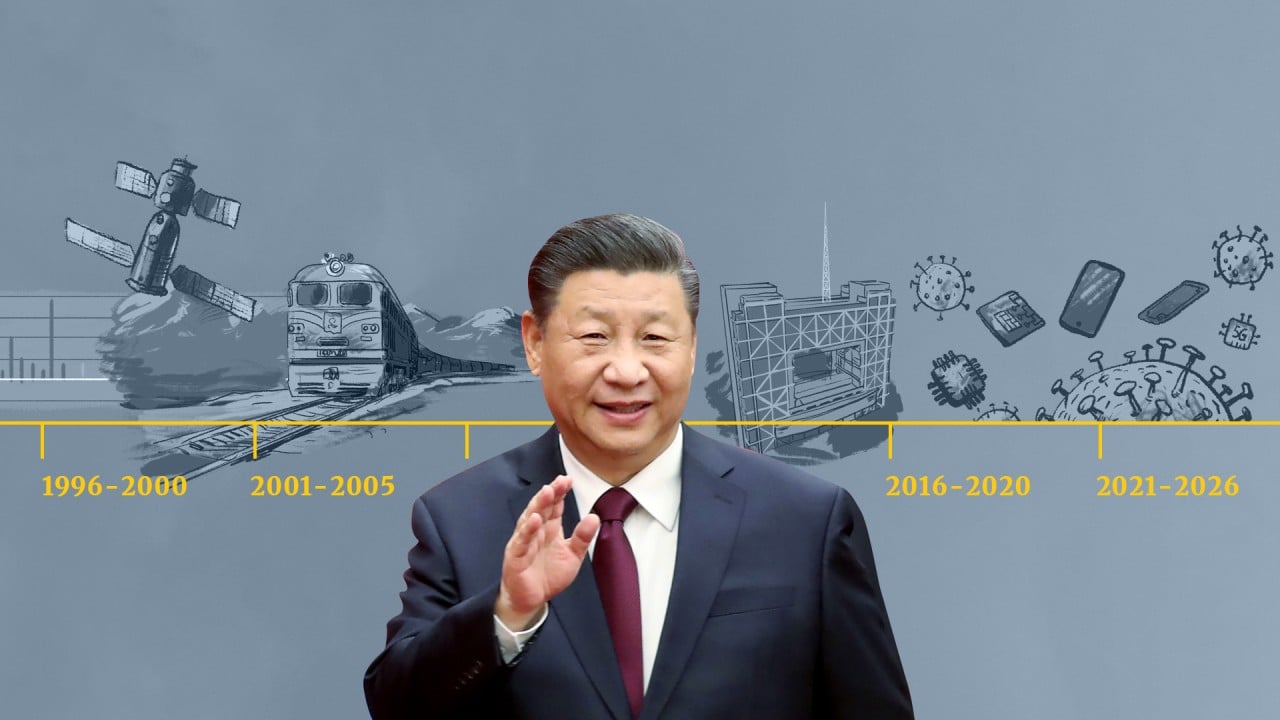 05:57
SCMP Explains: China's five-year plans that map out the government priorities for development
SCMP Explains: China's five-year plans that map out the government priorities for development
Conversely, China's GDP growth rate for 2021 is forecast to be around 8.5 per cent, which "appears" large because it bounced back from a low base last year when the pandemic ravaged the economy, but is still bigger than the record growth in the US, PIIE research fellow Tianlei Huang said.
"If China can indeed grow at that level for at least another decade, there is little chance that the US headline growth number will exceed that of China in the foreseeable future," Huang said.
"The
Chinese economy
will almost certainly overtake the US as the world's largest economy by 2030 [although] there are different projections as to when exactly it will happen, even if short-term growth in the US is boosted by the Biden stimulus. "
AMP Capital's chief economist Shane Oliver agreed that the US, as a mature economy, will have an uphill battle competing with China, which still has plenty of room to grow. Like Kirkegaard and Huang, he also expects US GDP growth to settle at about 2 per cent a year while China's will hover around 5.5 per cent in the long run.
Over the past 40 years, China's GDP growth rate has been mostly above 5 per cent, according to the World Bank, with last year's pandemic-driven fall to 2.3 per cent the lowest in that period.
The Centre for Economics and Business Research (CEBR), a British consultancy, said in its World Economic League Table for 2021 that China's pre-pandemic US$14 trillion economy would overtake the US$21 trillion American economy by 2028, five years earlier than previously predicted.
The nation's skilful management of the pandemic amid setbacks to long-term growth in the West helped accelerate the process, it said.
While new threats such as inflation from turbocharged spending could upset both economies, each could adapt, and China's GDP growth would keep nudging the US, CEBR deputy chairman Doug McWilliams said.
"China's GDP overtaking that of the US is pretty inevitable. When this happens is of course uncertain," he said.
Neither country should aspire towards a growth rate simply to outlast the other, but aim for a stimulus package that boosts economic recovery "without rekindling endemic inflation", McWilliams said.
"Both countries have inflation constraints and how they manage this will have a big influence over growth prospects for the next decade," he said.
China and the US are facing big side effects from their stimulus programmes, with Beijing pumping US$500 billion into its economy last May.
US inflation surged in April compared to a year earlier and China is weathering
high raw materials costs
, particularly for commodities used in the country's infrastructure and construction-heavy recovery.
But China's industrial recovery has other problems, and, if not properly managed, the approach could slow China's race to pass the US, Kirkegaard said.
"This will be effective in the short term, but it does not increase consumption at the same rate, further increasing imbalances in the Chinese economy, and in my opinion increases the long-term risk of a major economic crisis in China from a continued build-up of debt and ultimately unproductive investment in infrastructure," he said.
"The real risk is that China – as it enters into its demographic transition like Japan did in the mid-1990s – ends up experiencing the same bust as Japan, followed by a very, very long period of very low growth."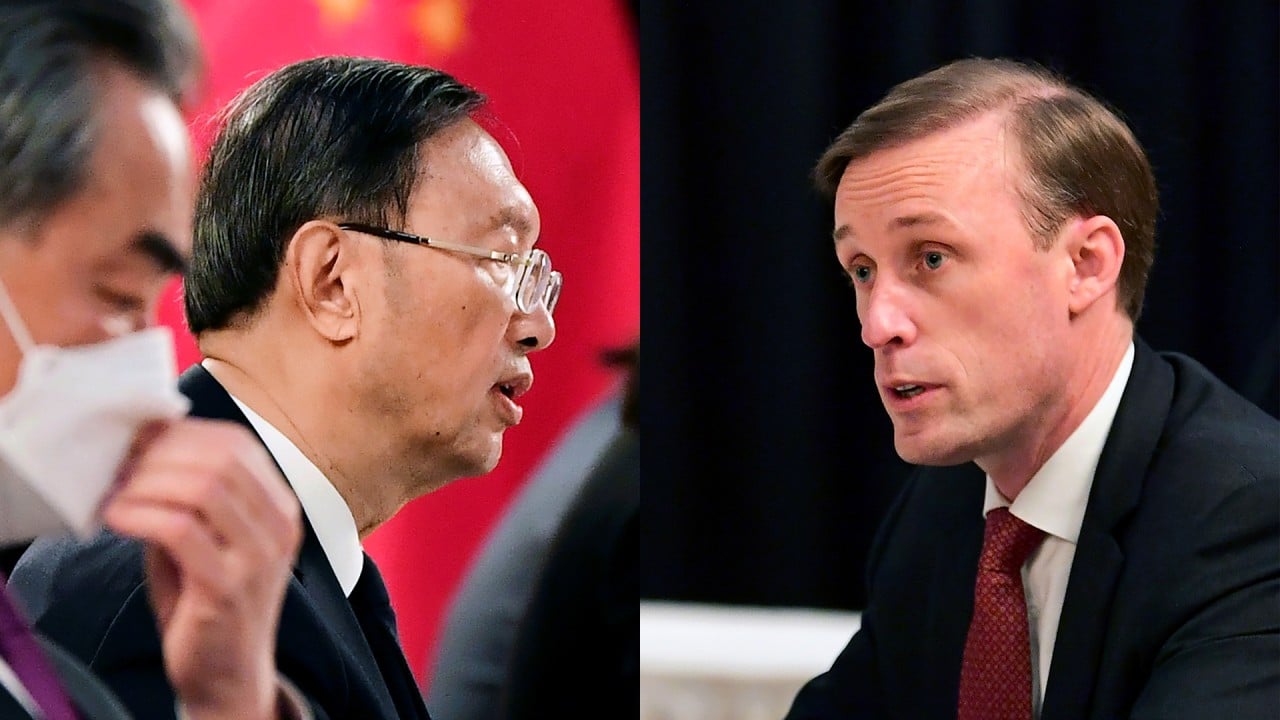 02:23
Gloves off at top-level US-China summit in Alaska with on-camera sparring
Gloves off at top-level US-China summit in Alaska with on-camera sparring
China's renewed focus on promoting the growth of state-owned enterprise at the expense of private firms could cause economic stagnation, while a market-driven growth model would guarantee a "win" against the US, "irrespective of what size stimulus the US government implements", Kirkegaard said.
The White House and Congressional Republicans continue to bargain over the size and contents of the final package, with Biden agreeing to cut the size of his plan by US$600 million to US$1.7 trillion, while Republicans have offered a package worth just under US$1 trillion.
Oliver said the large infrastructure investment plan will only slow China overtaking the US, but it will not stop it.
Even if Chinese growth slows, it is hard to see how Chinese authorities will let the pace falter long enough to prevent the closing of the gap between the two economies, he added.
"Current inflationary pressures are not enough to cause a major problem nor are China's debt levels – which are just the mirror image of its higher level of saving, recycled through banks and becoming debt," Oliver said.
Huang said, however, it was not economic prowess or growth at the centre of the clash between the two powers, but technology.
"If you look at the Biden infrastructure plan, you will see that it is not only about infrastructure in the traditional sense. It is a bundle of many things," he said.
"Most importantly, it also includes proposed investment in advanced manufacturing, so there is also an industrial policy component. China is taking actions to try to win this contest."
This article appeared in the South China Morning Post print edition as: In the long run, Biden stimulus seen not enough to quell China's rise