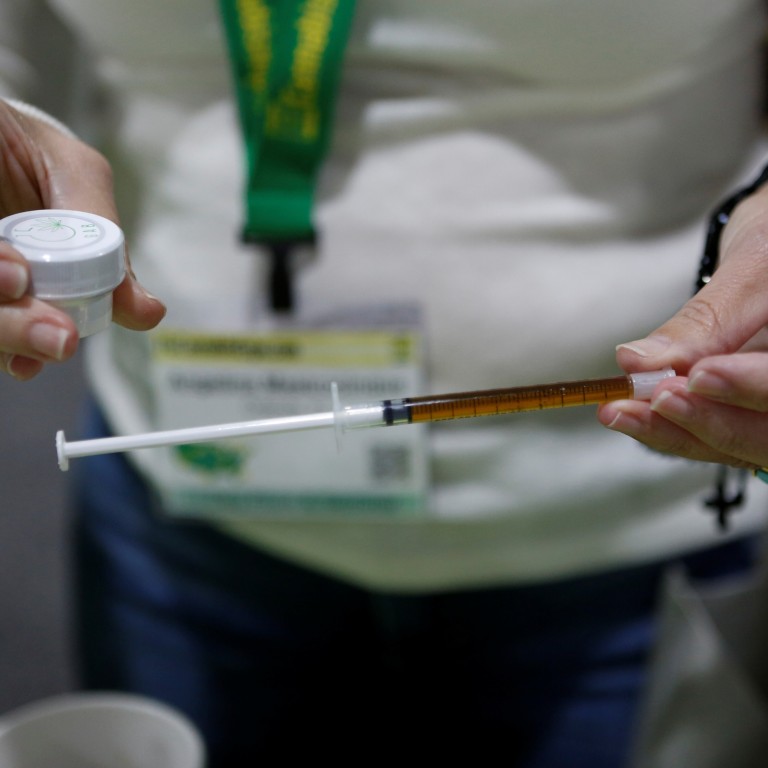 China's CBD crackdown deals blow to emerging market using cannabis-derivative in cosmetics
China's drug regulator last week banned the use of cannabidiol (CBD) – a compound found in the cannabis plant – in all cosmetics, formalising a draft proposed in March
CBD is one of the many useful non-narcotic compounds found in cannabis plants and it possesses low levels of tetrahydrocannabinol (THC), the compound that causes a 'high'
China's formal crackdown and U-turn on the use of the cannabis-derived ingredient cannabidiol (CBD) in cosmetics production, while not surprising, represents a significant blow to the fledgling market that had quadrupled in the past year.
Drug regulator, the National Medical Products Administration (NMPA), last week banned the use of CBD – a compound found in the cannabis plant – in all cosmetics, formalising the draft proposed by the National Institutes for Food and Drug Control released in late March.
It also banned three other popular cannabis plant derivatives – cannabis sativa fruit, cannabis sativa seed oil and cannabis sativa leaf extract – all of which have a growing global following for their "wonder drug" ability to lift depression, cure acne or relieve pain.
But concerns that CBD-based cosmetics sold and shared online could lead to lax drug attitudes among young Chinese consumers, and that the largely unregulated industry could give rise to poor testing and control of THC were the driver of the latest government move, said Hedy He, a cosmetic regulatory analyst with China-based market intelligence consultancy Chemlinked.
"It shows the 'madness' of brands entering the market for CBD cosmetics," she said after the number of cosmetic products registered with the NMPA jumped from 18 in 2019 to 1,783 in the next two years.
"When processing CBD cosmetics, THC may also be produced. This means that there are great hidden dangers in every link [of the supply chain] from production to transportation of CBD cosmetics.
"With the entry of more brands, if [they are] not strictly controlled, raw materials that may become drugs may circulate in the Chinese market, which brings serious risks to drug control."
In China, marijuana is illegal and conviction for drug trafficking is punishable by death.
02:36
Thailand promotes commercial use of cannabis as a new economical engine for the country
Thailand promotes commercial use of cannabis as a new economical engine for the country
At the start of the year, customs officials in the port city Quanzhou in southeastern Fujian province seized three imported bottles of CBD essential oils containing THC as part of a smuggling raid, an incident which caused authorities to worry that the use of CBD was out of control, He said.
While cannabis fruit, seed oil, and leaf extract is "allowed" in the Chinese Inventory of Existing Cosmetic Ingredients (IECIC 2015), the pure chemical form of CBD has never been allowed.
"China is very sensitive to anything associated with drugs due to its history, so the U-turn on the six-year old regulation amendment is not entirely surprising," said Mark Tanner, managing director of China-based consumer insights consultancy, China Skinny.
He added that China's tough stance on drugs is a legacy of the Qing dynasty's crackdown on British opium smugglers in the mid-19th century.
Globally, other governments have warned of the dangers of CBD and some have also prohibited its use. The US Food & Drug Administration has only approved one CBD product for use and said it was illegal to market CBD by adding it to a food or labelling it as a dietary supplement. The limited data about CBD poses risks to consumption, it added.
Tanner said the ban in China would only cause a small dent in the massive Chinese cosmetics industry, whose sales hit 340 billion yuan (US$53 billion) last year and is on track to be the biggest in the world, according to data analytics firm Statista.
Chemlinked's He said the CBD cosmetics market was only 1 per cent of the whole Chinese market, but added that the days of the sector are numbered.
"It is not a large portion [of the market] from the standpoint of either production or consumer demand," Tanner added. "In the China Skinny Skincare Tracker, we regularly ask consumers to rate different features and trends of cosmetics, and [CBD] falls in the bottom quarter of attractiveness."
CBD cosmetics retailers and manufacturers will now have to remove their products from e-commerce platforms and all retail channels across the country, both Tanner and He said.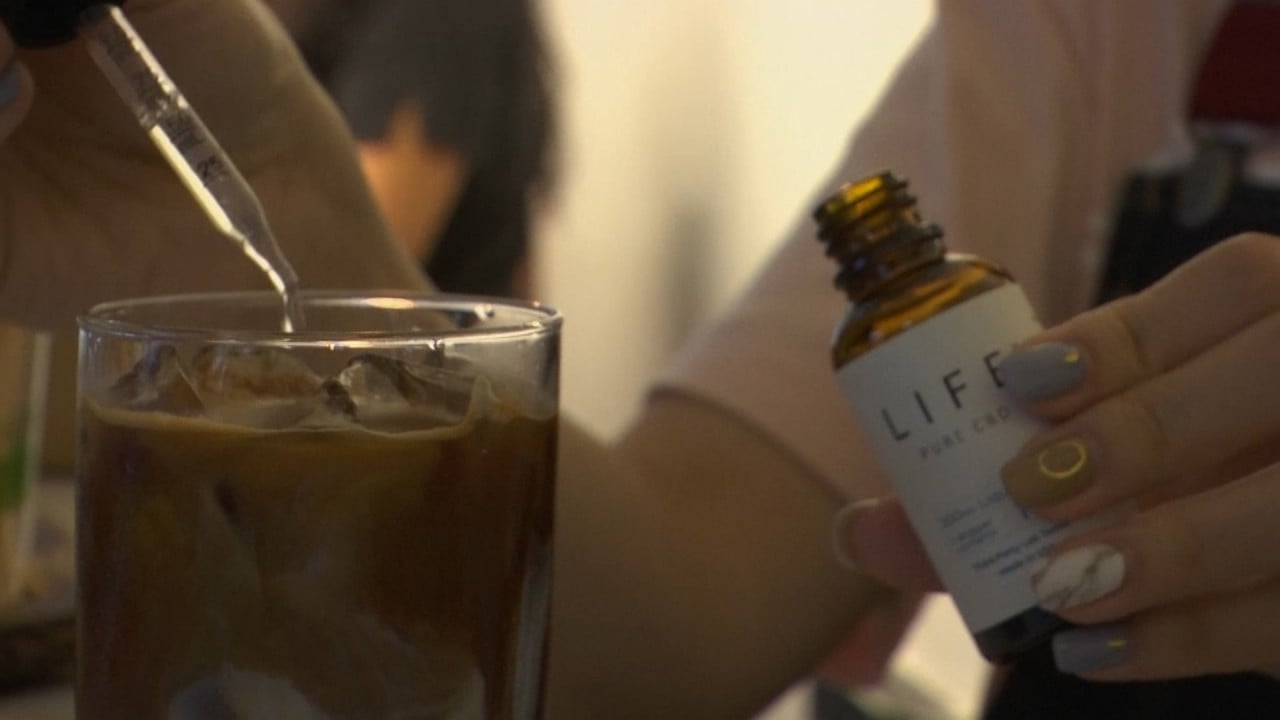 02:01
Hong Kong's first CBD cafe to offer special beer, juice and even mooncakes on its menu
Hong Kong's first CBD cafe to offer special beer, juice and even mooncakes on its menu
With the proliferation of CBD cosmetics highest on e-commerce platforms, cosmetics regulations expert EcoMundo said in a note in April that e-commerce platforms should be poised to enforce wholesale prohibitions, although it added that e-commerce is regulated by a separate law.
Most of the major cross-border e-commerce platforms like Alibaba and JD.com have not yet announced hard rules on existing sales, although Tmall Global has made it clear that products sold on its platform must meet China's cosmetic ingredient requirements, He said.
Retailers should look out for announcements from the government on sales transition and grandfathering provisions on existing inventory, she added.
Both Alibaba and JD.com did not respond to requests for comment. Alibaba is the owner of the South China Morning Post.
The news is also a blow to new market entrants like skincare company Xi Muyuan, which attracted six rounds of private capital investment in 2019 and 2020. The brand sells its cannabis leaf extract and other related products under its brand Simpcare and has an online story on Taobao.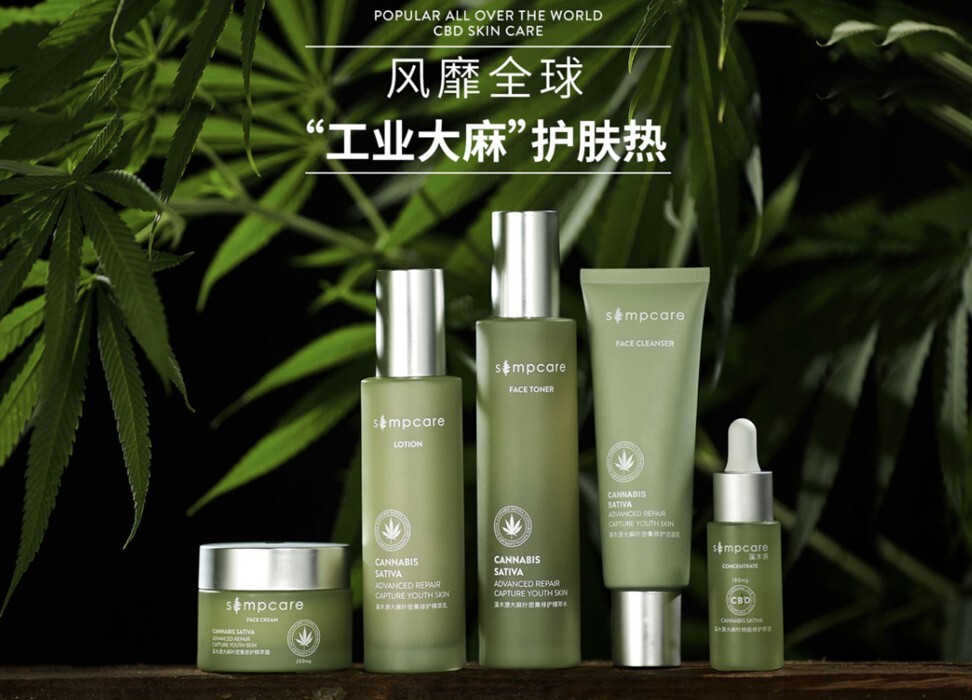 Other companies, like the publicly listed Meilleure Health and Yunnan Baiyao, suffered some fluctuations in their share prices since the news of the ban circled in late March. Neither company responded to requests for comment.
Whether the production of CBD for export could continue is unclear at this stage, He said, with further clarification from the NMPA needed.
In general, EcoMundo said the sector needed more clarification from the Chinese authorities, including details on the manufacture of CBD products for export.
But, the export of industrial hemp, of which China is the biggest global producer, can continue, experts concluded.
Hemp is a strain of cannabis plant which does not contain high THC levels, while CBD in contrast is a chemical extracted from cannabis that also usually has low THC.
China's hemp is used for paper and textile production and has no links to marijuana.
Grown in a way to create a low THC value, the cultivation of hemp is only allowed in three provinces in China – Yunnan, Heilongjiang and Jilin – and most production is exported.
While the China ban threatens to grind the CBD cosmetics sector to a halt, Asian cannabinoid producer Asia Horizon executive vice-president John Downs remained upbeat.
He saw it as a temporary setback as Chinese regulatory authorities tended to use a "ban and restart" strategy to control overheated consumer markets that had outpaced regulation.
"Counter-intuitively, we see the announcement as a positive and believe it heralds the coming of more robust regulations, which might even include rules pertaining to the ingestion of CBD," he said in a blog.
"In short, we see the proposed ban as a promising sign of the industry growing up."
This article appeared in the South China Morning Post print edition as: Young CBD market dealt heavy blow by China crackdown