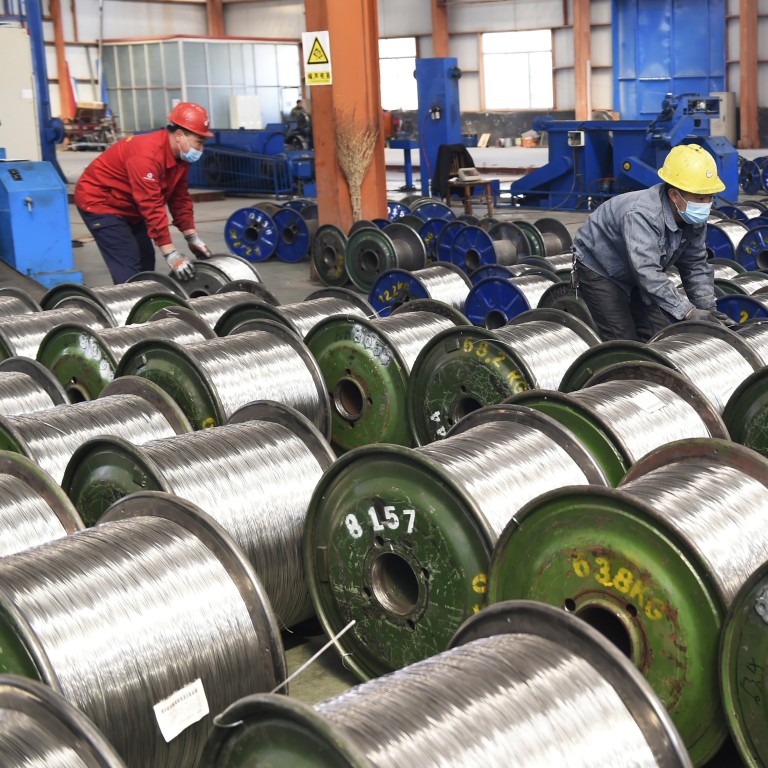 China to release copper, aluminium and zinc to tame soaring commodity prices
China last sold copper from its stockpiles in 2005 and released aluminium and zinc in 2010 to stabilise prices
Beijing has become increasingly concerned about high commodity prices that could be passed on to small businesses
China's top economic planning agency said on Thursday it would release state reserves of non-ferrous metals at "appropriate" times to curb runaway prices, while flagging there was no sign of a slowdown in steel demand in the future.
The announcement came on the heels of a similar statement from China's National Food and Strategic Reserves Administration, which pledged on Wednesday to release supplies of copper, aluminium and zinc to non-ferrous downstream processing and manufacturing firms through public bidding, although it did not confirm exact amounts.
China last sold copper from its stockpiles in 2005 and released aluminium and zinc in 2010 to stabilise the prices.
On Wednesday, copper prices fell after being at record levels for months amid China's strong post-pandemic industrial recovery.
"In recent months, the prices of some bulk commodities have increased significantly, and the surge has clearly deviated from the fundamentals of supply and demand, and has exceeded the reasonable range of recovery," Meng Wei, a spokeswoman for the National Development and Reform Commission (NDRC), said on Thursday.
China, the world's number one importer of industrial commodities, has become increasingly concerned with rising prices of iron ore, copper and other metals.
Factory-gate price inflation in China had hit a 13-year high in May, after manufacturers passed on surging raw material prices to wholesalers and retailers.
"Through a series of measures, judging by the current situation, market speculation has begun to cool down and the prices of some commodities such as iron ore, steel and copper have fallen to varying degrees," Meng said.
"We will also work with relevant parties, depending on market changes, to launch multiple batches at appropriate times to increase market supply, easing the cost pressure of enterprises, and promoting prices to return to a reasonable range."
Although the prices for some commodities have started to trend down, a recent survey of 7,500 trading companies by the Chinese ministry of commerce (Mofcom) showed they were under significant cost pressure amid global concerns about inflation resulting from a strong rise in post-pandemic demand. 
Following the survey, Mofcom has been promoting import diversification, seeking to establish stable trading channels for bulk commodities and promised more support for small and medium-sized businesses.
Analysts said using state non-ferrous metal reserves would offer better prices for downstream users, which have been forced to purchase supplies from the costly spot market, although they cautioned the result would not be significant.
"After dumping reserves, some downstream companies will be able to solve part of their aluminium demand within half a year, which will directly reduce their purchases from the spot market," said analysts from metals research firm Antaike in a note on Wednesday.
 "The release of the state reserves is more to adjust the balance of market supply and demand within a certain period of time, rather than change the trend of aluminium prices."
Iron ore prices have been govering at about US$213 a tonne in recent weeks, exceeding the 10-year record of US$200 a tonne.
Prices for the raw material fell slightly after Thursday's announcement, but have since rebounded, analysts said.
Globally, the metals market has reacted not just to China's plans to use its reserves, but also to a more hawkish US Federal Reserve after it upgraded its inflation forecasts, said Anna Stablum, a commodity market analyst at global metals markets broker Marex.
The NDRC said it expects steel demand to remain buoyant despite the government's focus on reducing excess steel production to slow the appetite for iron ore and to meet carbon emissions targets.
"It is expected that in the future, especially before the end of the 14th five-year plan period, as economic development continues … the demand for crude steel still has room for growth," Meng said.
China's monthly production of crude steel in May rose by 6.6 per cent year on year to 99.450 million tonnes.