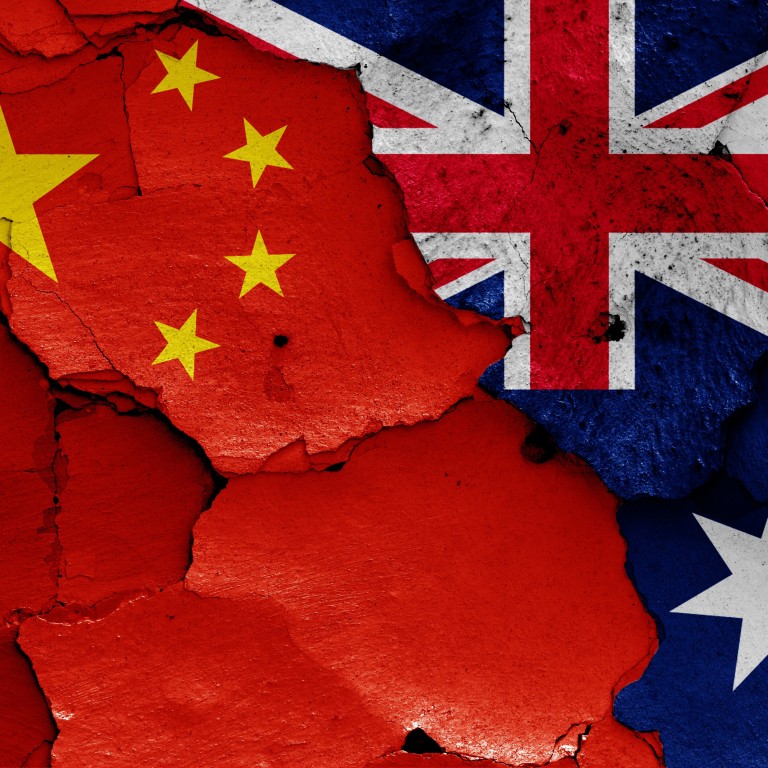 China-Australia relations: Beijing says Canberra 'distorting trade of goods', in new WTO complaint
Canberra says it was surprised by China's complaint to the World Trade Organization (WTO), which concerns anti-dumping and anti-subsidy duties imposed by Australia years ago
Move by China comes after Canberra last week lodged a WTO complaint against China's moves targeting Australian wine exports
China has lodged a complaint with the World Trade Organization (WTO) against Australia for its anti-dumping and anti-subsidy duties on imports of Chinese railway wheels, wind towers and stainless steel sink products.
The move by China came after Australia's contesting last week of anti-dumping duties imposed by China on
wine exports,
which had followed an earlier complaint over China's anti-dumping and countervailing duties imposed on Australian
barley exports
.
China's Ministry of Commerce confirmed its complaint filing on Thursday afternoon, saying the duties imposed or extended across those products in 2014, 2015 and 2019 have violated the WTO's trading rules and anti-dumping and anti-subsidy regulations.
Anti-dumping duties are tools in the protectionist trade policy armoury, and duties are generally designed to make imported goods more expensive than similar products produced domestically.
"China opposes the abuse of trade-remedy measures, as this not only harms the rights and interests of Chinese companies but also undermines the seriousness and authority of WTO rules," ministry spokesman Gao Feng said at a press conference.
"We hope that, by raising Australia's relevant anti-dumping and anti-subsidy measures using the WTO's dispute-settlement mechanism, it will not only safeguard the rights and interests of Chinese enterprises but also safeguard the effectiveness of the multilateral trading system and the WTO.
"We hope Australia will take concrete actions to correct its wrong practices, avoid distorting the trade of goods, and return trade back to normal as soon as possible."
Australia had initiated anti-dumping investigations into Chinese railway wheels alongside France in 2018 and had also extended duties on wind towers from China and South Korea in 2020, Australian anti-dumping databases show.
In the railway wheels case, Australian manufacturer Commonwealth Steel Company complained to Australia's anti-dumping commission that Chinese exports of iron ore railway wheels to Australia have increased substantially since 2014, and that Chinese exporters had competed for the business of major iron ore mining companies, including BHP, Rio Tinto and Fortescue Metals.
Meanwhile, Australian companies Haywards Steel Fabrication & Construction and Keppel Prince Engineering said wind tower manufacturers from China and South Korea had been dumping cheaper products in the Australian market since 2010 causing them to lose sales.
Australia initiated 87 anti-dumping and anti-subsidy investigations against China from 1995-2020, while China initiated four against Australia in that time.
In some cases, Australia had used proxy prices, instead of Chinese domestic prices that it regards as "distorted", in its decision to impose anti-dumping duties – a move that angered Beijing in the past, according to trade lawyers.
Of the four cases that China has initiated, two relate to the imposition of barley and wine duties now being contested by Australia.
Ahead of the two cases on barley and wine that China initiated against Australia last year, Australia initiated investigations into Chinese aluminium, steel and A4 paper in early 2020 just as the pandemic was spreading globally.
Both China and Australia, who are members of the WTO, can contest duties imposed on them by any country, although the dispute court – the WTO Appellate Body – is currently crippled and sits empty. A new multiparty interim appeal arrangement (MPIA), set up last year, will hear complaints in the interim.
Australia's trade minister, Dan Tehan, said Canberra had been taken by surprise by China's complaint.
"The normal course of events would be that you would get some notification of their concerns about the measures we put in place, through the relevant WTO committee or through officials raising it through bilateral channels," he told reporters in Canberra.
"We haven't seen any of that."
Tehan also questioned why China had taken so long to lodge its appeal when Australia imposed two of the three duties in 2014 and 2015, with the third in 2019.
This article appeared in the South China Morning Post print edition as: Australia 'distorting goods trade'