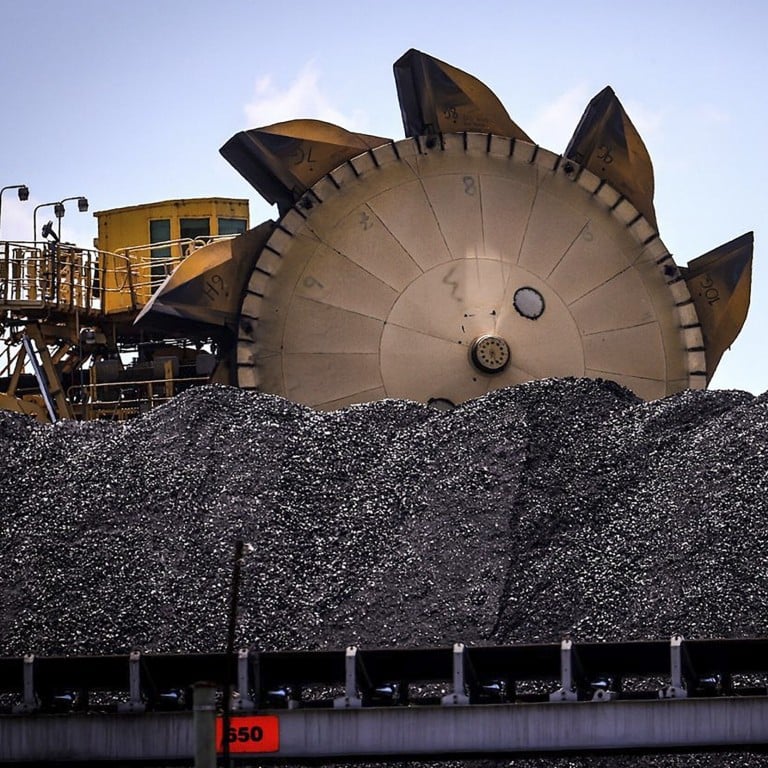 China-Australia relations: US coal continues to fill void left by ban on Australian exports, Canberra report says
Philippines and Colombia – coal exporters that do not traditionally ship to China – have also seen a windfall of orders in recent months
Australia's coal, meanwhile, has been redirected to countries such as India, but coronavirus outbreaks could slow shipments
The United States continued shipping more coal to China in May – supporting an upward trend seen in recent months and filling the gap left by Australian coal banned by Chinese authorities, newly released trade data and reports show.
About 720,000 tonnes of coal made its way from the US to China in May, increasing year on year, but declining from the 1 million tonnes China received from the US in April, according to the latest Chinese trade data.
US coal shipments to China, which gradually began their upward swing from nearly zero in October, climbed to 300,000 tonnes by February.
Last month marked the sixth straight month with
no Australian coal exports to China
. Meanwhile, the American supply, now stripped of tariffs as a result of the phase-one trade deal with China, has become increasingly appealing to Chinese importers in need of coal, according to the latest quarterly report on resources and energy released by Australia's department of industry this week.
"Since the imposition of informal import restrictions on Australia, Chinese steelmakers have sought to
shift their supply chains
, though coastal mills have proven less successful in reducing import dependency. As a result, import patterns have changed, with China's imports of US metallurgical [coking] coal reaching a new record in February 2021," says the report, which takes a pulse on the global energy and resources trade on a quarterly basis.
"China previously imposed 25 per cent tariffs on imports of US coal, but removed these tariffs in March 2020, before the imposition of import restrictions on Australia."
Chinese authorities called off retaliatory trade-war tariffs on American coal in February 2020, bringing the tax rate down from 30.5 per cent to 3 per cent after committing to increasing US coal imports in the
phase-one trade deal
signed with the US the previous month. The lifting of the tariff came months before China implemented its unofficial ban on Australian coal, which left
many coal vessels stranded
off the coast of China.
Most of those vessels' crews were eventually cleared to disembark, but not the coal, and the blistering row between the two countries – leading to a series of bans of various exports – continued to escalate, with the latest exchanges involving both countries lodging complaints about anti-dumping duties at the World Trade Organization.
The Chinese ban on Australian coal in October also upended the global supply chains of coal, with coal exporters that did not traditionally ship to China – such as Colombia and the Philippines – increasing their shipments to China in recent months, and with Australian coal being redirected to non-traditional markets such as India.
Colombian coal exports to China rose to 800,000 tonnes in May, compared with zero when the ban on Australian coal took effect last year.
Shipments from the Philippines rose to a high of 2.8 million tonnes in December, and while down slightly in May, the country still shipped 1.2 million tonnes – more than any monthly figures seen in the preceding two years.
Traditional exporters to China,
such as Russia
and Mongolia, also kept up their exports to China, despite limited border crossings via trucks amid pandemic lockdowns.
Exports from Canada could also partly helped China fill the void from lost Australian coal, the quarterly resources and energy report said.
"About 90 per cent of Canadian exports have traditionally been sent to non-China markets, leaving Canada highly exposed to the global fall in ex-China steelmaking. However, Canadian product is now being increasingly drawn to China, as the latter seeks substitutes for Australian production," the report said.
Chinese trade data shows Canada's coal exports to China hit a record high of 1.2 million tonnes in March, though May's exports were lower at 500,000 tonnes. Canada's coal sales to China tended to be volatile in past years.
Australia's coal exports to China, which mostly comprised coking coal used in steelmaking, as opposed to thermal coal used for energy generation, have found replacement markets but have not realised the "full benefit of strong global markets, due largely to China's informal import restrictions on Australian coal exports", the report added.
"Restrictions have also sharpened competition between individual Australian producers seeking more access to the ex-China market, with large-volume exporters gaining a strong advantage over high-cost producers who faced losses during 2020," the report said.
However, coal imports by some of these markets, including India, were expected to slow due to myriad reasons, including new coronavirus outbreaks, the report added.