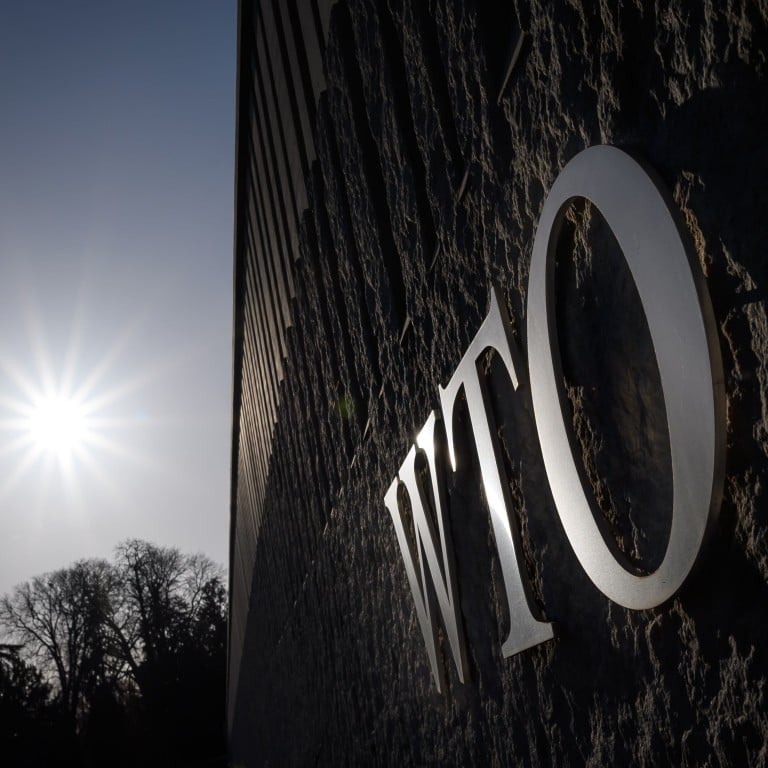 China-Australia relations: WTO trade disputes rehash old question of whether China is a 'market economy'
One analyst calls 'market economy' debate a moot point, because United States and others will not treat China as such in anti-dumping cases
The general hope is that arbitration proceedings at the World Trade Organization could serve as a forum for Beijing and Canberra to work out their differences
China's long-demanded recognition as a market economy has resurfaced in Beijing's complaints to the World Trade Organization about anti-dumping duties that Canberra has imposed on Chinese wind towers, railway wheels and kitchen sinks, according to officially lodged documents.
China and Australia both filed complaints at the WTO just one day apart this week, over mutual anti-dumping duties imposed on each other's products, as the two nations continue their
back-and-forth bilateral battle
.
In its complaint lodged on Tuesday, Beijing said Canberra had wrongly determined that China's market conditions were "distorted" and that Canberra did not use the correct financial data in determining that China's exports had been dumped in the Australian market.
This followed Canberra's complaint to the WTO on Monday about Beijing's anti-dumping duties imposed on
Australian wine exports
– a complaint that centred on China's conduct in allegedly failing to examine or review the accuracy and adequacy of evidence provided by Australia. Canberra also said China had not used the correct data and methodology to support its findings, and also decried the lack of transparency with which China's investigations were conducted.
China's complaint marked the first time it had disputed Australia's anti-dumping duties.
Australia initiated 85 investigations into Chinese products between 1995 and 2020. China initiated four cases during that span, and Australia disputed them all.
Anti-dumping duties are protectionist penalties that a government can impose on exports that it deems to be priced lower in its market than in the exports' home market.
In its WTO complaint, China referenced the Australian Anti-Dumping Commission's "erroneous findings that prevailing market conditions in China were 'distorted'".
A non-market economy is deemed to be "distorted" through state or government interference. China's trade partners justify their tariffs and duties against Chinese products by saying these may have been underpriced.
Thus, this reference dredges up an unresolved issue – that of China not being recognised as a market economy in anti-dumping disputes at the WTO. China's 2001 WTO membership terms indicated that it should be recognised as a market economy after 15 years.
Australia's new complaint also highlights how its separate recognition of China as a market economy had not been put into action in many of its anti-dumping investigations against China.
In 2016, China requested market economy status, which would have made illegal the many duties imposed against its products, but the United States and European Union refused the request and pointed to China's government subsidies and state-backed oversupply.
China complained at the WTO and pursued a case against the EU before withdrawing the case in 2019.
Australia, however, had agreed to treat China as a market economy in 2005 as a precondition for what would end up being a decade of negotiations leading up to
2015's signing
of the China-Australia Free Trade Agreement.
But in its investigations into Chinese products – including those involving railway wheels, wind towers and stainless steel sinks in 2014, 2015, and 2019 – Australia's Anti-Dumping Commission ruled that the Chinese government had "substantially distorted competitive market conditions" in certain raw material markets such as steel.
Thus, the costs and prices actually charged in China were not used to determine if dumping occurred. Instead, prices taken from a third country were used.
Weihuan Zhou, an international economic lawyer at the University of New South Wales Law's Herbert Smith Freehills CIBEL Centre, said in an analysis three years ago that Australia's increasing anti-dumping actions against China could lead to conflicts.
"What's been annoying China more has been Australia's treatment of it as a non-market economy in anti-dumping investigations," he said at the time. "The designation flies in the face of a commitment Australia made as long ago as 2005 to treat China as a market economy as a precondition for the negotiation of the China-Australia Free Trade Agreement."
Zhou's analysis also said that "if the practice continues, it could drag Australia into a trade dispute that would harm the interests of Australian industries".
The labelling of countries as "market economies", in general, has become a political process, according to international trade experts.
For now, whether China is given the status of a "market economy" is a moot point, because trade partners such as Australia, the EU and the US will not recognise that status in anti-dumping cases against China, says Henry Gao, a trade expert and associate professor of law at Singapore Management University.
"It is now a matter of only political significance, rather than legal or commercial," he said.
Political scientist Alice Chesse, in a 2019 analysis published by the Centre for International Policy Studies in Canada, said that the market economy concept has never been properly defined, and she noted that countries such as the US never underwent formal conversion processes like China did.
"It generates double standards based on the supposedly 'fairer' and ethically superior behaviour of countries committed to market principles," Chesse said. "As a result, labelling countries as 'market economies' has historically tended to reflect their geopolitical alignment with the US, rather than the adoption of any clear set of economic policies."
Jeanne Huang, a member of the China Studies Centre at the University of Sydney, as well as an expert on the China-Australia Free Trade Agreement, said she hoped that arbitration proceedings at the WTO could serve as a
forum for the two sides
to work out their differences.
"The WTO provides a relatively impartial mechanism to its member states to resolve their trade disputes," she said. "The fact that China and Australia both brought anti-dumping cases against each other actually provides a good opportunity for the WTO to resolve their long-standing trade issues."