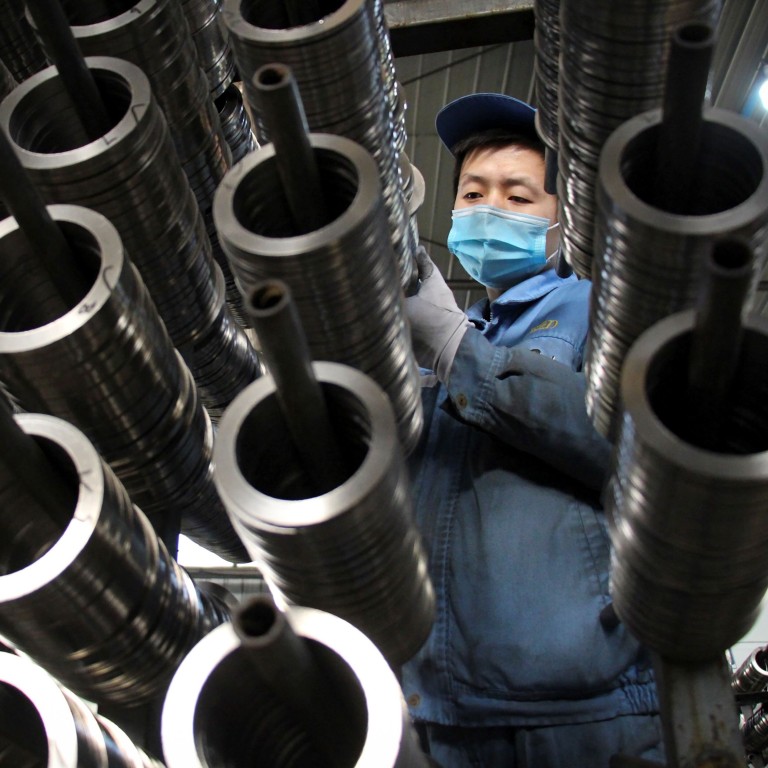 China manufacturing: 'policymakers in a dilemma' as factory-gate prices rise and producers feel the pinch
Some analysts say inflation is 'largely controllable', while others cut their full-year GDP growth forecast for China's economy
Exports are also under pressure, as China is expected to more heavily scrutinise the cross-border movement of cargo due to its latest coronavirus outbreak
China's persistent factory-gate price inflation and its diminishing growth in exports both point to an economic slowdown, but there is little risk that cost-of-living expenses will surge despite July seeing a slight uptick in consumer price inflation, based on the latest economic data.
Factory-gate price inflation – as measured by the producer price index (PPI) – rose by 9 per cent in July from a year earlier, according to the National Bureau of Statistics (NBS).
The PPI, which reflects the prices that factories charge wholesalers for their products, was a tad higher than the gain of 8.8 per cent in June.
At the weekend, new trade data also showed that Chinese
export growth in July slowed
, as expected. Exports grew at 19.3 per cent from a year earlier – down from the 32.2 per cent growth in June and slightly below expectations of 19.9 per cent.
Further pressuring trade, China is expected to more heavily scrutinise the cross-border movement of cargo and travellers due to its
latest coronavirus outbreak
– the country's worst since Covid-19 was identified in Wuhan – and this could further strain supply chains while pushing up the prices of factory goods, Pinpoint Asset Management chief economist Zhang Zhiwei said in a note.
"This puts policymakers in a dilemma: [factory-gate] inflation is rising, and growth is slowing. The pandemic both worsened and caused more disruptions in the global supply chain," Zhang said.
Despite largely recovering from disruptions caused by the coronavirus pandemic, China's economic recovery is now losing steam, partly as a result of factory-gate price inflation. Manufacturers are still grappling with challenges such as higher
raw material prices
, surging logistics costs and
global supply-chain
bottlenecks, and these factors are curbing any interest in boosting output.
Production stoppages swept through China's southern manufacturing hub of Guangdong in recent months as the rising costs ate away at profits while overseas demand increased for goods.
The high cost of raw materials stems from China's strong stimulus-charged recovery pushing up demand, while supply-side factors also play a part – including curbs on output in high-polluting industries – according to analysts at Japanese bank Nomura.
Nomura remains positive on the inflation outlook, deeming it "largely controllable".
"Beijing will unlikely overreact to the stronger-than-expected July inflation data," Nomura said. "Instead, we expect Beijing to maintain its unique policy mix of 'targeted tightening plus universal easing' through the remainder of this year."
However, domestic consumers can rest easy as high factory prices have not been reflected in consumer prices, on the whole, and this is likely to remain the case, according to ANZ Research said.
China's official consumer price index (CPI) rose by 1 per cent in July from a year earlier, down from 1.1 per cent in June, the NBS said on Monday. It was above the Bloomberg survey median, which had predicted a 0.8 per cent rise.
"Consumer inflation remains controllable, and it will have a limited impact on monetary policymaking," said Wen Bin, chief macro analyst of China Minsheng Bank.
Chinese consumers also saw food prices fall in July by 3.7 per cent, year on year, after a 1.7 per cent decline in June. The price of pork – a staple meat on Chinese plates – fell in July by 43.5 per cent compared with a year earlier.
The rise in July's CPI is attributable to non-food products – particularly fuel and fuel-related transport services – which had been suffering from higher global oil prices caused by strong global demand and a shortage in supply. Although on Monday, prices fell following weak economic outlooks from the world's top oil consumers, China and the United States, and due to a potential oversupply of crude oil from OPEC producers.
In the near term, the coronavirus outbreak now spreading through China should put a tight lid on consumer prices as it hurts the coronavirus-sensitive services sector, Morgan Stanley said in a note.
"We expect CPI to dip below 1 per cent [in the August-September period], before rebounding to about 1.5 per cent in the fourth quarter," according to the research led by its chief China economist, Robin Xing.
In trade, data shows that China's slowdown in exports growth is due to the slowing purchases among China's biggest buyers – the 10-nation Asean, the US and the European Union.
For the first seven months of the year, Chinese shipments to Asean rose 34.2 per cent, year on year, whereas the shipments for the first six months grew 38.2 per cent, year on year.
For the EU, the total value of purchases in the first seven months rose 32.7 per cent year on year, down from a 37 per cent growth in the first six months.
Imports from the US for the first seven months rose 36.9 per cent, compared with 45.7 per cent growth in the first six months of the year.
China is bracing for an economic slowdown in the coming months, and some analysts are already cutting their full-year GDP growth forecast for the
Chinese economy
.
Both Goldman Sachs and JPMorgan have downgraded their Chinese economic forecasts for the third quarter and the full year.
This article appeared in the South China Morning Post print edition as: data reinforces slowdown risk