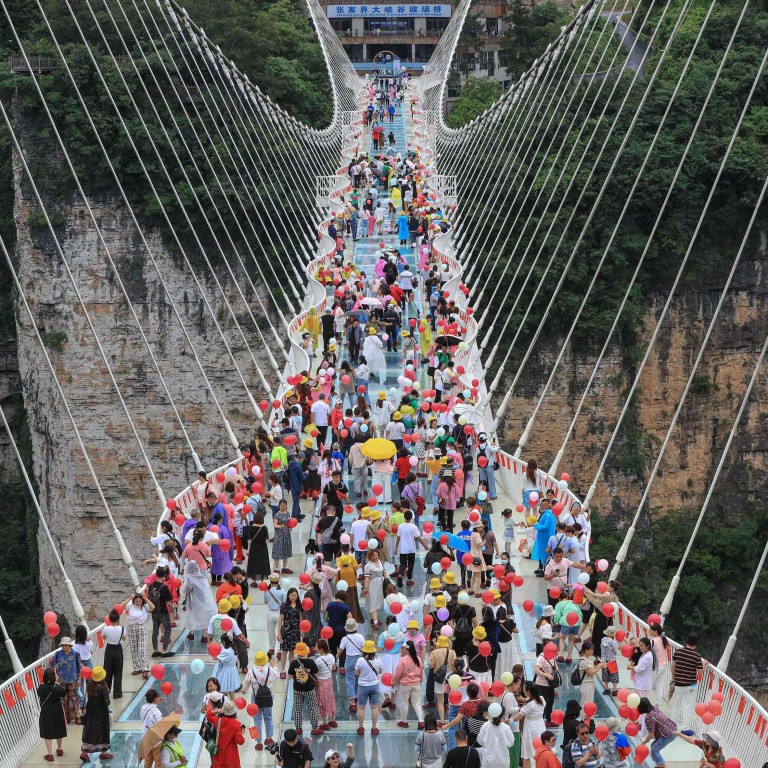 Explainer
How has China's travel industry been hurt by the coronavirus pandemic, and when will tourism recover?
The travel and tourism industry contributed 10.94 trillion yuan (US$1.6 trillion) to China's gross domestic product in 2019 – about 11 per cent of the total
But the sector took a major hit last year due to the coronavirus pandemic and it is bearing the brunt of new domestic outbreaks fuelled by the Delta variant
The travel and tourism industry has become a key driver of China's domestic economy since the 1980s, after the government embarked on its era of
reform and opening up
.
Both the nation's growing domestic middle class and accommodating government policies have helped it grow exponentially over the past four decades.
Tourism has transformed the country into one of the most vibrant travel markets in the world. However, the industry has been among the hardest hit by the coronavirus pandemic due to lockdowns, travel restrictions, and fears among would-be travellers about catching Covid-19 .
How big is China's travel and tourism industry?
In 2019, the nation's tourism industry generated 6.63 trillion yuan (US$1 trillion) in total revenue, with more than 6 billion tourists travelling domestically, according to the Ministry of Culture and Tourism. The industry contributed 10.94 trillion yuan to China's total gross domestic product (GDP) in 2019 – around 11 per cent.
Tourism is also a big employer, accounting for 10 per cent of China's working population. The sector directly employs 28.25 million people and indirectly 79.97 million.
Late last year, there were 13,332 A-level tourist attractions across the country. The China National Tourism Administration adopts a rating system to evaluate the quality of all tourist attractions, which are scored on safety, cleanliness, sanitation, shopping and transport.
The number of visitors to an attraction also affects its rating. For instance, a 5A attraction – the highest rating available – usually sees more than 600,000 people, including 50,000 from overseas, each year.
Total inbound travellers surpassed 145 million in 2019, contributing revenue of US$131.3 billion, while some 155 million Chinese tourists went abroad.
China's domestic tourism (2011-2020)
|   | Total Trips | Revenue (yuan) |
| --- | --- | --- |
| 2011 | 2.64 billion | 1.93 trillion |
| 2012 | 2.95 billion | 2.27 trillion |
| 2013 | 3.26 billion | 2.63 trillion |
| 2014 | 3.61 billion | 3.03 trillion |
| 2015 | 4.00 billion | 3.42 trillion |
| 2016 | 4.44 billion | 3.94 trillion |
| 2017 | 5.00 billion | 4.56 trillion |
| 2018 | 5.54 billion | 5.13 trillion |
| 2019 | 6.01 billion | 5.73 trillion |
| 2020 | 2.88 billion | 2.23 trillion |
Source: Ministry of Culture and Tourism
What are the most popular local destinations?
Trip.com Group, formerly known as Ctrip, is China's largest online travel platform.
Data from Trip.com Group shows that in 2020, the top 10 tourist spots were popular beach destination Sanya in Hainan province; the spicy, cyberpunk city of Chongqing in southwest China; Lijiang and Kunming in Yunnan province, which are both famous for their year-round great weather and tranquillity; Zhangjiajie in Hunan, home to a forest park renowned for its quartz-sandstone pillars; China's capital and cultural centre, Beijing; Guilin in Guangxi region, famous for its dramatic landscape of limestone karst hills; the hometown of the panda, Chengdu; mountainous Guiyang in Guizhou province; and China's financial hub, Shanghai.
Some of China's most popular attractions include Shanghai Disneyland, Beijing Wildlife Park, Yellow Crane Tower in Wuhan, Emperor Qinshihuang's Mausoleum Site Museum in Xi'an, and the Chengdu Research Base of Giant Panda Breeding.
Generally, national parks, museums, historical streets, cultural heritage sites and art galleries are among the most searched for and discussed local destinations on the internet.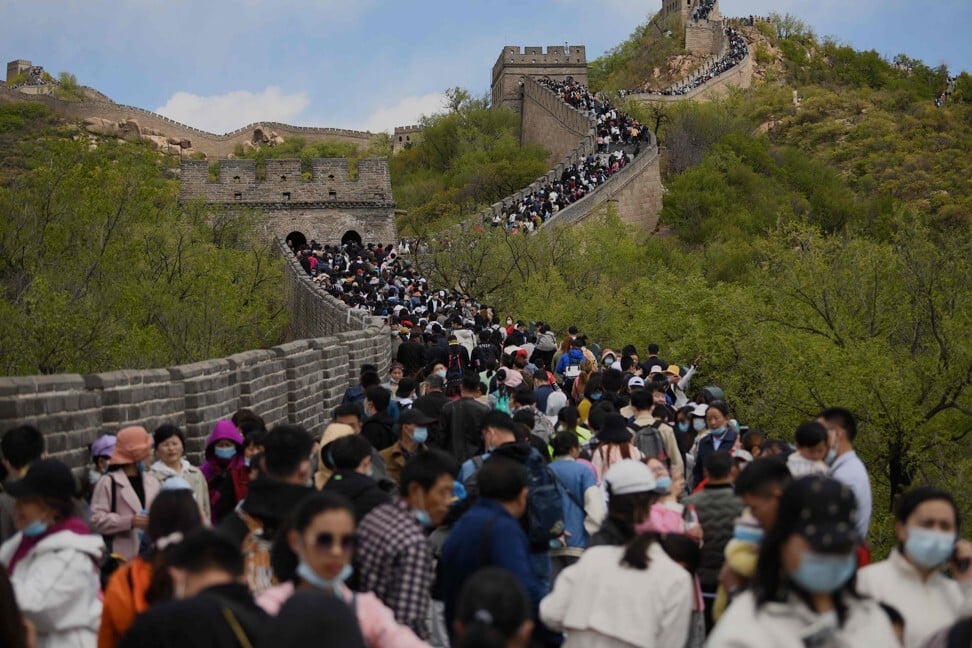 Who are the biggest tour operators and how do most people travel?
Some of the biggest tour operators in China include Trip.com, Qunar, Tongcheng Yilong, Tuniu, Mafengwo.com and Fliggy, with the first three commanding 80 per cent of the market for online tourism platforms, according to the China Tourism Academy.
Last year, the academy identified several new trends in China's domestic tourism, including the ways people were choosing to travel.
More tourists are turning away from large tour agencies in favour of smaller private groups. Smaller tour groups can provide tailored, high-quality services for families, researchers or university graduates – and are seeing their market share grow.
Renting a car and travelling independently is becoming more popular among families and youngsters, the academy said. Specifically, travelling by RV is emerging as a favourite mode of travel during coronavirus pandemic because it can provide privacy and safety.
Restricted by the pandemic, city dwellers are
embracing short-distance trips
– including glamping, hiking and city-walking – that allow them to
enjoy nature without going a long distance.
Limited outdoor activities and more time spent indoors have also fuelled virtual tours, or "Cloud Tours", where tourists can visit scenic spots online. The Potala Palace in Tibet held its first ever live-streaming tour in March last year, attracting 920,000 viewers in an hour, equivalent to 60 per cent of its annual visitors.
How was China's travel industry affected by the pandemic?
The industry took a major hit in 2020. During and after the Lunar New Year, all domestic and outbound tour groups were suspended to curb the spread of the coronavirus, which had its initial epicentre in the
central Chinese city of Wuhan
.
After the pandemic was brought under control in May last year, China's package holidays
started to gradually recover
, growing from 4.98 million in the first quarter at the height of the pandemic, to 7.79 million in the second quarter and 19.71 million in the third quarter, according to the Ministry of Culture and Tourism.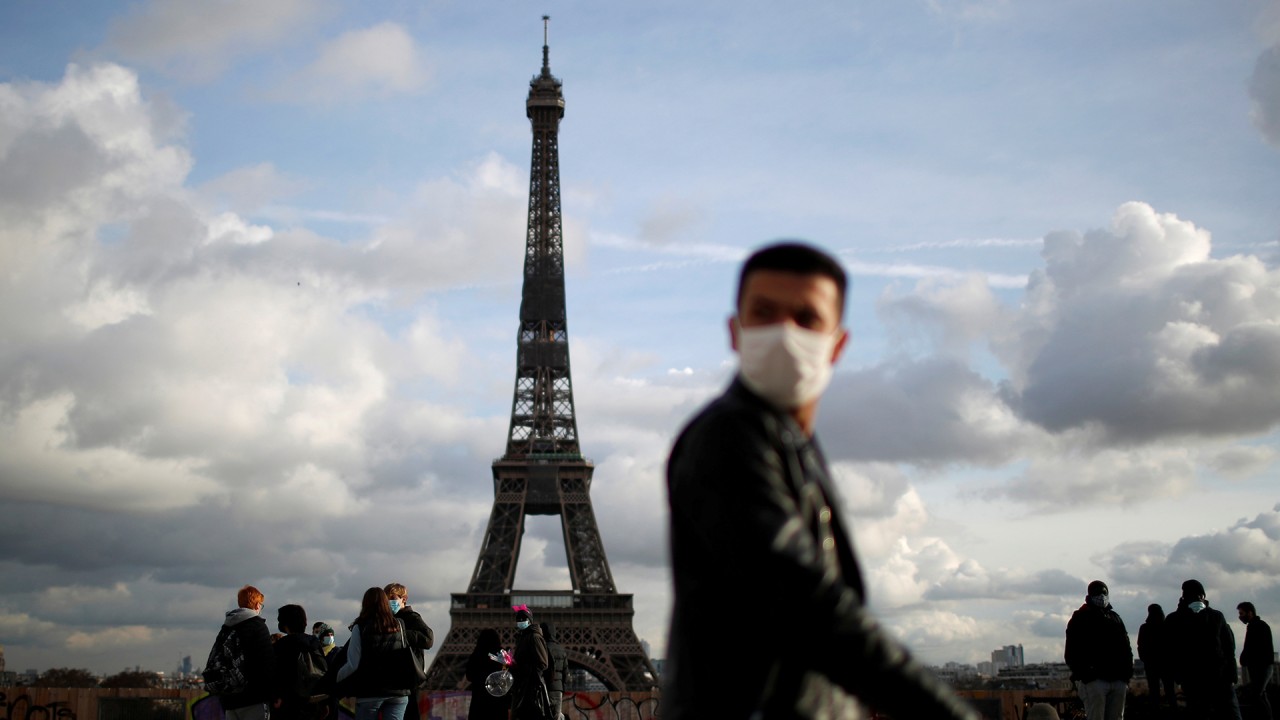 02:01
Eiffel Tower and other tourist landmarks in France now require Covid-19 pass
Eiffel Tower and other tourist landmarks in France now require Covid-19 pass
The total number of domestic tourists in 2020 was 2.879 billion, a decrease of 52.1 per cent over the same period in 2019, ministry data showed. Domestic tourism revenue was 2.23 trillion yuan, a year-on-year fall of 61.1 per cent.
In the first half of 2021, the number of domestic trips fell 40 per cent to 1.871 billion and total domestic tourism spending plummeted by about 40 per cent to 1.63 trillion yuan, compared with the same period in 2019, according to the Ministry of Culture and Tourism.
What rules have made travelling so hard?
The highly-infectious coronavirus mutation has grown quickly since an outbreak in Nanjing in July, leading to tightened control measures in many provinces and raising fears of a further slide in consumer spending.
By mid-August, China had as many as 29 high-risk regions within Jiangsu, Henan, Hunan and Yunnan provinces, and 105 medium-risk regions in 18 cities including Beijing, Shanghai and Wuhan, according to the National Health Commission.
In a bid to curb transmission, all of the mainland's
31 provincial-level jurisdictions
had issued notices in July advising people not to travel domestically. Some provincial governments singled out only medium and high-risk regions, while others asked people to avoid all interprovincial travel.
The policy details vary across the country and are subject to change, but quarantine of up to 14 days, health monitoring and nucleic acid tests are widely employed, complicating travel for most Chinese.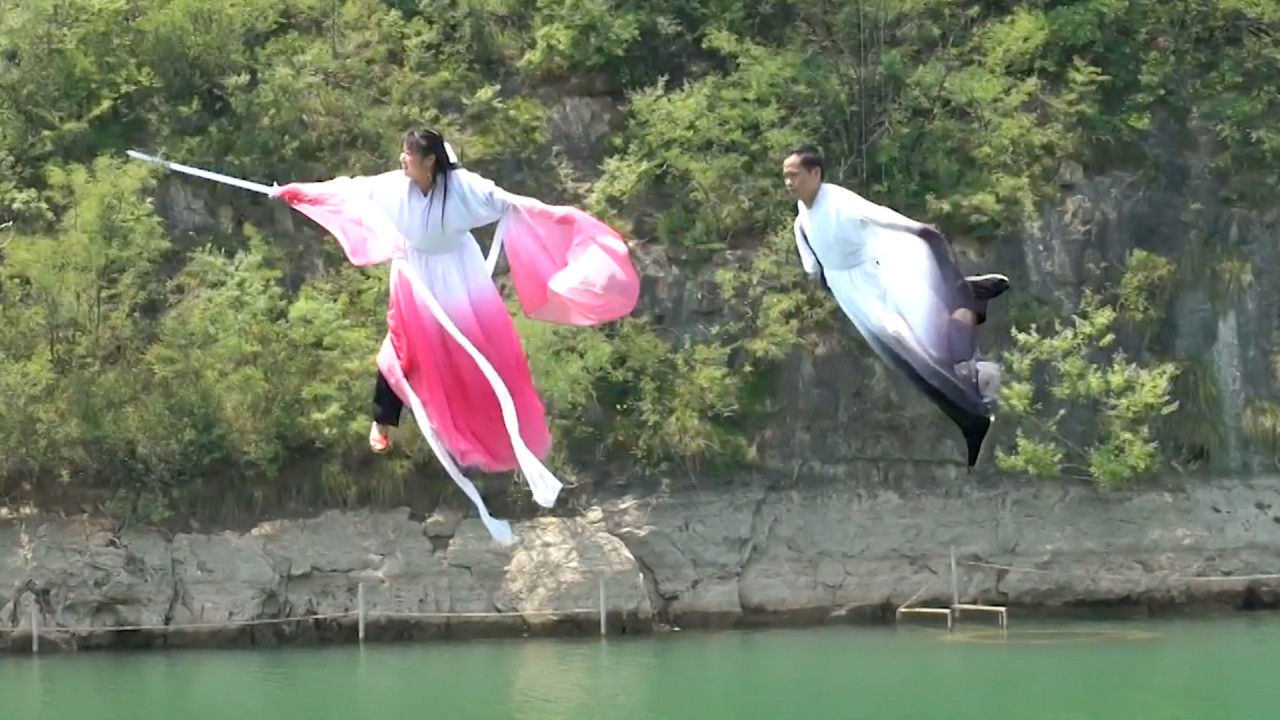 03:11
Chinese 'kung fu' tourist attraction lets visitors soar over a river
Chinese 'kung fu' tourist attraction lets visitors soar over a river
What is the outlook for China's travel industry?
Retail sales, a key measurement of consumer spending in the world's most populous nation,
grew by 8.5 per cent in July,
down from a 12.1 per cent increase in June, and below the 10.9 per cent increase estimated in a Bloomberg survey of analysts.
Travel and tourism, an essential part of retail sales, have not recovered to pre-pandemic levels. A slump in China's
aviation sector
is further clouding the outlook. Since the latest outbreak started in Nanjing on July 20, the number of seats offered by carriers in China tumbled, as rising Delta cases spurred fresh restrictions on movement. Seat capacity plunged 32 per cent in one week in early August, worsening the downward trend that began at the end of July, Bloomberg reported on August 9.
Experts and analysts expect the fall in consumption to be reversed once the virus is brought under control again and restrictions are lifted.
On August 5, the Ministry of Culture and Tourism made an announcement showing signs of policy flexibility, allowing travel companies in provinces and regions with no medium and high-risk areas, to resume cross-provincial group tours and "air ticket + hotel" business.