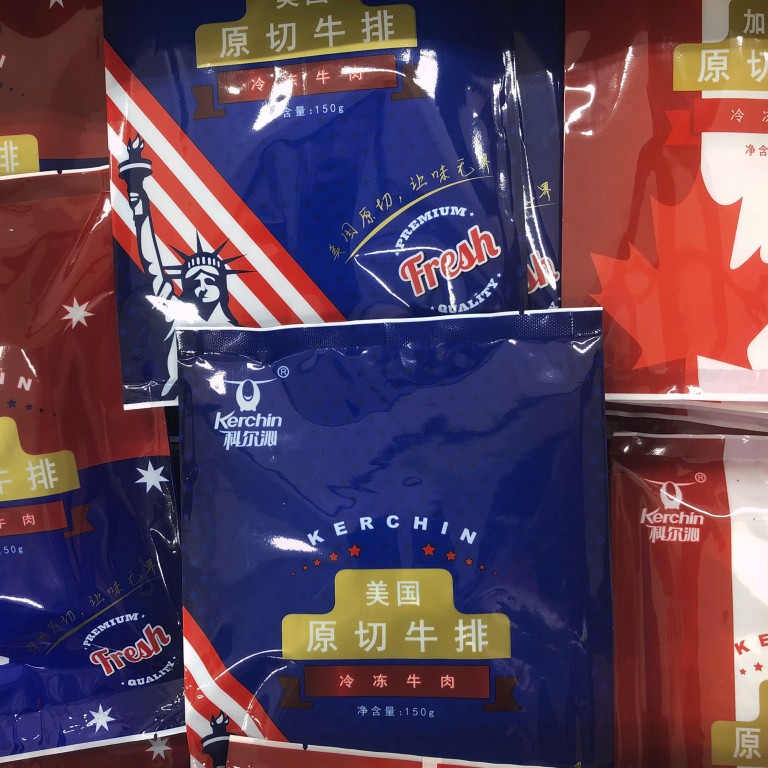 US frozen beef exports to China surge, adding to Canberra-Beijing tensions but boosting trade deal
US exported US$107 million worth of frozen beef to China in July, compared to just US$35 million from traditional export destination Australia
China informally banned a series of goods from Australia, including coal, log timber and wine last year amid 18 months of tensions between Canberra and Beijing
The United States has leapfrogged Australia as the leading exporter of frozen beef to China, with Chinese trade data further highlighting the fallout from ongoing tensions between Canberra and Beijing while helping further the progress of the phase-one trade deal.
Australia has traditionally exported more frozen beef to China, but since April its exports have plunged, with the gap between the two widening quickly in favour of the US.
In April, the US shipped US$68 million worth of frozen beef to China compared to US$80 million from Australia, according to Chinese customs. In May, trade patterns reversed and the US had shipped US$90 million of frozen beef to China compared to Australia's US$47 million.
US exports kept rising and hit US$107 million last month, with Australian shipments falling to US$35 million, flipping the trade pattern seen a year ago.
Australia still dominates exports of chilled beef – another popular export to China – but the gap is also closing, although experts have said chilled beef from the US remains more expensive than imports from Australia and New Zealand.
US exports of goods to China that have traditionally been dominated by Australia, such as coal and now beef, have been growing over the past year since the political
dispute between China and Australia
and associated trade disruptions between the two countries has unfolded over the past 18 months.
Since China informally banned a series of goods from Australia, including coal, log timber and wine last year, exports from the US have increased.
China-Australia observers have suggested that Washington has been prioritising its own economic interests over its ally, despite repeated promises by US politicians, including Secretary of State Antony Blinken offering to stand with Australia against economic coercion from Beijing.
Beef exports appear to be facing the same pattern as coal, with the
phase-one trade deal
between China and the US also giving the US a boost in superseding Australia, Rural Bank Agricultural analyst Michael Curtis said in a note in June.
But unlike coal, there are other supply economics that are causing Australia to lower its exports, namely curtailed beef production locally.
"It's been a perfect storm for US beef: at the same time as their exports to China have surged, Australian exports have fallen," Curtis said.
Australia has long capitalised on China's huge appetite for overseas beef – China is the world's largest beef importer – but the US as one of the world's largest beef producers had been "notably absent from the Chinese market" in previous years until the signing of the trade deal with China in January last year, Curtis said.
"Perhaps most significantly though, [Australia] has benefited from a lack of competition from the US," he added.
"But that all changed in 2020 with the introduction of the
phase-one trade agreement
between the US and China. This opened the door for US beef to enter China in greater volumes."
The phase-one deal struck requires China to purchase US$80 billion in agricultural products from the US across 2020 and 2021, effectively giving preference to US products over other suppliers, Curtis said.
The values of US frozen beef exports to China between April and July this year were between eight and 18 times higher than their corresponding months last year.
The US Meat Export Federation confirmed earlier this month that even after beef and pork export volumes decreased from record numbers in April and May, exports in June reached their highest on record.
Slower exports of beef from Australia to China are a result of Beijing's suspensions of exports from
several Australian abattoirs last year
at the height of its conflict with Canberra, and lower beef production in Australia due to a seasonal rebuilding of herds that reduced the number of animals slaughtered, Pan added.
According to Rural Bank's midyear agriculture outlook last month, Australia's beef production is expected to remain tight for the rest of the year, although it will steadily increase.
Production in the first half of the year dropped by 25.9 per cent from 2020 due to years of depleted herds and the commencement of rebuilding amid wetter conditions.
China's ban on beef exports from six major Australian abattoirs last year had an instant impact on lowering Australian exports. Following that, late last year, China unofficially banned a series of products, including coal, barley and wine, manifested in delays or clearance failures at Chinese ports, which wreaked havoc on shipments and deterred trade..
Australian beef processors still shipping to China, such as Bindaree Beef, said despite the tensions between China and Australia, its sales have improved this year.
Bindaree's Asia commercial manager Ambrose Cheung said while beef production was still low, there was still plenty of Chinese demand for beef.
But Cheung is more concerned about new headwinds such as the latest coronavirus outbreak in China which could impede clearances of shipments and reduce container and shipping throughput. These headwinds could slow down the pace of exports to China from Australia and other parts of the world.