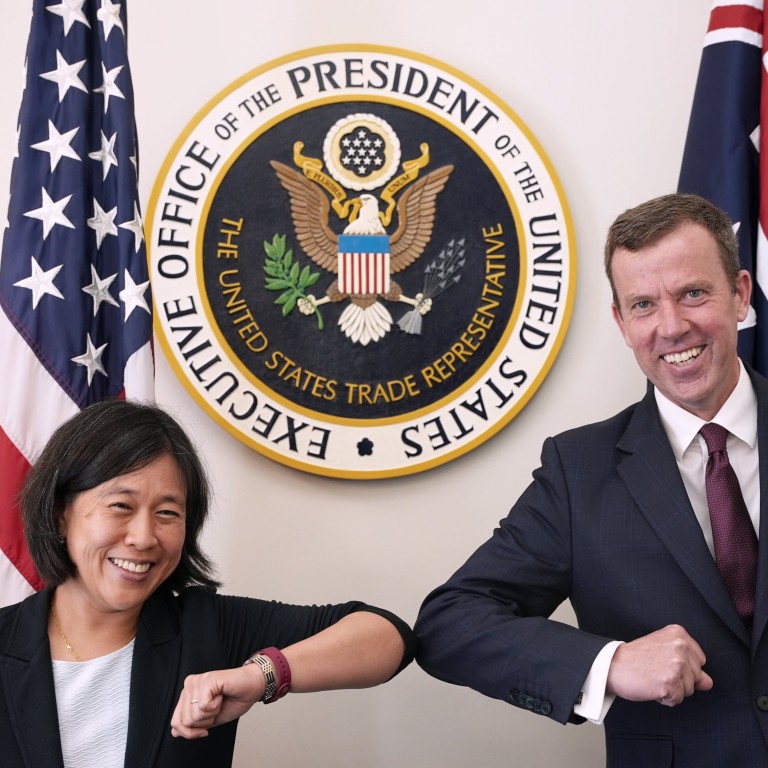 US-China trade growth has Australia asking whether WTO can stop 'economic coercion'
Wine, coal and beef exports from US to China are now far greater than those from Australia – a shift driven in large part by the geopolitical dispute between Beijing and Canberra
Critics accuse Washington of doing little to help Australia in its China conflict, as American exporters cash in on increased demand amid supply shortages
Despite vowing to support its ally, Australia, and take a stand against China for perceived economic coercion, the United States has done little to advance its commitment amid a lack of formal mechanisms and international trade rules to facilitate this strategy.
Instead, America is even reaping the benefits of Australia's prolonged
trade and political dispute
with China by capitalising on an increase in Chinese demand for goods that Beijing has banned from down under.
The list of Australian goods that China has declared non grata includes wine and coal, and Beijing's unofficial bans of those products, as well as constraints in Australian frozen beef supply, have allowed US exporters to slide in and
begin to fill the void
.
The latest data released by China's customs administration, for July, shows that Australia did not export any coal to China for the eighth month in a row, while the US sold 636,000 tonnes of coal worth US$117 million. Although the US's July exports of coal were less than in June, overall US exports to China remained on an upward trajectory.
American exporters have also been selling much more bottled wine to China than Australia has. In July, the US sold China nearly US$3.5 million worth of wine in containers of up to two litres, while Australia sold about US$400,000 worth of the product.
Australian
wine exports have been suffering
from both Chinese anti-dumping duties formally imposed earlier this year – rendering Australia's wine less competitive against other wine exports – along with
an unofficial ban
imposed by Beijing in November.
Beef is the latest to join the list of exports the US taking a lead on at the expense of Australia.
Monthly beef exports from the US to China have more than doubled this year, in line with commitments made under the phase-one trade deal signed between Beijing and Washington
early last year
. This has coincided with a drop in Australian beef exports to China due to lower production.
The
US surpassed Australia
in exports of frozen beef – a trade dominated by Australia for years. American frozen beef exports to China shot past Australia's in May and have continued to climb.
China-Australia observers have suggested that Washington is prioritising its own economic interests over those of its ally, despite repeated promises by US politicians to stand with Australia against economic coercion from Beijing.
During a visit to the US last month to promote Australian trade amid Australia's coronavirus Delta variant crisis, Australian trade minister Dan Tehan said Canberra and Washington were working together to create new rules for how trading countries should behave with each other.
"The US administration has been very clear that they won't leave us on the playing field alone, so we're looking at examining ways that they can help and support us," he said during an interview with Bloomberg on July 23.
Ask what, specifically, Tehan is asking the US to do, he said: "Well, for instance, be part of setting new rules in new areas, like when it comes to digital trade; look at how we can cooperate in the World Trade Organization (WTO) to deal with economic coercion … Also making sure that, in the committees of the WTO, we call out economic coercion when we see it, because we're not the only country that's been on the receiving end of economic coercion."
When asked if he had broached the subject of the US overtaking Australia in exports to China, Tehan conceded that "one of the difficulties of dealing with economic coercion is when one country is penalised, another country will benefit from that".
"So, that's why we very much need to take a collective approach in calling it out – make sure that there are reputational issues at stake when countries use economic coercion," Tehan said.
While Tehan did not outline how "collective action" could happen at the WTO, trade lawyers said there had not been any precedence of such an initiative, and that it could be tricky to get it going.
"Given that the WTO operates by consensus – that is, that all countries must agree to each and every change – it will be virtually impossible for the members to negotiate meaningful rules to counter economic coercion," said Bryan Mercurio, an international trade law professor at Chinese University of Hong Kong. "I do not even think they would agree on a definition of 'economic coercion', much less when it is being utilised."
And WTO expert Julien Chaisse, who is also a trade law professor at City University, also noted that there are no existing mechanisms or provisions within the WTO to impose "collective sanctions".
The only form of "sanctions" are WTO rulings against a losing member country in a dispute brought before the WTO arbitration court or appellate body. Both Australia and China already have standing complaints against each other.
Alternatively, countries could team up and make multiple and simultaneous complaints against China at the WTO, or third-party countries could form "counter-coercion coalitions" in Australia's disputes against China, Chaisse said.
The latter has taken some form recently. In Australia's
barley anti-dumping complaint
against China, countries such as New Zealand joined as a third party, which is allowed.
Mercurio said a group of "like-minded" countries could start a debate about "economic coercion" by drafting a position paper that defines it and outlines the problems it has caused.
"The minister [Tehan] is perhaps right in saying that groups of countries can get together and ensure that economic coercion is raised and discussed at the committee levels," he said. "While this would not lead to hard [legal] rules on economic coercion, it would be a 'soft' approach highlighting concerns in a formal setting and attempting to change member behaviour."
On how the US could step up to support Australia more directly, the director of the Australia-China Relations Institute, James Laurenceson, put it simpler: "How about simply stop
blocking the appointment of new judges
to the WTO's appeals body? How about rescinding the preferential trade deal it coerced China into signing?"
The US's prevention of new members to the WTO Appellate Body has rendered it defunct, making it hard for disputes such as Australia's and China's to be quickly resolved. And some analysts have said that the
US-China trade war
came at an opportune time to lift US exports to China, as the China-Australia conflict erupted shortly thereafter.
Until meaningful steps are taken by the US, "any support being offered is just something the US wanted to do anyway", Laurenceson said.
"There's nothing wrong with two countries acting in their common interests, but don't spin it as the US coming to Australia's aid."