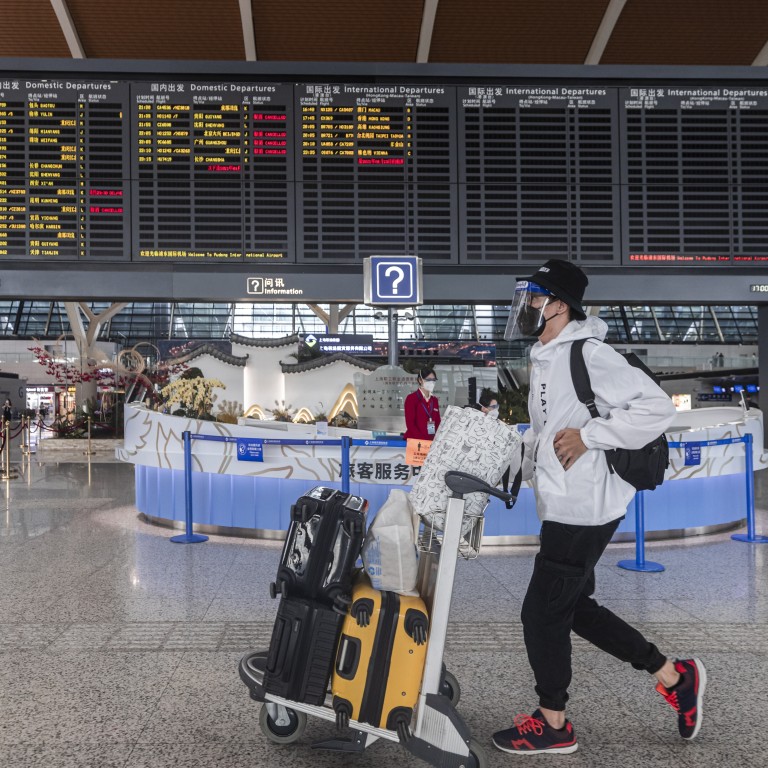 China air cargo disruptions advance 'super peak' as prices soar after Shanghai freight terminal closure
Seven coronavirus cases were detected at Shanghai Pudong International Airport, forcing authorities to suspend cargo aircraft operations
Goods shipping in China had already been disrupted by the partial closure of a terminal at Ningbo-Zhoushan Port for two weeks earlier this month
Air freight prices have risen by up to 30 per cent since a terminal at China's largest cargo airport was closed due to an outbreak of coronavirus cases, jacking up further skyrocketing costs of sending goods by air.
Reports cargo aircraft operations at Shanghai Pudong International Airport
had been suspended
first emerged on August 20 after detection of the first case, with a further six related cases emerging over the next six days, taking the total to seven.
Due to the closure and resulting labour shortage, air freight capacity at Pudong has since fallen further, forcing up prices that had already been rapidly rising since early last year, putting upwards pressure on the cost of Chinese goods.
"Rates out of Pudong airport have increased by around 30 per cent due to the flight cancellations and ground operation issues," a spokeswoman at international freight provider SEKO Logistics said.
"We are expecting this Pudong outbreak to bring forward the super peak we were expecting in October."
Data from global freight booking platform Freightos Group showed that since the recent outbreaks, which started in Nanjing in July, air cargo rates from Shanghai for the United States have risen by between 15 and 25 per cent, while rates for Europe-bound cargo have increased by between 12 and 15 per cent.
"These prices are double their level a year ago and are at their highest point since May 2020 when the industry was under extreme pressure from the rush on personal protective equipment," Freightos Group spokeswoman Dafna Farkas said.
"Rates from Shanghai to the US West Coast are now 298 per cent higher than at the start of 2020."
Amsterdam-based cargo information provider CLIVE said high air freight prices during the low season of August are a worrying sign ahead of the peak shipping season in December.
"Even before the current situation at Pudong, air cargo capacity was tight, flights were very full and hence rates elevated," said Niall van de Wouw, managing director of CLIVE Data Services.
"Considering that August is normally the slack season and December the peak season, this number is understating the increase in rates."
CLIVE's data shows air freight costs for goods leaving China have more than doubled compared to the same period in 2019, while costs for goods entering China have risen by 60 per cent, with prices tracked by other Chinese and foreign analysts reflecting the same upwards trajectory.
Hong Kong-based air cargo pricing publisher TAC Index, whose indices capture both contract and spot pricing, said one of its biggest "movers" last week was the Shanghai-Los Angeles spot freight price which rose by 16.5 per cent to US$8.52 per kilogram.
According to TAC Index, the Shanghai Pudong to Europe price averages US$4.6 per kilogram in August, up from US$4.34 last month.
Current rates in August are around 30 per cent higher than the same time last year, and double the level in 2019, but lower than the peak of US$11.18 per kilogram in May 2020.
For the Shanghai to North America route, the average price in August was US$7.615 – around 45 per cent and 141 per cent higher than the same period in 2020 and 2019, respectively.
Like the European route, the prices are still lower than the peak price of US$12.27 per kilogram in May last year.
The increased costs, according to traders, have not been borne fully by one party, but instead are being spread across different parts of the supply chain, depending on clauses in each individual contract.
"In the end, it depends on whether the seller decides to absorb the additional cost of freight and ride out this temporary situation, or if they decide to increase the cost of the product," the SEKO spokeswoman added.
"In which case, it would be the end buyer who is impacted and will end up paying a higher price for the end product."
This article appeared in the South China Morning Post print edition as: air cargo chaos at Shanghai sees prices soar 30pc