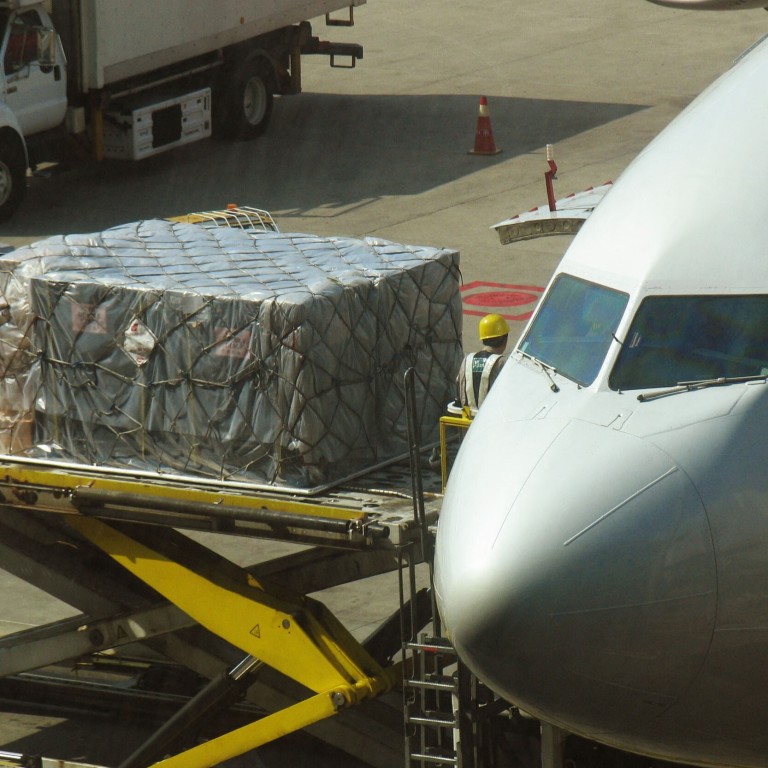 China's biggest cargo airport still suffering delays as jobseekers say coronavirus 'risk is too high' for cargo handlers
One of two terminals at Shanghai Pudong International Airport is still seeing flight cancellations after vaccinated workers tested positive for the coronavirus last month
Rumours of a labour shortage swirl as traders say cargo space to the terminal remains 'very tight', and air freight has not returned to normal
Disruptions at China's largest cargo airport are still prevalent more than two weeks after coronavirus infections closed one of the airport's two terminals.
Shanghai airport authorities say the Pudong Air Cargo Terminal (PACTL) is now open, but strict quarantine rules have been imposed on ground staff, and this has delayed custom clearances while forcing airlines to cancel a number of flights.
The other Pudong cargo terminal, Eastern Airlines Logistics Terminal (EAL), was said to be running "normally".
An Australian seafood trader, who requested anonymity, said cargo space on flights to Pudong's PACTL was "very tight". She also expressed concern that her shipment next week might be delayed.
"So far, the local DHL forwarding company said there was reduced capacity, as various airlines have stopped flying to Pudong," she said. "There's a lot of uncertainty."
Another Australia-based exporter was trying to air freight Scotch whisky on a China Southern Airlines flight from Scotland but said she was told the flight was cancelled without reason.
One trader said PACTL has started receiving inbound goods but not outbound ones.
A spokeswoman at the Airport Cargo Office of Cathay Pacific confirmed on Monday that many airlines had cut their cargo-carrying flights, and that air freight had not fully returned to normal.
With only two terminals at Pudong airport, cargo operations were largely upended after flights were cancelled and airlines scrambled to redirect their goods to other airports. Hundreds of staff members were also sent into quarantine.
Shuttered port and airport operations put more pressure on an already vulnerable Chinese supply chain that is still recovering from the effects of the pandemic.
Such setbacks might also contribute to a slowdown in Chinese trade, which had expected to contract after a strong post-pandemic recovery, although new data released on Tuesday showed that growth in both exports and imports had exceeded analysts' expectations in August.
Pudong airport authorities have so far not provided an official update on the disruptions of cargo operations, but have maintained that PACTL remains open.
"Our ground operations have never been suspended," said a spokeswoman for PACTL said by phone on Friday, insisting that their terminal had not closed. "You should ask the airlines if your flight will take off or not."
But while ground operations were said to be up and running, logistics providers, airlines and traders received notices from the airport two weeks ago saying the new coronavirus cases would increase quarantine times and labour shortages.
The EAL terminal was operating normally but under strict pandemic controls that complied with the requirements of national departments, the Shanghai municipal government, the Civil Aviation Administration and airport authorities, a spokesperson said.
However, some ground staff and cargo handlers have expressed concerns about being infected while working at the PACTL terminal. And some freight forwarders said there was a surge in resignations after the introduction of strict quarantine rules.
Frontline airport workers were being subjected to a "14+7+7" rule, requiring them to work for 14 days followed by a seven-day quarantine in a hotel and a seven-day quarantine at home.
Meanwhile, the two airport terminals have denied that there is a labour shortage, and the official stance is that they are not looking for new workers. But there is conflicting information from industry insiders, and job listings through third-party services are abundant on social media.
"Job requests are increasing for labourers, and in Shanghai there is a shortage [of workers], as well as in Hangzhou and Wuhan," said a staff member with a global logistics provider who asked not to be identified due to the sensitivity of the issue. She also said the airport was no longer an attractive workplace due to the stringent working conditions, particularly as blue-collar workers could find comparable pay in places without such restrictions.
Even though the airport has not reported any new coronavirus cases in more than a week, jobseekers in Shanghai have been expressing concerns online about potential exposure to the coronavirus if they take a position that requires them to handle imports and exports at the airport.
"The risk is too high," said a worker in Shanghai who had thought of applying but instead took a factory job. "The infected handlers at Pudong airport all got two vaccination shots … but they got infected anyway."
Some headhunting agencies were advertising monthly salaries of 9,000 to 11,000 yuan (US$1,400 to US$1,700) for 12-hour daily shifts, but the worker said factories were paying a bit more: "And no need to go to the airport and work as a high-risk ground handler," he said.
Additional reporting by Su-Lin Tan
This article appeared in the South China Morning Post print edition as: Shanghai cargo terminal still suffering delays