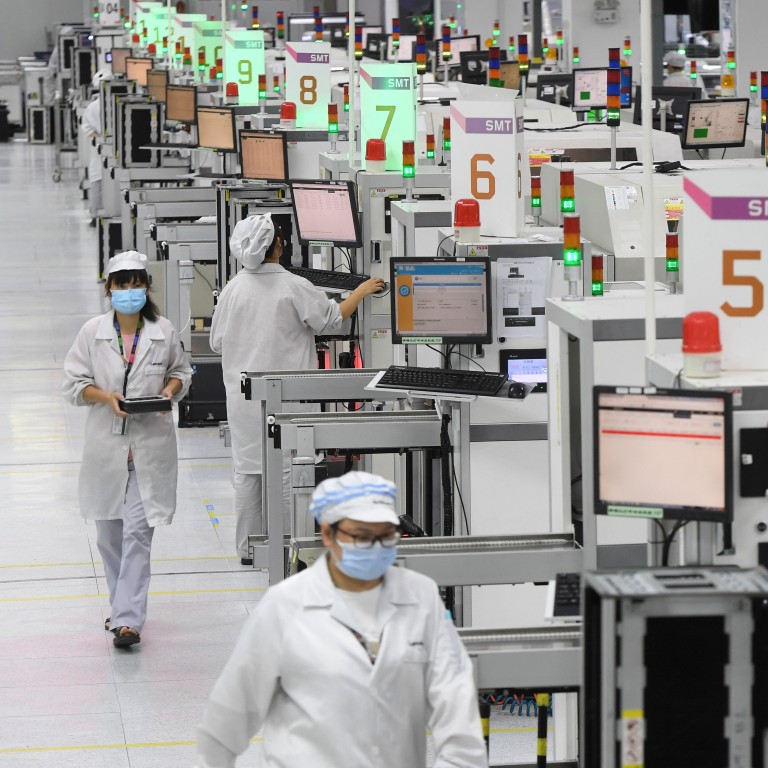 China trade 'revived with full spirit' in August, and surprised analysts are rethinking the export outlook
Economists have been suggesting China's exports growth will come off the boil, but increasing demand for Chinese goods turned a few heads on Tuesday
Retailers in advanced economies are replenishing their stocks before Christmas, and Chinese manufacturers are capitalising on coronavirus outbreaks in Southeast Asia
Volatile pandemic conditions globally and the constrained production of goods in Southeast Asia, caused by recent Delta variant outbreaks, combined to prop up global demand for Chinese goods last month, leading to a stronger-than-expected surge in exports.
Analysts and economists have been trumpeting their predictions that China's exports growth will come off the boil in the second half of this year, after they had soared to levels higher than what was seen before the pandemic amid strong demand from locked-down developed countries.
But on Tuesday, official data showed that August's exports were way up – surprising pundits with 25.6 per cent growth, year on year.
This was surprisingly higher than expectations in a Bloomberg survey that foresaw the growth rate falling to 17.3 per cent after
July's subdued performance
of 19.3 per cent growth.
There were rebounds in exports of all kinds of Chinese-made consumer goods, including electronics, furniture, home appliances, toys and recreational products, as retailers in advanced economies started replenishing their inventories ahead of Christmas, analysts said after the official data came out.
There was also an increase in exports of mechanical, electrical and hi-tech products.
"Exports to most advanced economies picked up by the most since the start of the year. In contrast, shipments to Asean [nations] saw smaller gains, perhaps reflecting disruption to factory activity amid the wave of Delta outbreaks across the region," Capital Economics assistant economist Sheana Yue said.
China's imports also exceeded expectations by growing 33.1 per cent in August from a year earlier, improving from the 28.1 per cent growth seen in July and also surpassing expectations in the Bloomberg survey that called for a 26.9 per cent gain.
"Inbound shipments of
semiconductors
edged down, which suggests that some supply shortages continue to linger. But this was more than offset by the rebound in agricultural commodity imports as the recovery in pig stocks boosted demand for soybeans," Yue said. "Imports of industrial metals and inbound shipments of oil rebounded sharply, too. The latter was possibly due to the issuance of new import quotas on crude oil."
Despite the recent strength of agricultural imports, shipments from the United States were not higher than they were before the
US-China trade war
and have plateaued in recent months, Yue added.
Exports of steel in August grew 37.4 per cent, year on year, but the pace of growth has slowed compared with July.
This possibly reflected changes in key policies that took effect last month, when China raised export tariffs for pig iron and ferrochrome, and
removed export tax rebates for 23 steel products
to slow domestic production and curb emissions.
Other strong trade movements were strong imports of grains, coal and iron ore, but exports of textiles –
including face masks
– fell 14.9 per cent, year on year.
Zhou Hao, an economist at Commerzbank, said it was hard to interpret the surprisingly strong August trade data, but it could mean that outlook expectations for Chinese trade and the economy later this year may need to be adjusted.
"The demand by the US and Europe [for Chinese goods] was still good, the imports were largely affected by the price factor," Zhou said.
The robust exports of mechanical and electrical products, especially integrated circuits, "showed that China still replaces manufacturing in Southeast Asia to some extent", Zhou said.
He added that the latest figures suggest that China's export growth rate might not slow down as rapidly as previously expected, but he also warned that there could still be headwinds later.
Citic Securities, HSBC and Oxford Economics also welcomed the positive turn in Chinese trade, pointing to it as a potential cushion to the expected slowdown.
"China's trade revived with full spirit in August," Citic Securities analysts said in a note, using a popular video game term that refers to a defeated character respawning with maximum health.
"The still-strong trade data in August changed the overall weak economic expectations – to some extent alleviating market concerns about the economic slowdown."
Oxford Economics' economists Tommy Wu and Louis Kuijs also see the potential for more growth in exports later this year, while HSBC Greater China economist Erin Xin said manufacturing investment will be a key driver for growth in the rest of the year.
Capital Economics, meanwhile, is sticking to their initial prediction that trade volumes will slide.
"The PMI export-orders indices – which measure the share of firms seeing rising orders – has remained under 50 for three consecutive months," Yue said. The lower the reading is below 50, the faster the pace of contraction.
"This suggests that, outside of a few narrow product categories where demand is being temporarily buoyed by the pandemic, foreign demand for Chinese exports is already coming off the boil.
"Meanwhile, tight credit conditions are likely to weigh on import volumes as the composition of domestic expenditure shifts from investment toward consumption."
This article appeared in the South China Morning Post print edition as: Strong global demand spurs China exports