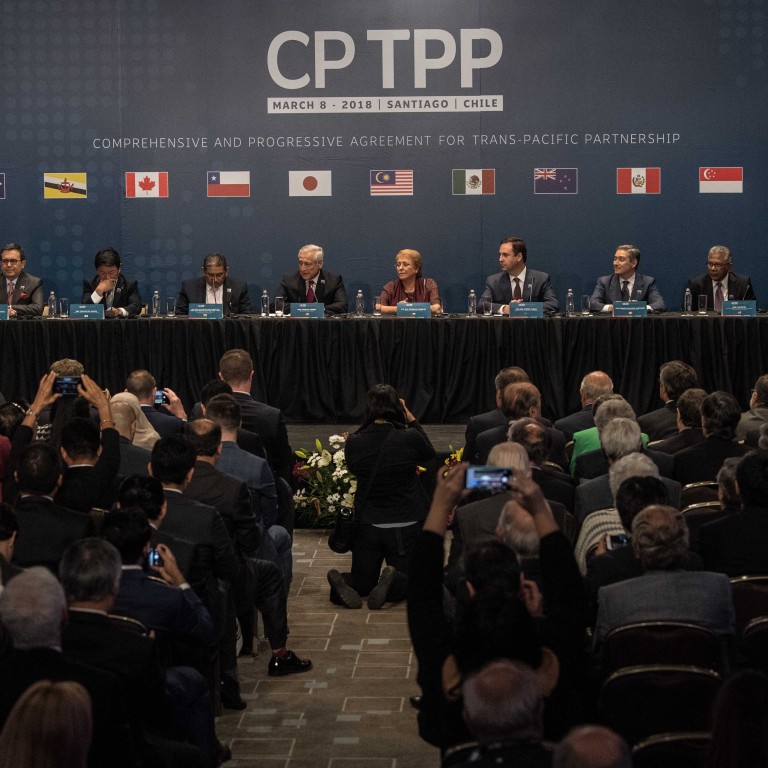 China must prove 'track record of compliance' with free, open trade if it wants to join CPTPP, Canberra says
China's membership would have a significant impact on trade in the Asia-Pacific region at a time of rising geopolitical tensions between Washington and Beijing
China has implemented a series of informal bans on Australian products including coal, lobsters and log timber as well as imposing anti-dumping duties on wine
Australia said it would not be willing to negotiate China's application to join the Comprehensive and Progressive Agreement for Trans-Pacific Partnership (CPTPP) unless Beijing removes retaliatory tariffs on Australian goods, as other member countries also flagged caution over Beijing's application to join the mega trade bloc.
Beijing's new trade minister Wang Wentao on Thursday
lodged a long-awaited application
to join the 11-member CPTPP with member country New Zealand's trade minister Damien O'Connor.
All member countries that have ratified the CPTPP will be allowed to vet China's application. Some countries, such as Malaysia, have started the ratification process but have not yet reached completion.
China's membership would have a significant impact on trade in the Asia-Pacific region at a time of rising geopolitical tensions between Washington and Beijing. Australia, which has ratified the deal, said it needs to be confident about China's "track record of compliance" with free and open trade before considering its entrance to the trade bloc.
Trade minister Dan Tehan said in a statement on Friday that existing members would want to be sure China had met its free trade commitments under the World Trade Organization (WTO) and existing trade agreements, saying it was an important matter that required ministerial engagement.
China and Australia
have not spoken on a ministerial level since the two countries entered a diplomatic stand-off last April when Australia pushed for an independent inquiry into the origins of the coronavirus outside of the WTO, without consulting Beijing.
Since then, China has implemented a series of informal bans on Australian products including coal, lobsters and log timber as well as imposing anti-dumping duties on Australian wine and barley, making them uncompetitive in the Chinese market.
Under the WTO, member countries such as China and Australia agree to trade without discrimination, although countries are – for example – entitled to impose tariffs against other countries when cheap goods are dumped.
Despite their rocky relationship over the past 18 months, last week
China lobbied for Australia to support
its application to the trade pact after it made a submission about regional economic advantages of its membership to an Australian parliamentary inquiry into broadening the CPTPP.
Member country Japan, which has ratified the CPTPP, also took a cautious stance on China's application. "We must thoroughly assess whether China is ready to fulfil the high-standard rules of the TPP-11," Chief Cabinet Secretary Katsunobu Kato said on Friday.
Taiwan has expressed the hope that China's application to join the CPTPP would not affect its
own pending application
saying the application had been "sudden". For nearly a year, however, Beijing has expressed a keen interest in being part of the CPTPP.
Scott Kennedy, trustee chair in Chinese Business and Economics at the Center for Strategic and International Studies (CSIS), said on Twitter that "no one should take China's application seriously".
"As much as I'd like to see [the] CPTPP membership push China to liberalise, reduce favouritism for state owned enterprises, raise labour standards and go green, China is going in the opposite direction and [a] CPTPP membership wouldn't change that," he said.
University of Sydney business school professor Shumi Akhtar, who submitted a proposal to Australia's parliamentary inquiry into expanding the CPTPP, said the pact has set high standards for trade by, for example, raising living standards and promoting transparency consistent with the United Nation's 17 sustainable development goals.
"These clear high-standard protocols are there for a very good reason and there is very little room for negotiation as it will then undermine the purpose of CPTPP. In short, unless China can comply with all of the standards set out in the CPTPP, it would be tough for China to become a member of CPTPP," she said.
"China is entirely capable of managing the requirements of the CPTPP. Many of the [CPTPP] final provisions, although groundbreaking, fell short of lofty initial ambitions. And 20 provisions from the original TPP text were suspended after the withdrawal of the US," said Stephen Olson, a senior research fellow at the Hinrich Foundation.
"Ample exceptions and wide loopholes would ease China's compliance with the more challenging provisions," he said.
Wang Huiyao, president of Beijing-based think tank the Centre for China and Globalisation, said the negotiations on China's accession to CPTPP were likely to be a long but necessary process for the country.
"China spent 15 years on talks to join the WTO, and in that process, China achieved the changes in ideas and transformation towards WTO standards, including abolishing tens of thousands of non-compliant treaties," he said.
He added that China is now more mature than it was five or six years ago when it comes to tests on environmental protection, labour standards or intellectual property rights.
"If Vietnam can join, why can't China? It's all negotiable," he said.
However, Julien Chaisse, a trade professor at City University of Hong Kong and a trade advisor, said that the process would be arduous for any new applicant, not just China.
"Accession to the CPTPP very much resembles joining the WTO as there is a mix of plurilateral and bilateral negotiations," he said.
"China can meet the CPTPP requirements and various liberalisation requirements. I also believe that even the state-owned enterprises rules and rules on subsidies can be handled by China."