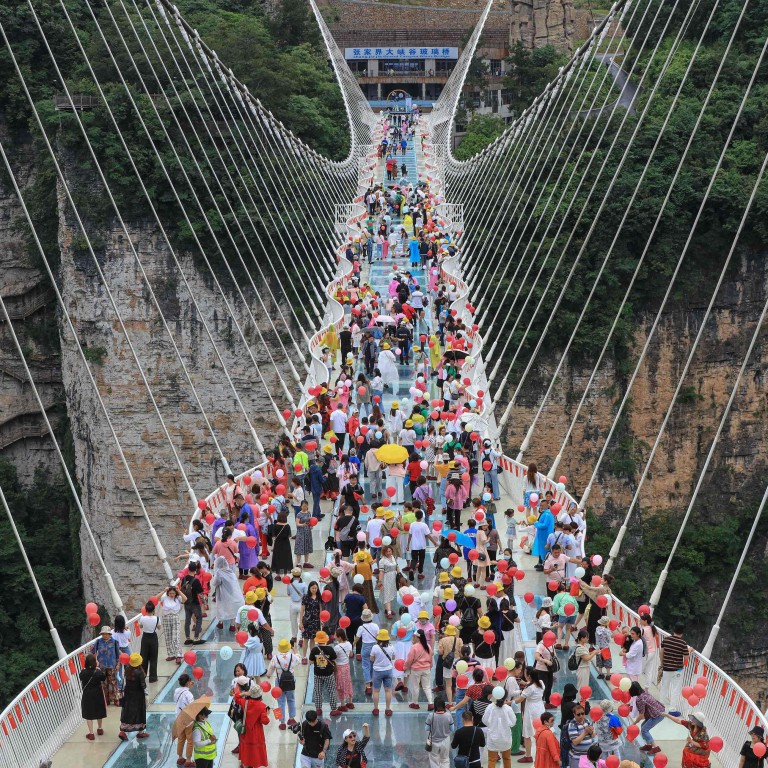 China's travel industry 'paralysed' by coronavirus sees tour guides turn to live streaming
Struggling Chinese tour guides have begun live-streaming during the coronavirus pandemic to make up for lost business
Guides use Chinese video platforms such as Douyin, while making 'minimal' money from tips and brand partnerships
As a train whizzed through a residential building at Liziba Metro Station in the southwestern Chinese city of Chongqing last week, local tour guide Xiong was there to live-stream the awe-inspiring engineering feat as part of a virtual tour on Douyin, China's Tiktok.
The station has become popular with tourists who before the coronavirus pandemic would line up to gawk at the train passing through a gap between the sixth and eighth floor of the 19-story block of flats.
After explaining the history of Liziba and offering dining tips near the attraction, Xiong capped off her live-stream monologue with an update on local quarantine restrictions.
"Thank you everyone! Remember to come back for my live-streaming tomorrow," she said.
Xiong, who only gave her surname, is one of scores of tour guides in China who have ventured into the world of virtual tourism to make ends meet during the pandemic, which has hammered the domestic travel industry.
Since September last year, Xiong has live-streamed more than 500 times to try and claw back some of her lost income.
While she works mostly for tips, she has also partnered with local brands to advertise goods like souvenirs and even opened an online store on Douyin. She now has 74,000 followers.
The South China Morning Post spoke to a dozen tour guides across China, who all had similar stories of hardship. While many have tried live-streaming, it has not been enough to replace lost incomes.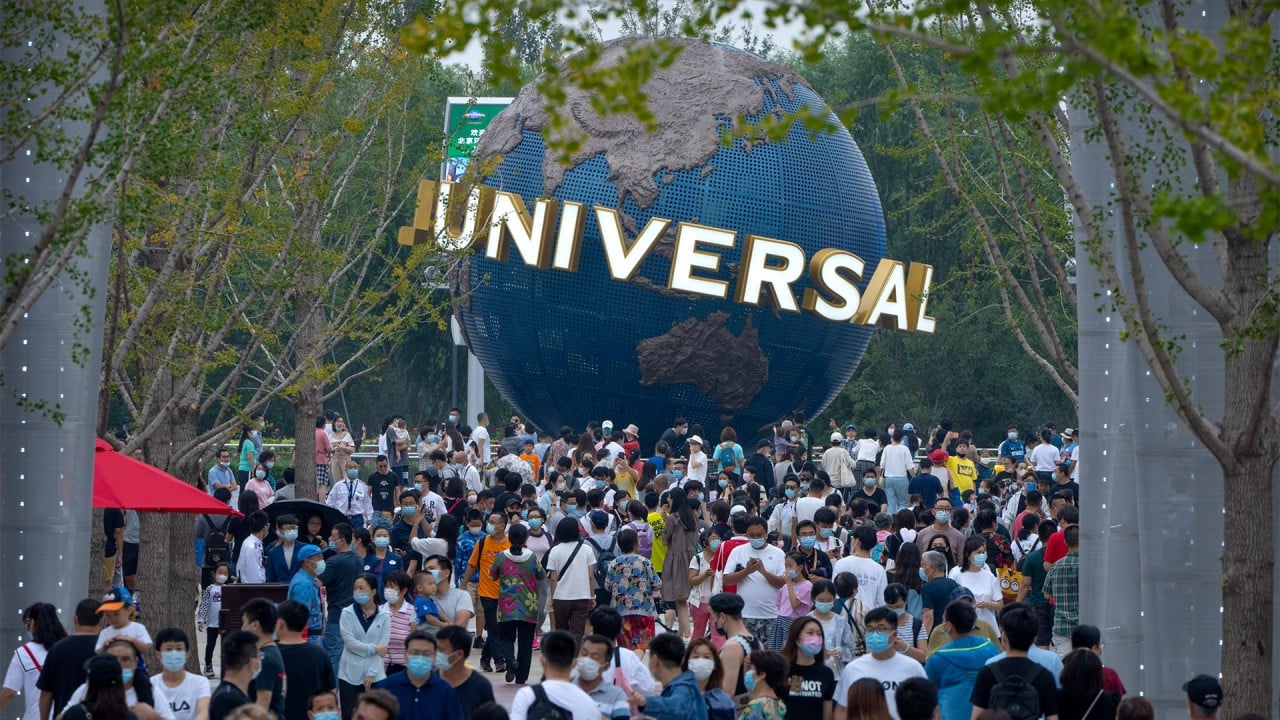 03:04
Universal Studios in Beijing packed with tourists as theme park starts trial​​ run
Universal Studios in Beijing packed with tourists as theme park starts trial​​ run
Delta outbreaks in recent months, including in
Fujian
and Nanjing, have seen authorities reimpose fresh lockdowns and bans on interprovincial tours, casting a cloud once again over the sector's recovery.
"The pandemic is volatile, and I don't know when [the industry] will recover," Xiong said, adding she was only just surviving and knows many operators who have gone bankrupt. "Usually when I live-stream, I don't even buy water, let alone dine outside."
Guides using Chinese video platforms such as Douyin and Kuaishou depend on product sales during their live streams on top of tips. But very few make decent money.
"Tips are minimal, goods are hard to sell, and [there are] not many offline tour groups," Xiong said. "Tourism feels like a pool of stagnant water now, with occasionally a few raindrops."
Xiong said many people she worked with at the tour company before the pandemic have left, as they relied on commissions and had no base salary.
According to a 2020 report by China Association of Travel Services, some 80 per cent of the 10,614 surveyed guides across 31 provinces "currently had no business". Just over 10 per cent had taken on side jobs, and 8.4 per cent had changed jobs or planned to find a new one.
However, while China's travel industry remains on an "uneven recovery path", there are signs the domestic market is trying to reinvent itself and capitalise on pent-up demand for international travel, management consultants McKinsey & Company said last month in their latest update on the sector.
The industry is still susceptible to pandemic-related setbacks, but the "impact from single province outbreaks is becoming more contained as the national market appears to be more resilient", the consultants said.
Though some tour guides have tried to reinvent themselves with virtual tourism, making money is hard.
Wu Gengqiu, one of the most influential virtual guides on Douyin with 719,000 followers and eight years of experience, said she could not make a living out of live-streaming.
Wu spent nearly a year climbing Yellow Mountain in the eastern province of Anhui each day to live-stream sunrise from the peak. But in March, she shifted her focus from virtual guiding and selling snacks to working in e-commerce full time.
She now runs a tea shop and sells home-made tea leaves and Torreya grandis nuts online. For the first time since the pandemic began, she is earning the same income as before it.
"Once there's an outbreak tourism is paralysed," said Wu, who no longer sees herself as a guide. "As long as the pandemic does not go away completely, tourism will remain partly paralysed."
Bigger tour operators have had better luck turning their live-streaming offerings into profitable businesses.
Jenny's China Tours, which offers English-speaking guides, has been offering virtual tours to overseas tourists on the live-streaming platform Heygo.
People can join tours of attractions like Zhangye Danxia National Geological Park in China's northwest for free, interact with their guides and tip them.
Still, the company's founder Jenny Liang said making money was difficult, as tips were discretionary and they had to pay Heygo a 40 per cent fee on all those they made.
"This pandemic has hurt us dramatically," Liang said. "We provide the virtual tours mainly to survive … And [so] we can guarantee our tour guides a basic salary and keep them engaged in the industry."
Before the pandemic, the company had 20 guides. Now it has only eight, and most are working part-time jobs.
Even guides like Xiong in Chongqing, who are clinging on by any means possible, have been forced to make contingency plans.
"After October, if it is still sluggish I'll change jobs. At the end of the day, I have to pay for necessities," she said.
Additional reporting by Su-Lin Tan