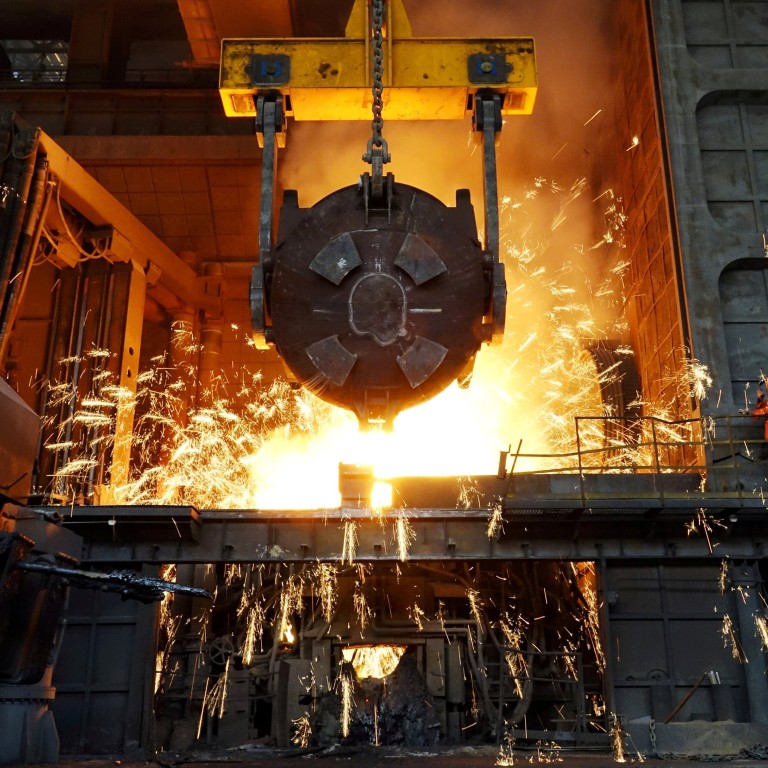 China's curbs on steel production, pollution and energy consumption send iron ore prices tumbling
Iron ore prices plummeted to just below US$100 a tonne last week, after hitting a record of US$235 a tonne in May
The decline, which reflects efforts by Beijing to rein in raw material prices, has hit miners, investors and traders
Investors are fire-selling mining stocks, iron ore traders are losing money, and smaller miners are pulling back shipments because of falling iron ore prices driven by tumbling Chinese demand.
Even usual seasonal factors, such as lower Chinese steel demand ahead of winter, will have little impact on plunging prices that have sent the iron ore supply chain reeling, as the downward momentum caused by fundamental changes to China's steel and iron ore demand gets under way, analysts say.
Iron ore, the darling of China's post-pandemic economic recovery, is facing a reversal of fortunes, with prices sinking to just below US$100 a tonne late last week after scaling record heights of US$233 to $235 a tonne in May.
UBS issued repeated calls last week for investors to sell mining stocks, including those of Australian companies
Fortescue
and Rio Tinto.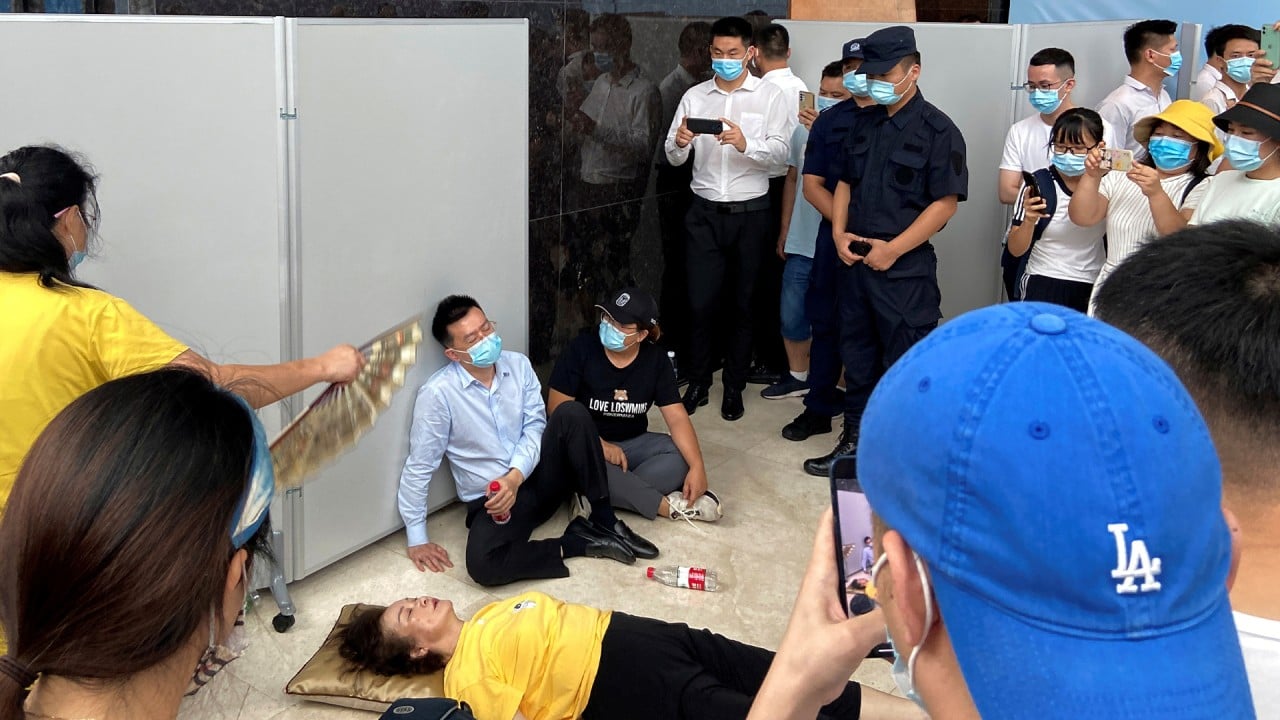 02:28
Angry protest at headquarters of China Evergrande as property giant faces liquidity crunch
Angry protest at headquarters of China Evergrande as property giant faces liquidity crunch
"Prices have fallen more than 50 per cent since peaking in mid-May," UBS equities analysts said.
"This reflects a sharper than expected slowdown in property activity in China thanks to tightening measures and the Evergrande risk of default impacting confidence."
The price turnaround reflects Beijing's success in its broader efforts to influence supply and demand for steel, which determine iron ore prices, as it pushes to reverse high raw material costs that have hurt businesses, especially for small and medium-sized steel producers.
Chinese producer price inflation, which
hit its highest level in Augus
t since August 2008, mainly due to the rally in global commodity prices, is driving some factories to cut back on production that is in turn reducing national output.
Earlier in the year, Beijing went hard after iron ore hoarders and futures speculators in an effort to tame prices. Curbs on steel production in July to meet emissions targets sent iron ore prices down further.
The central government raised the bar again last week, when the Ministry of Ecology and Environment targeted steel mills in its annual winter air pollution campaign, ordering factories in 64 regions to curtail steel production between October and March next year.
Beijing's campaign has been focused on northern regions with high air pollution since it started in 2017, but this winter it laid down specific curbs on steel production.
The government's crackdown on the property sector and the potential collapse of one of China's biggest property developers, China Evergrande, has pulled down steel demand further.
All up, these significant demand-led changes have pushed steel output so low that the usual seasonal slowdown in demand during winter will do little to change the course of falling iron ore prices, said Atilla Widnell, managing director of Navigate Commodities.
"There will no doubt be a supply response to the anticipated seasonal decline in steel consumption, but the extent of these reductions will be heavily muffled given that steel mills will be operating from a relatively low baseline," he said.
Given the faster-than-expected fall in iron ore prices, Navigate is forecasting prices to sink as low as US$76 a tonne in the next few months.
UBS is expecting iron ore to "swing" to a supply surplus and prices to dip below US$100 a tonne over roughly the same period. It estimates prices to average at about US$89 a tonne next year, down from its previous forecast of US$101 a tonne.
On Tuesday, iron ore prices remained subdued closing at just below US$100 a tonne.
Signs of increasing supply and further declines in prices are already showing.
Steel mills have told commodities analyst S&P Global Platts that cuts to output will gather pace in the coming weeks, putting China on track to lower steel production below 2020 levels. Platts calculates that China's monthly steel output in September is likely to drop by another 3 million tonnes as energy consumption controls imposed by Beijing bite.
All stakeholders in the iron ore supply chain are expected to suffer, according to analysts.
For starters, the three big Australian miners Rio Tinto, BHP and Fortescue Metals, as well as Brazilian miner Vale, will see their profits shrink, although they will be coming down from a high base.
Miners will not lose money until iron ore prices hit about US$55 to US$60 a tonne, analysts said, and few expect that to happen.
"Are we likely to see the iron ore price fall that low? Certainly not," CRU commodity analysts Erik Hedborg and Richard Lu said in a note.
"Although falling, Chinese steel production is still at high levels while iron ore supply is still far away from the highs observed in 2018, right before the Vale accident. Therefore, the iron ore market is still tight, with historically high prices.
"By looking at the total market balance, we find it unlikely that prices will fall below $100 a tonne in the coming months. We may even see prices rebound in the short term and there are a few upside risks to consider in the next few months."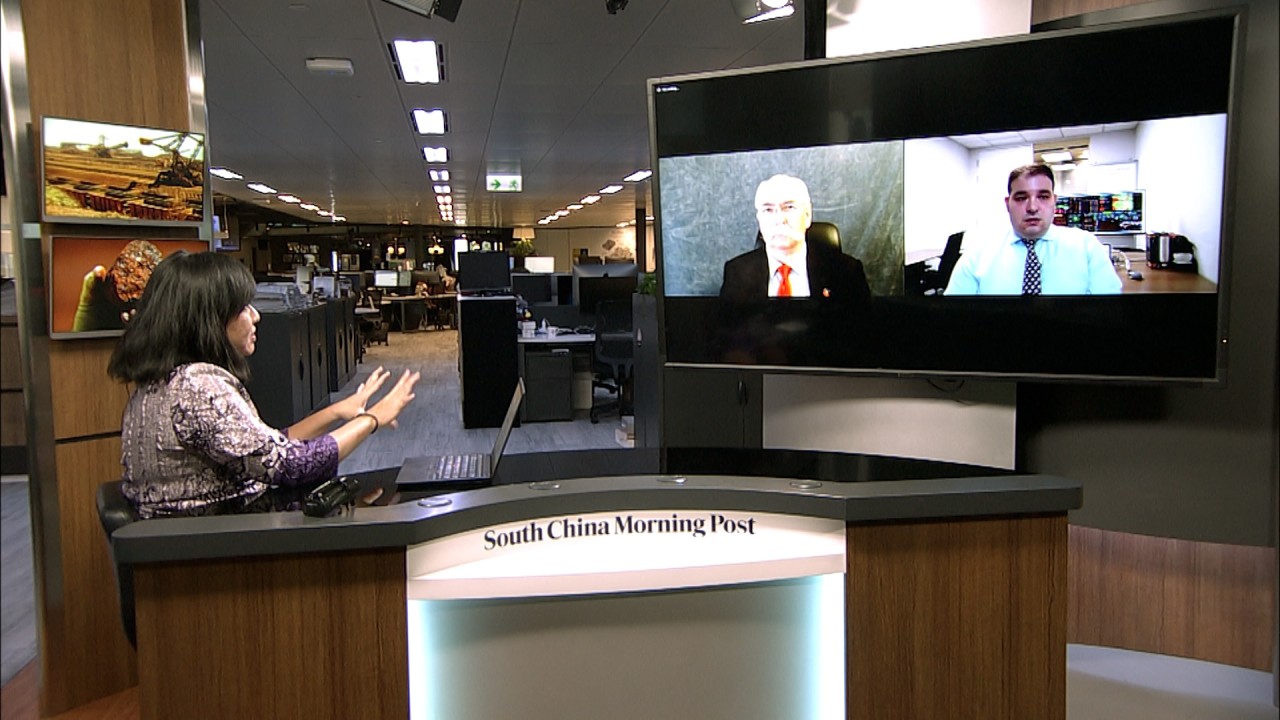 09:18
Will iron ore be dragged into the ongoing China-Australia trade conflict?
Will iron ore be dragged into the ongoing China-Australia trade conflict?
Prices of Australian mining stocks have fallen steadily from their highest prices this year after soaring on the back of China's economic recovery. Share prices of all three miners BHP, Rio Tinto and Fortescue on Tuesday were down 30 to 40 per cent from their highest levels in late July through to early August.
Earlier this month, Venture Minerals suspended operations at its Riley mine in Tasmania after just one shipment of its lower-grade iron ore, while West Australian producer GWR has put its shares into a trading halt ahead of a "material update" to mining operations as they grapple with falling prices which have rendered their iron ore sales less profitable.
Smaller producers are grappling with not only falling prices, but high freight costs, Jo Clarke, a commodity and energy price analyst at Argus Media, said in a note on Monday.
Iron ore traders will also experience losses. The fall in prices has been so fast that some portside traders in China are facing losses almost as high as the price of ore itself, said Chris Newman, a senior ferrous market analyst at Argus.
Further shocks to steel demand in China that will hit iron ore prices could still emanate as a result of Covid-19 outbreaks and lockdowns in the future, Widnell said.