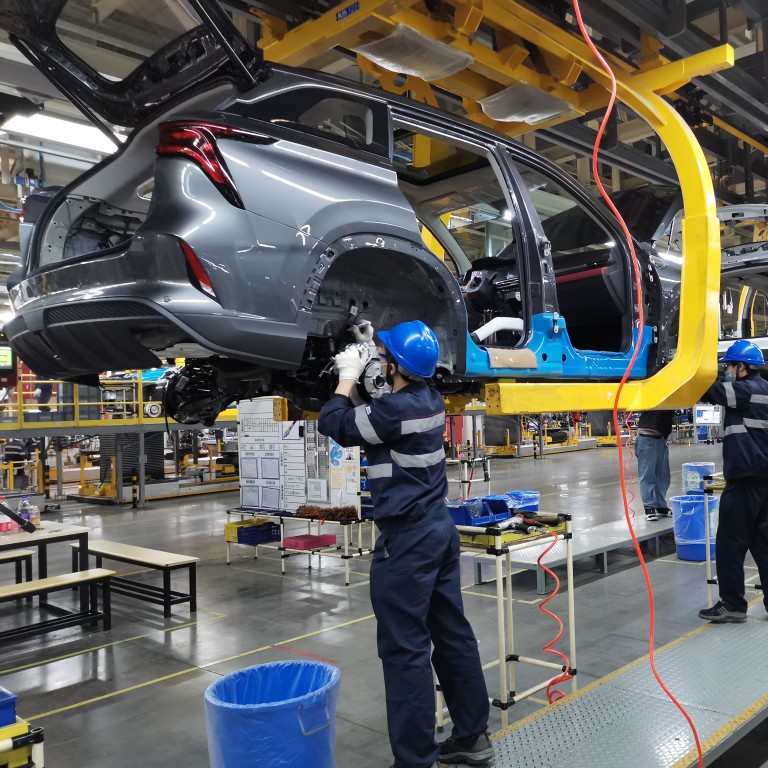 China's power crisis sends magnesium prices skyward, choking supply chain and leaving Europe desperate
Global automotive industry depends on magnesium, but China has nearly a complete monopoly on the industry, producing 87 per cent of the world's supply
Magnesium production is power-intensive and emits five times more carbon pollutants than steel production, meaning some smelting plants may be shut down for several months
After years of stable prices, magnesium costs have skyrocketed while a shortage of the metal is choking downstream users in its supply chain, especially the global automotive industry.
And it appears that
China's power crisis
and subsequent crackdown on energy-intensive industries is largely to blame. China has almost a complete monopoly on the metal's global production, and the smelting process is very power-intensive.
A monthly review of the metal, by the China Nonferrous Metals Industry Association (CNMA), revealed a sudden spike in the price of magnesium between August and September, when it doubled to a monthly average of nearly 42,000 yuan (US$6,600) a tonne – a 230 per cent year-on-year increase – and nudged as high as 70,000 yuan (US$11,000) a tonne during September.
Magnesium's price had been hovering between 14,000 and 20,000 yuan a tonne over the past decade.
The shortage and soaring prices are of particular concern to the metal's primary user – carmakers.
Last week, the German non-ferrous metal industrial association WVM wrote to the German government, warning about the impact of the shortage on all of Europe, as a result of China's power cuts. It also noted that China accounts for 87 per cent of the global production of magnesium.
"It is expected that the current magnesium inventories in Germany, and respectively in the whole of Europe, will be exhausted by the end of November 2021," the letter said, according to Reuters.
The European Automobile Manufacturers Association (EAMA) also submitted an open letter to the EU Commission last week flagging the "catastrophic impact" of production shortages, business closures and associated job losses if Europe runs out of magnesium stocks by the end of November, according to a note by Argus Media, an independent provider of energy and commodity price benchmarks.
"Our industries jointly call on the EU Commission and national governments to urgently work towards immediate actions with their Chinese counterparties to mitigate the short-term critical shortage issue, as well as the longer-term supply effects on European industries," the EAMA's letter said.
China began suffering from
rolling blackouts
in September as a result of an electricity shortage. In response, local authorities ordered the country's biggest magnesium smelters in Yulin, Shaanxi province, to cut power usage.
Magnesium production at Yulin's roughly 50 smelters in Fugu county – which account for about 60 per cent of China's total output – was halved from mid-September, and 15 of those smelters are likely to see a complete halt in production until March, according to industry figures and media reports.
The CNMA said magnesium prices quoted by producers in the Shanxi region from late September to early October were 52,600-52,700 yuan a tonne, while those in Ningxia were 52,400-52,500 yuan a tonne, and in Shaanxi the prices were 52,400 to 52,500 yuan a tonne.
"The magnesium shortage will likely hit the auto and aluminium sectors the hardest," said Mok Yuen Cheng, senior managing editor for non-ferrous metals at commodities analyst S&P Global Platts. "Europe, Japan and China have already seen auto output cuts this year due to [semiconductor]
chip shortages
.
"Now, with the magnesium supply also tight, carmakers are facing higher production costs and further potential output curbs."
Mok said the impact of the power cuts is telling. In September, new European car registrations fell 23 per cent, China's automotive output dropped 17.9 per cent, and Toyota Motor cut its total output by 40 per cent.
Magnesium is used to strengthen aluminium alloys – a key raw material in auto production. An estimated 15kg of magnesium is used in every car produced, Mok said.
Mounting pressure to
curb carbon emissions
, along with the high cost of power generation due to
expensive thermal coal
, have contributed to China's power woes and triggered strict power-rationing measures, particularly for commercial and industrial users.
Magnesium production is especially vulnerable to the power crisis because, in addition to being so power-intensive, it also emits five times the carbon pollutants compared with steel production, according to research by Shanghai Jiao Tong University.
And for those automotive producers outside China that are able to secure supplies, they have been facing higher export prices.
Export prices in September were twice as much as the average export price between January and August, according to the CNMA.
The free-on-board price – referring to the risk-factored price borne by the buyer – rose to US$6,573.57 a tonne in September, from US$3,258.06 a tonne at the start of the year.
|   | Megawatt hours to produce 1 tonne |
| --- | --- |
| Steel | 4-6 |
| Magnesium | 35-40 |
| Aluminium | 16-17 |
At the end of September, some manufacturers and traders were quoting prices of between US$8,240 and US$8,250 a tonne.
North America is also suffering from a magnesium shortage but, unlike Europe, has a large domestic producer, US Magnesium, which has offered a degree of protection, said Stephen Williamson, research manager at commodities analyst CRU Group.
However, Lin Ruhai, president of the CNMA's magnesium branch, told delegates at the association's 24th annual conference in Yulin last week that the crisis was not expected to last, as consumers would seek out magnesium substitutes, thereby cooling demand and price of the metal next year, according to a note by Argus Media.