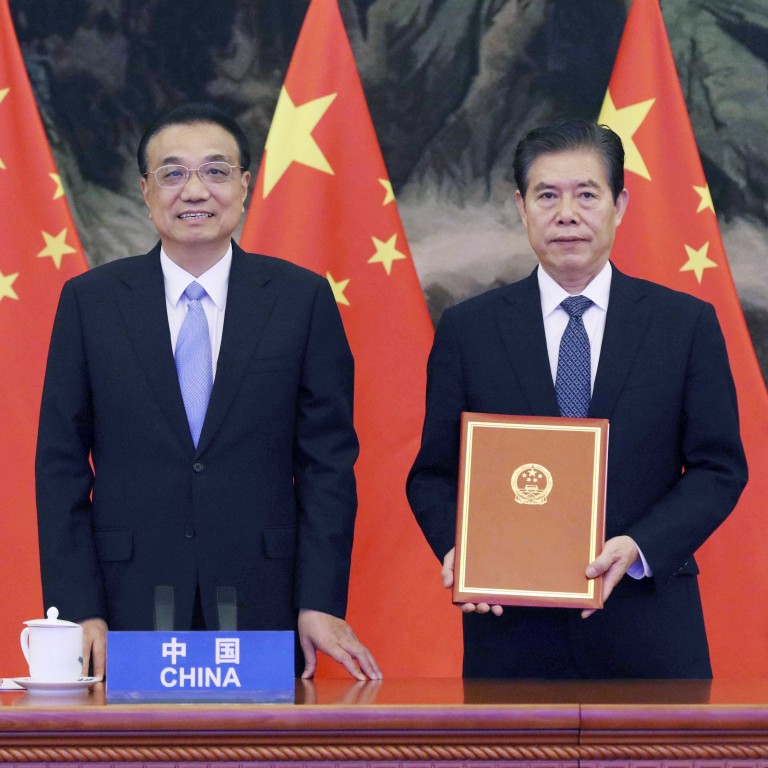 China leaving US behind with RCEP a new chapter for Beijing after surviving trade war
The 15-member Regional Comprehensive Economic Partnership (RCEP) will take effect on January 1 after reaching the minimum number of ratifications this week
China is also aiming to join another trade bloc, the Comprehensive and Progressive Agreement for Trans-Pacific Partnership (CPTPP)
China is taking the lead in expanding global trade as the world's biggest trade pact takes effect, leaving behind an increasingly protectionist United States, trade experts say.
The Regional Comprehensive Economic Partnership (RCEP), comprising 15 member countries including China, will take effect on January 1 after reaching the
minimum number
of ratifications this week.
First signed in November last year
after eight years of negotiations, RCEP will not only expand trade for around 30 per cent of the world's population, but further open up China to the world.
With the RCEP going ahead officially, China will now be able to drive trade on its terms, although some trade experts say there may still be roadblocks ahead and the effectiveness of RCEP remains to be seen, with some even questioning how many countries would benefit fully from the deal.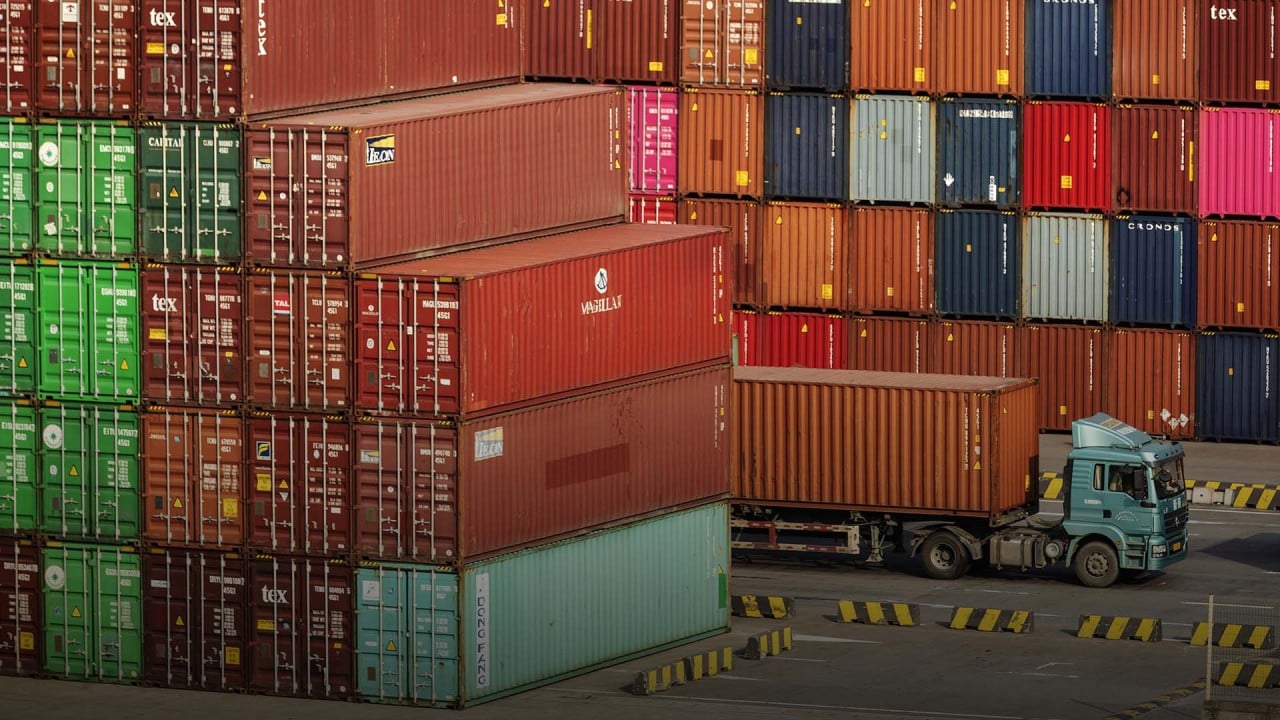 11:11
CPTPP could become game changer and supplant 'out-of-date' WTO, after mainland China, Taiwan apply
CPTPP could become game changer and supplant 'out-of-date' WTO, after mainland China, Taiwan apply
China is also aiming to join another trade bloc, the Comprehensive and Progressive Agreement for Trans-Pacific Partnership (CPTPP), which was formerly known as the Trans-Pacific Partnership (TPP) when it was the centrepiece of the United States' strategic pivot to Asia, until then-president Donald Trump walked away from the deal in the early days of his presidency.
"China really started to engage with and wanted to conclude the RCEP and as the TPP completed. With the US dropping out, it shifted the balance," said Bryan Mercurio, an international trade law professor at Chinese University of Hong Kong. "It's Trump's policies with a smile."
With the US really struggling with its own policies and Biden continuing Trump's policies, and not speaking about market access it seems, it's all about protectionism."
"China took everything the US threw at it and is now in a stronger position and it is going to move forward, but it is moving forward in a way that is feasible and that has to be outside the WTO," he added.
"That is why it is [also] behind the CPTPP and certainly with the RCEP coming into force, it will give [China] a victory in relations with other countries as well. But it remains to be seen how much RCEP will contribute economically."
Based on economic modelling, RCEP could well be most beneficial for three non-Association of Southeast Asian Nations (Asean) countries – namely China, Japan and South Korea – as they do not have existing free trade agreements between them, Mercurio said.
Heng Wang, a trade and RCEP specialist at the University of New South Wales, also warned RCEP did not provide enough rules on sanitary and phytosanitary (SPS) measures, trade remedies, electronic commerce, competition and government procurement.
"This differs from the WTO whose dispute settlement system covers SPS measures and trade remedies," Wang said.
That said, Sheng Liugang, director of the trade and development research programme at the Chinese University of Hong Kong, said RCEP would elevate China's position in Asian industrial supply chains and ultimately globalisation.
"RCEP not only has profound meaning for China, but also will inject more confidence into globalisation," Sheng said, pointing out the advent of anti-globalisation.
Sheng also said RCEP could bolster the internationalisation of the Chinese yuan.
"When we promote the yuan internationalisation, we hope our trade partners will settle transactions in yuan, obviously, the most convenient approach is to start doing so with your neighbours," he said.
As for CPTPP,
Beijing should not expect its application to take the relatively easy path it had with the RCEP, said a Singaporean source familiar with the situation, who did not want to be named due to the sensitivity of the issue.
The Chinese government has already had consultations with Singapore, given its position as the CPTPP's chair next year, but the source revealed there was little Singapore could do about China's application, especially given the
complications of its relationship with Australia,
a CPTPP member, as well as Taiwan's application to join the pact.
"Because the application has to get the unanimous approval of all 11 member states, China needs to negotiate with them one by one … as long as there is one member who disagrees, [China] won't succeed," he said.
He called on Beijing to rethink its current diplomatic and trade practices with Australia, and warned China should not expect special "treatment" afforded to developing countries like Vietnam, a founding CPTPP member.
03:29
RCEP: 15 Asia-Pacific countries sign world's largest free-trade deal
RCEP: 15 Asia-Pacific countries sign world's largest free-trade deal
Aside from troubled relationships, the University of New South Wales' Wang said China would need to overhaul its domestic policies to join the CPTPP, unlike other trade agreements.
Other difficulties for China include concerns from Japan as Tokyo wants Beijing to undertake more reforms even though it is keen on China's accession to the CPTPP, Wang Xiaosong, an economics professor at the Renmin University of China, said at a virtual forum on Thursday.
Mexico might also be forced to take sides for fear of being kicked out of the North American Free Trade Agreement with the US and Canada, said Wang from Renmin University.
Earlier this week, however, Mexican Foreign Minister Marcelo Ebrard welcomed China's application to the CPTPP during a meeting with Chinese counterpart Wang Yi during the G20 meeting in Rome.
Renmin University's Wang also said China has not yet reached the satisfactory standards of the CPTPP in many areas, such as state-owned enterprises, labour standards and digital trade.
"The regulation on the freedom of data flow in RCEP has reached the limit that China can bear, it is very difficult for the current Data Security Law to be on par with the requirement of CPTPP," he said.
Su Qingyi, a senior research fellow at the Chinese Academy of Social Sciences, said during the same forum the gap between China and CPTPP standards was in market access and rules.
"We need to make the parties of CPTPP believe in our ability to implement, this not only needs us to align with these standards on the surface but also needs some changes in some of our ideas with truly implementing this agreement," he said.
This article appeared in the South China Morning Post print edition as: Beijing takes lead on trade with RCEP