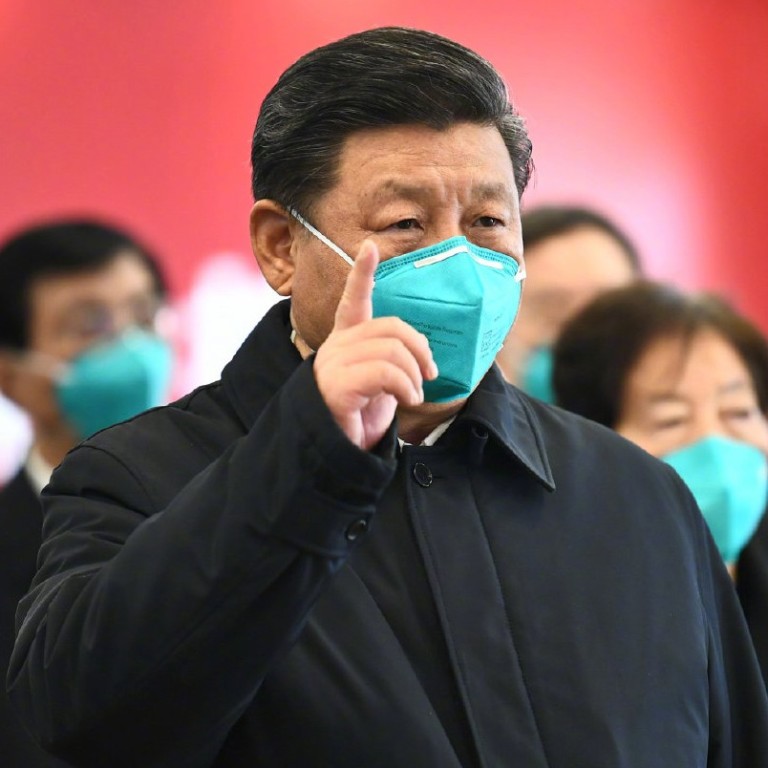 Coronavirus: China's mask-making juggernaut cranks into gear, sparking fears of over-reliance on world's workshop
China is now making more than 100 million masks a day, up from 20 million before the coronavirus outbreak, and may start to export more to other countries
Mask shortages elsewhere once more raise the debate about an over-reliance on China, with critics pointing to a lack of US industrial policy
The Liu family factory has been making diapers and baby products in the Chinese city of Quanzhou for over 10 years, but in February, for the first time, it started making face masks, as demand soared spectacularly due to the coronavirus outbreak.
The business – which employs 100 people in the Southeastern Fujian province – has added two production lines to make up to 200,000
masks
a day.
And while the decision was primarily commercial, "encouragement" from the Chinese government – in the form of subsidies, lower taxes, interest-free loans, fast-track approvals for expansion and help alleviating labour shortages – made the decision an obvious one, said Mr Liu who preferred only to give his family name.
"The government is advocating an expansion in production," Liu said. "With faster approvals, producers need to prioritise the government's needs over exports."
The factory is one of thousands of refitted pop-ups around China making masks and other protective equipment for the first time, part of a massive industrial drive to respond to the spread of the coronavirus.
Before the outbreak,
China
already made about half the world's supply of masks, at a rate of 20 million units a day. That rose to 116 million as of February 29, according to China's state planning agency, a mix of disposable and high-end masks like the American-designed N95 model worn by President Xi Jinping on his trip on Tuesday to Wuhan, the epicentre of the outbreak.
This exponential jump is the result of a wartime-like shift in industrial policy, with Beijing directing its powerful state-owned enterprises to lead the nationwide mask-making effort, and the country's sprawling manufacturing engine following their lead.
"For me, this is the big advantage of China, the speed," said Thomas Schmitz, president of the China branch of Austrian engineering giant Andritz, which has seen a big uptick in demand for its wet wipe-making machines in recent weeks, also due to the virus. "When you need to run, people know how to run, and this is something which has been lost in other countries since their industrial heydays."
Chinese oil and gas major Sinopec upped production of mask raw materials such as polypropylene and polyvinyl chloride in January. This week, it set up two production lines in Beijing to produce melt-blown non-woven fabric, intended to make four tonnes of the fabric each day, which can then be used to produce 1.2 million N95 respirators or six million surgical masks a day.
The maker of China's new J-20 stealth fighter jet, Chengdu Aircraft Industry Group, repurposed part of its factory to design a mask production line, according to local media reports. The Sichuan Daily said 258 of the company's engineers spent three days fast-tracking development of an assembly line with more than 1,200 components.
More than 2,500 companies in China have reportedly started making masks, among them 700 technology companies including iPhone assembler Foxconn and smartphone makers Xiaomi and Oppo, in an extraordinary mobilisation of resources.
The result resembles "the war effort" in the middle of the last century in the United States and western Europe, but arguably no other nation could undergo such a transformation so quickly today.
It is a reminder of what can happen in a centrally-planned economy with a strong manufacturing base, but also brings into sharp focus some of the geopolitical issues which have characterised China's at-times difficult relationship with the rest of the world, particularly the European Union and US, over the past couple of years.
China's dominance in manufacturing has become all the more evident as the rest of the world scrambles to shore up their own dwindling medical supplies, leading many to wonder why the world is so dependent on it for vital supplies.
The Italian government, which is dealing with the highest number of coronavirus cases and deaths after China, is to take shipment of 1,000 ventilators, 2 million masks, 100,000 respirators, 200,000 protective suits and 50,000 testing kits from China.
Italian foreign minister Luigi Di Maio said after a phone call with Chinese counterpart Wang Yi, they had agreed the
export deal
in the same week that European neighbours France and Germany banned masks from being exported because of low domestic supplies.
The Italy export deal showed that "China is emerging as a global public goods provider as the US proves unable and unwilling to lead," said Rush Doshi, the director of the China Strategy Initiative at the Washington-based Brookings Institute think tank.
"China's ability to produce what is needed to fight coronavirus is not simply a product of its economic model – it's also a product of its industrial capacity," Doshi said. "The US once had this capacity too, but it has lost important parts of it. The lesson for Washington is not that we need to emulate the Chinese economic model, but rather that we need to better steward the industrial base in key sectors."
The frustration is felt acutely by Michael Einhorn, president of medical equipment distributor Dealmed-Park Surgical in New York, who has been trying to source stock from China for weeks, "but cannot get straight answers" from vendors.
Unaware that Wuhan was still under heavy
economic lockdown,
Einhorn said he placed an order with a private seller in China's virus-stricken city last week, but that the goods had not been shipped.
"Everyone is running out here, people are panicking in hospitals and we want to be able to help our most important customers," Einhorn said. "We are dealing with hospitals that do not have products, how in the United States of America in 2020 did this happen?"
With the number of confirmed coronavirus cases in China falling daily, it is not inconceivable that the sort of export deal struck with Italian leaders becomes commonplace, although for now, it deal can be chalked up as a significant public relations coup for Beijing.
The World Medical Association is unable to specify how many masks are required to supply frontline medical staff in virus-hit areas, but said that "this crisis should be a wake up call for politicians and societies to make the necessary investment in emergency preparedness and to look into the vulnerability of our supply chains".
Australian-listed manufacturer Eagle Health announced on Friday that it had installed production lines at its Xiamen factory in southern China to make 300 million masks a year and said it had already received orders from China and would be securing further larger orders internationally.
The group, which normally makes products including amino acids, protein supplements and lozenges in China, said it would prioritise meeting the large domestic demand, but was aware of an impending
global shortage.
Eagle Health has already commenced production of its first order of 3.2 million medical masks for the Yiling Hospital Management Group in China, a process which will take 10 days. It has other smaller orders from Chinese government agencies and expects to receive more orders outside China.
"The decision to make more masks came from increased demand. These are opportunities," said chief executive Xu Gang. "The global demand for high quality masks will be significant. Imagine when the schools open. The situation will take some time to peak."
Last week, the Australian Dental Association said supplies of masks at many practices were expected to run out within four weeks. The Australian government has since arranged a supply of 54 million masks for both the dental and medical industries.
At the same time, the US only has 1 per cent of the 3.5 billion masks it would need to counter a serious outbreak, Bloomberg reported.
While China has no quota on the volume of masks that had to be hived off for local consumption, the government has said domestic demand needs to be prioritised.
Businesses are free to export but overseas demand has yet to explode like it has in China, said Fujian factory owner Liu.
Wendy Min, sales director of Pluscare, a manufacturer based near the virus' epicentre in Hubei province, said her company is making 200,000 masks per day, much of which are sold to the government, with exports still restricted by partial lockdown of workers and cargo transport.
"We previously exported to Europe, South America and other parts of Asia," Min said. "But at the moment we can't export. We are trying to discuss this with the government, but we cannot wait any more – we have to export soon."
Min said that while she was receiving countless cold calls up until last week from people in China looking for masks, these have stopped, perhaps unsurprising given the abundance in supplies becoming available.
An influx of Chinese-made masks, though, is likely to be welcomed in other virus-stricken parts of the world.
Miguel Luiz Gricheno, CEO of Brazilian mask manufacturer Destra, said that his company is making 30,000 masks a day, but cannot meet local demand due to a lack of supplies, including the non-woven fabric from which masks are made.
"In disposable masks, most Brazilian companies are paralysed due to the lack of raw materials," Gricheno said. "With the arrival of the coronavirus in Brazil, the demand has increased a lot but the main raw material comes from abroad."
However, a short-term supply fix will not answer underlying questions about how so many countries found themselves in such dire straits, meaning the geopolitical fallout of the coronavirus will be extensive.
Decades of weak industrial policy helped elect
US President Donald Trump,
who said he would bring manufacturing jobs back to America at China's expense. While he has waged a bruising two-year trade war with China in response, the current situation shows just how difficult it will be to change the global manufacturing processes, which are so heavily controlled by China.
"In the guise of trying to improve efficiency and create value for price-sensitive consumers, we've created a global production network that is very difficult to unwind," said Stephen Roach, a professor of economics at Yale University and a veteran China watcher. "One of the great flaws of globalisation is that everyone wanted things cheaper, but did you compromise your health care infrastructure in the process?"
Reuters reported that Trump is considering invoking the emergency provisions of the Defence Production Act, which would allow the government to instruct companies to alter production to help address the domestic shortage of medical supplies like masks. If a company is producing 20 per cent N95 masks and 80 per cent standard masks, the White House could order them to rejig the ratio, an unnamed official said.
The New York Times reported on Wednesday that the White House is preparing an executive order that would allow the government to buy medical supplies from overseas in the hope that it will incentivise companies to make them within the US.
But these changes still do not give Trump the sort of sweeping powers enjoyed by Chinese counterpart Xi.
"When you have a pluralistic, democratic situation that Trump is overseeing, it becomes more unwieldy" to take the steps necessary to address a crisis situation, said Harry Broadman, chair of the emerging markets practise at the Berkeley Research Group and a senior US government official in the 1980s and 1990s.
"That is why I think Trump looks at Xi with envy, because he doesn't have to deal with a disparity of views or democratic interests," Broadman said. "I think Trump is at heart a bilateral guy, as you saw with the phase one [US-China] trade deal and the state-to-state purchases. That is why he likes dealing with [Russian President Vladimir] Putin and Xi, because each of them can move mountains. I think Trump is very envious of that ability."
Purchase the China AI Report 2020 brought to you by SCMP Research and enjoy a 20% discount (original price US$400). This 60-page all new intelligence report gives you first-hand insights and analysis into the latest industry developments and intelligence about China AI. Get exclusive access to our webinars for continuous learning, and interact with China AI executives in live Q&A. Offer valid until 31 March 2020.
This article appeared in the South China Morning Post print edition as: Problem of over-reliance on China now unmasked