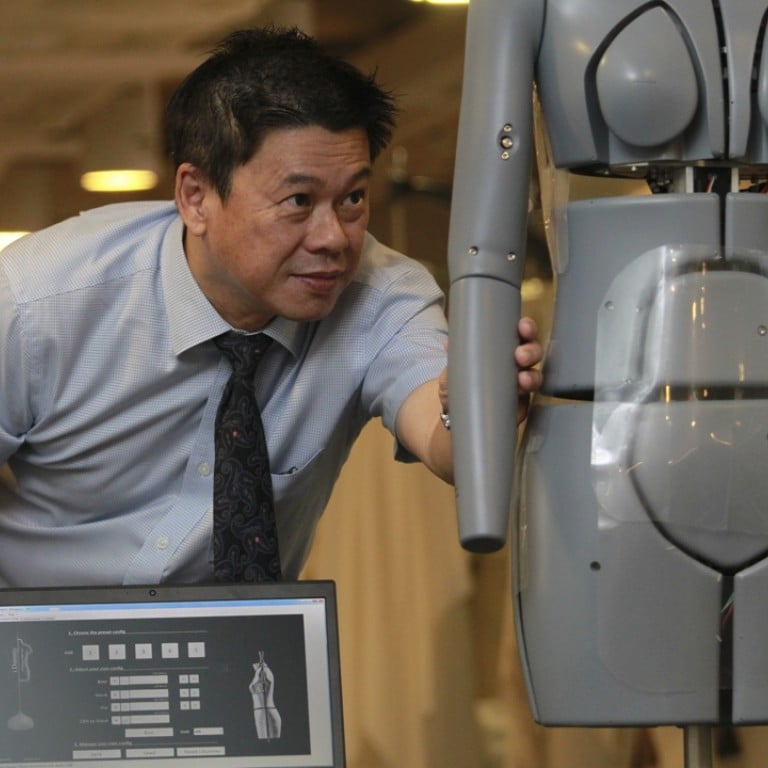 Why Hong Kong universities aren't turning inventions into stuff that sells
Academics say they lack funding and knowledge of what market wants, and suffer from lack of government support or interest from Hong Kong companies amid the dominance of finance and property investment
A university's performance is judged by its overall success in achieving primary goals, such as teaching and research. On that score Hong Kong's publicly funded universities fulfil their mission reasonably well, but they are let down in one area – turning research into commercial applications.
Six local universities placed among the top 800 institutions in the Times Higher Education world university rankings for 2015/16 released in September. Five of them, however, slid down the league table from the previous year, with the University of Science and Technology (UST) falling eight places to 59, and Chinese University dropping nine places to 138.
It turned out industry income – which measures the income generated by commercialisation of research – was the key category that dragged down their rankings. Of the five institutions, UST had the highest mark at 68.1, while Chinese University scored 37.5 and Polytechnic University 45.1.
This lags far behind Peking and Tsinghua universities: both elite Chinese institutions, which rank among the world's top 50, scored the full 100 marks for industry income.
Entrepreneurs, academics and university administrators blame the Hong Kong universities' poor showing on several factors: a system that fails to reward innovators when their work finds commercial use, insufficient funding for knowledge transfer, lack of government support and a private sector that spurns long-term investment in R&D in favour of quick returns.
Alwin Wong Leung , director of the Institute for Entrepreneurship at Polytechnic University, contrasts the local environment with countries such as the United States, where there are well-established systems for knowledge transfer – mostly through licensing and start-up transfer (US biotech pioneer Genentech, for instance, developed from the work of scientists Herbert Boyer and Stanley Norman Cohen).
Germany has a long tradition of close collaboration between academia and industry, and it is part of national policy.
But Hong Kong doesn't really have policies on science and technology , Wong says. The Innovation and Technology Bureau , which is finally being established after much delay, should set the direction.
"The government needs to identify the kinds of technology Hong Kong ... should develop. They include technologies for a smart city, sensors and so on. These have a very long incubation period. For example, our railway engineering took 8-10 years of background research and much trial and error. Without such a long-term blueprint, academics just pursue technologies they like with project-based funding. Such an approach is piecemeal and lacks coordination," Wong says.
Still, there are a handful of Hong Kong companies that have spun off from university research. One example is Vitargent Biotechnology, which provides toxicity testing services. Remarkably, it originated from an HSBC business competition in 2009: Eric Chen Zixiang and two fellow students at City University designed the winning plan to commercialise a new toxin-testing method invented by Professor Cheng Shuk-han using transgenic fish embryos.
The students went on to win other contests around the world , drawing interest from venture capitalists. They eventually licensed the technology from CityU and set up Vitargent in 2010 after Chen completed his engineering degree. The partners raised more than HK$10 million to launch their enterprise in Science Park, which now employs 20 people and serves clients such as food manufacturers and cosmetic companies.
"You need three elements for successful knowledge transfer: good technology, financing and a business team doing sales, public relations and marketing," Chen says.
Vitargent had all three: Chen's partners were marketing and accounting majors , and they brought in as chief technology officer a post-doctoral student who worked for Cheng; and they received seed funding from CityU alumni and a judge from the competition.
The university's Knowledge Transfer Office also helped a lot with marketing, Chen adds.
"Hong Kong does not lack inventors and entrepreneurs. But government departments do not take the lead in using homegrown technology. Israeli and American governments always use domestic inventions for pilot projects. However, Hong Kong officials are reluctant to take risks and just adopt whatever is being used in Europe or the US .
"We reached out to the Environment Bureau and Centre for Food Safety but they are not interested in even trying it."
Universities began to set up knowledge transfer offices about 20 years ago to help researchers turn their work to commercial use, but these units are hampered by limited funding. For the past six years, the University Grants Committee set aside just HK$50 million annually to aid knowledge transfer at eight publicly funded universities.
That's a pittance compared to the overall budget of more than HK$10 billion for tertiary institutions, says Alfred Tan Keng-tiong, who heads the KTO at Baptist University.
"Academics often do not know which of their research ideas can be transferred, while industrialists and entrepreneurs are not good at describing the solutions they seek from university innovations," he says. The office tries to bridge this gap and helps academics file patents and form partnerships with industrialist and investors.
David Ai Chuan, the KTO director of City University, says there are many models for collaboration with industry:
A Shenzhen-based enterprise, for example, has approached the university seeking solutions to a problem they face. The company could sign a sponsor research agreement to work with the university's labs on technology development, which would qualify them for government subsidies.
In another case, a mainland company initiated a partnership to use existing technologies and research at CityU to improve the physical traits of metal used in manufacturing cars and trains.
Hong Kong start-ups, Ai adds, should target China as their potential market. "Some people think that if the China market gains something, we lose. It's wrong to think this is a zero-sum game. We should not look at Shenzhen as a competitor, as Hong Kong is part of the Pearl River Delta region. Hong Kong has international talent and investors. We should encourage [Chinese] companies to base their headquarters here, using Hong Kong to access international finance and talent."
To Allan Chan Chee-kooi, associate head of the Institute of Textiles and Clothing at Polytechnic University, one of the biggest hurdles to putting academics' discoveries to commercial use is the lack of financial incentives for innovators.
In the US and China, professors can keep some funding as reward for the time and knowledge that they contributed to a commercial project. Even at the University of Malaya, professors get to keep 70 per cent of revenues generated from one of their inventions, Chan says. In Hong Kong, the inventor gets only a tiny fraction of the income.
Chan, who spent decades in the garment industry before joining PolyU, has invented a hi-tech mannequin called iDummy, which can change its shape at the press of a button. Morphing from the smallest size to the largest in eight seconds, the device saves money and space because clothing manufacturers no longer need to store fitting mannequins of different sizes. Clients of couture studios can also dispense with multiple fittings because their exact measurements can be reproduced on the mannequin. Licensed to Win Hanverky, a listed company, iDummy sells for US$12,000 apiece.
Chan started the project seven years ago with HK$700,000 from the government, but most of the money was used to pay staff and purchase materials. "The professor can't get even a cent from the funds."
The situation in Hong Kong should improve in the next few years as the University Grants Committee is likely to adopt Britain's new funding allocation model introduced last year, says Tsoi Kam-cheong of Chinese University's knowledge transfer service. "How the academics perform in knowledge transfer will affect whether they get a salary increase and promotion."
For Baptist University biologist Cathy Lui Nga-ping, the immediate problem is insufficient financing. Leveraging her team's work in animal experiments two years ago, she has launched a start-up called OPER Technology to develop nanoparticle technology for extracting stem cells and injecting them in the body. If successful in humans, it may be used to treat neuro-degenerative diseases such as Alzheimer's.
Lui secured HK$1 million from the Innovation and Technology Commission to bring the technology to the market, but that amount is far from sufficient, she says.
"We need at least US$1 million. We are raising money to replicate the result in clinical tests on monkeys before trials can be carried out on people. Each stage is extremely costly.
"Hong Kong has a lot of investment capital but it is mostly put into finance and property investment, not biotechnology. The government should promote local biotech inventions overseas more and introduce overseas investors to us."
Census figures show the number of research and development personnel in Hong Kong has more than doubled since 2001 to 26,045 in 2013. However, the city's spending on research and development accounts for only 0.73 per cent of the city's gross domestic product, far lower than Taiwan (2.45 per cent) and South Korea (2.64 per cent).
However, Cheng, the professor who invented the fish-embryo test, says more funds are needed for basic research. "I have worked on the project since 1997. For 18 years, I have published 127 papers. But from all these, just one invention is coming [to market]. The process of commercialising the fruits of research is like a pyramid, with a broad base of basic research leading eventually to the one application at the top. If there's more funding for basic research, the base will get wider and there will be more chances at the top."