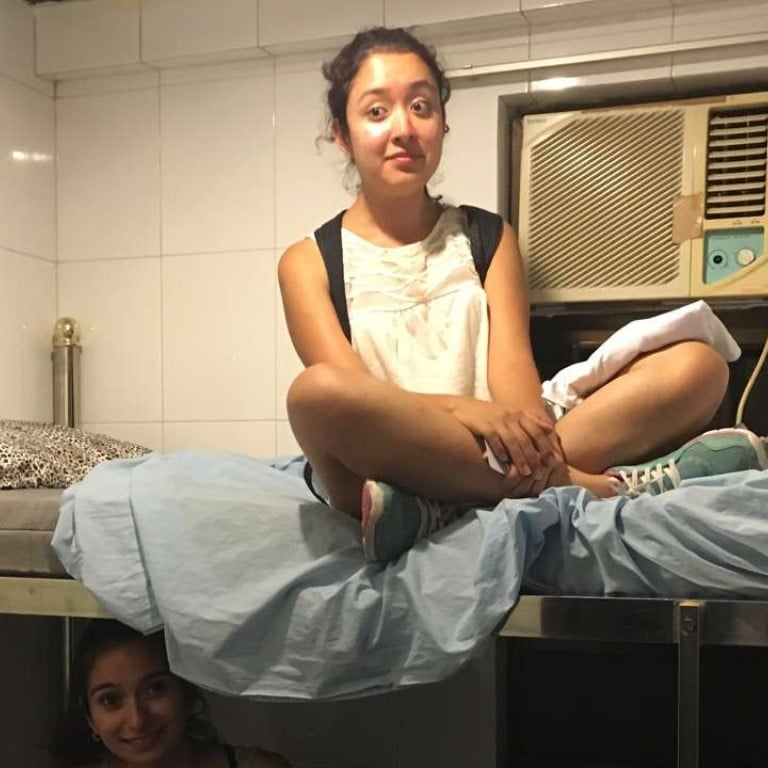 48 hours in Hong Kong's Chungking Mansions: life in another world
Follow us as we tuck into Turkish, Indian and African food, seek out secret restaurants, explore stairwells and rooftops and share lifts with people from all over the world, before crashing out in rooms just big enough to fit a mattress
There are no fancy signs or flashing neon lights. Just three words scribbled in black pen on white paper and stuck to a door with pink duct tape. "Mama Africa Here."
It's 7.30pm on a Friday and the past couple of hours have been spent exploring the five blocks and 17 floors of Chungking Mansions, the behemoth of a building on Nathan Road, Tsim Sha Tsui, that's been a haven for the past few decades for travellers on a shoestring and phone and garment traders from mainly Africa and Southeast Asia. Completed in 1961, it's one of the oldest buildings in the district, an unpolished nugget on the Golden Mile, juxtaposed with luxury hotels and designer-label shops.
It's also home for about 4,000 people, gets about 10,000 daily visitors, produces about five tonnes of garbage a day (that's about half a garbage truck), cleans 1,000 sheets a day and has "starred" in movies, most notably the 1995 Wong Kar-wai/Christopher Doyle collaboration, Chungking Express . Here you can get clothes washed, buy sex and drugs, book a flight, exchange currency, and get your hair, or your keys, cut.
To some Hongkongers, Chungking Mansions is a sinful den of sex and drugs. Others call it a food paradise – and I'm here to see if they're right by spending 48 hours in Chungking Mansions without leaving its chaotic walls.
It's mid-June and the temperature's nudging 30 degrees Celsius but relief comes now that the mission to find one of the mansion's secret restaurants is accomplished. Getting into the place could be another story.
I knock at the door and it opens slightly. A pair of eyes peer out. "Come in." Access is easier than expected (although an attempt the following night to get into another secret African restaurant – the Family House Maisson – proves unsuccessful).
We're escorted through the front foyer, past a curtain and into an empty room. The room next door is crammed with noisy diners, all African. We are the only Caucasians.
A woman in a blue floral dress almost matching the thick curtains, enters the room. "I am Mama Africa … Yes, that's my name. I'm the mama of all of Africa."
Mama is from Nigeria, married to a local Chinese man and has been serving African food in Chungking Mansions for more than 30 years. Chungking Mansions is often compared to a buzzing beehive and I think I've just met its queen bee.
The waiter reels off the menu. "Fish, chicken or oxtail?" Three dishes. Simple. We order the chicken and the fish and both come in a tomato-based okra stew. Okra – also known as ladies' fingers or bhindi – is a popular ingredient in West African, Ethiopian and Asian cooking. It's highly nutritious and a good source of calcium, potassium, folic acid, fibre and vitamin C. But when cooked it looks like gooey string – "like Ghostbusters' slime" says my guest, referring to gunk in the 1984 supernatural comedy. The dishes are served with brick-like slabs of semolina fufu, the perfect sauce soaker. Two apples and two bottles of water complete a meal that's both tasty and filling. And cheap! HK$95 says the receipt scribbled on a piece of scrap paper.
Chungking Mansions is known for many things. Cheap food is one of them. And it's easy to find a feed with 18 licensed restaurants (not including small stalls, snack shops and secret restaurants) serving up a smorgasbord of cuisine from Indian and Middle Eastern to Chinese, Thai and African. For drinks, masala tea – an aromatic brew of ginger and green cardamom pods buzzed with cinnamon, star anise, fennel seeds, peppercorns, nutmeg and cloves – is the perfect morning kick-starter (if you want to make your own, there are plenty of places to stock up on big bags of spices at prices far lower than the city's supermarkets), while India's famous Kingfisher beer is a popular booze buddy for curry. Royal Stag whisky, the most popular whisky in India, also has a fan base here and at just HK$50 for a 375ml bottle, it's easy to see why (in a makeshift first-floor bar early party-goers are already living up to the brand's slogan: "It's your life, make it large.")
After dinner it's upstairs to a place that literally has no name. A woman opens the door. Her name is Mayat and she's from the Philippines. The restaurant is dark, the walls lined with thick foam, giving the feeling that you're trapped inside a speaker. "You should come back on Sunday, that's when we have a lot of fun. Lots of dancing." (I return on a Sunday a few weeks later and the place is heaving with men from all over Africa: Nigeria, South Africa, Kenya, while 99 per cent of the women are Filipino. The beats are 100 per cent African).
One diner tears off a chunk of fufu and deftly rolls it into a ball before dunking it into the sauce. The okra stew is again served here but what's different is what they're washing it down with – pastel pink André champagne mixed with Guinness (a black velvet, I'm later told), odd bedfellows that tasted better than expected.
Part of Chungking Mansions' charm is the colourful mix of cuisines: on day one of my 48-hour stay, it was a Turkish breakfast courtesy of a fine lamb kebab with mint sauce and tender chicken tikka from Bismillah Kebab House on the first floor. "I sell 200 kebabs a day," says the manager, Mr Shah. We travel to India for lunch – butter chicken, vegetable samosa and plain naan courtesy of Sher-I-Punjab Club & Mess (Block B, 3/F).
Choices for day dining are limited because it's Ramadan, Islam's holy month that sees Muslims refrain from food and drink from sunrise to sunset. "Come back at 6pm, after fasting," says a man as he steps out of the near-deserted Sedique Halal Mess on the 6th floor of Block A. "That's when it gets busy."
And he's right. Just after 6pm the ground and first floors are heaving with people, shop counters laden with trays of food and fruit and plastic cups filled with a pink milky concoction of cardamom seeds, almonds, cashews, pistachios and rooh afza – a non-alcoholic concentrated squash. The drink is sweet, filling and rehydrating, making it popular during the holy month. A man offers me a cup, but I'm unable to grab it, swept up in the sea of people.
The mansion's awake and everyone's in a good mood. And they're hungry.
After a few hours in the building it becomes clear that the best place to engage guests and those who work in the buildings is while riding one of the 10 lifts serving the 3rd to 16th floors. To reach the 17th floor you have to walk one floor up the staircases (if you want some impressive panoramic views of the city, head up the stairwells to the building's roof). The lifts are small and slow, the metallic floors worn shiny after years of foot traffic. Waiting for one is a pastime in Chungking Mansions and what greets you when your floor number flashes red is anybody's guess – a man moving a bed or maybe a trolley of tandoori chicken (both happened).
What is guaranteed however is a mix of nationalities. In one day I share a lift with Damian from Germany ("I'm in Hong Kong for one night – I'm on my way to Shanghai to visit my girlfriend"); Pierre from France ("I live in Beijing and I'm doing a visa run. I stay here because it's cheap"); Arthur and Judy are on holiday from Australia and Chris from the Solomon Islands is attending a travel convention in the city. Hong Kong couple Mr and Mrs Leung live in Chungking Mansions: "My mum has run a hostel here for 30 years … this is my home" – while Billy is moving to Hong Kong from Canada to set up a jazz and blues bar: "Yes I'm wearing nurses' scrubs – I had to borrow them from a friend … I like the Blue Bar at the Four Seasons."
Mikolaj from Poland is visiting a friend. "I could never live in Hong Kong – it's too crowded."
Mexican friends Gabriel and Fernandon have just checked in and they're not happy. "Our room is small and dirty," says Gabriel as she exits the lift. "Come and have a look." Their room, in a hostel on block A, has bunk beds and is small but typical of the cramped accommodation that might shock those who book without doing their homework first. "I can't believe we're paying HK$700 a night for this!"
On the ground floor Billy ("I won't say where I'm from – I don't want to get political") manages a restaurant. It's serving "breakfast for HK$20" including a free tea. "The monthly rent is HK$117,000. It's crazy."
Indian-born Uppal has run a restaurant in Tokyo for 40 years. "I once stayed in Chungking Mansions for a month without leaving the building. The only thing I couldn't get here in that time was peace of mind." Scooping up the remnants of his breakfast curry, Uppal says a man who runs an electronics shop on the ground floor was almost killed this morning: "Chopped. There's a lot a police there – and a lot of blood."
He's right. Five uniformed officers have cordoned off the area and bloodied towels are scattered on the floor next to thick puddles of blood. Passers-by casually take photos as if checking out a zoo exhibit. Questions about what happened are met with silence. I don't push the issue.
Crime has decreased in Chungking Mansions since 400 security cameras were installed in 2000. But it still struggles to shake its underbelly reputation. In the '80s it was a recruiting ground for gold smugglers to Nepal and a hang-out for hippies from the West. Today there are fewer Western hippies and more tourists from the mainland.
It's used as a cheap "doghouse" for couples having tiffs and is believed to be a popular place for compensated dating, the practice of older men giving money and gifts to women for their companionship, including sexual favours.
Filipino lesbians check in for privacy. One couple, speaking on condition of anonymity, said they spend Sundays – their only day off each week – in Chungking Mansions as it caters to every need, including sexual. The vibe on a Sunday is more relaxed from other days – the gender balance shifting to more women who spend the day singing, plaiting hair and chatting on phones.
Early morning has another vibe altogether. At 4.20am Chungking Mansions resembles a ghost town: shop shutters down, the only activity from a group of men heading to prayers (the Kowloon Mosque is two blocks away on the same road) and a Beijing-based Italian couple, in Hong Kong on a visa run, heading home after a night of partying across the harbour in Central. A man on crutches – the result of a motorbike accident – painfully makes his way past a security guard.
It's eerily quiet, unrecognisable from the bustle of day.