LIFE
Get more with myNEWS
A personalised news feed of stories that matter to you
Learn more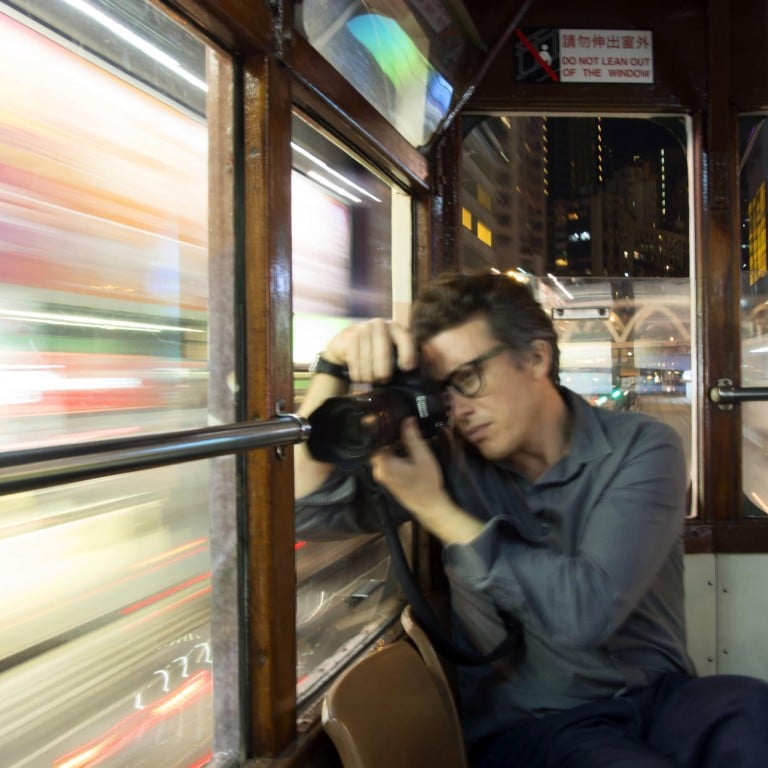 Killer instinct - photographer William Furniss' meticulous planning and timing
William Furniss' photos reflect his love for Hong Kong and are often the result of meticulous planning, writes Kate Whitehead
William Furniss can tell you exactly how long it takes for the traffic lights in front of Sogo in Causeway Bay to change. He knows because he's timed them - to the second.
Hearing the 43-year-old photographer describe how he took one of his outstanding Hong Kong images is like listening to a professional hitman. There were numerous variables to take into account to get the capture: it had to be 1pm and sunny for the light to hit the crossing, it had to be a Saturday so there were plenty of people about. And the hit was further complicated by the fact that he was shooting from a tram, his preferred vantage point.
"The pedestrian lights get 45 seconds and the traffic gets 30, so you've got one minute and 15 second cycles, and the tram takes 15 seconds to reach the junction," explains Furniss.
His camera loaded with 35mm film, he boarded the tram at the stop before Sogo, hung out of the door for 15 seconds to delay the driver and then raced up the stairs and started shooting from the upper deck.
"I love stuff like that, where it is a little bit like a hit. Everything has to be planned out. That's very exciting," says Furniss.
"Causeway Bay Crossing", a contact sheet of 30 images showing the ebb and flow of pedestrians at one of the city's busiest intersections, the frames crossed with bold yellow traffic markings, is among his many visually arresting takes on Hong Kong.
After cutting his teeth alongside big names in the business in London, such as Patrick Lichfield, he arrived in Hong Kong in 1993 and has developed a solid reputation as one of the leading photographers documenting the city.
"It was easy to fall in love with Hong Kong. It was super busy, everyone was super happy and there was a party every night - and I was photographing it. I lived off champagne and canapés until 1997," says Furniss.
Being tolerable is one of the most fundamental qualities of a photographer, he says, and since he has that plus some, he quickly made contacts and got some good clients including The Peninsula hotel, Christie's and Hongkong Land.
For his personal work, he looks for an original perspective of the city - and that is what is on display at "Reflection", an exhibition of his work next to sculpture by Polo Bourieau. "I'm not about the grand vista. I like to hone it down and get to what's interesting, the unique aspects of a place. When I photographed the reflections of architecture and the lights in the harbour, that showed the essential qualities of Hong Kong without showing the big picture - that's what I typically do," Furniss says.
When Cathay Pacific, working with Norman Foster, saw the harbour shots they were so impressed they commissioned him to create a series of images for the new lounge, The Bridge.
Furniss credits a childhood spent in rural England - "endless green and endless boredom" - for his appreciation of Hong Kong.
"I don't come from here and that's why I see it. I don't know whether I'll ever finish all the things I want to photograph in Hong Kong, so one just has to accept that and pick and choose the subjects," he says.
And he has plenty on the go at any one time, not least of all because of the challenge Hong Kong presents photographers: the light. In the summer, when the air is cleanest and has potential for impressive cloud formations, he puts the period of good light at the beginning and end of each day at about 20 minutes.
"There is a very narrow window of opportunity. And then if you add to that what I like to do - movement, action and circumstance - then it becomes even more difficult," he says.
And he's back to sounding like a hitman. His hit list is long and varied with night-time shots and indoor ones, a mix that, regardless of the weather, light or season he's got something to go out and shoot.
Never without a camera, he is always ready to capture the moment. And if that moment eludes him, there's always another chance. "Hong Kong is a complex city, but a lot of things repeat, therefore you can chase down the mirage that you saw in the corner of your eye and capture it at a later date. You don't have to shoot it today, which is great and tantalising as well because you might be involved in a years-long pursuit of the perfect picture," says Furniss.
And that's what has been going on with his Happy Valley racetrack project. Since 2001 he's been working towards a special image - a complicated multiple exposure taken over two evenings when the course is a C track - when the horses are closer to the rail.
"Every single shot is an action shot and they all have to be good. I've got one set of images that I'm basically happy with, but having looked at and analysed it I think I can make it better," says Furniss.
Fortunately he has a supportive wife who is in the business, too - Jacqueline runs a company involved in fine art printing and mounting. They hope that with the interest in photography from iPhones and Instagram, more people will be interested in print-making and print collection.
That's the upside of iPhones but just don't get him onto food porn. "It's appalling. I go to a dinner and the meal comes out, and people will get out their phones and interweb while their food goes cold. It's a disease. It's rude, unclassy," he says, with an uncharacteristic flash of anger. But a moment later he's back to his charming, English gentlemanly self - certainly far more than tolerable - and discussing the technical aspects of the perfect shot.
"I wait for the right things to happen. I see something and I think to myself, 'Wow, that's everything I want to say about Hong Kong in one image, I must remember and go back and photograph it'."
And he does.
This article appeared in the South China Morning Post print edition as: In pursuit of the killer shot