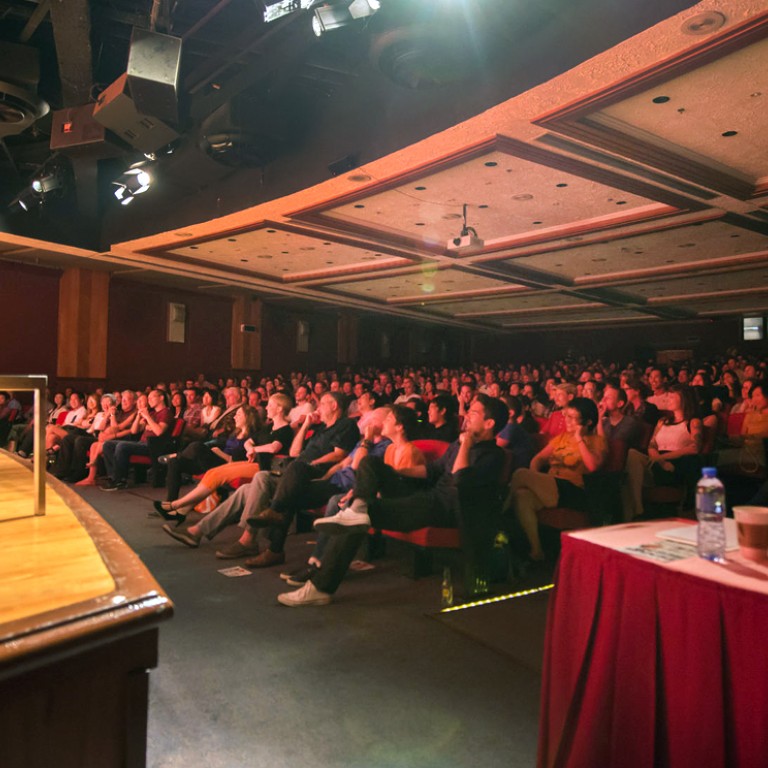 Full-time comedy club gives up-and-comers a chance to test their skills
Living in Hong Kong gives comedians plenty of material
When Jim Brewsky arrived in Hong Kong from the US a little more than two years ago, he never thought he'd find himself doing stand-up comedy, let alone winning the region's leading comedy competition. Not only that, but next year he'll do a US tour, which was part of the competition prize, as was HK$40,000 in cash.
"I never imagined in a thousand years I would be doing stand-up comedy back in the States on the stages where I've watched shows myself," says Brewsky, who teaches English at a local university.
Brewsky has his wife to thank for setting him off on the stand-up comedy road. She bought tickets for a night at the TakeOut Comedy Club in SoHo as a birthday treat. There he met club owner Jami Gong, who, besides staging regular shows, bringing in overseas comedians and nurturing local talent, teaches occasional comedy classes. Brewsky signed up for the next class - a four-hour evening session - and was hooked.
"Jami teaches you how to find the funny in your own life. I don't think I would have had the guts to do this without the encouragement that he gives," says Brewsky, 37, who came runner-up in last year's competition.
Like most successful comedians, Brewsky's routines draws heavily on his own life - his family, his take on life as a black American in the city, and how people interact with him and the things that strike him as odd. His routine - infused with local insights and gags - definitely hit a funny bone with the audience of 600 who turned out for the final of the eighth annual Hong Kong International Comedy Festival at Kitec earlier this month. But he'll know whether the humour translates to a US audience late next spring, when he begins a tour that will take in New York, San Francisco, Los Angeles, Minneapolis and Las Vegas.
"I'm looking forward to bringing back to the US an American-style humour that has been infused with Asian flavours," says Brewsky.
Hosting the Hong Kong competition for the second time, New York-based stand-up comedian Tom Cotter is confident that Brewsky has a good chance of making it big on the comedy circuit.
"Jim just comes on stage and opens his mouth and people like him. His material is great, and he's got drive and determination. I would bet on him making it as far as he wants," he says.
When Cotter first hosted the competition six years ago - its second edition - he says the calibre of talent wasn't anywhere nearly as good as it is now.
"Back then there were people who bought into Jami's dreams and wanted to participate. Some of them had these great banking jobs and were just doing it as a hobby. Now there are people up there with hopes of stardom and making a career of it," he says.
Cotter says his manager was reluctant for him to host the competition because he could get better-paying corporate or college gigs in the States. But like many other comedians, he came because Hong Kong is seen as an exciting new market.
"We come because we see the potential in Hong Kong and Asia in the comedy world where it never existed before," Cotter says. "Sure, there was slapstick and zany stuff, but not stand-up comedy like this. It's fresh and exciting."
That is exactly the dream Gong set out to create when he established the club in Hong Kong in 2007. In the English-language market, Punchline Comedy has been bringing funnymen from the London circuit to Hong Kong since 1994, but until the TakeOut, there was no permanent comedy club. It was a big risk for Gong, a New Yorker. Although his mother is from Hong Kong and he had visited the city about 20 times, he didn't know many people. But he took a risk, and it finally appears to be paying off.
Sitting in the low-ceilinged basement venue on Elgin Street, Gong recalls the club's early days when the talent was seriously thin.
"At the beginning the shows, I admit, were horrible, but you had to do it for people to get better. If you're a heart surgeon, you can practise on a cadaver or a fake heart, but comedians can't practise on a fake audience. You have to practise on a real, live audience," says Gong.
He charged just HK$100 for the early shows so that the comedians-in-the-making could do their routines in front of a live audience. Once a month he offered a workshop to teach the basics of stand-up comedy to anyone who was interested. He also brought in professional comedians regularly from overseas to give Hong Kong audiences some belly laughs and show the local talent what they were aiming for. Right from the start, he wanted to do more than just run a comedy club.
"One of my goals was to discover the next Billy Connolly, Chris Rock, Jerry Seinfeld and to springboard careers, not only to bring over mostly American comedians," Gong says.
Brewsky is one of the comedians he's excited to have helped nurture. So is Benjamin Quinlan, a 31-year-old Australian-Chinese banker who did his first open-mic night in March and now has a regular slot at the club.
"Ben is going to be a star," says Gong, who showed Quinlan the ropes in one of his workshops, which are now quarterly.
Born and raised in Hong Kong, Quinlan moved to Australia after attending South Island School and returned, aged 26, to work in investment banking. Earlier this year he took a seven-month sabbatical, because taking a shot at stand-up comedy was on his bucket list.
"I took Jami's class in April. One of the things he gets you to do is write down 10 things people say they like about you and 10 things they hate. It's interesting to be critical of yourself in front of strangers. A lot of comedy is about self-deprecation; laughing at yourself always goes down well," says Quinlan, who was one of the 30 comedians taking part in this year's competition.
He also draws on his heritage - and the confusion he sometimes causes because he looks Western but is half Chinese. His mother - and her "Chinglish" expressions - is also a fount of humour. Even his mum has laughed at that material.
"You find common threads that people can relate to. We all have mums and can relate to that, and then you throw in the cultural dynamic. If you grew up here, I can guarantee you will relate," says Quinlan, whose day job is head of strategy (Asia-Pacific) for Deutsche Bank.
It's exactly the very Hong Kong-specific humour that makes the talent coming out of TakeOut Comedy so much fun. And the comedians all seem to agree that Hong Kong is a rich source of material. Quinlan didn't waste any time getting the early stages of Occupy Central into his set: "I don't know what the big deal is; the Filipinas do this every single Sunday," he quipped.
The Hong Kong International Comedy Festival has gained credence on the international circuit. In the first year, there were just a couple of participants from outside Hong Kong - one from Singapore, the other from Japan - but this year there were 12 from overseas, including Canada, Malaysia, Singapore and Japan. The HK$40,000 cash prize is nothing to be sniffed at, but even better still is the promise of a US tour and the prestige that now comes with the top title. It's a good addition to a comedian's CV, especially one just starting out in the business.
And as the calibre of comedians entering the annual competition has improved, so have the audiences. For the first five years, the event was held in the club, which can seat about 150. Then it moved to a 450-seat Wan Chai drama theatre, then to the 640-seat Youth Square in Chai Wan. This year it was at the Kitec auditorium.
"I'm so proud of our comedians," Gong says. "I've seen them all develop from scratch. We have two next year who are planning to move to the US and make it as a pro - Sean Hebert and Garron Chiu."
Want more articles like this? Follow SCMP Lifestyle on Facebook!
This article appeared in the South China Morning Post print edition as: Stand up and be counted