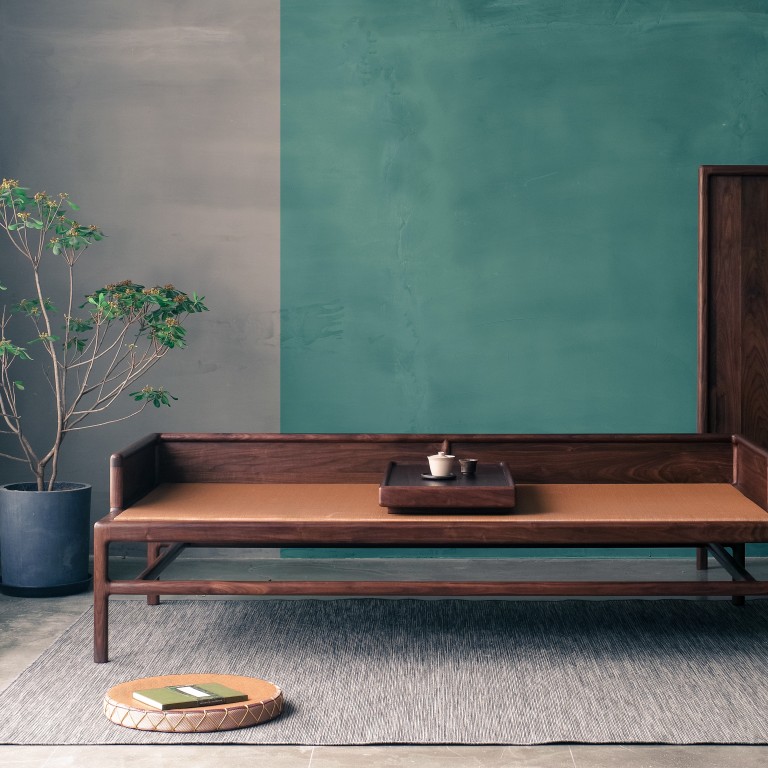 Chinese design studios such as Thrudesign – whose furniture (above) is inspired by scholarly and ascetic traditions, Buddhist philosophy and meditation – are increasingly taking cues from Chinese culture.
When Ikea is no longer enough: Chinese designers inspired by cultural heritage find a ready market for their wares
Designers of Chinese furniture and homewares no longer feel a need to appropriate other cultures, and benefit from rising interest in cultural heritage in China
Exhibitors at Design China Beijing talk about their approach to sustainability – designs and products created to last, and a focus on materials and processes
Topic |  
Architecture and design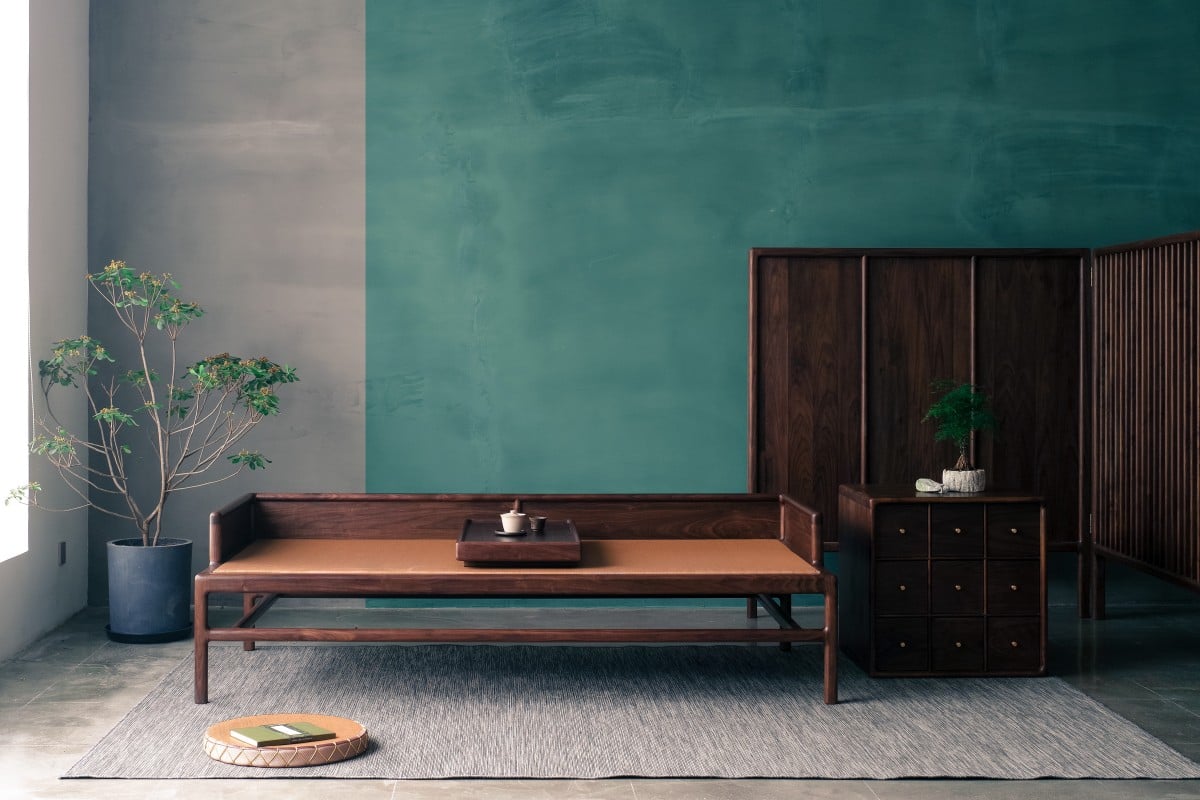 Chinese design studios such as Thrudesign – whose furniture (above) is inspired by scholarly and ascetic traditions, Buddhist philosophy and meditation – are increasingly taking cues from Chinese culture.
Watches that tell "blurry" time, lamps inspired by puzzle knot toys and contemporary furniture fit for ancient ascetics – just some of the designs to look forward to at Design China Beijing's second edition.
The fair, which opened on Thursday, features more than 200 exhibitors and independent designers, with a focus on sustainability and craft.
We spoke to six Chinese designers participating in the event about cultural heritage, global influence, and what sustainability means for them.
Kun Qi, 29, founder of Kundesign
Urban sophisticates in China are not known for splashing out on Western-style designer patio furniture – perhaps because of the city's poor air quality and a preference for traditional courtyard-style tables and chairs. If Kun Qi has his way, they will be, and soon.
The native of Nanjing in northern China, now based in the southern metropolis of Guangzhou, focuses on made-in-China outdoor furniture with a European sensibility. His "Nest" collection comprises modular sofas in sinuous shapes, with backs woven from coarse ropes.
 Inspired by Rome's Colosseum, the series would look right at home on a Mediterranean terrace or in a Spanish hacienda.
"There isn't a culture of lounging on outdoor furniture in China, but as more and more hip cafes open and young people enjoy hanging out in open spaces, that's changing," says Kun, who started the brand in 2017.
He became interested in outdoor furniture after graduating from Nanjing Forestry University in 2012. (When plans to study furniture design in Italy fell through because his mother fell ill, he stayed in China but researched European- architecture-influenced styles.)
He describes his style as "natural decoration"; he is drawn to using metals instead of wood, and is inspired by colours in nature such as green, grey and yellow. His materials range from UV-resistant fabric to bamboo trays.
"European customers are always very surprised when they find out that we are from China," says Kun. "But we hope to be able to compete on an equal footing in the global market, and not just trade on that novelty."
Jerry Huang, 33, co-founder of EY Products
Where most people would be irritated with everyday inconveniences in China, designer Jerry Huang, from Shenzhen in southern China, coolly incorporates them in his products.
"Chinese people are very flexible," he says. "For example, if I go to a factory here and ask them to produce something for me by this weekend, they would say they could. But it would be taken for granted that they would not start on it until Monday. Our culture is elastic this way, with a built-in buffer in our understanding of time. It's blurry."
Taking this idea of rubber-band time, he and his team at EY are conceptualising a watch that tells "blurry" time. "We are experimenting with materials to blur the numbers," he says.
EY (the two letters sound like the Chinese word "yi wai", or "unexpected") plan to exhibit an "Inner Mountain" incense burner – of bronze and wood, it resembles a comb or harmonica and gradually darkens in a ridge-like pattern from filtered smoke. Dubbed a "poetic object" (rushi), it reveals its true form only after prolonged use.
"I emphasise qiao (intricate, deft and marvellous qualities) in my work," says Huang. "I like surprises in the details."
Sustainability, to him, is not just about being eco-friendly and zero-waste, and using recycled materials (which EY has in its "Ink and Wash" series of objets d'art made from scrap wood). "We want to make goods that can be used for years," he says, "which will not be discarded easily."
"The internet has broken down borders and Chinese designers are doing very well," Huang adds. "We are looking for answers in our designs, using our own culture, instead of appropriating from other cultures."
Yuan Yuan, 39, founder of Ruyi
Since her brand's debut at Salone del Mobile in Milan in 2015, Yuan Yuan has received international attention for her whimsical yet understated designs.
A case in point is the Light Fan, a distinctive screen/room divider of Chinese paper fans arranged in a grid-like frame. "It's an elegant way of displaying these old fans, which are a symbol of traditional culture," says the designer, an alumnus of Guangzhou Academy of Fine Arts and France's École Supérieure d'Art et Design de Saint-Étienne.
Both her grandfather and uncle were in construction and design and, as a child, she would watch them work. Her uncle would also take her to look at old architecture and furniture.
These days, she draws from her childhood experiences for inspiration. Memories of picking stones by the river with her grandfather, for instance, led to a sofa reminiscent of "weird rocks" gleaned from those trips. "It has sculptural weight and feel, but is still very comfortable," she says.
"Chinese people have always been very concerned with furniture," she adds. "We treat it as a physical manifestation of our inner states and spiritual cultivation."
She has also created lamps that take their cue from kongming suo – an interlocking toy, sometimes known as "Chinese cross" or "puzzle knot", an ancient invention – and can be configured to fit together.
Sustainability, to her, means focusing on refining good design instead of pushing out a plethora of new designs each year. She points to established design houses manufacturing the same classic items, year after year, perhaps in different colours or limited-edition variants. That way, production would also be less wasteful, as the moulds and processes are reused.
Frank Chou, 32, founder/creative director of Frank Chou Design Studio
"Even this conversation may inspire me later," says Frank Chou, when asked about his design philosophy. "Inspiration is your lived experience. Sounds boring, but it's true."
A piece of music may spark a new idea, an art film can alter your preconceptions.
Chinese people have always been very concerned with furniture. We treat it as a physical manifestation of our inner states and spiritual cultivation
"If you use emotions to shape your concepts, they will have soul," says the Beijing-born designer, who received a special mention at the Salone Satellite Awards at Salone del Mobile in Milan and was named Young Design Talent of the Year China at the Elle Deco International Design Awards in 2016.
Among his signature works is the Combo Sofa, which uses leather, wool and cotton fabrics in different sewing techniques in a single piece of furniture. The collection includes a new chair-and-coffee-table system.
He started his studio in 2012 and now has a team of 10 in his home city, collaborating with other designers and licensing designs for other companies to produce.
"China is a manufacturing giant, but in terms of eco-friendly processes and recycling, we need to learn from the more developed countries," he says. "We ask our collaborators to use better and more sustainable materials. We are more interested in systemic solutions and entrepreneurial breakthroughs.
"To become global, Chinese designers have to go above and beyond the industry standards."
This year Zhang Zihan and his designing partner Xu Lu picked up the AD Emerging Chinese Designer Award at Design Shanghai,
For now, Zhang is more interested in talking about a new aroma diffuser for cars, which he created as a paean to his native Hangzhou.
"While I was studying in Providence, I was really homesick," says the designer, who graduated from the Rhode Island School of Design in 2017. Inspired by the history of Hangzhou's famed West Lake, he came up with the diffuser, which has scents named after places in the lake's vicinity.
"It's like a map of all the local attractions," he says. "When people smell the scents, it'll be like they're steeped in the environment."
Above prefers to avoid pollutant-heavy manufacturing methods such as electroplating, and uses light colours because dyeing products black results in more harmful chemicals and waste.
Since returning to China late last year, he has discovered that his designer peers are "more sensitive to commercial considerations".
"We're gradually maturing," he says of Above, "and discovering what the local market needs."
Wu Wei, 41, founder of Thrudesign
Friends and clients visiting Thrudesign's Beijing showroom-cum-event space are sometimes invited to contemplate a cup of tea.
"At our tea parties, which last for two hours, we do nothing but give our attention to the bowl of tea before us," says Wu Wei. "People might feel embarrassed at first, but they quickly relax."
Chinese scholarly and ascetic traditions, Buddhist philosophy and meditation underpin his design practice. "If a client asked me how many pieces of furniture he should buy for a room, I would tell him he needs fewer, not more," he says, adding that clutter interferes with our clarity of thought and hampers our lives.
"As a Chinese brand, we have a lot of influence from our traditions," says Wu, who is working on a multipurpose tea cabinet for hip white-collar types to brew the beverage in cramped office spaces.
The recent trend of young Chinese people wearing hanfu, the historical garb of the Han Chinese, and learning to play musical instrument the guqin, a seven-stringed zither that dates back at least 3,000 years – in other words, taking a greater interest in their cultural heritage – has seen Thrudesign attract many more clients in their 20s.
"Chinese people's sense of aesthetics are more and more elevated; mass-produced brands like Ikea are no longer enough for them. More people are willing to use their savings to buy one or two pieces of traditional Chinese furniture and use them for many years."
Design China Beijing runs from September 12-16 at Beijing's National Agricultural Exhibition Centre. Visit designchinabeijing.com
This article appeared in the South China Morning Post print edition as: Heritage finds a home