Art
Get more with myNEWS
A personalised news feed of stories that matter to you
Learn more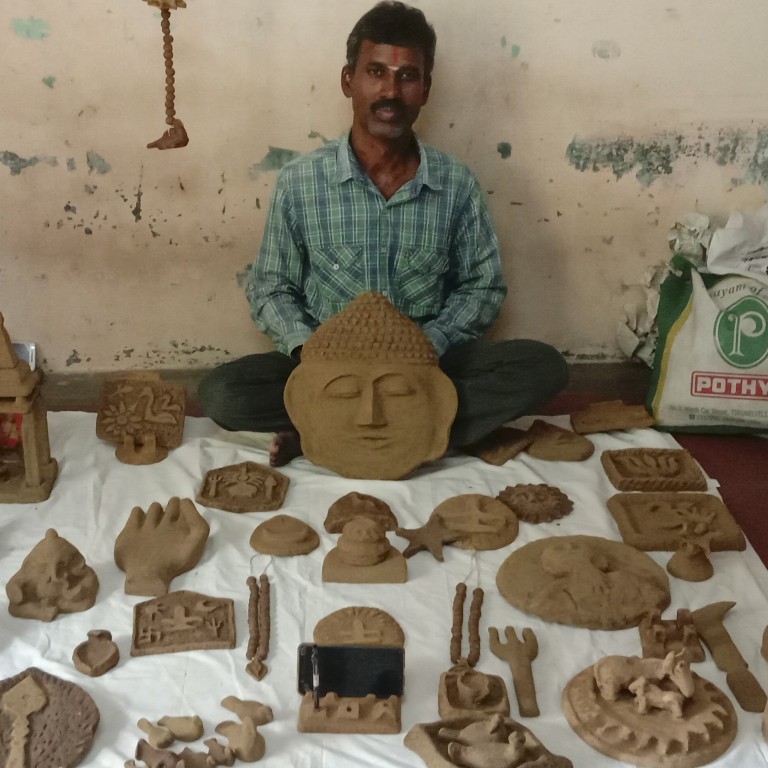 Shampoo made from cow dung? Yes, toothpaste too, and art – Indian entrepreneurs milk Hindu love of all things bovine
A growing number of people in India are selling products made from cow dung and urine – some exploiting their reputed antiseptic properties
Religious artefacts, wall hangings, personal care products such as facial washes and under-eye gel – even tea made from cow urine – find ready buyers
Ganeshan Palsamy lays out his wares on a white sheet on the red cement floor of his two-room home in the southern Indian city of Madurai. Spread out in front of him is a year's worth of his handiwork.
There's a Buddha's face, with clearly defined features; a Hindu temple pyramid, a wall hanging of ducks floating on a pond, a giant hand with thumb and forefinger pressed together and Hindu religious symbols. Everything is created by hand, the 49-year-old craftsman says.
As far as artists go, Palsamy is unusual.
He works with only two ingredients – excrement and urine collected from two cows he has reared.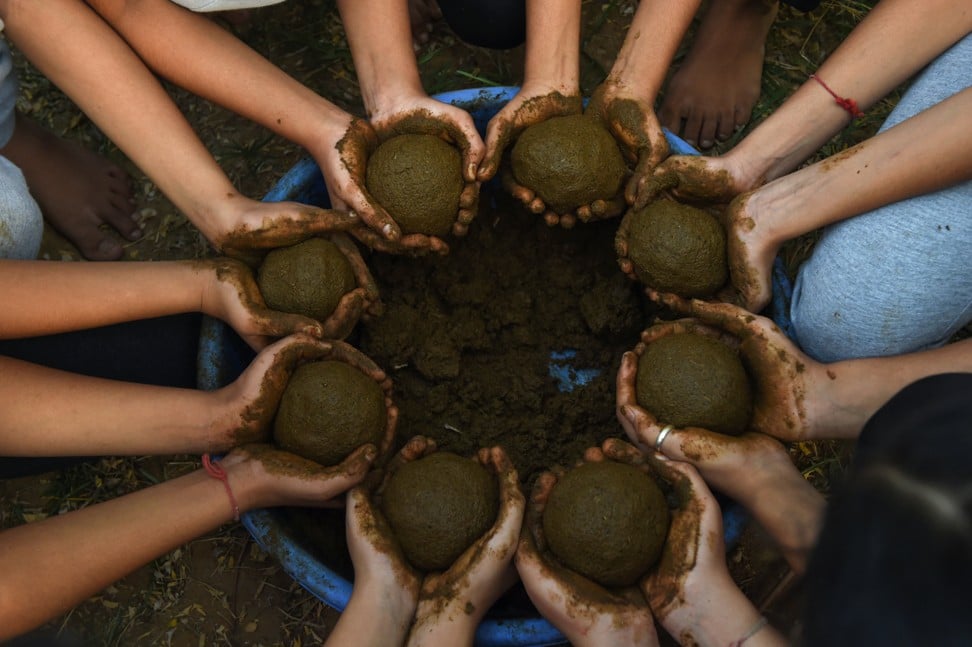 "I can't touch the dung of other cows," he says. "My cows are native breeds that are grass-fed and allowed to graze naturally. I think that makes a difference in the quality and purity of the dung."
Excrement from his cows is antiseptic, he says, and easier to shape into artefacts without using moulds.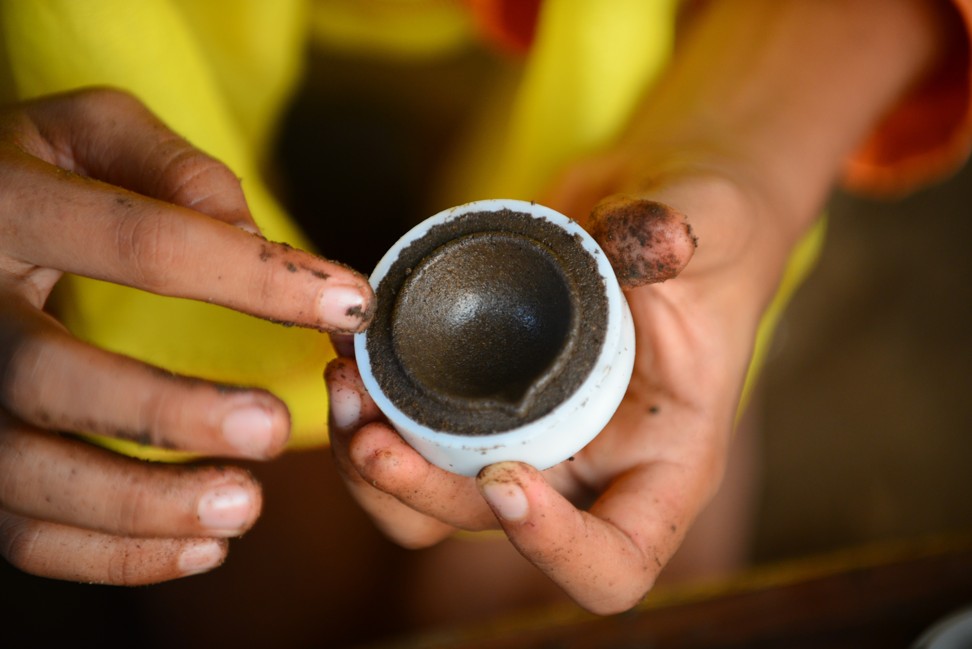 Though Palsamy has no political leanings, he is one of a growing number of organic farmers across the country who are benefiting from government handouts targeting
India
's growing bovine businesses. Led by the Hindu nationalist
Bharatiya Janata Party
, the government awards subsidies worth up to 60 per cent of the initial investment to commercial organisations using products derived from cows, although not their meat or hides – cows are sacred for Hindus.
Soaps, shampoos and other personal care products made from cow dung and urine are now being hawked by the top digital retailers in India – Amazon, Flipkart and eBay.
Umesh Soni, 36, a Mumbai-based microbiologist, is the founder of Cowpathy. He began crafting his organic range of cow dung soaps as far back as 2012. This brand also uses only excrement from indigenous cattle.
The cow pats are collected by hand and heat-processed in his factory to prevent the growth of bacteria, Soni says. Cowpathy manufactures a talcum powder substitute composed of the dung and ash of burnt cow pats; toothpaste made of the animal's dung, urine distillate and stevia (a plant-based sweetener used as a binder); an under-eye gel made from distilled urine; and shaving and shower creams.
His most popular item is soap made from the panchagauvya – a combination of the five main products derived from cows that are highly valued: milk, yogurt, ghee, dung and urine.
"In the early years, I ended up gifting 50 per cent of my stock," he says. Then sales picked up. He now supplies 400 wholesalers across India and exports to 14 countries.
Soni's annual turnover of cow-based products is 25 million Indian rupees (US$350,000), and he recently added a line of non-caffeinated beverages. Liquid teas are made from herbs and distilled cow urine. A concoction of herbs roasted over dried cow dung tastes exactly like coffee, he insists.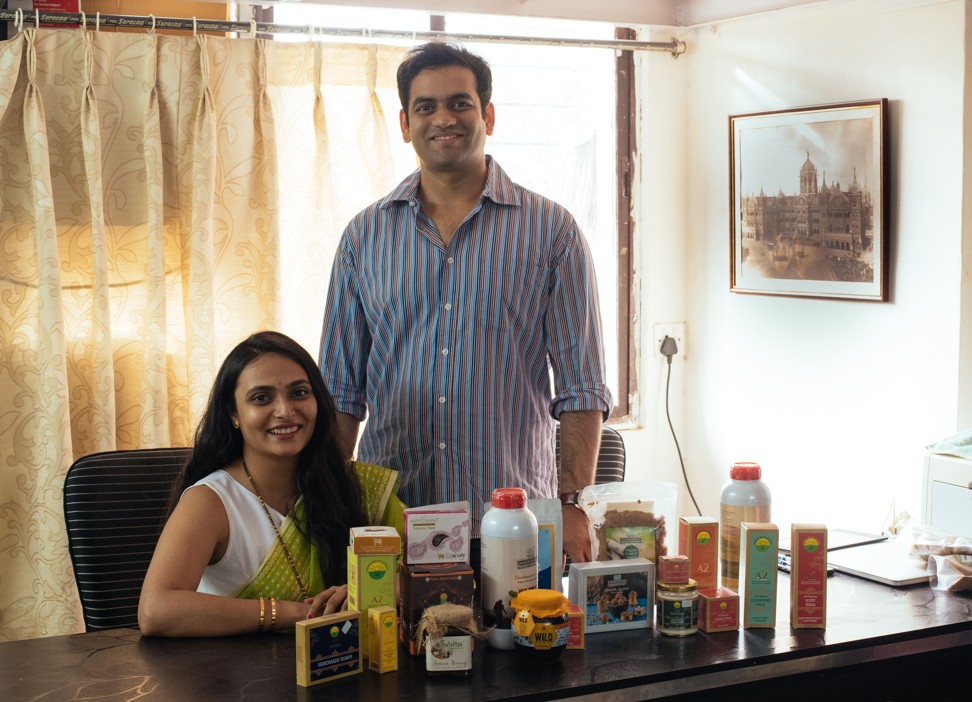 The cow has always been considered a sacred animal to Hindus. In February 2019,
Indian Prime Minister Narendra Modi
set up Kamadhenu Aayog, an official advisory organisation tasked with preparing policies and guidelines for the protection of the Indian cow.
"The Aayog will promote organic farming using cow urine and dung as bio-pesticides and bio-fertilisers," says Dr Vallabhbhai Kathiria, the chairman of Kamadhenu Aayog. Commercialising dung and other cow products will help protect the beasts well past their prime milking years, he adds.
Rajas Paranjpe, 30 and his wife Gautami, 26, both media marketing professionals, started their own bovine venture called Bodhishop in August 2018. They sell a range of cow dung- and urine-based bio-fertilisers, sunscreens, face washes and soaps.
They also source milk from eight of the 43 varieties of indigenous Indian cows, buying it from organic farmers all over the country. The milk from each breed is processed separately, Paranjpe says, and milk products – especially ghee, a kind of clarified butter used widely in India's ayurvedic health and medicine industry – are their bestsellers. From 20 orders a month, they now fill more than 200, with revenue now having grown to 10 times the size of their first month's sales.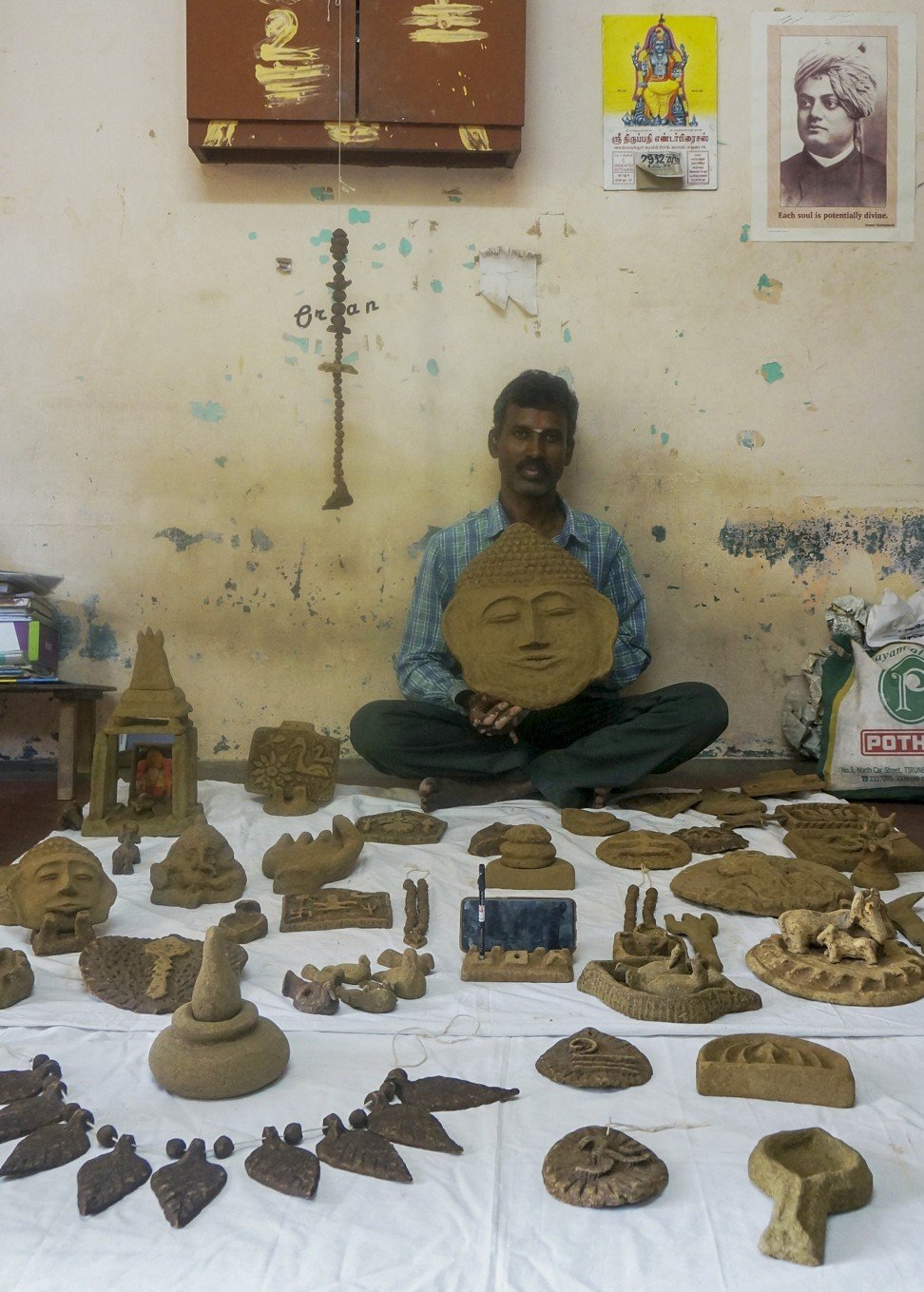 Interestingly, none of the products made out of dung smell bad. Craftsman Palsamy says the dung of native breeds of Indian cow that have been allowed to graze naturally has no odour. Cattle reared on synthetic or boiled feed, on the other hand, are more likely to have foul-smelling manure. Heat treatment seems to help, and his handicrafts are baked in the sun for as long as a month.
Palsamy still tends a 3.6 hectare (8.9 acre) farm in his native village in the state of Tamil Nadu, more than 30km (18 miles) away from Madurai. He turned to cow dung art to vent his frustration after a particularly bitter harvest last year, when he'd been forced to sell 300kg of a bean-like vegetable called drumstick (also known as moringa) for just 10 rupees (US$0.14) in profits at a local market.
"When I first started, I didn't know if cow dung art would have any buyers," he says. "It was just something I enjoyed doing."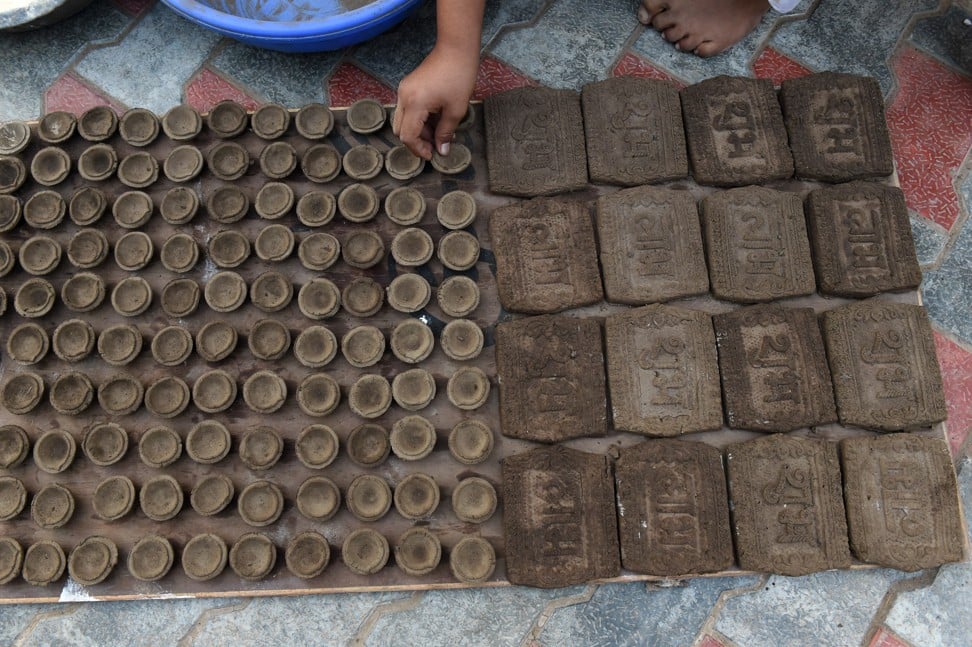 In the past, many homes in southern India had cow sheds. People would smooth a layer of cow dung at the entrance of their home to ward off germs. Although these practices are now dwindling, Palsamy thought handicrafts made from cow's waste might at least be welcomed as home decor.
Today, he makes more than 100 varieties of cow dung artefacts. At an exhibition in the city of Chennai a few months ago, sales of his products peaked at 15,000 rupees. He's also filling private orders from different parts of Tamil Nadu.
The status of the cow in India has become increasingly politicised. India does not ban the consumption of beef from cows that have died naturally. But since 2014, there has been a rise in the number of violent vigilante mob attacks, usually targeted at Muslims, in the name of cow protection. Fuelled by religious frenzy and supposedly targeting those accused of illegal cattle smuggling and beef consumption, dozens of people have been killed.
Along with such hysterical reaction comes an almost slavish adoration of all things bovine. In 2017, an education minister from the state of Rajasthan said that not only could cow dung save people from radiation, but being near a cow could also cure the common cold.
For many Indians, exaggerated statements about cows and dung – as well as the violence unleashed by religious vigilante mobs – can detract from a larger, organic farming revolution that is doing real good. Uniting farmers and retailers from across the country, it is preventing the gentle creatures from being exploited and abandoned, while promoting eco-friendly fertiliser and lifestyle products.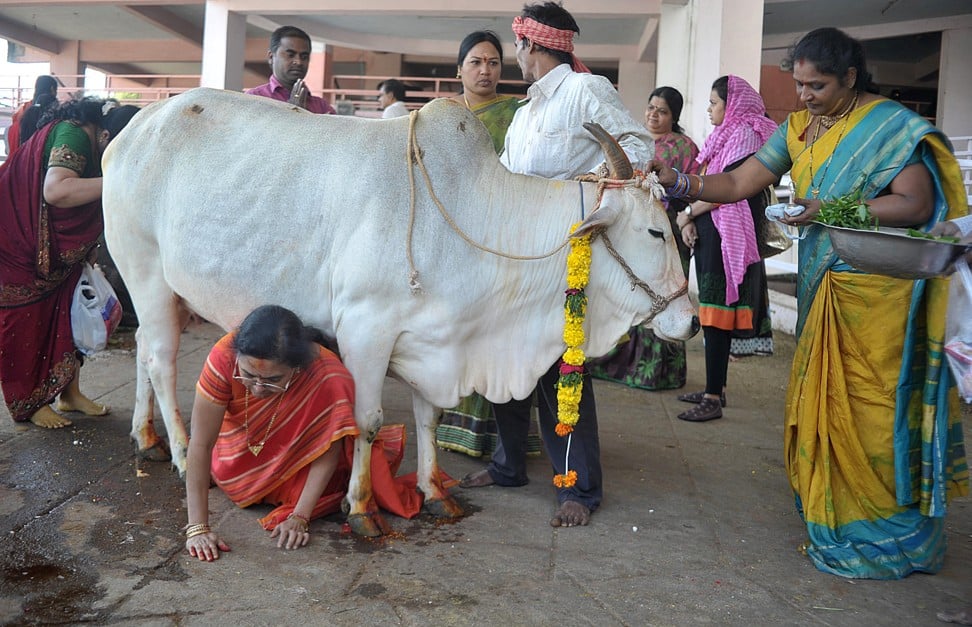 Ashok Gaykar is a believer. In 2005, the 52-year-old organic farmer bought 22 hectares of land in Karjat, a city near Mumbai. It was completely barren and nothing ever grew there. Over the years, he acquired 200 native Indian cows and treated the soil with natural fertiliser made from fermented dung and urine. Today, 12 hectares of the land is suitable for growing crops. He grows rice, a variety of cereals, aubergines, tomatoes, gooseberries and mangoes.
"To date, I've never used chemical fertilisers and pesticides," he says.
Gaykar is now engaging with other organic farmers to encourage a gradual shift away from synthetic fertilisers. It's not a religious movement; he says he has always condemned violence perpetrated in the name of cow protection.
"In India, before chemical fertilisers became the norm, all our farming was organic. We're just going back to those roots. Change comes slowly, but I believe that a cow can be a farmer's best friend."