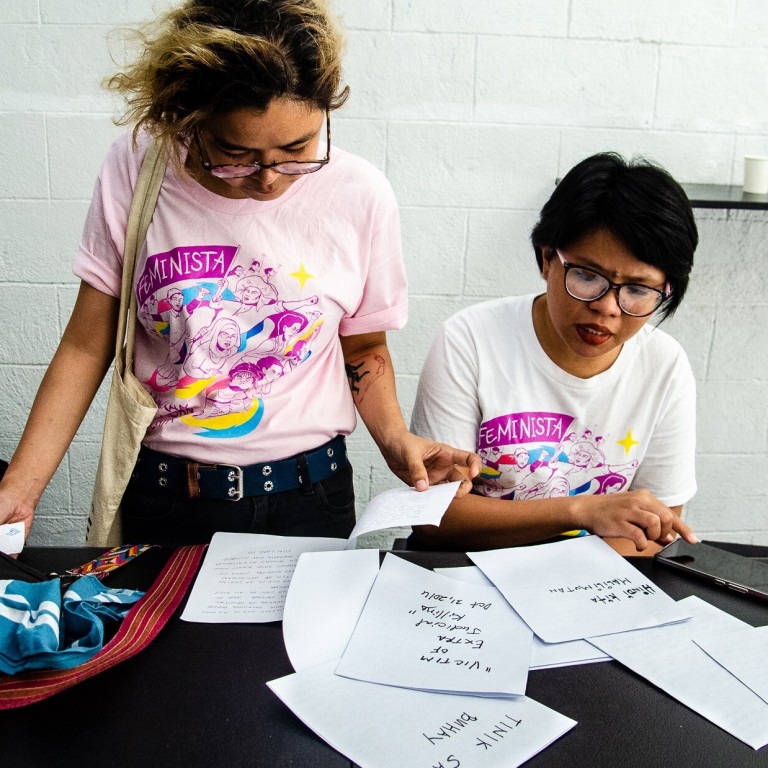 'I use poetry to talk about the truth': independent publishers give women in the Philippines a voice
Small, independent publishing houses have sprouted in the Philippines in recent years championing women's voices
They say their work is more important than ever under the authoritarian presidency of Rodrigo Duterte
Faye Cura's white T-shirt says it all. Emblazoned with the words "Feminista: Lumilikha, Lumalaban, Lumalaya" – Feminist: Creating, Fighting, Liberating – the garment is a limited-edition item produced by the independent women's publishing collective Gantala Press, co-founded by Cura.
One of a group of dedicated friends and like-minded Filipino women who established the publishing house, run by an all-woman team, Cura believes there is a battle to be fought on behalf of female workers in the Philippines, who are often underpaid, disregarded and marginalised.
"As feminists, we recognise that women experience abuse and discrimination based on their gender," she says. "If all women experience this, just imagine what female farmers or workers go through. And we aim to change these conditions."
With a name that loosely translates to "spinning wheel", Gantala publishes books on the plight of Filipinos who are marginalised and exploited, with a particular emphasis on peasant women and minimum-wage earners.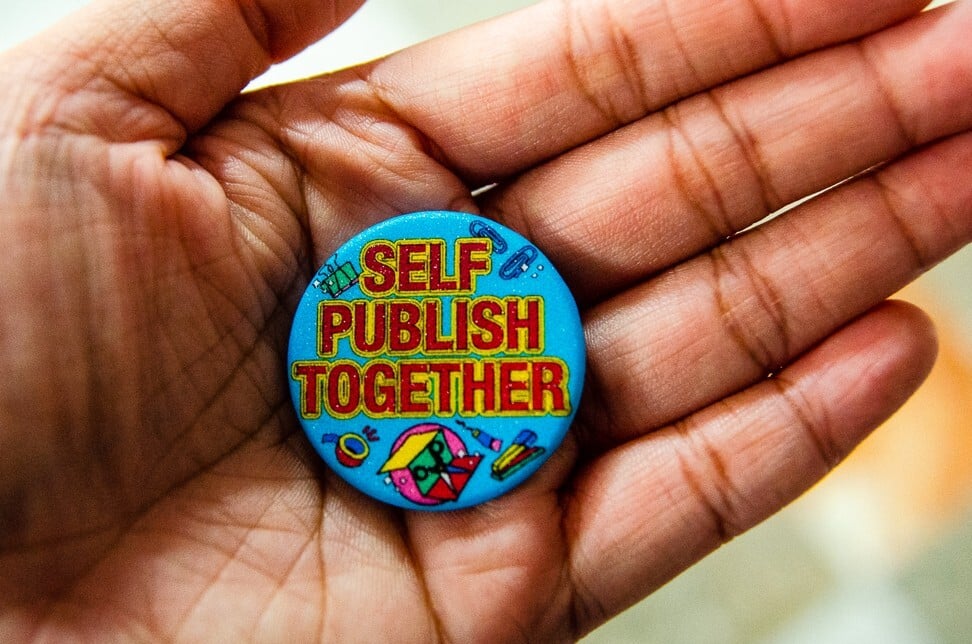 Five years after Gantala's launch, the independent outfit is at the forefront of a wave of women publishers, including small presses, and women who self-publish, concentrating on texts that mainstream publishers avoid either on commercial grounds or for ideological reasons.
Conchitina Cruz, a creative writing professor at the University of the Philippines, thinks women are finally making their mark among the nation's publishers. "Even just a few years back, you would feel that the scene was more male," she says.
Cruz is also one of the founders of Better Living Through Xeroxography (more commonly known by its initials BLTX), a pioneer of small press fairs and conventions. She is bluntly critical of the impact Philippine President Rodrigo Duterte has had on the nation and the aspirations of women in the country.
"I'd say our first small press expo for BLTX was predominantly male, but that shifted soon after," she says. "It's become more pointedly a space for women creators. The need to amplify women's voices and struggles were intensified when Duterte won the presidency in 2016 because he is sexist and a misogynist."
She believes life will be a struggle as long as the hardline, but popular president remains in power. "For women, it is doubly hard," she says. She and her colleagues make a conscious effort to ensure their forums have at least equal representation from men and women, if not a majority of female voices – "so we can talk about the important issues".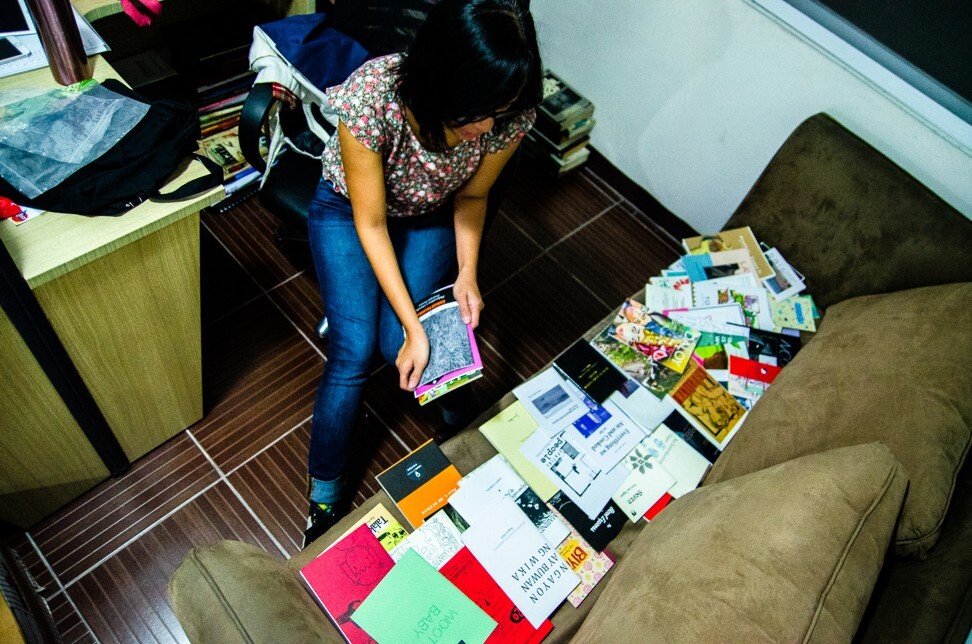 As well as the fairs run by BLTX, women have other spaces to show their creative work these days. Gantala Press, for example, runs the annual Gandang-ganda sa Sariling Gawa (Proud of One's Work), an all-female fair of visual art, zines, embroidery and sculpture. It takes place every March in celebration of Women's History Month.
It plans to to open a feminist bookstore – the country's first – in Metro Manila in the next few months. The bookshop was supposed to open in the last week of March, but the launch has been pushed back because of the coronavirus crisis lockdown.
Gantala Press has published 21 books and zines to date, including Talinghaga ng Lupa: Mga Tula ("Parable of the Land: A Book of Poems"), co-published with Amihan National Federation of Peasant Women, an anthology written by farmers and peasant advocates; and Makisawsaw ("To Meddle"), a cookbook of Filipino and other Asian recipes accompanied by essays on food security in the Philippines.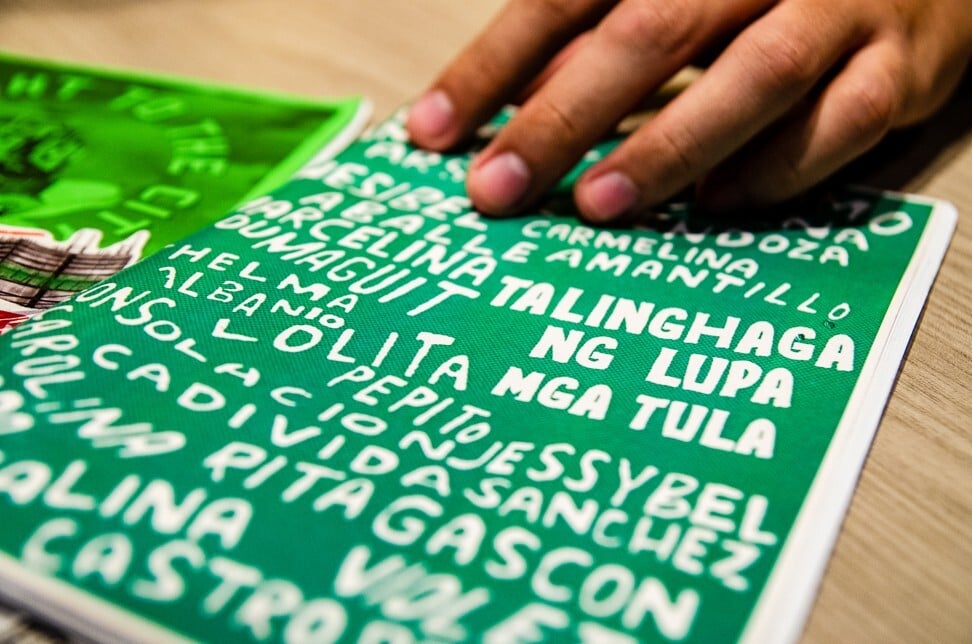 Gantala's books are relatively inexpensive, costing between 150 pesos (US$3) and 400 pesos. A 2017 National Book Development Board survey found Filipinos still prefer reading printed books in the age of digital media. Filipinos want something they can hold in their hands and put on a shelf, but the survey found they were only willing to spend a maximum of 199 pesos for a book, so the cheaper ones published by small presses can sell well.
Commonly called "indie" or "DIY" publishers in the Philippines, these small-scale publishing houses can produce zines and books without needing to secure approval from institutional backers such as the government or a corporation.
"One of the strengths of the small press is freedom. It can immediately respond to issues, so it has that opportunity and responsibility," Cruz says.
Visual artist Marianie Hukom chose to address issues important to her in her series of self-published comics Nagmamahal, Maria Clara ("Sincerely Yours, Maria Clara").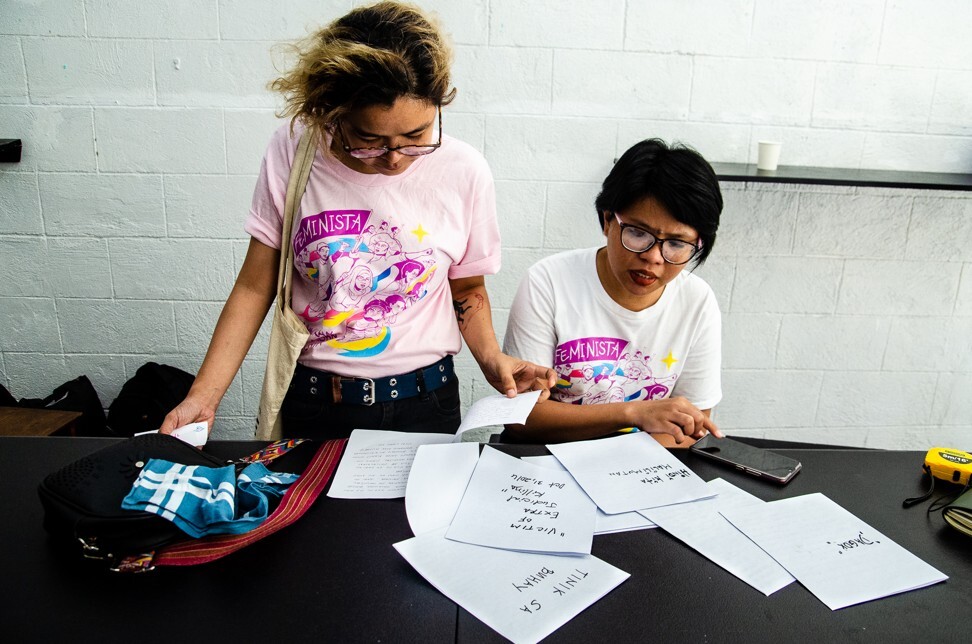 A project that began as an undergraduate thesis blossomed into a four-part series on the modern life of Maria Clara, a protagonist from the works of famed Filipino author Dr Jose Rizal. One of the country's national heroes during the Spanish colonial era, Rizal wrote the political novels Noli Me Tangere (1887) and El Filibusterismo (1891).
"My thesis partner and I based our work on Maria Clara because she has always been the role model for Filipinas growing up, because she was meek, obedient," says Hukom. "Of course, back then, these were deemed good traits for women to have. But we think this belief is already outdated because women can do so much more now."
Another Filipino woman, millennial writer Andrea Tubig, focuses on feminism in an unconventional way. Her first book, Tonight We Slurp in Color, published by the independent Balangiga Press, is a collection of poems about sex and the female body. Her first, self-published book, They Placed a Shrike Inside My Ear, which she launched at BLTX's 2019 expo, is equally explicit.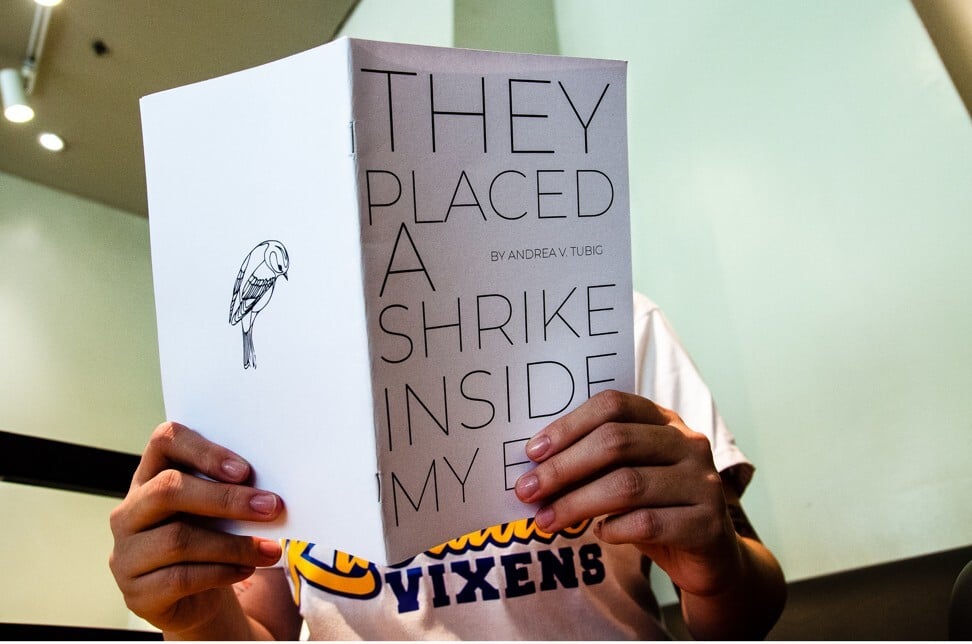 Tubig says she has been sharply criticised, usually by men, for the bluntness of her language. "They would say, 'Is it still poetry if you use crude language?'", she says. "I use poetry to talk about the truth. Just because I don't write or talk in a 'sanitised' way does not make it less true."
Anna Sanchez, a creative writing professor from the University of the Philippines, believes women publishers have made great strides in a deeply socially conservative nation, but that more needs to be done.
"There should be more women in literary institutions, such as literary contests and publishers," she says, drawing from her ongoing research into the role of female writers in workshops, literary contests and organisations, which shows women remain a minority in the world of Philippine literature.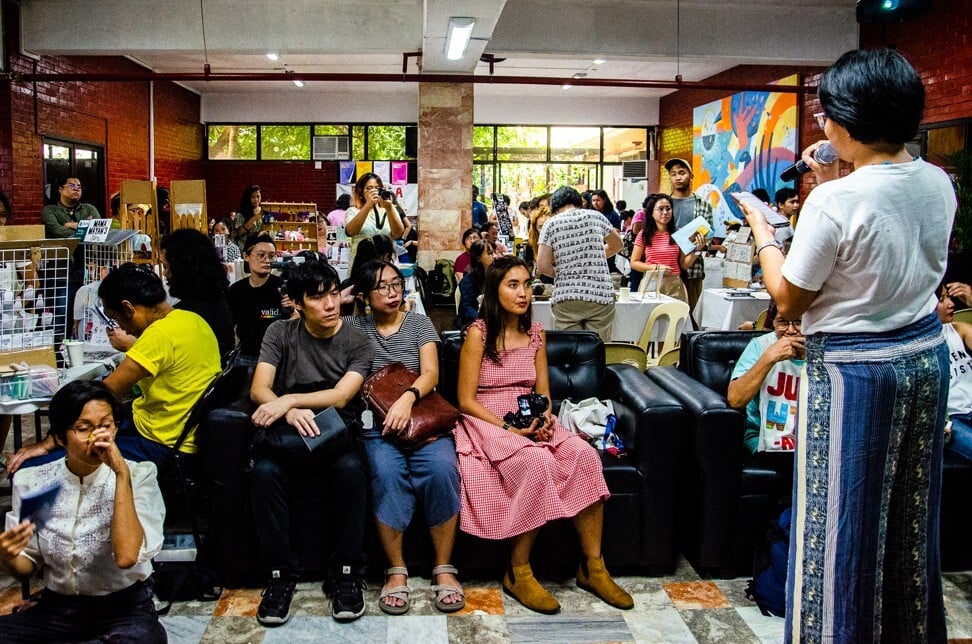 Mac Arboleda of Magpies Press, an independent literary collective based south of Manila whose members are mostly women, says the fight for women's rights continues.
Like Gantala, Magpies promotes women's issues in its publications. Its zine, Things Don't Offend Me Like They Used To, by Shaunnah Cledera and Paulyne Gonzales, tackles misogyny and the violence against women that many believe have been normalised in Philippine society.
"Publishers have a responsibility to engage our community because we recognise that there are issues beyond our personal concerns," says Arboleda. "But at the end of the day, we also think art alone cannot help solve these issues. We can't defeat the enemy by making zines forever."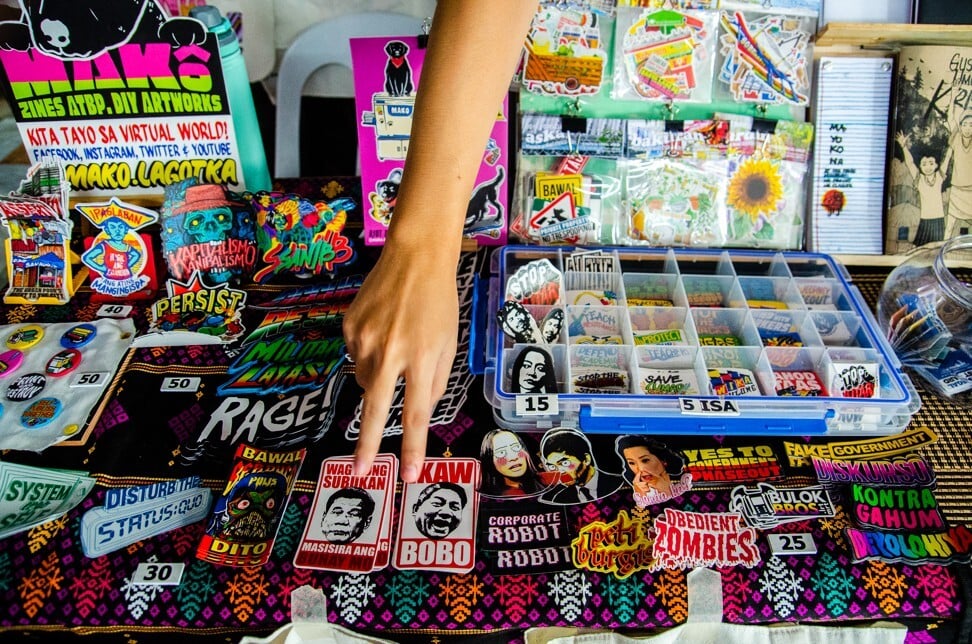 The simple act of making political zines may become problematic, though, following approval of an anti-terrorism bill in the Philippine Senate in February of this year. Some progressive lawmakers fear that the bill, which penalises "collecting or making documents connected with the preparation of terrorism", may be used by the government as an excuse to arrest and jail artists who are critical of the administration.
"With the Duterte administration, people are having difficulty exercising their right to dissent," says Juno Santos (not her real name), co-founder of indie publisher Makó Micro-Press. "Those who do are immediately vilified.
"But through our stickers and zines, through this DIY culture that we're trying to promote, we hope that we can create a space for the people's voices, and initiate discourse on important issues. Hopefully, we can inspire our audience to do the same."